COVID-19 UPDATE 7: Grab Ramps up Safety Efforts to Curb Illicit Activities
GrabExpress sees a spike in deliveries during MCO.
Setting safety standards to reduce preventable incidents on GrabExpress and to protect livelihoods.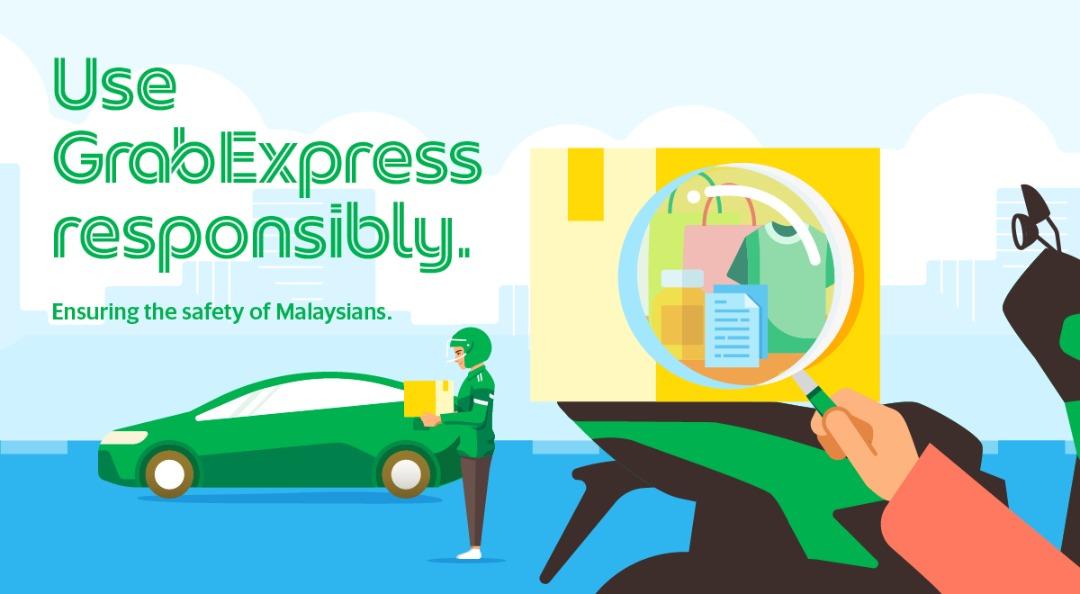 *Attribute to Zafira Azahar, Head, GrabExpress Malaysia.
As we, the nation, continue navigating how the pandemic is affecting our daily lives, our unwavered focus remains on protecting the lives and livelihoods of our partners as well as our merchants. Since the beginning of MCO GrabExpress has seen a growth of more than 20% week-on-week, as Malaysians continue to stay connected, essential goods remain accessible, and businesses embrace digitalisation and utilise delivery services to ensure sustainability.
Our strategy is clear: provide our delivery network and merchants with firm support but at the same time fight to keep them safe, on the platform and against the invisible enemy.
In recent weeks there has been an increase in the usage of our delivery network to deliver illegal and dangerous items, which has led to an increase in our delivery partners being searched at roadblocks. Given the recent concerns on the safety of our delivery partners coupled with our zero-tolerance policy towards any forms of illegal activity on the platform, we are working with authorities to ramp up our safety initiatives.
Measures that we are introducing, aim to drive long-term behaviour change and reduce the chance of unwanted incidents on our platform. They include:
Cashless delivery:

We have suspended  all cash payments on the platform. This is to deter fraudulent accounts and reduce the risk towards any form of illegal activity, which could potentially affect and hurt our delivery partners who are working hard to support consumers during the MCO period.

Declaration of item(s):

It is now compulsory for consumers to declare all their items within the app for GrabExpress. This is to ensure that our delivery partners are not at risk of delivering illegal items, and to equip them with knowledge of the parcel's contents should they be stopped at police roadblocks.

Passenger selfie

: Grab will be extending its 'passenger verification via a selfie' requirement to GrabExpress by the end of this quarter. This is part of Grab's long-term safety commitment, to set a higher bar for safety standards and reduce preventable incidents on its platform, through technology innovations.
Moving what matters safely
In addition, we're not going to compromise on our delivery partners and users' safety, hence we continue to invest significantly to ensure our ecosystem is protected. We've introduced several measures and have also taken necessary precautions which are aligned with the government's new p-hailing guidelines.
Hygiene and safety practices remain priority:

Grab has provided up to 1million free masks via GrabBenefits, and have worked with our partners to ensure that hand sanitisation at the stores are mandatory. We work closely with our partners to ensure all orders are carefully sealed to prevent contamination and spillage.

"Contactless" deliveries and going "cashless" with GrabPay:

We deployed "contactless" deliveries to minimise the risks of physical contact, not just for the public, but for our partners too. In addition, all of our Food, Mart or Pasar deliveries are 100% cashless with GrabPay.

Screening and tracing:

We have advised all our delivery partners to download and register for the mySejahtera app to help MOH with their contact tracing efforts.

In addition, our delivery network undergoes

temperature checks every day as

they pick up orders from the e-Kitchens.

We are working with the authorities to look at best ways to conduct health screening at no costs to delivery partners and not to

overwhelm our healthcare facilities

.

 
We are far from perfect, but we will not stop trying to do what we can to keep our community thriving and safe. Please continue to stay home and close to your loved ones. And please do spare a thought for the neighbourhood businesses and delivery partners as they continue to work to make this MCO period a bit more bearable.
– END –
Other COVID-19 Updates: