COVID-19 UPDATE 2: Safeguarding Malaysia's Livelihoods
'Pasar' on GrabMart enables fresh produce, poultry, meat and seafood sellers to serve their consumers in a cashless and contactless way.
Expansion of GrabMart to provide the convenience of on-demand deliveries for additional businesses.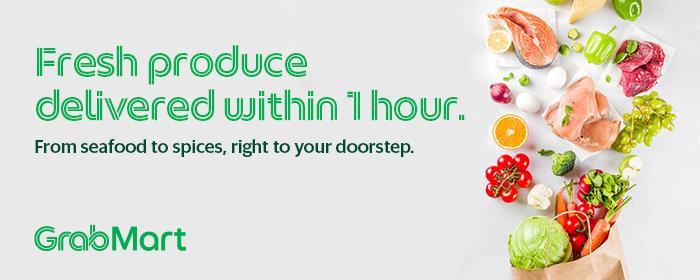 *Attributed to Sean Goh, Country Head, Grab Malaysia. 
Its Day #6 of MCO. Most of us are worried about our own health, safety, and perhaps even our social lives. At the same time, many businesses small and big, restaurants and even market sellers are not just focused on simply sustaining their livelihood but wondering how to cater to the growing demands of their consumers with the newly implemented MCO guidelines.  
While some of us can go out to top up on dwindling supplies, there are those who may be housebound who may not be able to move about as conveniently. 
So during these trying times, we continue to take more steps towards supporting businesses and ensuring Malaysians are able to access even the smallest of necessity via our platform.
Launching Pasar:

Today, we also launch Pasar, which is our extension of GrabMart, where we aim to bring our local markets' freshest produce, poultry, meat and seafood to the Malaysian household. Currently, we are starting with the historic

TTDI Market

and we hope to expand into more markets.

Expanding GrabMart: By March 25th, GrabMart will be available in Penang, JB, Melaka, KK, Kuching and Ipoh. We hope to serve more homes with daily essentials, health products and immunity-boosters, sanitisers and even snacks and beverages.
Offering discounts to boost local businesses: We are offering 'Free Delivery', 30% off GrabFood Signatures, and 50% off GrabMart's health essentials. With this, we hope to drive more income opportunity to both merchants and delivery partners. So every time someone in our community places an order, they are not only saving on their spending, but also supporting two other livelihoods.
Creating new income opportunities for ride-hailing drivers: Just as the nation's delivery networks are strained by a spike in deliveries, a steep drop in the need for ride-hailing meant we needed to create new opportunities for our nation's driver-partners. We would like to share that by Day#2 MCO, we have already deployed tens of thousands of drivers nationwide to provide the highest levels of reliability for our Food, Mart and Delivery consumers.
We are far from perfect, but we will not stop trying to do what we can to keep our community thriving and survive. Please continue to stay home and close to your loved ones. And please do spare a thought for the neighbourhood businesses and delivery-partners as they continue to work to make this MCO period a bit more bearable.
-END-
Other COVID-19 updates: