Grab Malaysia ramps up effort to provide access to additional earning opportunities
RM20,000 worth of prizes for 3 lucky winners and RM2,000 additional income awaits driver-partners through 'Raya Lagi Mantap Bersama Grab' Campaign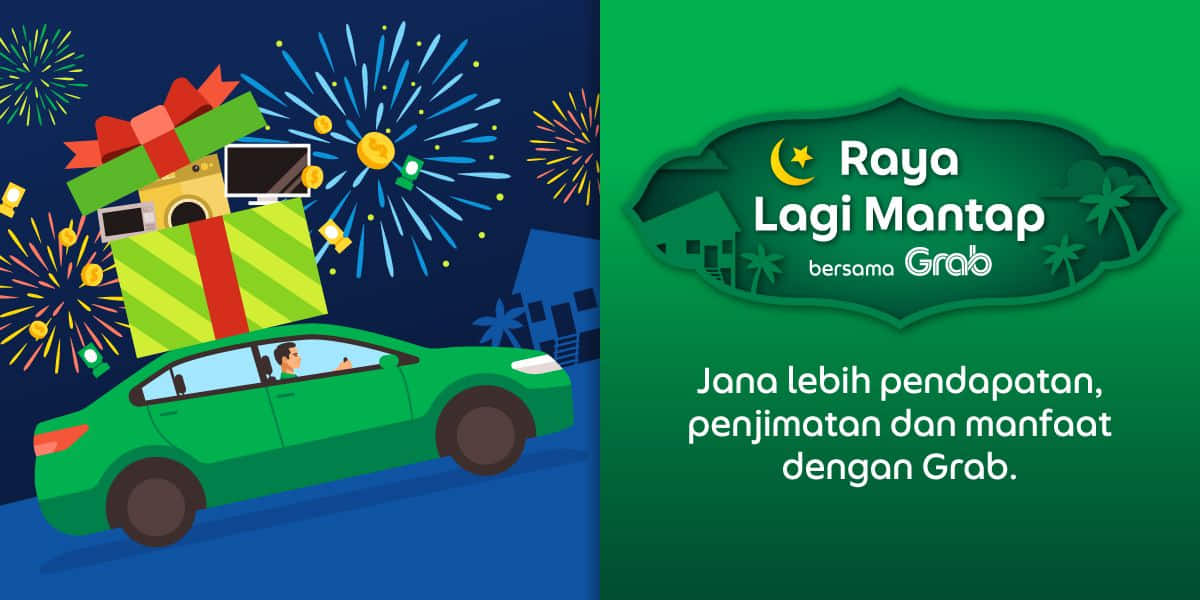 Petaling Jaya, 4 April 2023 – Grab Malaysia, has announced its plans to ramp up efforts to help its driver-partners earn additional income during the upcoming Ramadan-Raya season. It recently kicked off the 'Raya Lagi Mantap Bersama Grab' campaign that offers driver-partners the opportunity to earn up to RM2,000 in additional earnings and savings. There are also prizes to be won worth up to RM20,000.
The campaign, which runs from 22 March to 30 April 2023, is part of Grab's ongoing efforts to bring more driver-partners on board, better serve its existing driver-partners, and make transportation accessible for all passengers. Grab intends to continue providing more earning opportunities and income safety net for those who join the platform. The campaign is one of many invitations for Malaysians to discover access to fair, sustainable and productive earnings.
To participate in the various initiatives within the campaign, driver-partners simply need to continue driving on the Grab platform and meet certain requirements. New and existing driver partners who sign up or recommend someone onto the platform will also have the opportunity to earn additional income and fuel vouchers.
"Grab's mission right from the start has been to provide safe, convenient transportation options, while improving the livelihood of Malaysians. As the demand for rides recover rapidly, we are focused on increasing active driver supply and optimising existing supply to cater to the increasing demand.  We hope that these initiatives and other steps we are taking will encourage new driver-partners to come on board as quickly as possible to benefit from the additional earnings that are available to them," said Rashid Shukor,  Director of Country Operations and Mobility, Grab Malaysia.
Driver-partners who are eligible for advance vouchers and flexible financing by Grab can win Duit Raya (in the form of cashback) worth RM125. Additionally, they can also stand a chance to participate and win in a Hari Raya Home Makeover campaign worth up to RM20,000.
More benefits for the community
Beyond earnings, Grab is well positioned to lead the way in looking after the wellbeing and stability of its active partners. Through GrabBenefits, a benefits programme for partners in the gig economy, partners have access to better quality and relatively safer work opportunities and financial security – such as reduction in operating costs, insurance, professional development and more.
"As part of the 'Raya Lagi Mantap Bersama Grab' campaign we will be hosting a 'Raya Sekampung Bersama Grab' with our top performing driver-partners in all major cities across Malaysia this May. They are much more than just our community of partners – they are our ambassadors; they are the very reason for Grab to exist. We hope to ensure that our partners' honest, hard work pays off and brings a better quality of life to their families," concluded Rashid.
With these efforts, Grab is committed to supporting its driver-partners and providing them with opportunities to earn and save more money during the Ramadan-Raya season.
For more information kindly visit:  https://www.grab.com/my/driver/raya-lagi-mantap-bersama-grab/
-end-