GrabFood's Efforts to Support Businesses & Make Food Delivery More Affordable
GrabFood introduces initiatives to help small and independent businesses thrive by driving demand.
GrabFood delivery fees now as low as RM2 for orders from nearby favourites.
Grab introduces the GrabFood Signatures Value Packages and expands 'free deliveries' category to include additional restaurant-partners.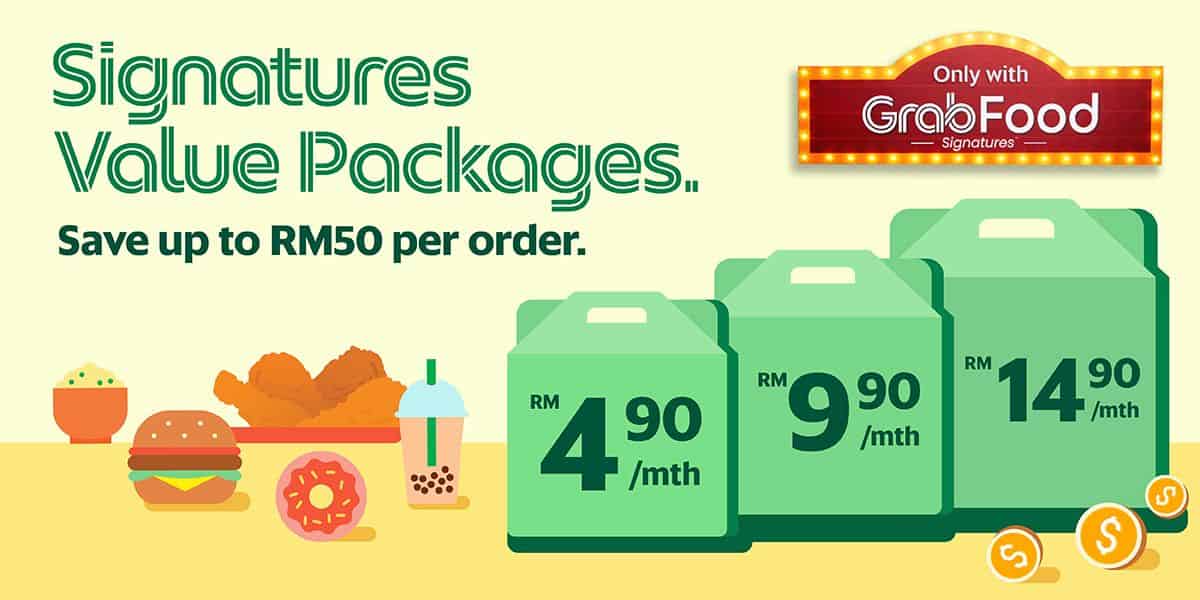 Celebrity chef, Paul Prudhomme once said, "You don't need a silver fork to eat good food." Not only is he right, but GrabFood is making that possible with their efforts to make great, delicious food conveniently affordable especially for those who are budget conscious regardless if you are ordering for yourself, a cozy group of friends, or family, while helping restaurant-partners on the platform to thrive in the new normal.
"With more sectors in the economy reopening, Malaysians are beginning to return to their daily routines. However, many are still having a tough time getting back on their feet due to financial uncertainty. This has not only made Malaysians more conscious about their spending but businesses are also seeing the need to look for more opportunities to sustain. As a homegrown tech enabler, we want to continue innovating our platform and services to ensure we support small and independent businesses while still providing budget conscious consumers the convenience of on-demand food delivery. Through these efforts, we hope to play a part in helping the nation regain economic stability," said Sean Goh, Managing Director of Grab Malaysia.
As such, Grab is introducing new updates to it's food delivery service to help Malaysians save more while growing the demand for small and independent businesses on GrabFood: 
Delivery fees for nearby favourites now from as low as RM2
GrabFood is updating its delivery fee structure to provide users with greater value for their orders. Therefore, delivery fees for your favourite eats will now be as low as RM2 for selected restaurants less than 1km away. Specifically for cities outside Klang Valley, the RM2 delivery fee will apply to selected restaurants less than 2.5km away. This is also aimed at encouraging more orders for smaller and independent restaurants, thus helping them grow and sustain through this period.As delivery fees go directly to Grab's delivery-partners, to ensure they are fairly compensated, Grab will be subsidising the delivery fees which are lower than RM5. Hence, this will not affect their income but will help to grow orders which will also benefit delivery-partners' earnings.

Better savings with GrabFood Signatures Value Packages




Grab is introducing the GrabFood Signatures Value Packages where consumers can

save up to RM50 on each order from their favourite GrabFood Signatures restaurants

, such as

Texas Chicken

,

Secret Recipe

,

KyoChon,

and many more. This in turn will help grow the demand for these restaurants while also ensuring the service remains affordable for users.





The discount vouchers can be used for

over 1,000 restaurant-partners nationwide with no minimum spend required and comes in 3 packages to suit every consumers' lifestyle and budget

:


Here's a guide on how to purchase and use the GrabFood Signatures Value Packages:

Step 1: Go to the GrabFood page on the Grab app, tap on the GrabFood Signatures Packages banner.

Step 2: Select a package and pay with GrabPay Wallet.

Step 3: Your set of vouchers will be placed in your My Rewards page upon successful purchase.

Step 4: Tap on Use Now to use your voucher. Select a GrabFood Signatures restaurant and place your order.

Step 5: Your 15% discount will then be automatically reflected in your order.

*For more information on GrabFood's Signature Value Packages, please click, HERE.

Free deliveries category on GrabFood




GrabFood also recently introduced a new 'free deliveries' category on the platform to provide consumers who are looking for budget friendly options. This also provides restaurant-partners an avenue to boost their visibility and awareness across the Grab platform. Moving forward, Grab will be making efforts to include additional restaurants who would like to participate to offer consumers a wider variety of favourites. 
As the economy reopens, Grab has made various efforts to digitalise micro, small and medium enterprises on the Grab platform to adapt to the new normal. This includes partnering with the government to offer new merchants on the platform RM2,000 worth of bonuses. Continuing from this, these additional efforts will also help businesses to sustain by growing the demand and cultivating a convenient and affordable platform for Malaysians.
"As we continue to embrace the new normal, we want to ensure that our platform remains as inclusive as it can be to help all Malaysians and cater to their needs, be it with the convenience of food delivery or by helping grow opportunities for businesses. We hope that through these efforts we're able to assist our fellow countrymen through these uncertain times," said Goh.
###