Malaysians love to makan. Above that, we love deliciously good deals!
That's why we're super delighted to introduce the GrabFood Signatures Value Packages, where you and all at home can makan maximum and enjoy big savings over and over! 

3 ways to enjoy feasts on GrabFood!
Try Signatures Value Packages at a special launch price before 19 September 2020!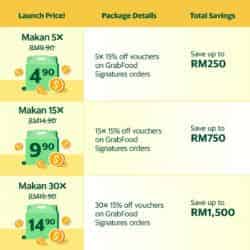 There's no limit to how many packages you can get. Each package is valid for 30 days from the purchase date, and you can only repurchase the same package once it expires. Alternatively, you can purchase other packages to maximise your savings!
Simple steps to purchase and use the vouchers:​
Step 1: Go to the GrabFood page on the Grab app, tap on the GrabFood Signatures Packages banner.
Step 2: Select a package and pay with GrabPay Wallet.
Step 3: Your set of vouchers will be placed in your My Rewards page upon successful purchase.
Step 4: Tap on Use Now to use your voucher. Select a GrabFood Signatures restaurant and place your order.
Step 5: Your 15% discount will then be automatically reflected in your order.
Use your vouchers to order from these well-loved names on GrabFood Signatures:

*Some restaurants may not be available in all cities.
Hokkaido Baked Cheese Tart (SR Group)
Alibaba & Nyonya (SR Group)
Old Klang Road Hokkien Mee
Nam Heong Ipoh [Non-Halal]
The BIG Group – Ben's Bake Shop
The BIG Group – Bistro Benji's By Big
The BIG Group – Ben's General Food Store
The BIG Group – Ben's Chicken Shop
The Public House by Vintry
The Ice Cream Bar (Whole Cakes)
Absolute Thai Street Food
The BIG Group – Plan B Roasters
The BIG Group Ben's To Go
The BIG Group – Ben's Bake Shop (Whole Cakes)
Inside Scoop (Whole Cakes)
Secret Recipe (Whole Cakes)
Boran – Classic Thai Street Food
Bok Bok Korean Fried Chicken
Pinxin Vegan Cuisine – Lebuh Tye Sin
Meng Kitchen – Jalan Keris [Non-Halal]
Appethaizing – Taman Pelangi
Hello Stranger Cafe – The Walk Riverson
Nancy's Kitchen [Non-Halal]
Kedai Biskut Guan Heong – Jalan Sultan Iskandar
Restoran Tuck Kee – Jalan Yau Tet Shin [Non-Halal] 
Big Coconut Western – Taman Hui Sing
Warteg Ipoh – Jalan Raja Musa Aziz
O'Briens Irish Sandwich Cafe
Mikey's Original New York Pizza
Hwa Mui Kopitiam – Taman Sutera Utama
Restoran Ipoh Tuck Kee – Jalan Medan Ipoh 2 [Non-Halal]
Ali, Muthu & Ah Hock Kopitiam
Ikan Boulu Tanpa Tulang II – Inanam
Ikan Boulu Tanpa Tulang 3 – Pavillion Bundusan
Chubs – Plaza Shell [Non-Halal]
STG Tea House Cafe – Jalan Taman Kinta
Welcome Seafood Restaurant
Miss Siam – Jalan Sri Purnama 2/3
Three Leg Cat Cafe – Jalan Paya Terubong
Vouchers
Valid for use in Malaysia only.

The '15% off GrabFood voucher' is valid only on orders from GrabFood Signatures merchants.

T

he discount is capped at RM50 per order.

There is no minimum spend required to use the voucher.

Not valid for use in conjunction with other promotions.

Valid until the date of expiry (30 days upon package purchase), and no extensions will be permitted.
Packages
Signatures Value Packages are available for purchase from 20 July 2020 to 31 December 2020.

Packages shall only be purchased using GrabPay credits and have limited availability. Once packages are fully availed, they will no longer be available in the Grab app. 

There is no limit on the number of packages each user may purchase.

Reward points shall not be awarded for the purchase of a package.

You can only repurchase the same package after the package cycle expires.

You will not be able to repurchase the same package even if you finish all your vouchers before the package expires, alternatively you may purchase a different package.

Requests of extensions for purchased packages will NOT be entertained.

Packages and vouchers are non-transferable, non-refundable or exchangeable for cash, and any unused vouchers will not be refunded.

Grab reserves the right to make changes to your packages at any time. 

Grab reserves the right to alter, extend or terminate the packages, or amend the terms and conditions at its sole discretion at any time without prior notice. In case of any disputes directly or indirectly arising from the promotion, the decision of Grab shall be final.

These terms and conditions shall be governed by the laws of Malaysia and any dispute arising out of or in connection with promotion shall be referred to the exclusive jurisdiction of courts of Malaysia.

Available on the latest app version only.
Frequently Asked Questions (FAQs)
 – Have a yummylicious eating experience with GrabFood Signatures Restaurants! –