Malaysians love to makan. Above that, we love deliciously good deals!
That's why we're super delighted to introduce the GrabFood Signatures Value Packages, where you and all at home can makan maximum and enjoy big savings over and over! 

3 ways to enjoy feasts on GrabFood!
Try Signatures Value Packages !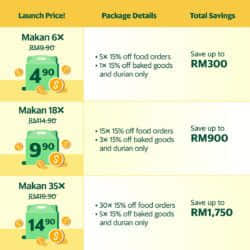 There's no limit to how many packages you can get. Each package is valid for 30 days from the purchase date, and you can only repurchase the same package once it expires. Alternatively, you can purchase other packages to maximise your savings!
Simple steps to purchase and use the vouchers:​
Step 1: Go to the GrabFood page on the Grab app, tap on the GrabFood Signatures Packages banner.
Step 2: Select a package and pay with GrabPay Wallet.
Step 3: Your set of vouchers will be placed in your My Rewards page upon successful purchase.
Step 4: Tap on Use Now to use your voucher. Select a GrabFood Signatures restaurant and place your order.
Step 5: Your 15% discount will then be automatically reflected in your order.
Use your vouchers to order from these well-loved names on GrabFood Signatures:

*Some restaurants may not be available in all cities.
Absolute Thai
Absolute Thai Street Food
After 4 Kopitiam
Ages Ago
Al Gazerah Restaurant
Alamak
Alibaba & Nyonya
Appethaizing
Arabica Restaurant
Ayam Garam Aun Kheng Lim
Baker's Cottage
Ben's
Ben's Bake Shop
Ben's Bake Shop Whole Cakes
Ben's Chicken Shop
Ben's General Food Store
Ben's To Go
Beyond Veggie
Big Coconut Western
Big Food
Big Food F&B
Bistro Benjis By Big
Bok Bok Korean Fried Chicken
Boran Classic Thai Street Food
Borenos Fried Chicken
Botanist Cafe
Bukit China Soya Bean House
Bumbu Cabe
Calanthe Art Cafe
Carl's Jr.
Chakra Restaurant
Chubs
Cosy Bistro
Dave's Deli
Deens Maju Nasi Kandar
Dome Cafe
Dragon Noodle
Durian Man
Eatomo
Fahrenheit 600
Flip Burger
Frenzy Coffee
Fried Chicken Master
Geographer Cafe
Gerai Nasi Kandar Pekan Lama
GO Noodle House
Golden Arab Bistro
Hameediyah Restaurant
Hawker Hall
Hayaki
Hello Stranger Cafe
HeyCha
Hokkaido Baked Cheese Tart
Hong Kong 8am
Hwa Mui Kopitiam
Ikan Boulu Tanpa Tulang 3
Ikan Boulu Tanpa Tulang II
Inside Scoop
Inside Scoop Whole Cakes
Ipoh Hainan Chicken Rice
JBorn Cafe And Bistro
Jin Ming Cafe
Jinjja Chicken
Jom Penyet
K Fry Urban Korean
Kafe Fei Bo Snow Beer
Kedai Biskut Guan Heong
KGB
KyoChon 1991
La Juiceria Detox Bar
La Juiceria Superfoods
Let's Eat
Liang Sandwich Bar
Life Cafe
Lim Fried Chicken
Little Elephant
Madam Tang's Cafe
Madam Tang's Laksa Stall
Megumi Modern Cuisine
Mei By Fat Spoon
Meng Kitchen
Mikey's Original New York Pizza
Miss Siam
Mohammad Chow Express
MyBurgerLab
MyPizzaLab
Nam Heong Ipoh
Nancy's Kitchen
Nasi Ganja Yong Suan
Nasi Tomato Batu Lanchang
Noms Chapter 2
Noms Metro City
NY Burger Co
O'Briens Irish Sandwich Cafe
Old Klang Road Hokkien Mee
Pakeeza Restaurant And Catering
Pelicana Chicken
Pinxin Vegan Cuisine
Plan B
Plan B Roasters
Proof
Red Lobster
Restoran Eat & Chat
Restoran Hameediyah
Restoran Hua Mui
Restoran Ipoh Tuck Kee
Restoran Maharaj
Restoran Mee Rebus Ramli
Restoran Nasi Malaya
Restoran Papilicious Olivias Pasta And Pizza
Restoran Sulaiman Nasi Kandar
Restoran Tuck Kee
Roast & Grill
S.Wine
Salad Atelier
San Francisco Coffee
Sangkaya
Santan
Secret Recipe
Secret Recipe Whole Cakes
Sharing Plates
Signature Madam Tang's Cafe
Sin See Tai
Small Coconut
Snowflake
SOULed OUT
Souper Tang
Spades Burger
STG
STG Ipoh Oldtown
STG Tea House Cafe
Super Saigon
Sushi East
Taka Cake House
Taka Patisserie
Tamaha Cafe
Tasty Chapathi
Teck Kee Restaurant
Texas Chicken
The BARN Wine Bar
The Daily Fix
The Fish Bowl
The Ice Cream Bar
The Ice Cream Bar Whole Cakes
The Public House by Vintry
Three Leg Cat Cafe
Tiger Sugar
Upperstar
Village Park Restaurant
Village Roast Duck
Vintry
Wang Thai
Warteg Ipoh
Welcome Seafood Restaurant
Yee Hup
Yeolde English
YU
Vouchers
Valid for use in Malaysia only.

The '15% off GrabFood voucher' is valid only on orders from GrabFood Signatures merchants.

T

he discount is capped at RM50 per order.

There is no minimum spend required to use the voucher.

Not valid for use in conjunction with other promotions.

Valid until the date of expiry (30 days upon package purchase), and no extensions will be permitted.
Packages
Frequently Asked Questions (FAQs)
 – Have a yummylicious eating experience with GrabFood Signatures Restaurants! –