Grab Malaysia Accelerates Access to Earning Opportunities with almost RM300,000 worth of lucky draw prizes
Lucky Draw Campaign awarding Perodua Bezza, Samsung Galaxy S22 Ultra, iPhone 13 and fuel vouchers to lucky winners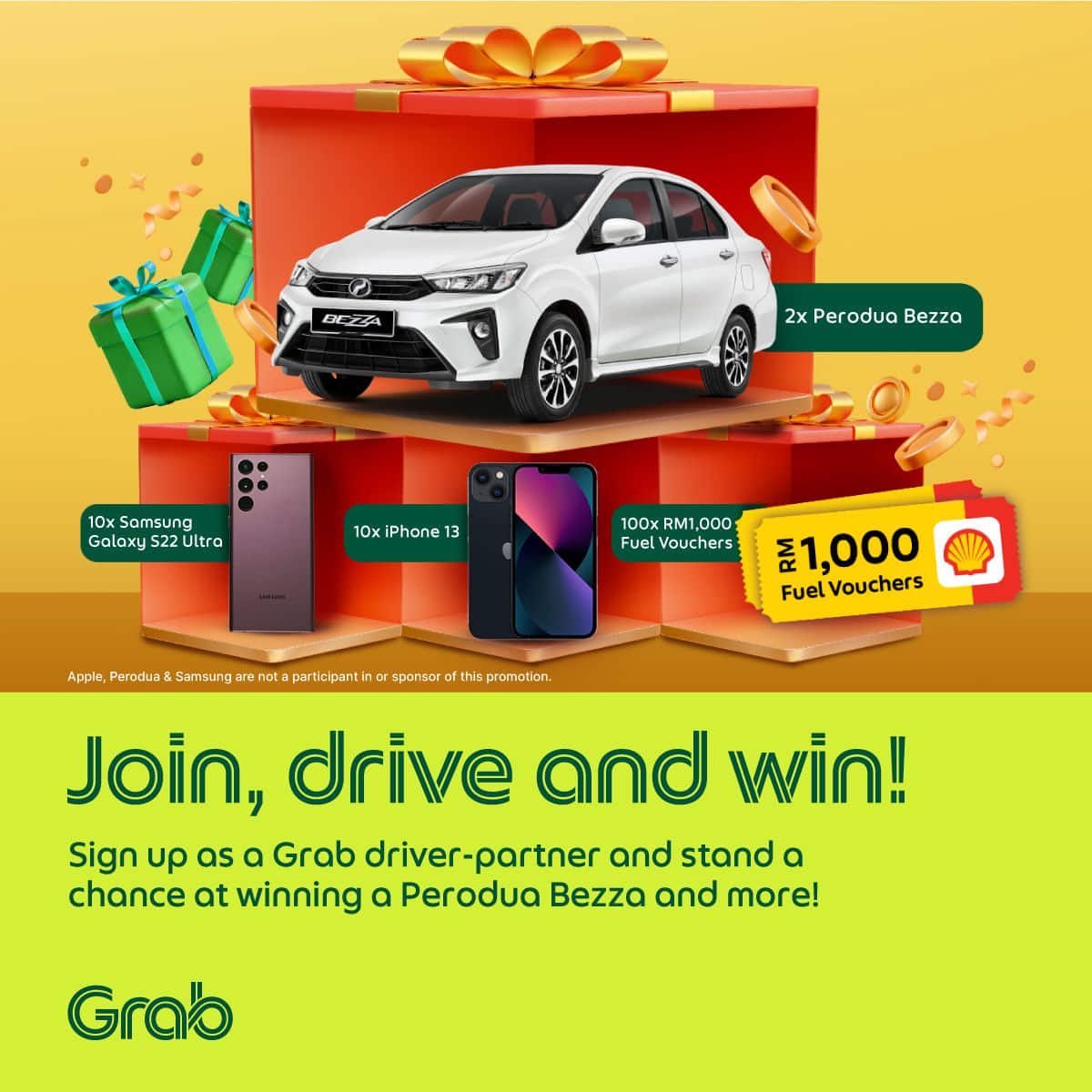 Grab Malaysia launched a lucky draw campaign, offering driver-partners, both existing and new, the chance to win two Perodua Bezza cars and other attractive prizes, amounting to close to RM300,000. This campaign represents Grab's commitment to their driver-partners, making it easier for them to earn on the platform, while also attracting new sign ups to better serve Malaysia's growing demand for enhanced connectivity.
The campaign will run from 1 May to 31 July 2023 and driver-partners can participate just by completing a ride, which will be converted into a number of entries based on their respective tiers. Driver-partners who recently signed up and accounts are activated during this period will receive 100 entries and additionally 2 more entries for every completed ride thereafter.
"Our mission is to provide Malaysians with safe and convenient transportation options, while simultaneously improving their livelihood. As we see an increase in the demand for rides, we continuously work to increase and optimize our active driver supply to stay ahead of the curve. This campaign is also designed to encourage everyone who wants to leverage the opportunities of the digital economy, so they can benefit from the additional earning opportunities that are available to them," said Rashid Shukor, Director of Country Operations and Mobility, Grab Malaysia.
Grab is also committed to supporting the well-being and stability of its driver-partners through GrabBenefits. The program offers a range of benefits, including access to financial security through insurance and cost reduction, and opportunities for professional development. This campaign is an extension of GrabBenefits under the 'Savings' pillar, specifically by helping to reduce the operating cost driver-partners typically incur as they drive. Previous campaigns with a similar aim include 'Raya Lagi Mantap Bersama Grab' where partners had the opportunity to earn up to RM2,000 in additional savings and more recently  the company has also provided partners with RM300 shell vouchers to help save on fuel costs.
"We remain steadfast in our commitment to work closely with the authorities to streamline regulations and make it more seamless for Malaysians to gain equal access to flexible earning opportunities via the digital economy,so that many more can earn an income via e-hailing and serve the daily commuting needs," concluded Rashid.
For more information, kindly visit: https://www.grab.com/my/join-drive-and-win/
-end-