BusinessConsumers & Drivers
Regulation Matters: With less than 3 days to go before the deadline, less than half of all our number of drivers will be ready
(Attributed to Grab Malaysia)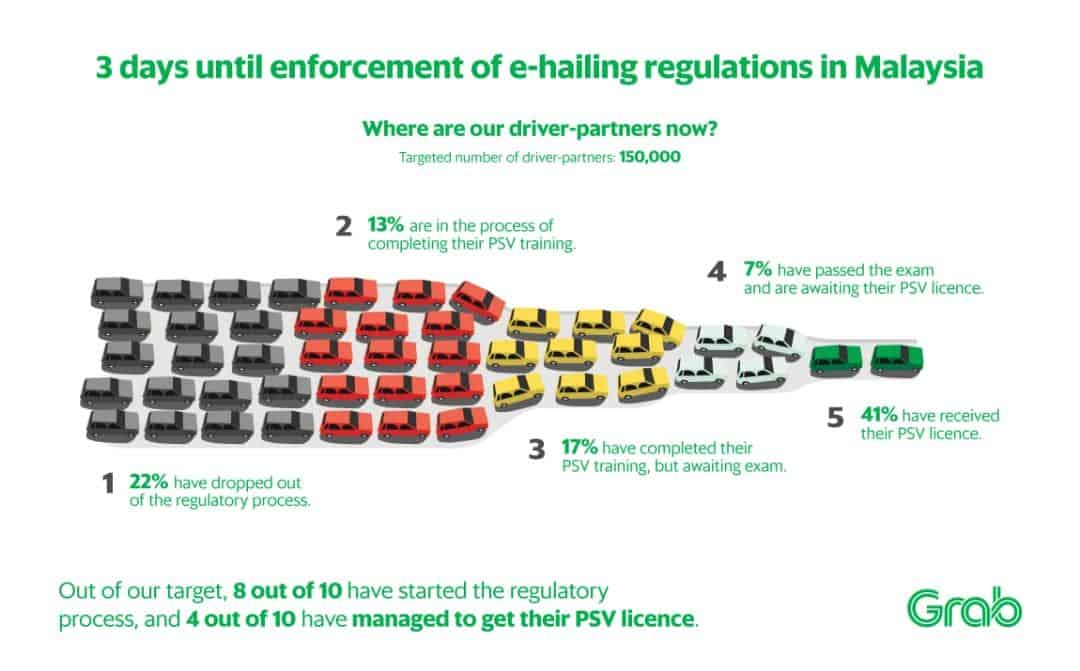 As many are aware, the enforcement of the e-hailing regulations will come into effect from 12 October 2019. Though announced last year, the application process for the PSV licence kick-started only in April this year. This is undoubtedly a significant task for the government agencies and our driver community, as they navigate through an unprecedented regulatory process.
Since the regulatory process began, we have been aiming for at least 150,000 of our drivers to go through the PSV process. To date, 41% of these drivers-partners are now licensed. A further 24% are currently in waiting, either for examination results or for an examination slot. A further 22% have dropped out, citing various reasons including the time and costs required to navigate the regulatory process.
In the meantime, we welcome our Minister of Transport, YB Anthony Loke's announcement today to address the additional requirements by JPJ that was circulated through a memo last Friday. He has announced that it will not be made compulsory for drivers to print out a physical copy of the e-hailing vehicle permit (eVP), and drivers do not have to walk in to JPJ branches once again to change their vehicle code. Correspondingly, the registration of a vehicle for e-hailing would not be reflected in the vehicle grant. On behalf of our Grab community, we are appreciative that the minister took the time to step in to reduce the burden on the driver community.
Grab has been and will continue to work closely with the Ministry of Transport, JPJ, APAD and PUSPAKOM to help as many driver-partners as possible, especially the many driver-partners who depend on ride-hailing for their families' livelihood. We are encouraged by the minister's belief that there is a need for the Malaysian landscape to adapt to accommodate the new digital economy, and we would like to offer our insights, processes and experience to help the government navigate through the challenges of the new gig economy.
Reality today – consumers will still feel the pinch
Despite our joint efforts, as of today, only less than half of our active driver-partners has successfully obtained their PSV licence. Each day, our active driver-partners in full force serve 1 million ride bookings. On average, a passenger can get his or her ride within 6 minutes. Unfortunately, this may change post-12 October. 
With fewer driver-partners on the roads to serve an ever-increasing demand for ride-hailing, consumers will feel the pinch of longer waiting times, especially during peak hours and rainy days. The looming prospect of consumers being stranded on the roads upsets us, as Grab has always strived to out-serve our consumers and driver-partners.
While we tide through these challenging times together, we advise passengers to yet again pre-plan your travel during this period:
Book earlier than usual:

Book your ride earlier and be ready when the driver arrives, especially if you have a flight to catch or need to get to an important meeting. Please do not cancel a ride if you manage to get one even though the waiting time may seem unusually long.

Ride during non-peak hours:

Getting a ride is much easier outside the peak hours of 7-9am and 5-8pm
We hope that this imbalance in supply and demand will be transient. We commit to continue working closely with the authorities to clear the obstacles for our driver-partners, so that many more can continue to earn an income via ride-hailing and serve the daily commuting needs of everyone. 
It has been a challenging few months for everyone involved. Ultimately, we are grateful for the effort from those who have supported the community in this challenging period – partners who span across the Ministry of Transport, Bank Negara Malaysia, insurance and healthcare providers, workshops, driving schools, and, most of all, our cherished community of hardworking driver-partners.
For more information on the e-hailing regulations in Malaysia and what you can do to minimise its impact on your everyday life, please visit: https://www.grab.com/my/blog/e-hailing-regulations/ 
=END=