[E-Hailing Regulations Update 9/10/2019]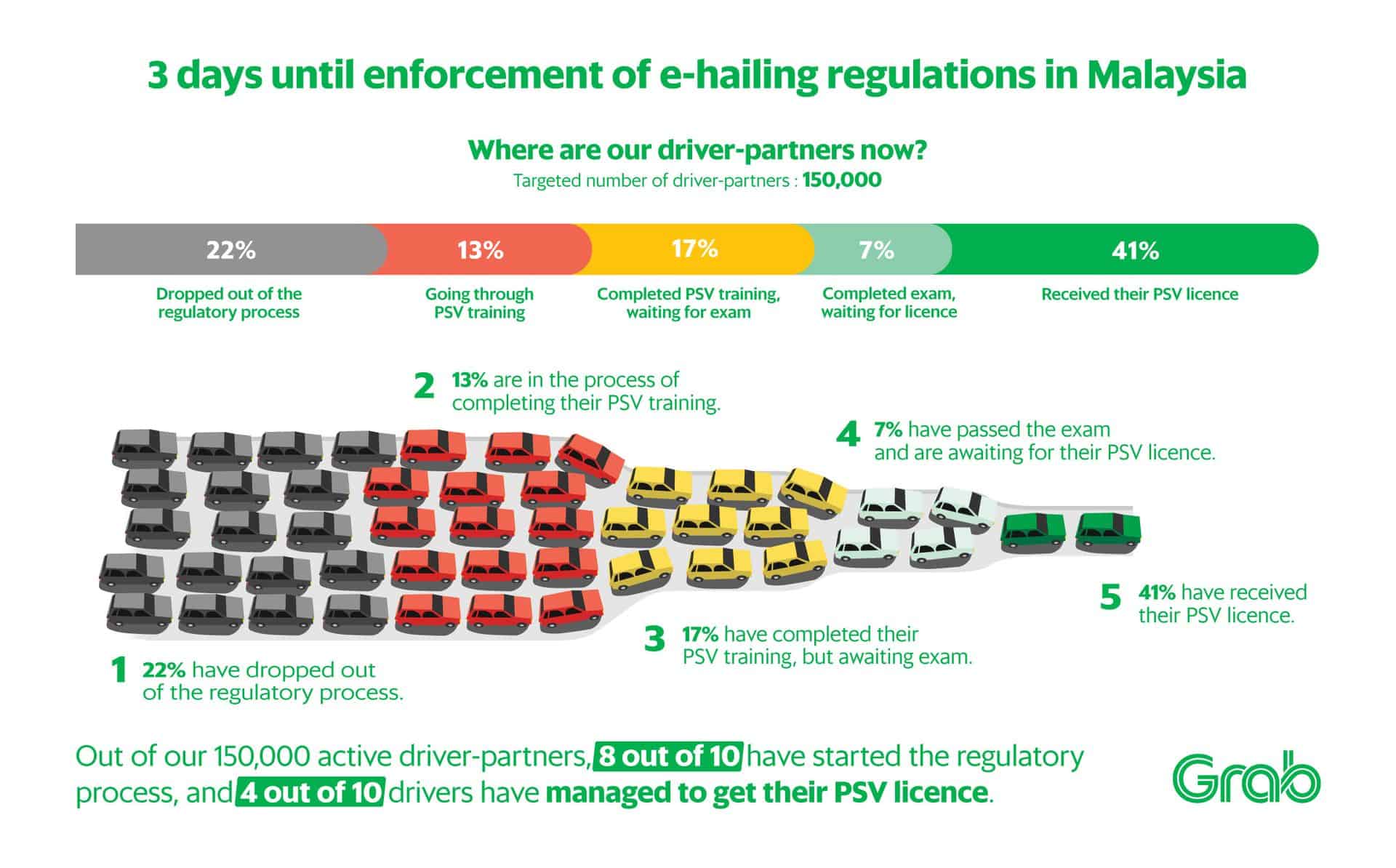 [E-Hailing Regulations Update 12/7/2019] The Ministry of Transport has just announced that strict enforcement for E-hailing Regulations will come into effect from 12 October 2019. This means more drivers will have more time to obtain their PSV licences. We will continue with efforts to help drivers navigate the process, such as:
To subsidise driver licensing costs (training, medical, vehicle inspection, PSV licensing fees).

To minimise capacity limitations by working with authorities ( online learning platform, co-organizing exam halls).

To streamline PSV application process by assisting to collate and submit documents on behalf of our drivers to JPJ for processing.
Why is this happening?
From 12 October 2019, new regulations will come into effect for the e-hailing industry. All Grab driver-partners will have to go through stringent processes to meet regulations. This potentially means fewer drivers on the road and increased waiting times for your rides.
What do our drivers have to do to sign up?


FAQs
1. How will this impact me and is there anything I can do?
With potentially fewer drivers on the road, we anticipate that your ride experience will be affected. Therefore, we suggest you pre-plan your travel, for the time being, with these simple tips:
Book earlier than usual: Book your ride earlier and be ready when the driver arrives, especially if you have a flight to catch or need to get to an important meeting.
Ride during non-peak hours: Getting a ride is much easier outside the peak hours of 7-9am and 5-8pm.
2. What does the E-hailing Regulation "soft landing" approach mean for me?
Currently, Grab drivers will be able to continue driving, but they will need to obtain their PSV licence to continue from 12 October 2019 onwards. As more and more drivers get licensed, this potentially means that there will be minimal disruptions to ride services.
3. How will this impact the fares?
As commuters ourselves, we understand the pain passengers feel when fares are higher. However, with the possibility of fewer drivers on the road, you may experience an increase in dynamic fares, especially during peak hours and rainy weather.
3. What is Grab doing to help the situation?
Since the regulation process was formalised in Apr 2019, Grab, together with our driver-partners, have been working hard to meet those requirements. Key initiatives Grab has undertaken include;
Minimising driver licensing costs
Hasten licensing process
Incentivise drivers to get licenced before 12 October

Subsidise driver training costs

Subsidise driver medical checks

Subsidise vehicle inspection costs

Subsidise PSV licensing fees

Developed industry's first flexi e-hailing driver insurance (RM1/day vs RM400/annum)

Developed online platform to maximise ePSV training efficiency

Co-organized mass exams with JPJ to minimize capacity limitation

Partnered with Puspakom to extend e-hailing vehicle inspection hours

Subsidise 70% of total driver regulatory compliance cost
The sooner more drivers can complete and obtain their PSV (Public Service Vehicle) licence, the sooner this situation will improve.
4. Why did the driver-partners not get their E-hailing licences earlier?
While the intention to implement e-hailing regulations was announced last year, the actual process only started in April 2019. Leading up to soft landing on 12th July 2019 AND the regulations enforcement date on the 12th of October, we have been working closely with the Ministry of Transport, JPJ, APAD and Puspakom to improve the efficiency of the process, and to help our drivers with the costs.
5. Will this impact GrabFood, GrabExpress and other Grab services?
No, it will not. The new e-hailing regulations only affect private car ride-hailing services, such as GrabCar, JustGrab, GrabCar Plus, GrabCar (Premium), etc. Taxi services on Grab are not impacted.
For more FAQs please click here.