GrabFood to Champion Environmental Sustainability in Food Delivery Business
GrabFood kicks off long-term plans for greater environmental sustainability by advocating for consumers to "say no to single-use plastic cutlery" for all GrabFood orders.
GrabFood inks PACT with WWF, underscoring commitment to reduce plastic waste by 2030.
These are part of Grab's broader GrabForGood social impact commitments to work towards reducing its environmental footprint across the GrabFood ecosystem.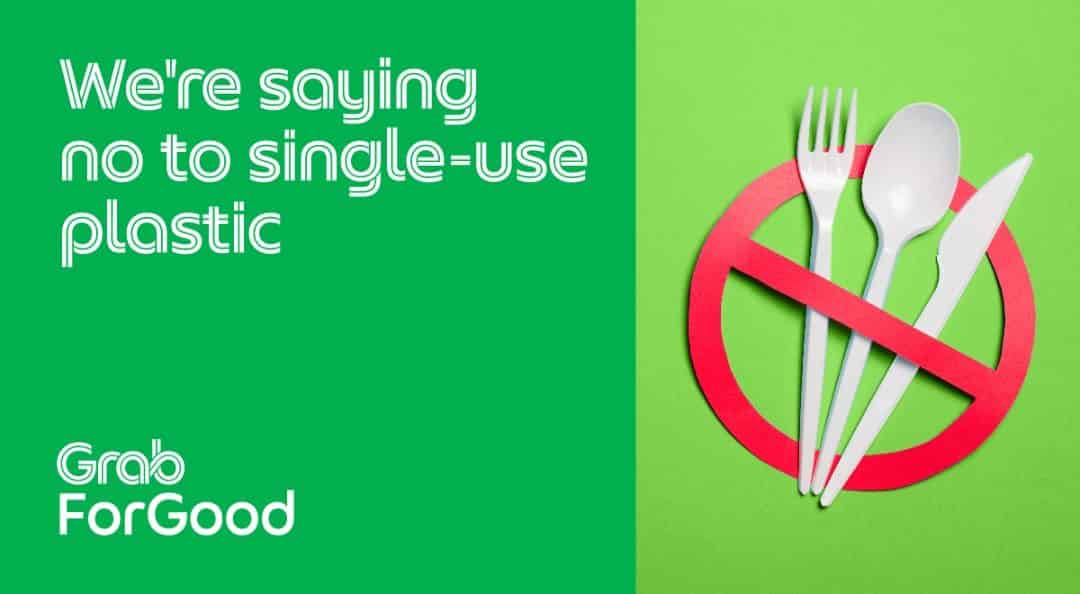 Petaling Jaya, 11 November 2019 – GrabFood, Malaysia's fastest growing food delivery service, kick-started its efforts towards better environmental sustainability with the introduction of the 'no-cutlery' toggle for all GrabFood orders. This marks GrabFood's first step towards reducing single-use plastic cutlery, and calls on consumers to opt for no-cutlery when ordering food. 
This effort is part of GrabFood's long-term sustainability plan that will see GrabFood work closely with its ecosystem of restaurant-partners, delivery-partners and consumers to reduce the impact on the environment by advocating more environmentally-friendly and sustainable business solutions. 
With the food delivery industry expanding exponentially, excess packaging and plastic waste is a growing concern. According to a study, Malaysia is ranked 8th among the top ten countries with mismanaged plastic waste in the world and it is estimated that Malaysia produced 0.94 million tonnes of mismanaged plastic waste, of which 0.37 million tonnes may have been washed into the oceans. In fact, Malaysia is one of the countries with the lowest recycling rate at only 17.5%, compared to our neighbour, Singapore at 59%. 
Sean Goh, Country Head of Grab Malaysia shared, "Our GrabFood service is fast becoming a part of Malaysian's staple option to order food. Recognising the unique role we play in the industry, we want to facilitate positive change by encouraging our partners, both consumers and restaurant-partners alike, to join us in making a firm commitment to reduce single-use plastic cutlery. This is just the beginning – it marks the first phase of GrabFood's longer-term plan to safeguard our environment; if every member of our ecosystem did the same, every small step will matter and will amount to significant change." 
Goh added that going green requires the effort of the entire community combined and thus wants to be able to work with relevant parties in the community to identify more environmentally-friendly and sustainable solutions for the food industry to continue growing without further impact to the environment. 
GrabFood's green plan
GrabFood's long-term plan to implement green and sustainable efforts will be introduced and rolled out in phases which includes education and awareness efforts on the impact of single-use plastic waste to the environment. To kickstart these plans, GrabFood is introducing the following initiatives:
"No Plastic in Nature by 2030" PACT by the World Wildlife Fund (WWF)


Grab has signed the "No Plastic in Nature by 2030", a Regional Plastic ACTion Platform (PACT) with WWF, underpinning

its commitment to be a more eco-friendly business

. Through this partnership with WWF, GrabFood will be introducing several initiatives and educational toolkits to assist its restaurant-partners to adopt more sustainable business practices and packaging.

"Say No To Single-Use Plastic Cutlery" Toggle


Effective November 5, GrabFood has implemented a "no single-use plastic cutlery" option for all GrabFood orders across all restaurants on the platform. The cutlery option is set to "opt-out" as a default and consumers who require cutlery will need to proactively choose to include it in their order.

GrabFood first piloted this option for selected restaurants early this year. Results from the pilot indicated that almost 60% of orders from the selected restaurants opted not to receive single-use plastic cutlery. This is a testament that consumers are environmentally conscious and only proactively choose to receive cutlery if necessary. We are heartened by the positive initial response and look forward to further reductions in the use of single-use cutlery moving forward.
GrabForGood – Green Fund


Recognising the large cost disparity between environmentally-friendly packaging options and normal plastic-based packaging, and knowing this a huge barrier for some restaurants to go green, GrabFood is setting up the Green Fund. From now till end December 2019, GrabFood will put aside 10 cents towards the fund every order that consumers opt for no single-use plastic cutlery. The fund will eventually be channeled towards supporting our restaurant-partners, especially small, micro-entrepreneurs and medium sized restaurants, to kick-start their efforts to adopt eco-friendly packaging at a better cost price, whilst the company works towards assisting to source for eco-friendly packaging suitable the restaurant-partners' needs.  
"These initiatives are just the start of our long term-green roadmap, and we hope to also work alongside government and relevant agencies to deliver on their vision of a Zero Single-Use Plastics 2018-2030," added Goh. 
Looking Ahead 
Moving forward, other initiatives will also include the food delivery service working with various NGOs on a long-term education and awareness programme on how our community of consumers, restaurants and delivery-partners can play their part to collectively make a true impact in our endeavours for a more sustainably society. In addition, GrabFood also hopes to be able to work with potential vendors and suppliers of eco-packaging to make it more easily available at a much more cost-efficient price such as as reusable tiffins or wheatstraw food containers. 
###