Grab continues to create greater inclusivity for 500 Persons With Disabilities (PWD) in Malaysia
Provides further income opportunities for PWD community through Grab's ecosystem of services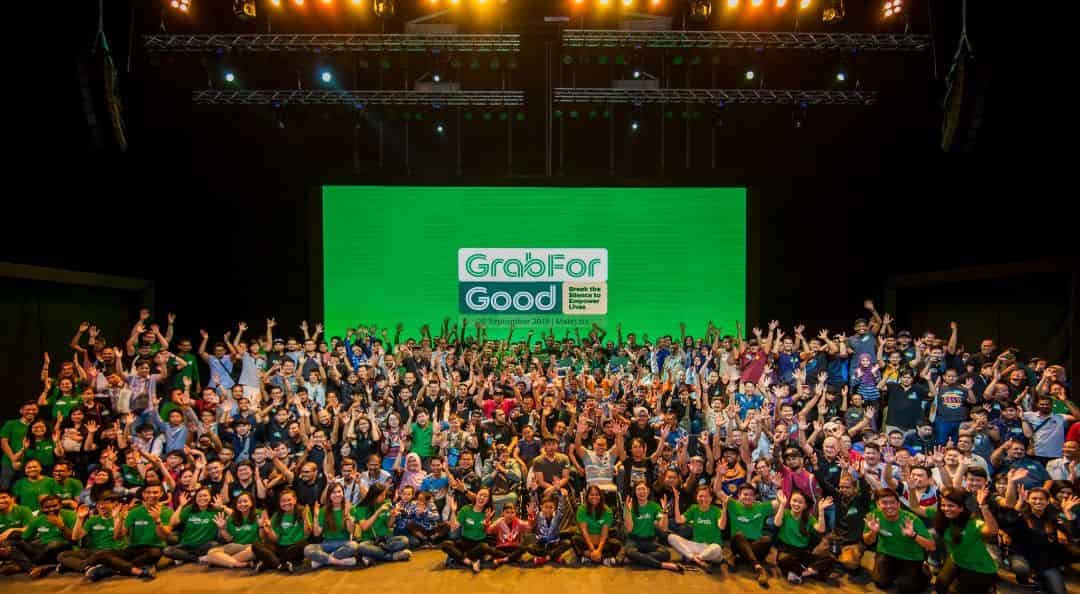 Kuala Lumpur, 28 September 2019 – Grab, celebrates 'Grab For Good' with its differently-abled partners, which steps up Grab's commitment to push for greater inclusivity on its platform for Persons With Disabilities (PWDs). Over 500 of the nearly 800 PWDs who earn an income on Grab across the region are Malaysians. This includes persons with deafness, cerebral palsy or motor impairments. Malaysia is one of the few countries in the world to have implemented progressive regulations that allow Persons With Disabilities (PWD) to obtain a commercial driver's licence.
Speaking at the event, Sean Goh, Country Head of Grab Malaysia says "Our driver-partners and delivery-partners inspire us everyday with their strength and dedication. Last year, we introduced 'Break the Silence', in partnership with the Malaysian Federation of the Deaf (MFD), to improve the experience for drivers who are deaf and hard-of-hearing. Since then, we've grown from serving 245 PWD partners to over 500. As we celebrate Break The Silence once again this year, we hope to reach even more communities with different abilities, and to serve them better. Ultimately, we believe that Malaysia was born under an imperative to be an inclusive nation, and that every Malaysian deserves an equal opportunity." 
"We commend Grab's efforts to encourage a more inclusive environment for the deaf community in Malaysia. Through their initiatives over the course of the year, deaf and hard-of-hearing drivers will be able to work with peace of mind, knowing that someone is looking out for them. We are also proud to be able to assist them expand their efforts to their community of differently abled partners on their platform," said YM Tengku Arman Harris Tengku Ismail, President, Malaysia Federation of the Deaf.
A core focus of 'Grab For Good' is to ensure that anyone, regardless of background or ability, is able to benefit from the digital economy. Grab aims to do so by cultivating a seamless Grab experience for differently-abled driver-partners, delivery-riders, merchants and users alike. This year, Grab is introducing three new pillars:

Extend support to PWD enterprises


This year, Grab will include differently-abled merchants on GrabFood and GrabPay within Break the Silence. Users can now learn more about these merchants and play an active role in helping them grow their business right on the Grab app. Some of the merchants users can expect on GrabFood and GrabPay in the coming weeks are The Bassment Cafe, Deaf-In-Business (DIB) Restaurant and RC Deaf Missions Malaysia while Grab works to onboard additional merchants with different abilities by the end of the year. 

Introduce the Driver Representative Committee (DRC) for PWDs


To assist the growing number of PWDs on the platform, Grab appointed 19 differently-abled driver and delivery-partners to be a part of their Driver Representative Committee (DRC). The committee acts as a bridge between Grab and their community of driver and delivery-partners to better understand their needs. Moreover, the committee will also seek to gather and provide  insights on how Grab can further enhance drivers' experience earning an honest income on the platform.

Conduct driver training on how to better serve users with disabilities


Grab will organise monthly training sessions for driver-partners to equip them with the skills needed to better assist passengers with physical impairments such as those who are wheelchair bound. To date, Grab has trained a total of 85 driver-partners and will run these training sessions twice a month while expanding it nationwide to upskill at least 1,000 driver-partners by the end of 2020. 
Moving forward, Grab will be developing further tech enhancements to support deaf and physically-impaired partners to enhance their experience earning an income on the platform:

In-app cards

to notify users if a driver-partner is deaf (an upgrade from the current automated GrabChat notification). 

GrabChat as default communication channel

for users who are paired with a Deaf partner.

In-app communication guides

for passengers to interact better with the Deaf driver-partner. This will be placed in the in-transit feed (an upgrade from the in-car communication flip cards).
Haymasuthan A/L Periasamy, a deaf driver-partner in Grab's Driver Representative Committee (DRC), said, "Changing the way people see my disability isn't easy. And that is why I keep working with Grab to shift the perspective many still have about the deaf and hearing impaired community. I am thankful for the opportunity to work closely with Grab to assist others out there achieve financial independence."
Siti Fatimah binti Badrun, a wheelchair bound driver-partner, said, "I have been wheelchair bound since birth and never thought that there were income opportunities for someone in my condition growing up. I was hesitant at first when hearing about Grab but I decided to try it out anyway because many of my friends were encouraging me to do so. Since then, I've learned that I really enjoy it and I also appreciate the income I am able to earn independently driving with Grab. 
Launched in 2018, Grab launched 'Break The Silence' in Malaysia. This year, Grab is expanding the impact of Break The Silence to other countries in Southeast Asia. Russell Cohen, Grab's Regional Head of Operations, says, "We are very proud of what our driver-partners of different abilities were able to achieve with their hard work and determination. Their passion has inspired us to support the community in more countries across the region. With the foundation that was built locally here, we are planning to double the number of differently abled partners on the platform over the next year." 
"We hoped to build a platform to improve livelihoods. But ultimately, it was our PWD community that spotted the opportunity for themselves; they're the ones who showed us what was possible, and still do every day. All we hope for is to do more to help them along the way, even in little ways. We're so proud of their passion to serve, and humbled by their strength in overcoming challenges. We hope to keep learning from them, and to do better for our community," added Goh.
For more inspiring stories from our partners in Malaysia and around the region, here are the #GrabForGoodMY films:
– END –