RIUH x Grab with YTL Land Unveil Sentul Depot for Malaysia Day Weekend Event 15 & 16 September 2018, 11am-9pm
Riuh continues to showcase local creatives in the 'New Malaysia'
Grab to partner with RIUH for its first fully cashless Malaysia Day Weekend Event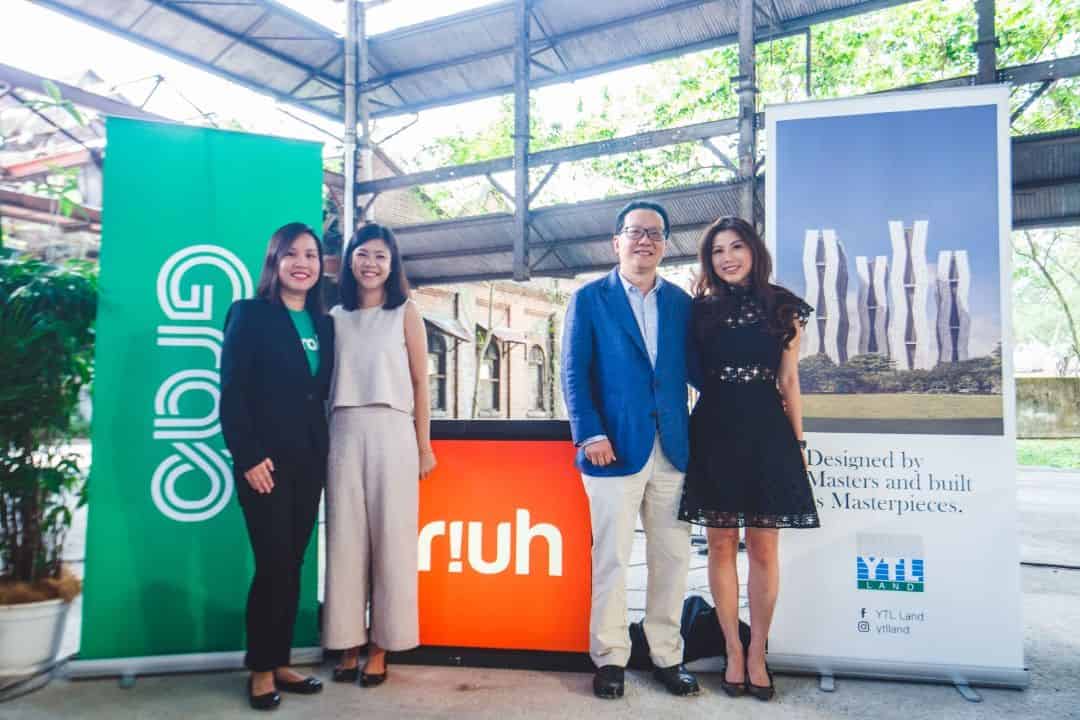 In supporting Malaysian entrepreneurs, artisans and the creative industry, RIUH is joining forces with Malaysian homegrown, Grab, to host a special RIUH x Grab Malaysia Day Weekend. For the first time ever, in conjunction with Grab's My New Malaysia Campaign, RIUH , which will be powered by GrabPay will be fully cashless with amazing discounts awaiting discerning shoppers.
This is not the first time Grab is partnering with RIUH. Since RIUH's launch in August 2017, Grab has been working alongside RIUH to help transport patrons safely and conveniently to its venue by providing discounted rides.
In a span of a year, RIUH has had 14 events with the participation of over 625 creative entrepreneurs, conducted over 28 creative workshops, showcased over 450 musicians, visual artists and performing artists. On average, RIUH hosts 8,500 visitors per month from various backgrounds – locals, expatriate and tourists, who with their family and friends are able to experience what creative Malaysia can offer.
Apart from various food stalls, creative workshops and creative activities for the whole family, visitors can expect all things Malaysian at RIUH this Malaysia Day Weekend with products ranging from batik, kids apparels, fine jewelry to woodworks, books and succulents. Notable brands include Amazin' Grace, Kakiseni, Tiny Forest, The Straits Finery, Kvik, Batik Tektura, Pungu Borneo and many more. Not forgetting live music and cultural dances by ASK Dance Company, Zamaera, The Frankie Sixes led by Reza Salleh, Ryot Jones, Tiga Soul and Orang-Orang Drums.
For this special RIUH x Grab Malaysia Day weekend, Grab is also working with homegrown entrepreneurs and creative social enterprises such as Pantun Pins and The Hive to create limited-edition Grab Malaysia Day merchandise. Patrons will also get the chance to win up to RM100 worth of Grab rides or GrabFood promo codes when they try the 'Cuba Try Machine'.
The Malaysia Day Weekend is made more meaningful as this coming RIUH will be the inaugural event to be hosted at a gem of a venue-kept hidden from the eyes of the community for many years, yet, rich in heritage and history dating back to 1905 – the historical Sentul Depot located at the heart of Sentul West. Owned by YTL Land & Development Bhd (YTL Land) and situated next to Sentul KTM station, Kuala Lumpur's best kept secret is the largest complex of historical railway workshops which once served the Federated Malay States Railways in early 1900s till KTM in early 2000s.The unveiling of the 200,000 square feet Sentul Depot, with its stunning colonial-brickwork buildings,  to the public for the first time in its 100-year history is YTL Land's gesture of breathing new life to the space and "returning" it to the Malaysian community which it once served. The unveiling is perfectly timed with the Malaysia Day Weekend as Malaysians celebrate 55 years of the formation of Malaysia and look forward to more exciting possibilities in the future. This marks the first partnership between YTL Land and RIUH with a common aim to support the Malaysian creative community.  
RIUH's co-hosting with GRAB and collaboration with YTL Land in unveiling Sentul Depot is a testament of aspirational hope for continuous corporate support towards the local creative ecosystem, the inspiring local entrepreneurship movement and the spirit of togetherness in the community.
In addition, the co-hosting and partnership are exciting juxtapositions where the future (Grab's position as a tech-based company in enabling cashless payments) is casted over a heritage backdrop (Sentul Depot's historical narration) that sets the tone for RIUH's Malaysia Day Weekend. The heartbeat of this relationship is really the love for homegrown brands and talent.
Ultimately, this upcoming RIUH weekend will entice visitors with a new RIUH experience – not only in terms of progressive cashless shopping but also a glimpse of a well-kept-secret venue that will open its doors exclusively during the RIUH weekend.
Excited patrons can enjoy an RM8 off two rides to/from Sentul Depot when they key in the promocode RIUHXGRAB and pay for their rides via GrabPay Credits.
For more information on what is in store for the Malaysia Day Weekend and the historical overview of Sentul Depot, please refer to our Media Kit. Drop an email to hello@riuh.com.my for further enquiries.
=END=