Prepare For HUATEVER Chinese New Year With Grab
Celebrate the traditions of the season while reconnecting with loved ones with Grab.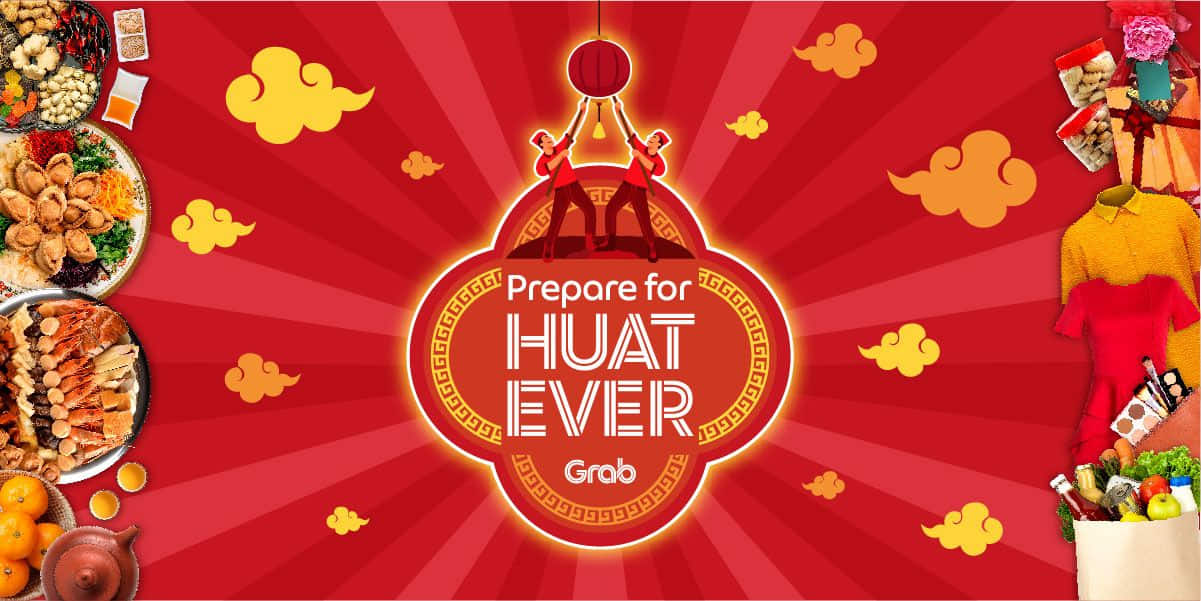 Chinese New Year celebrations in Malaysia for the past two years have definitely been unique and intimate, due to the circumstances. However, with borders reopening, many will be able to ring in The Year of The Tiger with their loved ones again – signifying a "comeback" for Chinese New Year with many planning to go all out with their celebrations!
Hassan Alsagoff, Country Marketing Head of Grab Malaysia, shared the inspiration for Grab's HUATEVER campaign, "This year's Chinese New Year is filled with excitement and anticipation, especially since it will be the first in the new normal that Malaysians are able to travel and meet their loved ones again. We know how precious this is now more than ever, which is why we were empowered to double down on our offerings for the season. To help Malaysians focus on reconnecting with family and friends, while we and our community of partners help to make everything they could possibly need for a memorable celebration just a tap away."
Whether it's the best varieties of Yee Sang, shopping in preparation for the festivities, or sending gifts to family and friends – Grab wants to help you make up for lost time with an even greater variety of HUATEVER you need to make the festivities prosperous.
Here are just some of the ways Grab is enhancing the way Malaysians can go about preparing for quintessential Chinese New Year traditions conveniently:
Toss for luck with over 100 types of Yee Sang




A symbol of abundance and raising one's fortune and prosperity for the year, no Chinese New Year meal is ever complete without Yee Sang. And with multitudes of taste buds to cater to, GrabFood is back with an ever bigger line-up of Yee Sang varieties to choose from with over 100 types nationwide – from traditional, classic varieties that we're all used to, to ones featuring premium ingredients and even unique alterations to suit all kinds of diets.



Have a lavish reunion dinner without the stress




A once-in-a-year affair, the reunion dinner which is held on the eve of Chinese New Year is also traditionally held at home and is an important feast where leftovers are a must – signifying a year of abundance and prosperity! With so much anticipation around one meal, it can get stressful preparing everything from scratch. Hence GrabFood is making it even more convenient with a wide variety of traditional festive staples to choose from. On top of that, users can also enjoy up to 50% off or pay RM8.88 on selected meals on GrabFood.



Ensuring the home is fully stocked with CNY goodies




With any festive occasion, there's always certain items that we're expected to have in our homes. So whether it's CNY cookies to last the year, crates of mandarin oranges, or just essential items for hosting family members who are visiting, have by simply ordering them through GrabMart. For additional savings, users can also get all their essentials for hosting and gifting at up to 50% OFF with FREE delivery on GrabMart!



Show off a HUAT new look everyday without breaking bank




Traditionally believed to symbolize new hopes and beginnings for the year, it isn't uncommon to see a relative or friend splurge on a brand new outfit for each day of the festivities. With up to 30% off both online and offline stores when transacting with GrabPay, having a CNY shopping spree can be guilt-free. On top of that, start the year on the right note by accumulating GrabRewards with your GrabPay transactions to enjoy more deals and savings in the coming year.



Conveniently share the wealth with loved ones




The most recognizable CNY tradition comes in the form of a little red envelope – the Angpow. Not only that, gift giving in general is typical for the occasion. So for those who are still unable to return home, Grab has got you covered by helping you deliver all your well wishes safely:
GrabPay:

Give an e-angpow and just transfer the prosperity to loved ones via the GrabPay wallet.

GrabGifts:

Go all out on gifting and earn rewards too! Just send a total of 5X gifts using Grab's recently revamped GrabGifts tile, and receive 888 GrabRewards as well as a RM10 GrabFood voucher.

GrabExpress:

Save over RM150 on up to 200 deliveries per month with the newly launched Super Sender Subscription plan.



*Grab tip: With GrabGifts new '100+ Cities Delivery (BETA)' feature, users can now order and send food and physical gifts from GrabFood and GrabMart to their loved ones across Malaysia, Indonesia, Myanmar, the Philippines, Singapore and Thailand.
Highlighting the various ways Grab is helping Malaysians celebrate these traditions is Grab's Chinese New Year brand film: Prepare For HUATEVER
*For more information on the various promotions in conjunction with this year's Chinese New Year festivities, please visit: HUATEVER
###