Grab launches new programme to help small businesses grow through digital economy in the 'new normal'
Grab Social Impact Report with COVID-19 focus, showed an increase of new merchants online and income opportunities.
The Grab Digital Small-Biz programme includes tools and initiatives to help small businesses digitalise themselves .
Programme helps Grab merchants increase their reach, visibility and operations.

PETALING JAYA, 12 JUNE –  Grab today shared the second edition of the Grab for Good: Social Impact Report that focuses on COVID-19's impact and Grab's across Southeast Asia. In Malaysia, through the different initiatives to mitigate the impact of the pandemic on businesses, gig workers and communities, Grab saw over 10,000 individuals join the gig economy and two times more merchants move their business online. As the country accelerates towards greater digitalisation in the post COVID-19 world,  Grab will be introducing the Grab Digital Small-Biz (GDS) programme aimed at helping small businesses adapt to the new normal. This programme includes tools and initiatives that help offline businesses transition online, and help those already on the Grab platform expand their visibility and adapt their operations to an increasingly digital world.
"COVID-19 has accelerated change. Small business and micro-entrepreneurs who moved online saw a 25% increase in online revenue through the Grab platform during this period. But as self-employed workers, whose earnings are variable and dependent on the health of the wider economy, many saw their income drop significantly. Flexibility of our platform allowed us to activate more than 100,000 drivers as delivery-partners to provide them with an alternative source of income across our Food, Mart and Delivery services," said Sean Goh, Managing Director, Grab Malaysia.
Grab for Good: Enabling economic sustainability and sustaining livelihoods during COVID-19
Between March and April 2020, Grab committed over US$40 million to partner relief efforts and rolled out over 100 initiatives regionally to mitigate the impact of the pandemic on our partners and communities. In Malaysia, Grab rolled out 11 initiatives to support small businesses, driver- and delivery-partners, frontliners, as well as communities impacted by COVID-19.
Through initiatives to help traditional and offline businesses make the shift online, 133 traditional Ramadan bazaar vendors to an online platform, who were able to fulfill more than 66,000 orders through the Grab e-Kitchen Bazar Ramadan. Grab also expanded GrabMart to 5 cities across Malaysia within 3 weeks to bring on board more types of businesses – pharmacies, florists, grocery stores etc – and to create more earning opportunities for delivery-partners.
Helping Malaysia's small businesses adapt to a COVID-19 new normal
"We have seen the adoption of online services grow exponentially, almost overnight. This is spurring innovation, but is also putting us at risk of widening the digital divide. Small and medium enterprises are the backbone of the Malaysian economy-comprising 98.5% of all business establishments in Malaysia, but the vast majority of these businesses are offline. They will need to leverage technology or risk falling further behind. Through the Grab Digital Small-Biz programme, we hope to help small businesses navigate this new normal. We will draw on our technology and reach, to find new ways of doing business that can inclusively support everyone," added Goh.
The GDS programme aims to facilitate the digitalisation of small businesses – either by giving them a digital shopfront on the Grab platform or through e-payments integration. It also aims to address the needs of small businesses that are already on the Grab platform. Key components of the programme include:
Lower GrabExpress Prices:

The new non-peak pricing plan, that is being developed, is targeted towards helping small businesses navigate this new normal with more affordable delivery services.
Supporting Local Heroes: To continue our support for the local heroes, Grab will further provide free advertisement and support to create personalised ads for small businesses and to feature them on the most prominent spaces within the app for free. For example, Grab merchants across the region, who purchased banner ads on the GrabFood homepage saw a 300% return on advertising spend.
GrabMerchant Portal: An all-in-one, self-serve merchant platform for business owners to help grow their consumer base and optimise their operations while keeping costs in check. Grab is also working towards creating a web portal format, where merchants are able to gather insights on their sales,  operations and consumers' purchasing habits to evaluate and manage their businesses effectively.
Remote GrabPay Link: Grab is enabling offline businesses to embrace e-commerce by helping them accept payment online through a Remote GrabPay Link. Merchants will receive a URL to accept payments, enabling consumers to make a cashless payment while earning them GrabRewards points. This builds on an earlier programme by Grab which helped many merchants who depended on social media and instant messaging platforms to sell their products to still be able to receive payments conveniently and seamlessly.
Nearby Merchants on GrabPay: The feature aims to increase businesses' discoverability and drive more foot traffic to their physical stores when movement restrictions ease. From Q3 2020, Grab users will be able to view merchants near them through the 'Nearby Merchants' section on the Grab app. Businesses can choose to push promotions via the Grab App to consumers who are nearby to encourage spending at their stores.
Partnering with governments to connect rural entrepreneurs to the digital economy
Grab is also committed to actively working with government agencies to ensure that traditional ecosystems are not left behind in this period of transformation and to help realise the vision behind PENJANA. This includes:
Shop Malaysia Online

: Together with the government, Grab will be supporting new businesses on GrabFood and GrabMart with incentives. Through the initiative, Grab will invest in promotions and marketing campaigns to promote small businesses.
DesaMall:

Piloting an initiative with the Ministry of Rural Development (KPLB) via eLokal's DesaMall programme to help 5,000 rural entrepreneurs digitalise their business, sell their goods and earn income opportunities through GrabMart and GrabFood.
Inisiatif Digital Selangor-Grab:

Bringing more market vendors, food hawkers and traditional grocery stores onto digital platforms. This will help accelerate the digital infrastructure of the state and drive new opportunities in the digital economy.
"COVID-19 will require exceptional collaborative efforts from all levels of society to overcome. Scientists are working on a vaccine. Policymakers are finding ways to bolster their countries' economies. Everyday folk are helping to flatten the curve by practising social distancing. Private companies like Grab are using our platform and tech to find ways for even the smallest micro-entrepreneur or business to continue sustaining their livelihoods in these challenging times. The future is uncertain, but we are a community that knows how to face adversity, and thrive," concluded Goh.
Appendix
*To download Grab Malaysia's Social Impact infographic, please click, HERE.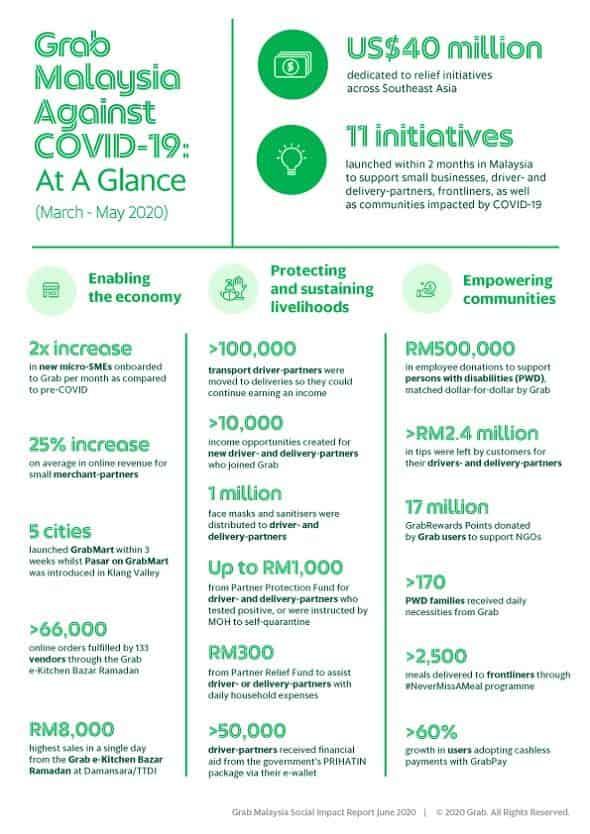 —END—