Household brands come together to support local entertainers affected by the pandemic through #LiveKatRumah initiative
Grab, KFC Malaysia, myNEWS and Tropicana supports local entertainers by bringing their performances to Malaysians via #LiveKatRumah from 22 Dec 2020 to 21 Jan 2021.
#LiveKatRumah to generate income for local entertainers impacted by the pandemic, with 70% having lost all or most of their income.
Malaysians to enjoy live entertainment from various music genres, comedians and magicians such as Atilia Haron, Elvira Arul, Kuah Jenhan, Joe Flizzow and more.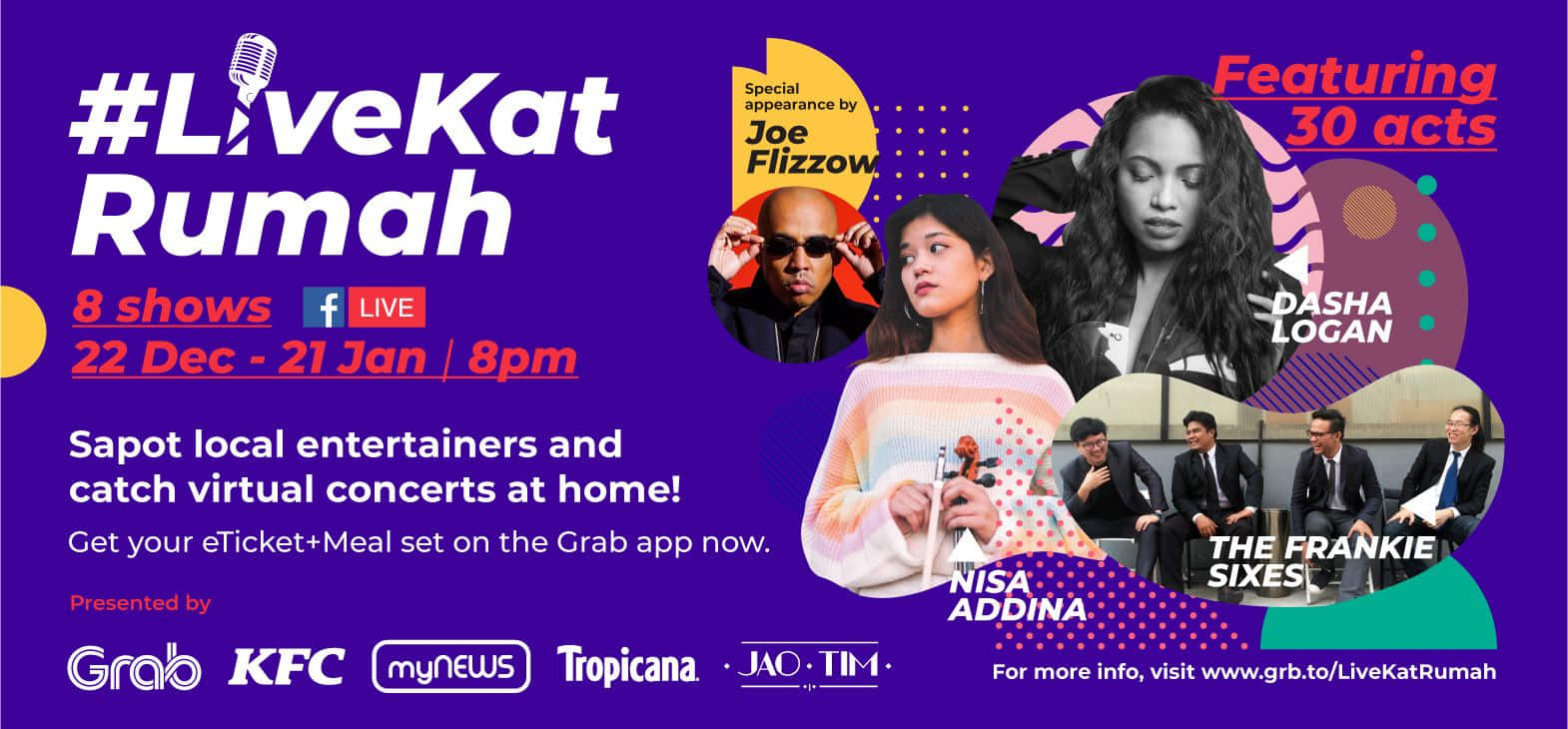 Petaling Jaya, 16 December 2020 – As the Malaysian economy slowly recovers, one of the industries that was significantly affected and is still going through uncertain times is the creative arts and music industry especially live performers. With many performance venues and shows postponed, cancelled or not fully resumed operations, many of our local performers and artistes, who are mostly self-employed have experienced significant losses to their livelihoods.
This is supported by a report from Malaysia's Cultural Economy Development Agency (CENDANA) that 93% of arts and culture practitioners were affected by the pandemic. Whilst many of them ventured to other options such as becoming e-hailing drivers, food delivery riders or even home bakers just to stay afloat during the movement control period, it clearly isn't enough to cover the weeks of loss gigs and income.
Moved by the issues faced by our local entertainers, Grab together with local household brands like KFC Malaysia, myNEWS and Tropicana are banding together to lend their support. Leveraging on their wide consumer reach, passion and resources as brands that are in tuned with local nuances, they will be working with Jao Tim to bring a total of 8 live performances ranging from music genres to comedy and magic to Malaysians' homes. Apart from their performance fees which will be borne by the brands, all proceeds from the tickets sales will be distributed among the headliners and stage crew.
Jao Tim is a venue space and a propagator of keeping live music alive. Since the movement control period, they have been calling out for donations to help keep the live music industry alive, and recently started streaming their shows so that regular patrons can still enjoy their favourite live acts at home.
#LiveKatRumah is a twice-a-week virtual concert series Malaysians can enjoy from anywhere across the country, which will showcase some of Malaysia's talented performers ranging from R&B, Pop, Soul, Hip Hop, Jazz and Rock singers and bands, to even comedians and magicians.
"The inspiration behind the #LiveKatRumah came from hearing about the struggle of friends who are in the performing arts industry during the MCO. As a Malaysian homegrown platform, we have been so focused in delivering food and daily essentials to our consumers conveniently and safely while helping our merchants thrive. And now, we are excited to partner with our friends at KFC Malaysia, myNEWS and Tropicana to focus our support towards the performing entertainers. Together with our partners, we want to keep their talent alive by delivering quality live music and performances from our local entertainers straight into the homes of Malaysians," said Cheryl Goh, Vice President of Marketing, Grab.
Between 22 December 2020 and 21 Jan 2021, Malaysians will be treated to a total of 8 concerts over the span of 5 weeks. The shows' headliners include Abubakarxli, The Frankie Sixes, Russell Curtis, Born Heroes Band, Kavin Jay, Dasha Logan, Nadir and more, there will definitely be something for everyone! Look out for special appearances from our local music icons including Joe Flizzow and WVC Malaysian Jazz Ensemble in support of the initiative. Click HERE to hear what some of them have to say.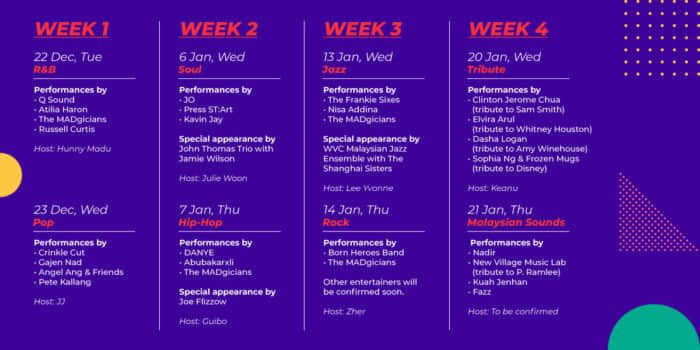 To tune into the shows, Malaysians can purchase the #LiveKatRumah eTicket+Meal Sets in their Grab app. Each set comes with 1 admission ticket (worth RM5) and a choice between a discounted KFC meal on GrabFood or discounted snacks combo with Tropicana from myNEWS on GrabMart. A ticket allows you to access the Facebook Live video of your show of choice, whilst the meal or snack vouchers are valid for 7 days from the show day.
In addition, Malaysians can also do their part in helping these artistes by donating to the Tabung #LiveKatRumah using GrabPay. All proceeds from the ticket sales and donations will go to the Headliners and production crew members (special appearance artistes are excluded from receiving the proceeds). Malaysians can also look forward to enjoying these performances while helping to support them and the industry.
"We are really excited to work with like minded brands, KFC Malaysia, myNEWS and Tropicana to push forward this movement, and making #LiveKatRumah available to as many Malaysians as possible! We hope more corporate companies will join to show solidarity towards our performing arts scene and help to keep the industry afloat," added Goh.
Echoing Goh, the partners of the #LiveKatRumah initiative shared:
Angelina Villanueva, Chief Marketing Officer, KFC Malaysia:
KFC is proud to be part of this thoughtful and original initiative by Grab. The pandemic has impacted many lives and some more than others; not least of all the people who bring music and entertainment to our lives. #LiveKatRumah offers a new platform and opportunity for our local talented artistes to continue their trade. At the same time, it's a new way for all to treat yourselves to live performances and good food in the comfort of your homes. As a brand inspired by Malaysians, we hope #LiveKatRumah will kick off a way forward for the benefit of all.
Dr Blake Dang, Head of Special Projects from myNEWS:
We are always looking for more opportunities to give back and be a champion for goodwill, compassion and welfare. Through #LiveKatRumah, we are glad to have a hand in providing functional support to our fellow Malaysians during this time of recovery from the pandemic in line with our CSR initiative, myNEWS Cares.
Chin Yien Yien, Brand Manager, Tropicana:
When Grab approached us with the idea for #LiveKatRumah, we thought it was very relevant during this period and it went perfectly with Tropicana's brand purpose, which is 'To Make Every Day Brighter'. As our local entertainers, especially live performers were hit very hard financially, we thought it was a great way to make their day a little brighter.
For more information on the #LiveKatRumah performance lineup and promotions from KFC Malaysia on GrabFood and myNEWS on GrabMart, please click HERE.
=END=