Grab Spreads #TechUntukSemua Effort to Support Local Durian Farmers and Sellers
GrabDurian initiative to support small and traditional businesses this durian season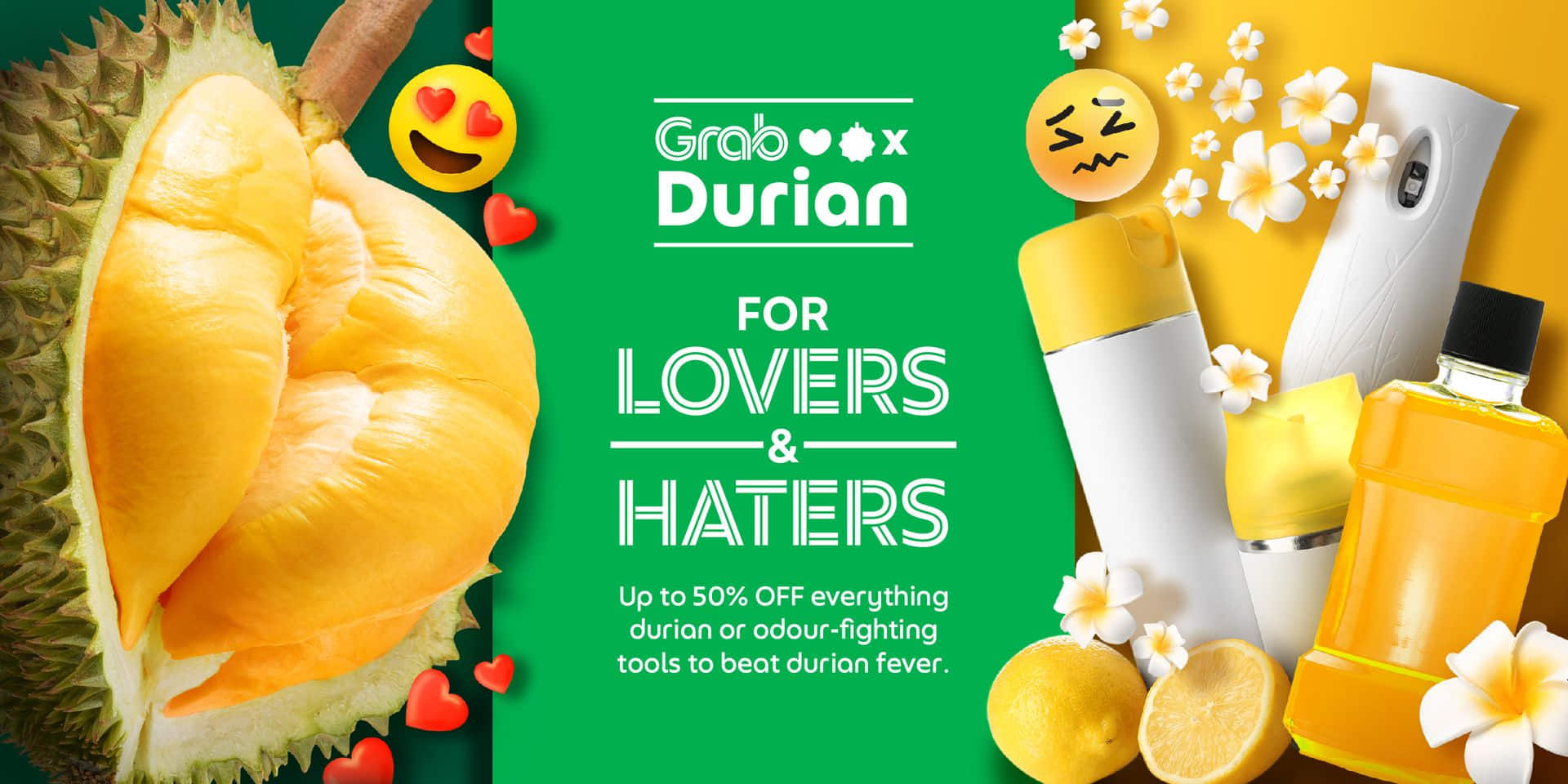 No one can deny that durian is one of the most polarising fruits, igniting passionate debates in particular amongst Malaysians. With it's pungent aroma, creamy texture and bitter-sweet flavour, it's no wonder the king of fruits has garnered quite a reputation – as well as a cult following of both lovers and haters. But for most of us Malaysians, it's finally the moment we have been waiting for all year long – the much anticipated durian season! 
However, with movement restrictions in full force, many local durian sellers and farmers – especially smaller ones – have been sharing their concerns and worries of a possible oversupply of the durian fruit this time around. Furthermore, with a ban on dining-in, many of these merchants have been left to explore additional ways to satisfy consumers' taste buds. 
Therefore, as part of Grab's #TechUntukSemua goal to empower smaller businesses to benefit from the digital economy, Grab is once again focusing on the many local sellers of durian. This not only ensures that Malaysians will be able to get their durian fix, but our local durian merchants and farmers will be able continue to spread the joy of durian as well.
Hassan Alsagoff, Country Marketing Head of Grab Malaysia, shares, "At Grab, we always strive to support the countless small and traditional businesses that make Malaysia truly unique. Our GrabDurian initiative has been an annual affair to help durian farmers and sellers who look forward to the short window of durian season as their busiest period. With the pandemic exerting additional pressure on the industry, we wanted to double down on supporting these businesses by helping them become part of the digital economy while sustaining their businesses via new sales avenues. As Malaysia continues her fight during these challenging times, we hope to assist all communities to thrive with our consumers' support." 
Grab your durian necessities whether you're a lover or hater 
With a controversial fruit like durian, Grab wants to ensure that it meets the needs of both lovers and haters in conjunction with the much anticipated season. For the durian lovers, Grab is highlighting all things durian such as fresh fruit, durian flavoured desserts and pastries and more. Whereas those who are less of a fan of durian, can find odour fighting solutions (read: durian survival kits) to make en-durian this season all that much easier with items such as gloves, mouthwash, air fresheners and more. 
Grab users can also enjoy savings of up to 50% on their durian season necessities, whether you're a lover or hater, from merchants like Durian Man, Lubuk Durian, Purple Monkey, Watsons, Guardian and more.
*For more information on the various promotions in conjunction with the durian season, please click HERE.
Hear what our durian merchants and farmers have to say
Cheah Kim Wai, DurianMan SS2: "With tighter SOPs and regulations in place this year due to the MCO, we have had a drastic decline of customers who previously used to enjoy their durians in store and ordered more to bring home. This year, we had to rely on orders from our regulars or orders via phone and whatsapp. Thankfully, our sales have been improving after joining Grab as our online delivery platform and we have had some positive responses from our customers who have picked up their orders themselves or had it delivered to their homes." 
Romi Hidayat Zainintawa, Rizky Durian: "This has been a difficult year for us as we have experienced a decline in orders from our customers who are also running their own stores selling durians due to the MCO restrictions including travel and dining restrictions. As a result, we have had an oversupply issue and I have even had to deliver some of the orders myself. After joining Grab, my customers are able to order my durians from the comfort of their homes – by going online, we've also expanded our base and are delivering to many new customers too. Some of my customers have even kept ordering again for themselves or for their friends and family because of the convenient delivery!"
– END –