Grab Releases First ESG Report; Announces Initiatives to Reduce Carbon Footprint
New carbon reduction measures include a carbon offset feature for ride-hailing services, and expanded EV partnership with Hyundai Motor Group.
First ESG report outlines the company's progress to support socioeconomic empowerment and sustainable growth.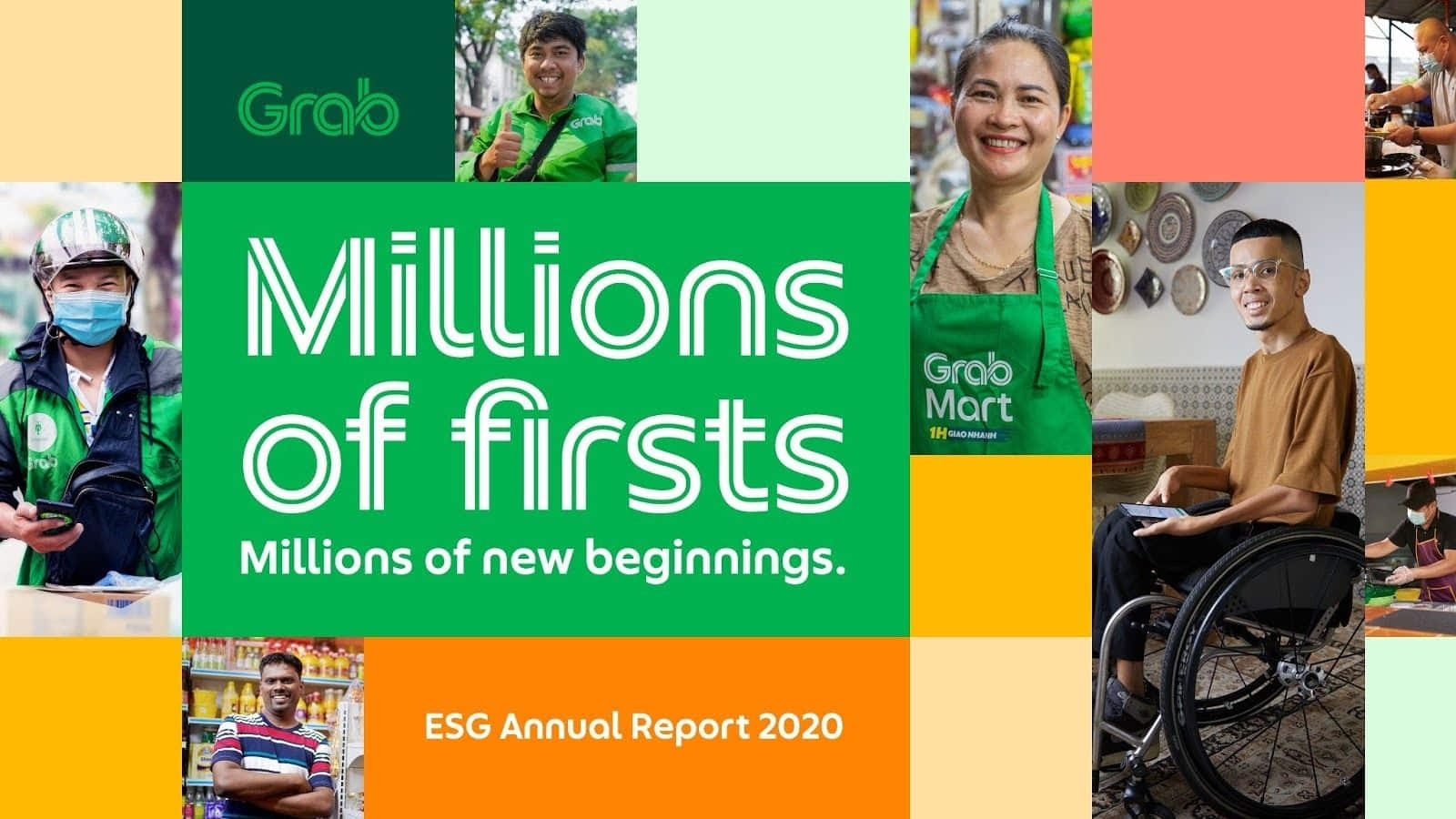 PETALING JAYA, 22 June 2021 – Grab, Southeast Asia's leading superapp, today announced new initiatives that reinforce its commitment to reduce carbon emissions and its environmental footprint. Grab users will soon be able to reduce their carbon footprint when travelling with Grab through an innovative carbon offset feature integrated within the app. Grab and Hyundai Motor Group will also launch new Electric Vehicle (EV) pilot programmes to make EV ownership more affordable and accessible, while jointly developing a roadmap to accelerate EV adoption in Southeast Asia.  
The new initiatives were unveiled in conjunction with the release of Grab's first annual Environment, Social and Governance (ESG) report, which outlines the company's commitment to create socioeconomic empowerment, safeguard the environment, and deliver strong financial performance. 
"The health of our business is intrinsically linked to the welfare of our communities and the protection of our environment. In order for our business to grow and succeed in the long run, we must work towards building thriving communities where our partners have sustainable income opportunities, while protecting our environment for generations to come. Our first ESG Report reflects our commitment to build a business with a double bottom line, while ensuring transparency and accountability to our stakeholders," said Anthony Tan, Group Chief Executive Officer and Co-Founder of Grab.
Reducing our carbon footprint
In a survey with Grab users across six Southeast Asian countries, 82% of respondents said they were concerned about climate change and were taking some actions to reduce their carbon footprint. Among those who were concerned about climate change but did not take action, 44% said they did not know how, and 31% felt it was too difficult to take action.
Grab's new carbon offset feature, to be launched in Indonesia, Malaysia and Thailand in July before rolling out to the rest of the region, will let consumers easily purchase carbon offsets at less than US$0.10 per ride. The amount will go towards reforestation and conservation projects managed by local non-governmental organisations. Grab has partnered with EcoMatcher, a certified B Corporation, to work with vetted foundations and NGOs to plant trees. Users will receive a dedicated tree when they have completed a designated number of carbon-neutral rides. 
Through EcoMatcher, Grab users will be able to virtually travel to their trees, name their trees, view photos of their newly planted trees, and learn more about the farmers who planted their trees. In addition, Grab users can also plant a tree through EcoMatcher using their GrabRewards points from the end of June.
The trees will be planted in GrabForGood Forests in Indonesia, Malaysia, Thailand, Vietnam through partner organizations. The GrabForGood Forests are dedicated spaces for Grab's tree-planting initiatives under the carbon offset programme. In Malaysia,  the trees will be planted by the Tropical Rainforest Conservation & Research Centre (TRCRC), established in 2012 to restore tropical rainforests and address the critical rate of biodiversity loss in Malaysia. TRCRC's mission is two-fold: to preserve tropical rainforest plant species and lead landscape-wide protection and reforestation projects throughout the country. The organization has plantations in Gerik, Perak and Sandakan, Sabah. 
Photo: A mock up of the carbon offset feature in Indonesia
"Over the years, we have taken steps to reduce our environmental  footprint, such as investing over US$200 million to build up the number of electric vehicles and hybrids in our car rental fleet in Singapore, as well as saving close to 380 million sets of single-use plastic cutlery from being used in 2020. However, there is still a lot of work to be done to get us to a net-zero carbon future. Our new carbon offset feature is another important step in reducing our carbon footprint, while contributing towards environmental conservation projects that uplift local communities," added Cheryl Goh, Group Head of Marketing and Sustainability, Grab. 
Accelerating EV adoption in Southeast Asia
In recent years, governments across Southeast Asia have announced policies to increase the adoption of electric vehicles as part of their emissions reduction goals, but many hurdles still remain. In fact, a survey among Grab driver-partners in Singapore found that high vehicle costs, a lack of charging locations and long wait times for charging are the top barriers hindering Grab driver-partners from adopting EVs. 
The shift to EVs will require an ecosystem of partners, including governments, charging infrastructure providers, and automakers – all of which Grab is actively working with to grow the EV ecosystem together through pilot initiatives and step changes.
Announced today is an expanded partnership between Grab and Hyundai Motor Group to accelerate EV adoption in Southeast Asia. The two partners will launch new pilot programmes in Singapore, Indonesia and Vietnam focusing on addressing current barriers around total cost of EV ownership. The pilot programmes will test new EV business models such as battery-as-a-service and car-as-a-service leasing arrangements, and EV financing options tailored to Grab's driver and delivery-partners. Grab and Hyundai will also conduct an in-depth feasibility study on the gaps and barriers to wider EV ownership and adoption, as well as develop a joint roadmap to make EVs a more viable option for on-demand mobility and delivery services.
Commenting on the expanded partnership, Minsung Kim, Vice President of the Innovation Division at Hyundai Motor Group said: "Hyundai Motor Group and Grab were able to discover the possibility of EV businesses in Southeast Asia through our cooperation from 2018. With Grab having the largest driver network in the region and Hyundai's comprehensive mobility solutions, we are confident that together we can help to increase the adoption of EVs and ultimately reduce carbon emissions throughout the region. Beyond its on-going projects, the Group expects additional cooperation with Grab to be a key driver to lead the mobility market of the future in Southeast Asia."
Russell Cohen, Group Managing Director of Operations, Grab, said: "While EVs are relatively nascent in Southeast Asia, Grab plans to play a vital role in working with partners and governments to accelerate EV adoption. As government EV policies and incentives are implemented and essential infrastructure like charging stations continue to be built, this partnership will provide insights and best practices on the usage of EVs as part of the day-to-day operations of driver and delivery-partners. For example, we've piloted ways to reduce driver-partners' downtime by enabling them to swap their e-moped batteries at GrabKitchen while they wait to collect food orders. Successful EV adoption is a multi-stakeholder effort, particularly in Southeast Asia, and we'll continue to leverage our technology and operational leadership to build a fleet for the future."
Increasing our commitment to high levels of transparency and accountability
These new initiatives to reduce Grab's carbon footprint and the impact of existing programmes are highlighted in Grab's first ESG report released today. The report covers key material topics in accordance with the Global Reporting Initiative (GRI) standards, such as Socioeconomic Impact, Diversity and Inclusion, Greenhouse Gas Emissions, and Platform Safety, to name a few. Some of the highlights include: 
Driver and merchant-partners earned US$7.1 billion

through the Grab platform in 2020.

46% of respondents said they were not working

prior to becoming a driver-partner on the Grab platform.

33% of GrabFood merchant-partners went online

for the first time with Grab.

Almost 600,000 small businesses

joined GrabFood and GrabMart in 2020.

59% of all working capital loans

issued by Grab Financial Group in 2020 were to small merchants.

More than 1.7 million driver-partners

completed training programmes facilitated by Grab.

The programmes range from digital literacy, data protection, financial literacy, English communication courses and more. 

11% improvement in overall road safety

in terms of number of accidents per million kilometers. 

Reduced waste of

380 million sets

of single-use plastic cutlery.

More than US$200 million invested into electric and hybrid vehicles

for GrabRental since 2016.

Today, almost 1 in 3 vehicles (31%) providing ride-hailing services on Grab in Singapore are

electric or hybrid vehicles.

 
– END –