Grab Malaysia Introduces New Safety Innovation – setting standards for preventable incidents
Grab introduces new safety feature, AudioProtect, in conjunction with International Women's Day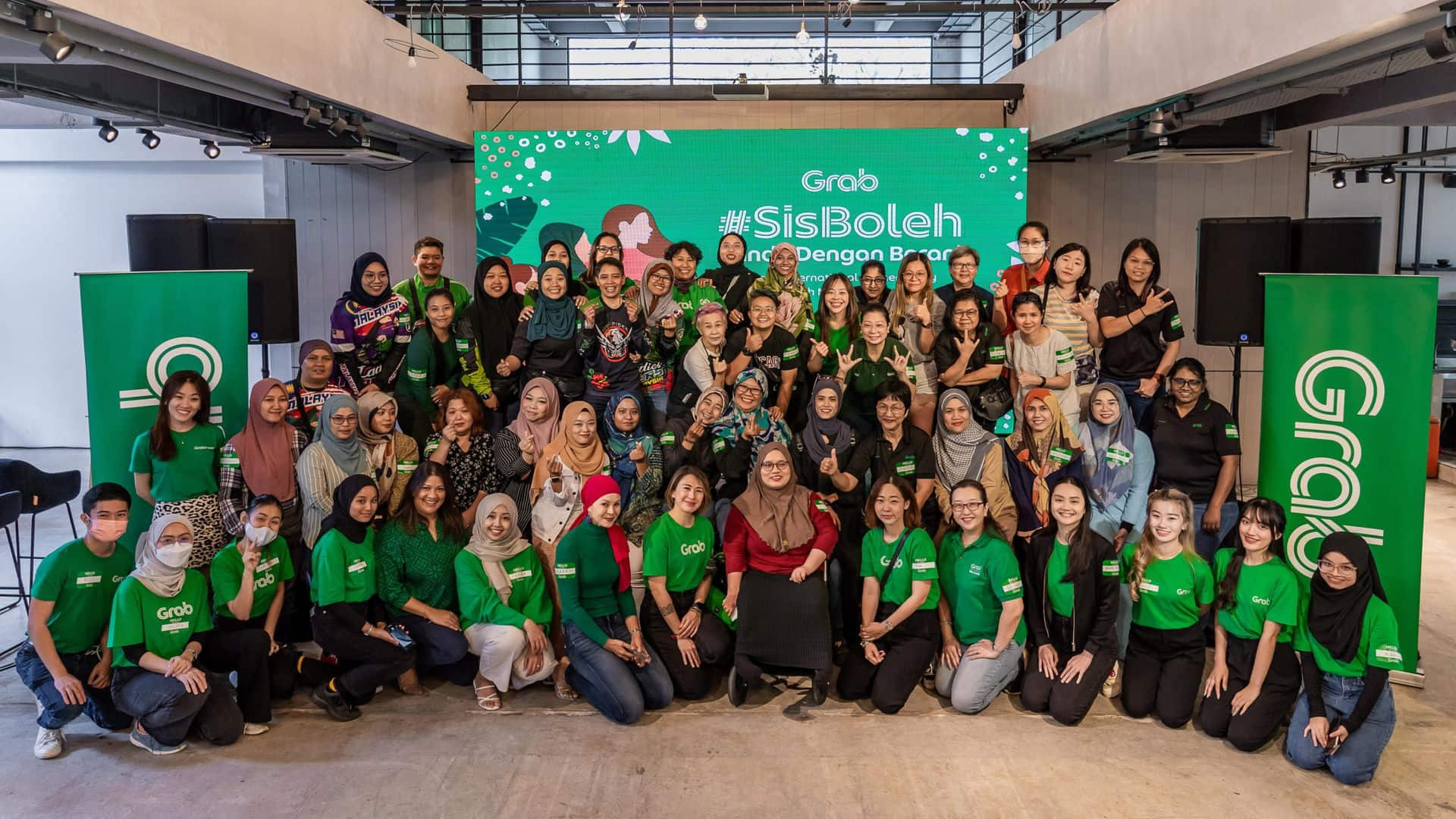 PETALING JAYA, 9 March 2023 – Grab, Southeast Asia's leading superapp, was founded with the mission to improve transportation safety for women. A decade later, it strives towards continuous improvement and addition to its suite of safety tools. This International Women's Day, Grab Malaysia has announced the launch of a new safety innovation designed to further enhance the safety of its driver-partners and passengers. The latest  safety feature, AudioProtect, demonstrates  Grab's commitment to creating a safer everyday experience for everyone using its platform.
With AudioProtect, being rolled out in phases beginning today, where both driver-partners and passengers have the option to enable audio recordings during rides, Grab is setting new standards for preventable incidents.  In addition to helping to provide our community with greater peace of mind during rides, the feature will also help to expedite and resolve any reports that are made to Grab.
"With AudioProtect and our suite of safety tools, we are taking a proactive approach to safety and empowering our drive-partners with the courage to drive safely and responsibly. In 2021, more than 99.99% of Grab's rides occurred without any incident. Grab will continue to prioritise safety, security and to also minimise fraud. Our suite of safety tools will enable us to create a holistically safe environment for all stakeholders on our platform ," said Adelene Foo, Managing Director of Grab Malaysia.
Passengers and driver-partners can easily enable AudioProtect by clicking on Safety Centre and then Toggle on AudioProtect, where they will be able to see 'Recording: On'. Once AudioProtect is activated, audio will be recorded for all future rides where both the passenger and driver-partner have enabled the feature.  To disable the feature for all future rides, passengers and driver-partners can toggle AudioProtect 'Off' in the Safety Centre or disable the feature in their Account Settings.
Grab is committed to ensure our communities' data is always protected while also providing innovations that are impactful to the everyday user. To ensure AudioProtect upholds this:
Recordings will only be used to settle incidents and reports that are officially made to Grab.  

Recordings are automatically encrypted on the respective devices, inaccessible to all parties including Grab, unless an official report is made to Grab. 

Recordings will be automatically deleted after 5 days if no reports are made.
Grab Suite of Safety Tools
Grab bakes safety into every step of the journey, through technology and innovation. The safety measures are designed to protect driver-partners and passengers before, during and after rides.
During the recent International Women's Day celebration, a number of Grab's senior women leadership team hosted some of its top performing women drivers in an afternoon tea (#SisBoleh), and took the opportunity to share with them the suite of safety features Grab has introduced over the decade.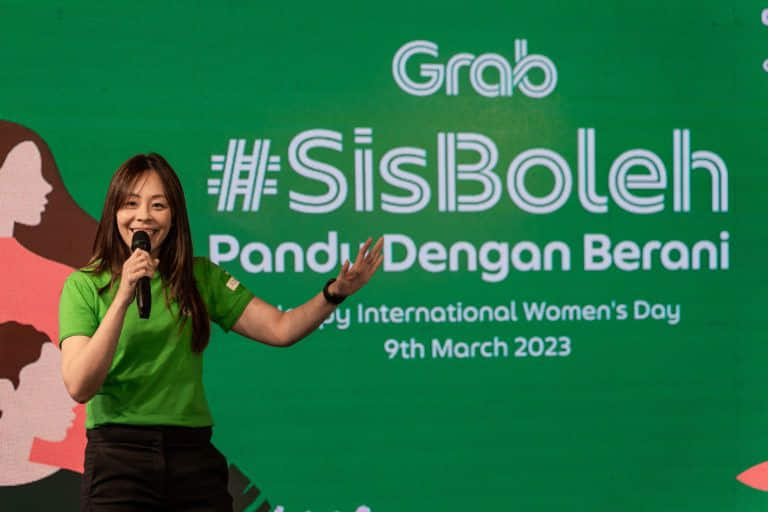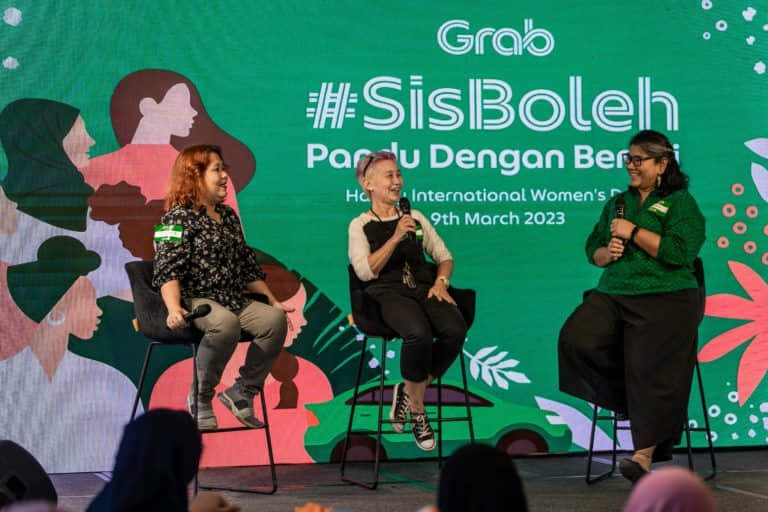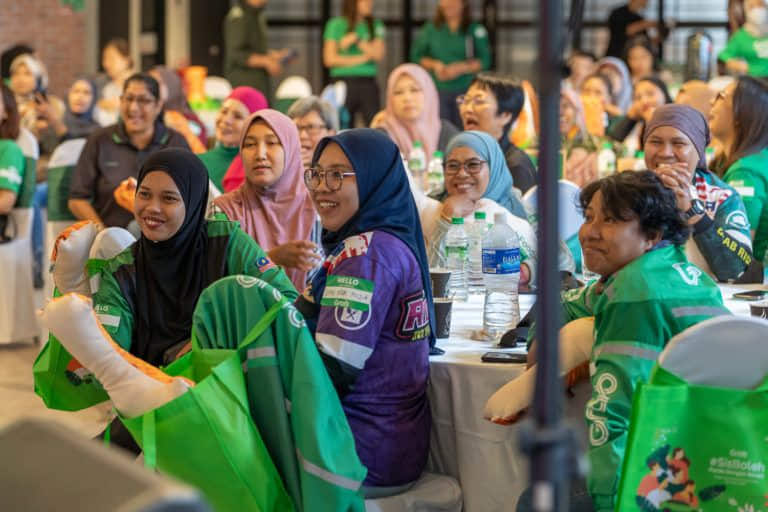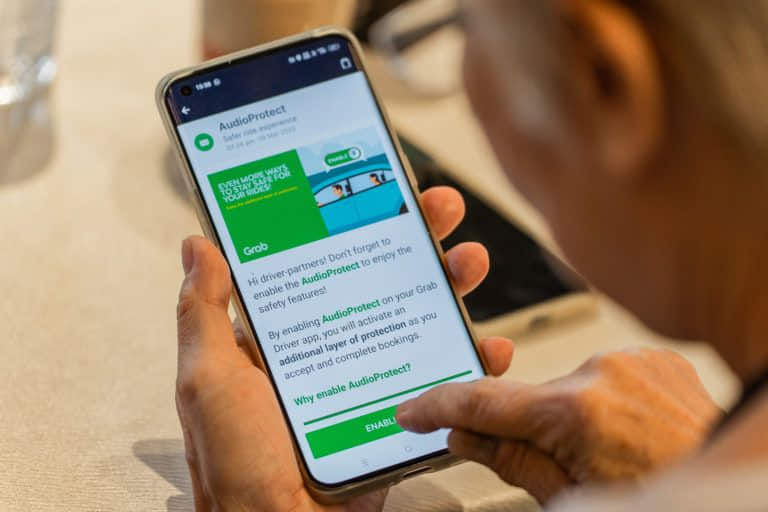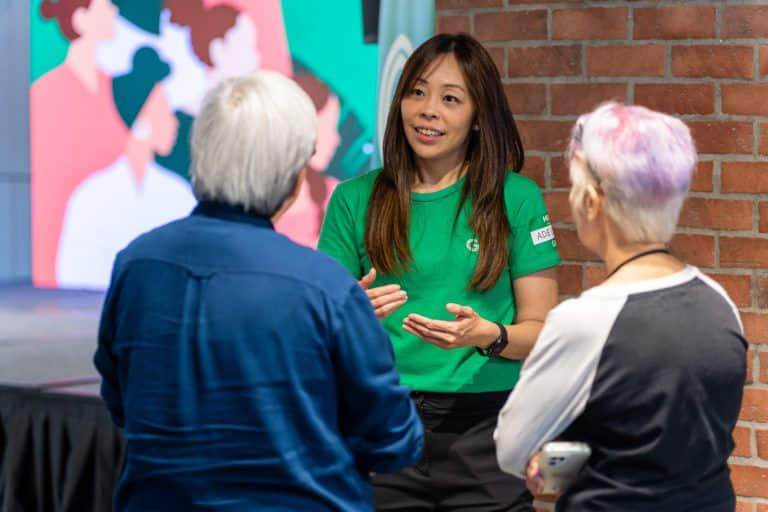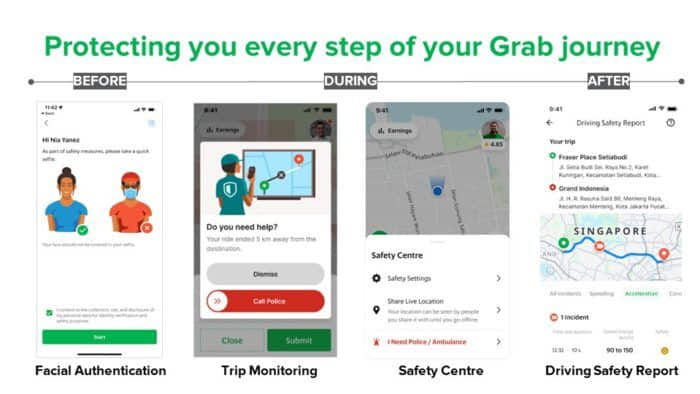 Safety protections start even before a ride begins
AI-powered facial authentication – Prior to using the app, driver-partners and passengers are required to submit a live selfie for identity verification. Machine learning models determine if a face is real or not based on movements and lighting.
While users are on trip, Grab looks out for them to make sure they are safe
Share My Ride – During a ride, driver-partners and passengers can share their ride details with any of their contacts via SMS or any chat app installed on their mobile device. Details include real time route, pick-up point, drop-off location, driver's details, and the estimated time of arrival, will be shared with their loved ones/contacts
"Get Emergency Help" SOS button on the app – A one-stop tap 24/7 safety centre where partners and passengers will get emergency assistance, report safety issues, and share ride details with their loved ones.
Number masking – protects and ensures the privacy of both parties' contact details by displaying a set of random digits instead of the real phone number.
Trip monitoring technology – This technology helps detect possible safety incidents by pulling signals from a variety of sources including ride status, GPS, traffic conditions, telematics and map intelligence to detect if there is an unplanned stop, route deviation and vehicle collision.
Grab is also committed in helping driver-partners drive better and more safely
Telematics solution – Grab is able to derive speeding, hard braking and hard cornering events from telematics data obtained through sensors on drivers' mobile phones. Based on this telematics, driver-partners are provided with safety reports to help them increase awareness of any unsafe driving behaviours, as well as incentivise those who adopt safer driving habits.
Azlina Binti Md Shukri who has been a Grab driver partner since the pandemic said she was honoured to be part of this tea session and to be able to exchange stories and feedback with other women drivers and the Grab Malaysia management. "It was also great to be able to understand and be reminded of some of these safety features. I joined the platform in 2017 and most of these features were already part of the app. As a single mother, I joined the platform for its flexibility and the safety tools gives me assurance while on the job. " added Azlina.
"Grab is committed to setting standards for preventable incidents in the industry. By implementing these safety measures, Grab aims to create a safer environment for both passengers and driver-partners. Grab will continue to innovate and collaborate with various partners to promote safety and security, and lead the industry in setting standards for the prevention of incidents", concluded Adelene.
Note: #SisBoleh is a women empowerment campaign aimed to acknowledge, support and motivate the women who are thriving on the Grab platform as a driver-partner. For more info, please click here 
-end-