Grab Malaysia Partners With DRB-HICOM University to Provide Flexible Tertiary Education For Driver and Delivery-Partners
Partnership introduces two academic programmes, including the first tertiary education programme developed exclusively for platform workers in Malaysia.
Partnership extends Grab's commitment to provide partners with flexible avenues and opportunities for academic development through GrabBenefits.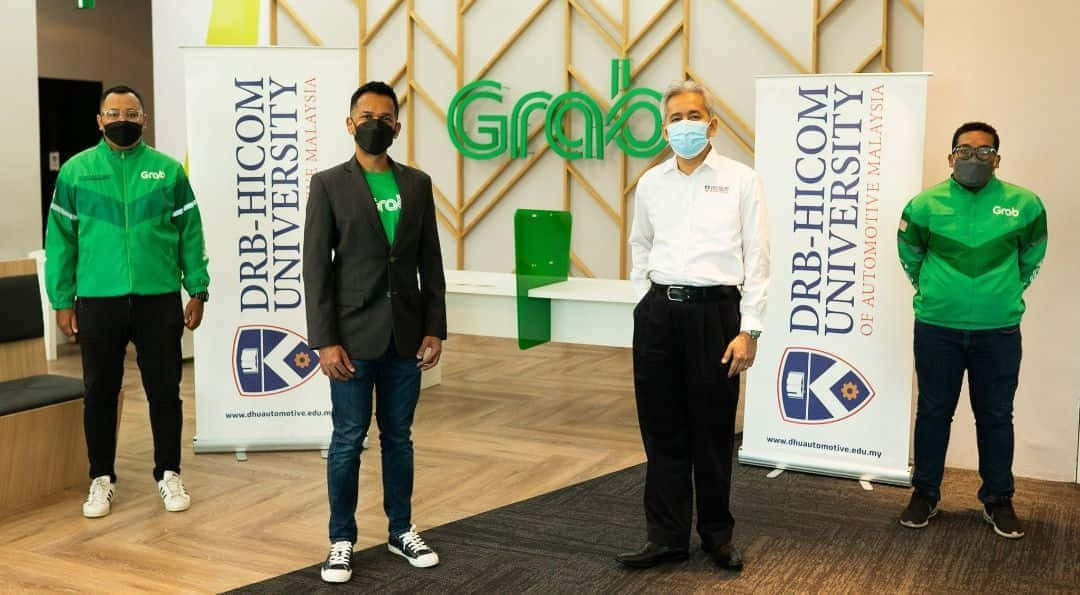 PETALING JAYA, 30 March 2022 – Grab Malaysia and DRB-HICOM University of Automotive Malaysia (DRB-HICOM University) today announced a partnership to support the academic development of Grab's driver and delivery-partners nationwide through tertiary programmes of relevant upskilling courses. The partnership also sees the introduction of the first and only tertiary curriculum in Malaysia designed exclusively for platform workers via the Grab Development Programme (GDP).
Rashid Shukor, Country Operations Director for Grab Malaysia shared, "As a homegrown platform, we take great pride in providing Malaysians with access to sustainable earning opportunities and a holistic benefits programme to further improve their livelihoods. We believe that being able to work and learn flexibly is an essential part of unlocking economic opportunity. We're proud to partner with DRB-HICOM University to introduce flexible academic programmes and curriculums that deliver relevant courses, and also provides a clear path in obtaining tertiary education accreditation they can leverage on for any potential career opportunities."
Echoing Rashid's sentiments, Prof. Dato' Sr. Dr. Omar Osman, Vice Chancellor of DRB-HICOM University said, "The informal economy plays a crucial role in today's world. Whether it's part-time, freelance or platform work, it acts as a safety net for many to leverage on when traditional full-time employment is sparse. Which is why we're excited to partner with Grab Malaysia to co-develop courses that are inline with driver and delivery-partners' needs. These programmes are a cultivation of our joint commitment in setting standards in partner welfare and education innovation."
The partnership will provide Grab's driver and delivery-partners across the nation with access to various upskilling courses at an affordable and subsidised rate on GrabBenefits. These courses are under the curriculum of business and engineering academic programmes for Grab's driver and delivery-partners, both of which provide accreditation once completed:
Grab Development Programme (GDP)


Short courses co-developed in consultation with Grab, exclusively for Grab's driver and delivery-partners. Each GDP module takes between 2 to 5 days to complete and will be delivered in hybrid mode to ensure flexibility. The courses available within the GDP are curated based on feedback from partners themselves. This includes courses on

Financial Management

,

Business Management

,

Automotive

,

and Technical

.

Grab DRB-HICOM University Academic Programme
14-week courses based on DRB-HICOM University's existing academic programmes. The initial enrollment includes courses on Financial Management and Automotive, and have seen an encouraging response so far. Partners who enroll in courses within this programme will go through the same curriculum as other students of DRB-HICOM University through micro-credential mode.
These programmes will be featured on GrabBenefits, a programme aimed at safeguarding the welfare and livelihood of Grab's driver and delivery-partners. Introduced in 2017, GrabBenefits has evolved over the years to address a wide variety of needs from partners and now has 3 core pillars: Protection, Savings and Academy. Previously, in its effort to provide upskilling opportunities for partners, Grab partnered with other like-minded organisations such as Microsoft on digital literacy training and Standard Chartered on financial management training.
For more information on the GrabBenefits programme, please refer here.
###