Consumers & DriversSocial Impact & Safety
Grab Malaysia Introduces Club Grab for GrabFood and GrabExpress Delivery-Partners
Club Grab caters to the needs of two-wheel delivery-partners while offering them long term benefits and rewards
Two-wheel delivery-partners to enjoy a customised and enhanced insurance plan to provide added protection for delivery-partners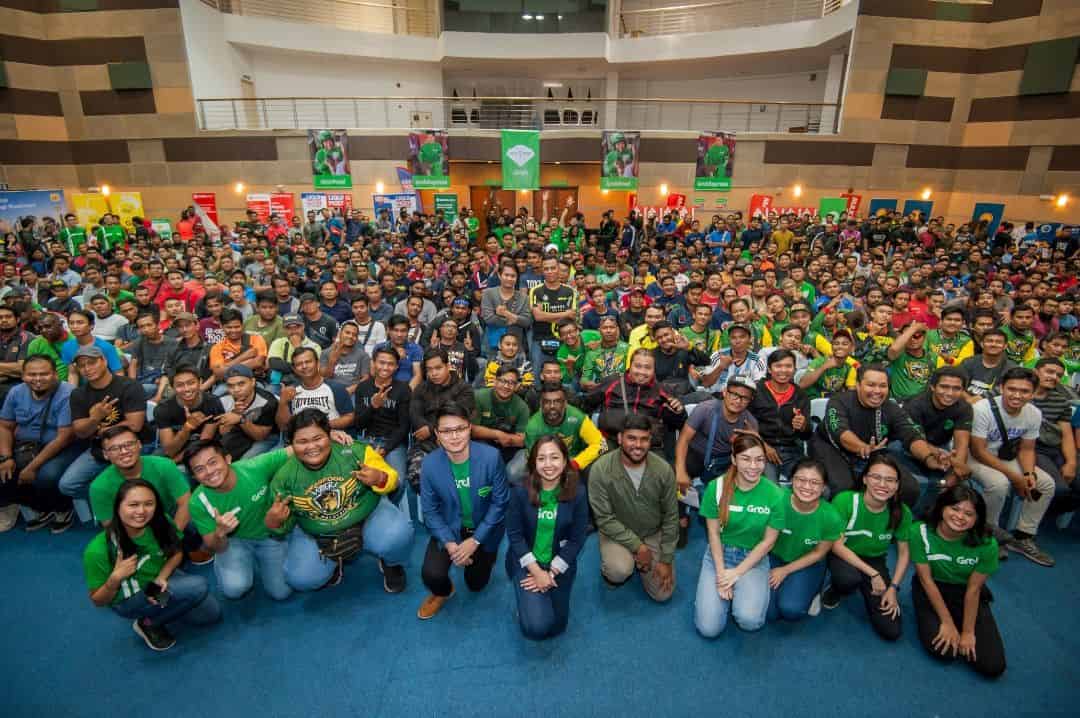 Recently, almost a thousand GrabFood and GrabExpress delivery-partners gathered over two briefing sessions to better understand an exclusive loyalty and rewards plan Grab is establishing for their  two-wheel delivery-partners. Aptly named as Club Grab, the club aims to deliver on Grab's commitment to elevate the delivery experience for their two-wheel delivery-partners under a banner that will look at long term offerings, benefits, rewards and overall welfare for their partners. 
Present at the briefings were Tan Jiong Jian, Acting head of GrabFood Malaysia and Zafira Azahar, Acting Head of GrabExpress Malaysia who shared the stage to explain further about Club Grab.
Tan shared that since the launch of GrabFood last year and GrabExpress early this year, both the services have grown exponentially in their own right and are currently a source of income for some 14,000 delivery-partners nationwide.
"As the fastest growing food delivery service in Malaysia, we have recently launched in 5 new cities, and that has enabled us to offer job opportunities to more Malaysians, regardless of their education and social standing. Thanks to our hardworking delivery-partners, our business is thriving and growing because of the excellent service they offer to our consumers. Hence Club Grab is our way of now looking out and taking care of their needs," said Tan.  
Azahar on the other hand shared that since the launch of GrabExpress in Malaysia at the beginning of this year, the service has seen a 30% increase month-on-month in on-demand delivery orders especially with partners like Zalora and Lazada who are also leveraging on their network to deliver parcels to their consumers.
As such, one of the first things Grab launched through the Club Grab is the GrabBenefits Monthly 24/7 Insurance plan which is over and above the current plan that protects delivery-partners during a job. 
"The GrabBenefits Monthly 24/7 plan is meant to protect our active and top performing delivery-partners even when they are not working, especially in the event of an accident, loss of limb or life, or to assist on medical claims reimbursement. This is just one of the little ways we are working on to help provide a better peace of mind not only to our delivery-partners, but also to their families who are waiting for them at home," added Azahar.
To learn more about Grab's insurance policy for delivery-partners, please visit: https://www.grab.com/my/2w_insurance/
The second initiative under the banner of Grab Club is Roda Rezeki, which functions like a loyalty programme. Based on completed deliveries, partners will reach certain milestones that will entitle them to redeem exclusive Grab branded merchandise such as raincoat, helmet, motorcycle jackets and more, based on their respective milestones. 
Present at the event were also some of Grab's partners such as Columbia Asia (free basic sugar and blood pressure check), Digi (special phone plans), CIMB Bank (cash back and insurance coverage), Liqui Moly (mineral and engine oil), and Maxxis (tyre discounts).
Muhammad Hassan, one of the full-time deaf delivery-partners who was present shared his thoughts about the newly launched Club Grab. "I started working as a delivery-partner since April 2019 to help support my family. Over the months, I have seen Grab evolving their service and also the benefit scheme for us to help improve my overall experience earning an income on the platform. It can get quite hectic as we have to make sure we complete our deliveries in a timely manner even during bad weather conditions. But engagements like Club Grab not only makes it more rewarding but also more enjoyable to be a part of the Grab community of riders."
In line with the spirit of Club Grab of taking care of their delivery-partners' welfare, Grab earlier provided masks to them at the start of haze season, and as the situation has worsened, is now giving out N95 masks and water daily to their delivery-partners via their Grab Driver Pitstops and selected  merchant partners across Klang Valley and in the other five cities where GrabFood service is available.
"While many of us are staying indoors to avoid the haze, our delivery-partners are still on the road braving through traffic and smog to ensure consumers receive their food and parcel on time. This is just a small gesture on our part to show them love and look after them and their wellbeing," said Azahar.
The leading everyday app in the region, Grab has evolved from a service provider to being seen as a vital and sustainable source of income for Malaysians through its ecosystem of services. The introduction of Club Grab aims to celebrate Grab's two-wheel fleet of GrabFood and GrabExpress delivery-partners' milestones by rewarding them for their achievements while providing a better and safer experience on the platform. 
###