Grab Malaysia Partners with industry leaders KLEAN, F&N and MRANTI to launch AI-driven Reverse Vending Machines (RVMs) in Klang Valley
Grab Malaysia has partnered with industry leaders KLEAN, Fraser & Neave Holdings Bhd (F&N) and Malaysian Research Accelerator for Technology and Innovation (MRANTI) to launch 18 AI-driven Reverse Vending Machines (RVMs) in strategic locations across the Klang Valley. This collaboration […]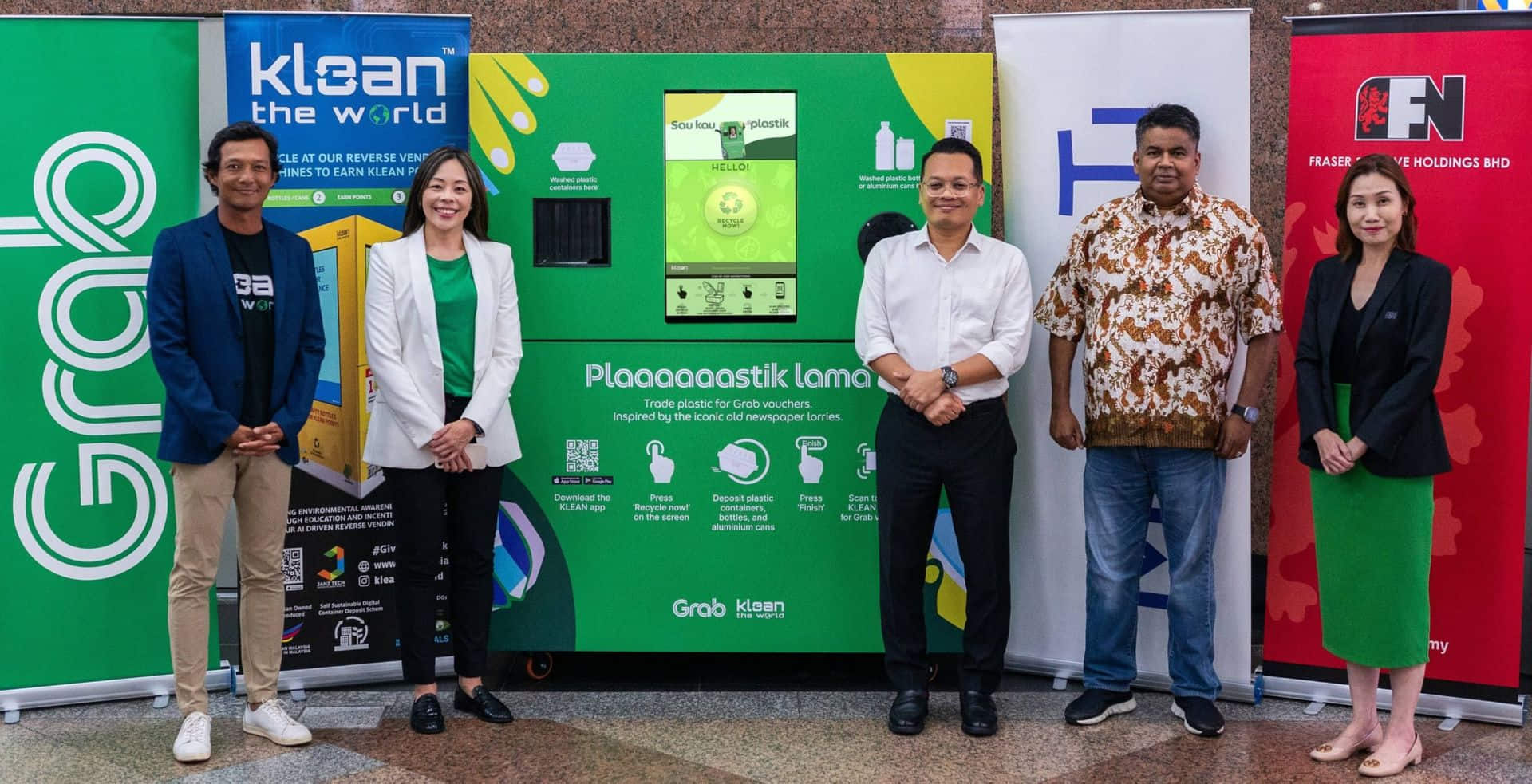 Grab Malaysia has partnered with industry leaders KLEAN, Fraser & Neave Holdings Bhd (F&N) and Malaysian Research Accelerator for Technology and Innovation (MRANTI) to launch 18 AI-driven Reverse Vending Machines (RVMs) in strategic locations across the Klang Valley. This collaboration is part of a pilot project by Grab, that aims to drive sustainable change, encourage recycling and support Grab's commitment to achieve zero packaging waste in nature by 2040, by making it easier for consumers to contribute to a greener Malaysia.
"We recognise that food packaging waste is an inherent by-product of our food delivery platform. Change has to happen throughout the value chain, and we are committed to proactively seeking and developing sustainable, inclusive answers. Industry partnerships like this underscore our commitment as we seek to protect the environment one proactive step at a time, in this case, doing our part to close the loop on single-use plastics by using technology as a force for good. The end goal would be to have a trickle effect where we protect the communities around us, and by doing so, they in turn protect theirs for generations to come.  From a consumer standpoint, contributing is simple: deposit rinsed plastic food containers, scan the RVMs' QR code, and redeem vouchers using collected KLEAN points," said Adelene Foo, Managing Director, Grab Malaysia.
Echoing Foo's sentiments, Natural Resources, Environment and Climate Change Minister Nik Nazmi Nik Ahmad said,  "Our Ministry is working on many fronts to phase out single-use non-biodegradable plastics. In line with the Malaysia Plastics Sustainability Roadmap 2021-2030, we're committed to promoting alternatives and sustainable substances in plastic production. The RVMs introduced through this collaborative effort not only aligns with our roadmap's goal but also provides an avenue for both businesses and consumers to realise the desired change. We hope that this partnership will encourage other organisations to likewise do their part in the pursuit of a more sustainable Malaysia."
The pilot project is set to run for a period of six months, with each fully operational RVM ready to accept plastic food containers, on top of aluminium cans and Polyethylene terephthalate (PET)  bottles that are more commonly collected for recycling. These would then be collected by Asasrama Sdn Bhd, a certified processor, to recycle into raw materials such as new PP and PET pallets/flakes, eventually giving them a second-life by turning them into new products including apparels, furniture fillings and plastic furniture/boxes.
Elaborating further, Joey Azman, Co-Founder of KLEAN, said, "With rising popularity of food and grocery deliveries, it is essential that we find ways to enable greater recycling of plastic waste. The RVMs borne through this partnership will be able to accept rinsed plastic food containers and turn them into reusable materials which can then be used across various industries. It is through partnerships and initiatives from corporations like Grab that help rally communities to adopt greener practices and contribute to positive change, closing the loop on single-use plastics."
Karen Tan, F&N's Director of Communications, Corporate Affairs & Sustainability said, "For over a decade, we have been organising our annual nationwide collaboration with schools – a school recycling programme to inculcate environmental awareness. The partnership with GRAB Malaysia, KLEAN and MRANTI is an opportune time for us as part of our strategy to continue working closely with partners in the public and private sector on environmental initiatives. Together, we strongly believe that the community at large will be agents of change that will work towards building a greener nation".
Datuk Wira Dr. Rais Hussin,  MRANTI's Chief Executive Officer said, "We live in an age defined amongst others, the shifting tide by consumers for sustainable living, in their preference for services and products that are for "good ". We are creating a sustainable innovation and technology hub based on a concept that focuses on environmental, social, and governance (ESG) criteria to address pressing industry and society's needs, with priority given to artificial intelligence, drones & robotics, healthtech, agritech, among others. With AI being the backbone for the operation of each RVM,  it is important that we cultivate partnerships that contribute towards building a thriving community".
Grab's collaboration with KLEAN, F&N and MRANTI is part of Grab's 4-lever approach to achieve Zero Packaging Waste to Nature by 2040. The pilot builds on efforts that have begun since 2019 to reduce single-use plastics by offering consumers the option to exclude single-use cutlery from their food delivery orders. As a result, Grab has saved more than 23,800 tonnes of waste, with 898 million sets of cutlery weighing 8,088 tonnes in 2022 alone. Furthering its efforts, the findings from this pilot will support Grab's development of reverse logistics mechanisms to inculcate a habit of recycling and thereby increase recycling rates among its users.
=END=