Grab Doubles Down to Help Small Traditional Businesses Embrace Digital Economy
Grab accelerates efforts to encourage Ramadan and Pasar merchants embrace the digital economy.
Grab Small-Biz Relief programme and 'Local Heroes' campaign successful in keeping businesses open with 25% increase in sales.
Petaling Jaya, 21 April 2020 – After introducing a host of initiatives to support Malaysians, gig economy workers and small businesses on the Grab platform, Grab Malaysia is now shifting its focus to empower our nation's small traditional businesses to embrace and thrive within the digital economy.
Grab's Ramadan efforts, which includes collaborating with state governments and other organisations to deliver Ramadhan Favourites, are part of the tech company's vision to ensure more small businesses and micro-entrepreneurs are not left behind as the country transitions to a digitised nation. In addition, Grab's efforts also includes adding five more markets across Selangor to their Pasar by GrabMart service effective April 24.
This comes following the positive feedback on Pasar by GrabMart, whereby Grab's consumers are able to buy fresh produce, spices, poultry, seafood and meat directly from the historic TTDI Market without leaving the comfort of home.
"We saw very encouraging results from our measures to protect our merchants, drivers and delivery partner's livelihoods during this financially turbulent time. Therefore, our partnerships with local governments and organisations will give us a larger stage to accelerate our support for small, traditional businesses and micro-entrepreneurs. We hope to help them, not only to serve the millions of Grab users, but also to leverage on our platform to serve their regular consumers conveniently and efficiently," said Sean Goh, Country Head of Grab Malaysia.
Helping the ecosystem to thrive
The combined impact from efforts like Grab's Small-Biz Relief programme (rebates on commissions) and the 'Local Heroes' campaign (free marketing and visibility for our small, independent restaurants and hawkers) has seen encouraging results on two fronts:
30% more small, independent restaurants and hawkers opened their doors to deliver food 

25% increase in orders, as a result of positive response from consumers rallying around their neighbourhood local favourites
"In parallel, we are also actively supporting restaurants with immediate cash flow through our zero-interest 'Deferred Commissions' programme. Furthermore, we introduced zero-commissions for any self-pickup orders and absorbed all related transactions costs for orders received via social channels with a GrabPay payment option," added Goh.
To date, almost 8,000 merchants have benefited from these programmes.
To support the increase in demand for delivery services, Grab has mobilised more than a hundred thousand GrabCar drivers. This move also ensures that drivers continue to have  an income despite the MCO greatly impacting the e-hailing business.
Goh explained that whilst reducing merchant's commissions alone may be considered a temporary fix, the majority of commissions actually go to the delivery network as income. "Considering the circumstances of Covid-19 and MCO, it was imperative for us to adapt and innovate to establish a sustainable economic ecosystem. Hence, we decided to focus on helping our community of merchants thrive by growing their demand, and in doing so, create income for thousands of delivery partners."
Testimonials from Merchants
Koay Teik Gee, 888 Hokkien Mee, Penang: "Being a small hawker stall operating for 11 years, joining delivery platforms  has definitely helped me grow the business. Especially at a time like this, the MCO has impacted so many businesses – we felt the stress. But I am grateful for food delivery partners like Grab; because of their 'Local Heroes' campaign, we have been able to improve our income by 4x since MCO began despite many food businesses suffering during this time. I want to encourage other restaurants to think of joining a food delivery business; you don't know how long the MCO will last, and even after that, what business will be like. So we should think of other avenues to keep our business going."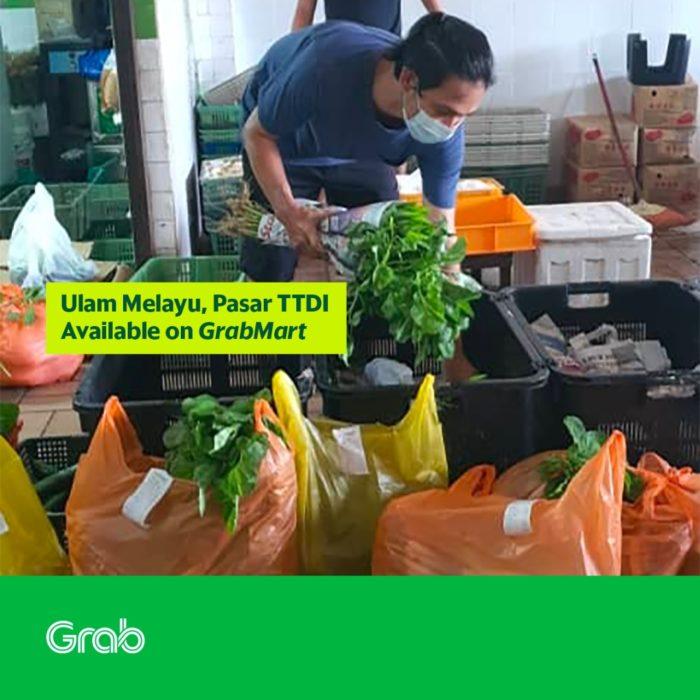 Al Hafiz bin Abdul Rashid Chaw, Ulam Melayu, Pasar Besar TTDI: "I signed up to be a Pasar merchant just before the MCO began. At first, I thought why not? You don't hear of market vendors using an app to sell their fresh produce. As the MCO tightened, it was harder for my customers to come and buy my ulam, so Grab is a great way to get more customers. My advice to anyone thinking of using technology to get more customers – just go for it! It's really easy and especially moments like this when many other types of businesses are struggling, you can still earn some money! In fact, once I had 40 orders in just 15 minutes!"
Besides working with state governments to digitise Ramadan and Pasar merchants, Grab is also looking to explore longer term initiatives to nurture the gig economy. "Covid-19 has taught us the importance of being adaptable and to embrace change. Therefore, we hope to continue working with the government on more sustainable efforts to make the digital economy a more viable contributing pillar in our nation's economy," concluded Goh.
=END=