Celebrate a Cashless Raya With GrabPay e-Duit Raya
GrabPay introduces e-duit raya to safeguard Raya traditions while encouraging the generous act of cashless giving.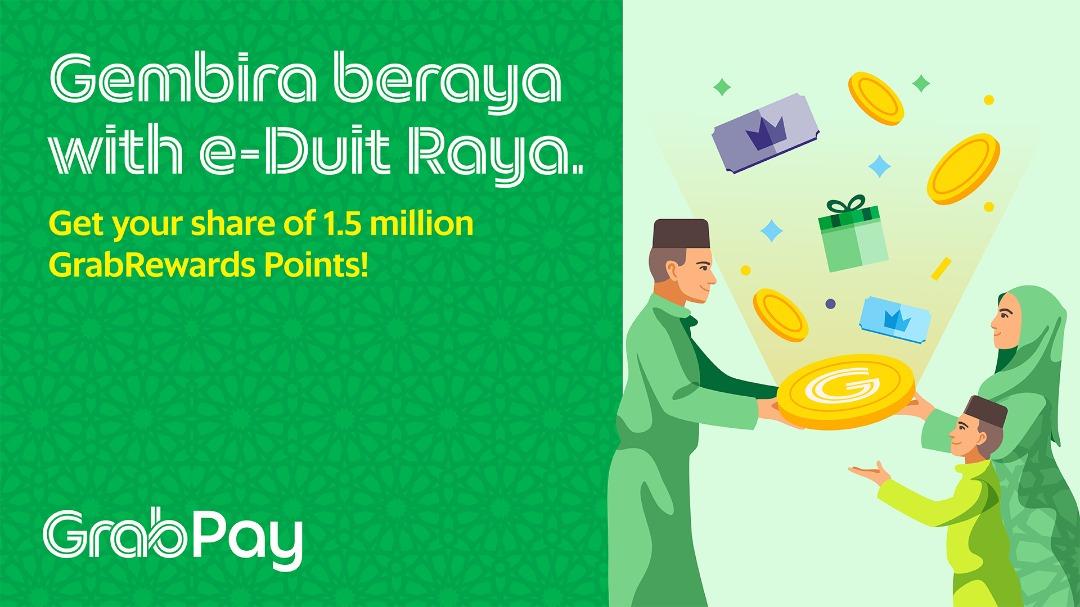 In this new normal, Malaysians of all walks of life are adapting quickly to keep their health and safety a top priority. And with the Raya festivities just around the corner, many of us are still adjusting to the idea of celebrating one of Malaysia's best loved festive seasons in a socially distant way. 
However, in the spirit of the festive season, here are some of the ways Malaysians are still able to experience a memorable and safe celebration by going 100% cashless, while keeping our traditions alive and thriving.
Safeguarding Traditions With GrabPay e-Duit Raya
While originating from the Muslim's tradition of sadaqah, the act of giving and receiving duit raya is now synonymous with the occasion, and is usually given from older generation or married couples to the younger generation of singles to foster relationships. In this new normal, many of us may not be able to balik kampung this year but Malaysians can still embody this heartfelt gesture by going cashless and sending e-Duit Raya to their loved ones via GrabPay.
To help encourage this generous act of cashless giving, Grab is rewarding Malaysians by giving out 1.5 million GrabRewards Points. From 24 May – 6 June 2020, users' first three GrabPay e-Duit Raya transfers will each get 50 GrabRewards Points (limited to one transaction per day). The top five users with the most transfers to different users will also be awarded with 20,000 GrabRewards Points.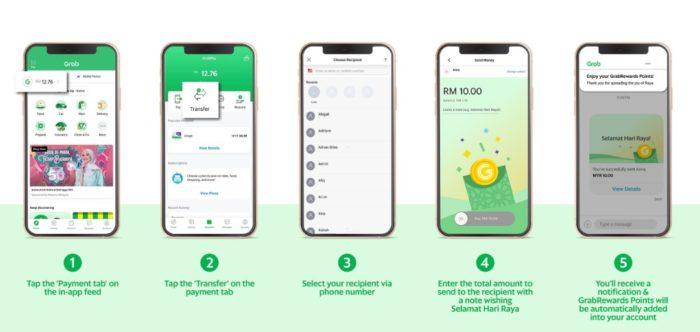 For more information on Grab's effort to encourage a cashless Raya, click HERE. 
Note: Always be mindful of your e-wallet and never reveal your Grab account details to anyone, including your Grab Activation Code (GAC), One-time Password (OTP), GrabPIN, or any other login details. For more information on how to keep your Grab account safe and secure, click HERE.
Fostering The Spirit of Giving
The act of giving alms is also unique and fundamental to the holy month, so we want to encourage all Malaysians to practice this and continue to do good while practicing social distancing by donating to those in need through the GrabRewards catalogue. Users will be able to donate up to RM25 to various charities and NGOs during this period, such as Islamic Relief Malaysia, Pertiwi Soup Kitchen, ProjekPelangi and more.
All Your Raya Needs Conveniently From Home
With this year's Hari Raya celebrations being a historical one, we want you to still get the most out of it from the comforts of your home. Therefore, Grab has made various efforts to ensure that Malaysians can get all their Raya necessities and preparations done conveniently from the comfort and safety of their homes just in time for the celebrations.
You can shop for your baju raya from Zalora and FashionValet via GrabPay, buy your cooking essentials and the famous Yusuf Taiyoob kurma from GrabMart, and even gift some delicious raya cookies to your loved ones from home-based sellers via GrabExpress Ramadan. On top of that, you can do so completely cashless with GrabPay and enjoy up to 30% across these Ramadan essentials too!
Raya shopping and preparations in the new normal may be different this year, but it can definitely still embody the same spirit we have all grown to love (and just as rewarding).
Ramadan Delights From Your Local Heroes
With Raya just around the corner, Malaysians only have a few days left to get their Ramadan cravings sorted while supporting our local and traditional businesses! Whether it's iftar menus from over 900 GrabFood restaurant-partners or Ramadan Bazar favourites from the Grab e-Kitchen Bazar, you can easily order your favourite Malaysian dishes to satisfy your appetites.
So if you haven't already, be sure to get all your Ramadan staples while you still can such as Roti John, Murtabak, Nasi Kerabu, Nasi Tomato and Nasi Kukus!
Protip: Be sure to order by 5pm to avoid any last-minute rush and to also give delivery riders some time to get home to enjoy their Iftar with their loved ones as well.
Despite these trying times, we want to ensure that we safeguard our traditions and unique culture, especially during the festive season. Let's continue to celebrate the significance of the occasion and practice mindfulness to keep Malaysia safe.
Selamat Hari Raya, Maaf Zahir Batin!