Grab launches new Regional Centre of Excellence in Malaysia
Regional Centre of Excellence will house Grab's core business strategy and operational functions, including legal, customer experience, financial services and creative services
Recently launched R&D centre will focus on building trust & safety solutions and capabilities to continue delivering on Grab's Safer Everyday commitment for Southeast Asia
Strong investment by Grab supports Malaysia's Industry 4.0 blueprint and digital economy ambitions, creating at least 400 new high-value jobs for Malaysians in the short term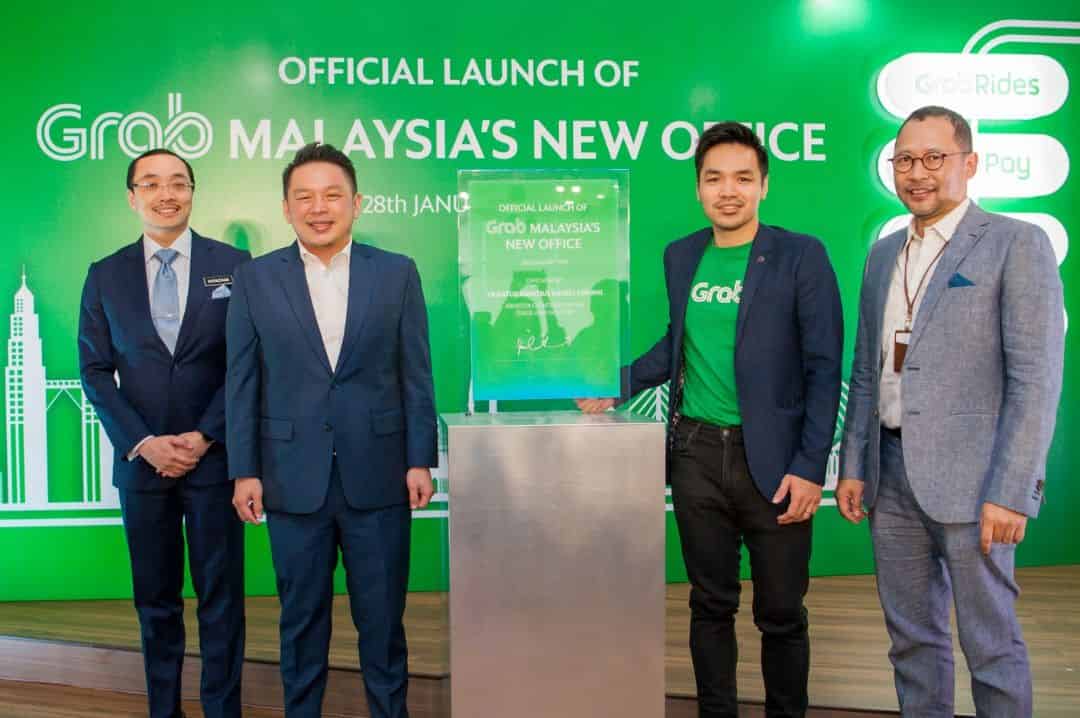 PETALING JAYA, 28 January 2019 – Grab, Southeast Asia's leading Online-to-Offline (O2O) mobile platform, launched its new Regional Centre of Excellence (RCoE) in its newly expanded 54,000 sq ft office space here today. The Regional Centre of Excellence will house Grab's core business strategy and operational functions, including legal, customer experience, financial services and creative services. This is the second showing of Grab's strong investment back into the country where it first started, with the first being the  launch of its R&D Centre in Malaysia just last month, the 7th in Grab's global R&D footprint, to nurture Malaysia's deep tech talents. The launch of its newly expanded office space was officiated by YB Datuk Ignatius Darell Leiking, Minister of International Trade and Industry.
By launching its Regional Centre of Excellence and R&D Centre in Malaysia, Grab will immediately create at least 400 new high-value jobs, bringing its total employees in Malaysia to 1,000. The RCoE will spearhead development of an in-house pool of highly-skilled professionals who are experts in their respective domains. With Grab's presence in 336 cities across 8 countries, they will be given the opportunity to take a regional lens in offering solutions and implementing projects.
The legal team will provide advice on regulatory, policy and legal issues that impact the entire region; the customer experience team will provide quality customer support for several countries; the creative and design team will develop  creative assets for regional marketing campaigns and projects; and the financial services team will implement financial, procurement and risk management policies across all countries where Grab operate in the region.
The tech and engineering team in Malaysia's R&D Centre will focus on building trust and safety solutions and capabilities that not only solve safety issues for citizens in Malaysia, but also across the whole of Southeast Asia. As Grab doubles down on its global investments in more advanced technology, data science, artificial intelligence and machine learning to make every ride, every delivery order, every financial transaction that takes place on our platform safer and more secure than ever before, the Malaysian tech and engineering team will play a pivotal role in setting a high bar for safety standards in Southeast Asia, and achieving our ultimate goal of zero preventable incidents on our platform.
"Malaysia is proud that it is the birthplace of a technology unicorn like Grab. Grab represents innovation, tenacity, creativity, a keen sense for business, and hard work –  values that the Government aims to cultivate among Malaysian tech companies. We are happy to see Grab contributing back to Malaysia and committing to nurturing local tech talents and facilitating knowledge transfer through its R&D centre. As an everyday super app for Malaysians, Grab not only serves local transportation needs through its ride-hailing offering, but also plays a pivotal role in empowering local businesses through its delivery and payments platforms." said Datuk Darell Leiking, Minister of International Trade and Industry at the launch. "This is exactly what Malaysia needs to move ahead in our digital economy goals – more Malaysian companies who have done well at the global stage to heed the Ministry's clarion call for quality investment back home to develop the nation, by creating high-value jobs and nurturing the next generation of Malaysian entrepreneurs."
He added, "Indeed the Government will continue to chart Malaysia's digital transformation towards achieving greater economic prosperity and societal well-being. In this context, the National Policy on Industry 4.0 (Industry4WRD) and the National e-Commerce Strategic Roadmap (NeSR) are the key blueprints to "attract, create and transform". In particular, this entails attracting key enabling technologies to create the right digital ecosystem; transforming the manufacturing and services sectors into "agile sectors", and enabling Malaysian entrepreneurs to become 'e-commerce ready'. Therefore, the Government encourages continued collaboration between the public and private sectors, in realising the action plans set out in both blueprints, for our mutual benefits."
"Our strong investments in anchoring our Regional Centre of Excellence and latest R&D Centre in Malaysia is our response to the Malaysian government's call for public-private partnerships to help drive Malaysia's Industry 4.0 blueprint and digital economy ambitions. We are committed to helping Malaysia unlock greater economic gains by creating high-value jobs, nurturing deep tech talents, and attracting more Malaysians overseas to return home. We have always remembered our roots, as Malaysia is where we founded Grab almost seven years ago, with the simple goal of solving the problem of transportation safety. Now that we have grown beyond ride-hailing to become the leading SEA's everyday super app, it is natural for us to contribute back to the country where we first started," said Sean Goh, Country Head for Grab Malaysia.
"These investments are above and beyond our continued mission to make transportation accessible and safer for all, while at the same time, creating better income-earning opportunities for our driver and delivery partners, and enabling local businesses to leverage our user base and distribution network to earn higher business revenue. There is a lot more we can do to improve the daily lives of fellow Malaysians, and we want to partner closely with the Malaysian government to develop win-win regulations and policies that allow innovation to thrive, and best serve the interests of the larger Malaysian population", added Sean.
Grab is committed to contributing to Malaysia's Industry 4.0 blueprint in the following areas:
Shared, Seamless and Smart mobility solution for all:

We will make transportation more accessible for all Malaysians. With the widest range of transportation services already readily available on our platform, we will work closely with governments, public and private transportation providers to serve the first-mile-last-mile transportation needs of Malaysians.
Better livelihoods and income-earning opportunities for driver-partners:

86% of our driver-partners supplement their income part-time with Grab. These driver-partners earn 37% more supplementary income with Grab

,

on top of their day-to-day jobs. Our GrabTaxi driver-partners also earn 10% more daily income compared to the past when they can only rely on street-hails and regular taxi bookings. We will continue to better the livelihoods of our driver-partners and offer increased income-earning opportunities, greater financial support, better technology tools and skills training, and more community activities for them and their loved ones.
Digital shop fronts for GrabFood, GrabRewards and GrabPay merchant partners

: We will empower micro-entrepreneurs and small and medium-sized businesses to set up their digital presence on Grab app and leverage our user base and distribution network to earn higher business revenue.
Access to GrabPlatform to help like-minded start-ups and partners scale their business:

Partners can either build their services into GrabPlatform or integrate Grab's suite of technology and products into their own websites or apps, for example GrabPay for mobile payments, GrabExpress for logistics, or GrabProfiles for user authentication. This will give partners direct access to Grab users and help scale their business faster.
-END-