Colourful, cultural and economic: street food has become the heart and soul of many of the region's most popular cities. Street food has existed for centuries and is quintessential to the Asian experience. Each dish is prepared according to authentic, traditional recipes, and each bite is a trip down memory lane for local childhood favourites. Fortunately for Malaysians, a wealth of culinary influences gives us instant access to a world of cuisines and iconic snacks that go well beyond nasi lemak or char kway teow.
Feeling hungry and adventurous? Here are our fave picks in Kuala Lumpur and across the Klang Valley.
Village Park Restaurant [pork-free]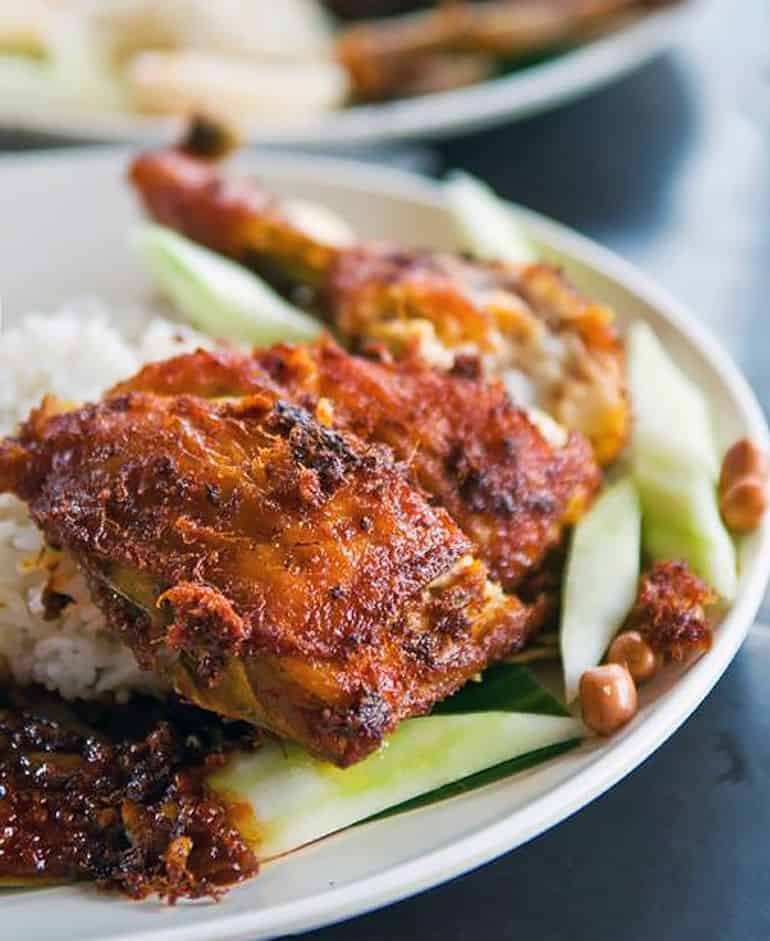 A restaurant which needs no introduction, Village Park is the country's nasi lemak powerhouse. Nasi lemak as the (unofficial) national dish of Malaysia is a perennial favourite here: fluffy, fragrant rice cooked in coconut milk and ginger, with a generous topping of sweet and spicy sambal. Add a choice of protein (you can't go wrong with Village Park's signature fried chicken) and a typical side-combo of hard-boiled egg, fried anchovies, peanuts and cucumber slices for extra flavour and crunch. Although Village Park is the go-to spot for a delicious nasi lemak fix, it also offers other popular Malaysian favourites such as soupy lontong and nasi impit — a type of traditional "compressed" rice eaten with savoury sides such as chicken or beef rendang.
Pricing: from RM3.71–11.31 for the Nasi Lemak menu
Phone number: 012-273 8438
Opening hours: Monday–Saturday: 7am–6.30pm; Sunday: 7am–6pm
Ayam Penyet Best [Halal]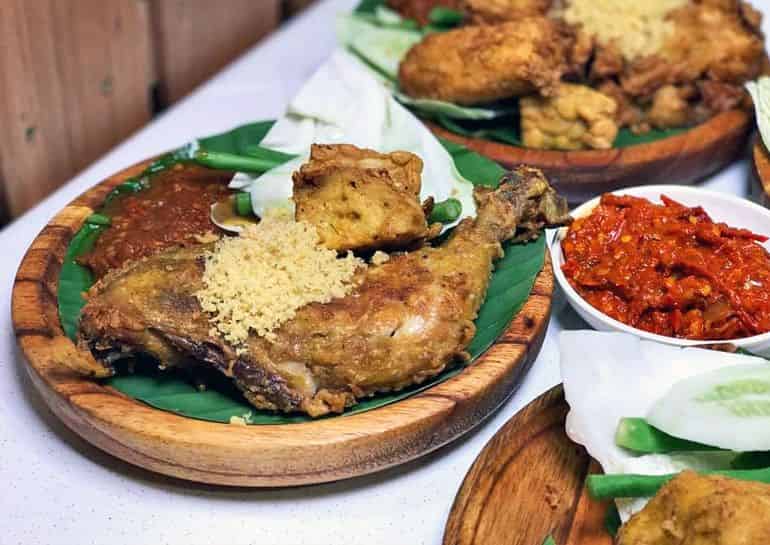 Ayam Penyet Best takes great pride in serving authentic and popular Indonesian dishes, including the world-renowned ayam penyet (which means "smashed chicken"). This traditional Surabaya dish is prepared by first marinating the chicken in herbs and spices such as coriander, turmeric and candlenuts. It is then deep-fried until golden brown and crispy on the outside while retaining its tenderness, before being smashed with a wooden-headed hammer until flattened. Ayam penyet is served with rice, spicy belacan sambal and the mandatory accompaniments of fried bean curd and tempeh, as well as an assortment of raw, crunchy vegetables such as long beans, cabbage, tomato and cucumber, offering a cooling balm to the palate between spicy bites.
Pricing: from RM3.50–16.90
Phone number: 03-8011 7566
Opening hours: Monday–Friday: 10am–10pm
Hawker Hall [pork-free]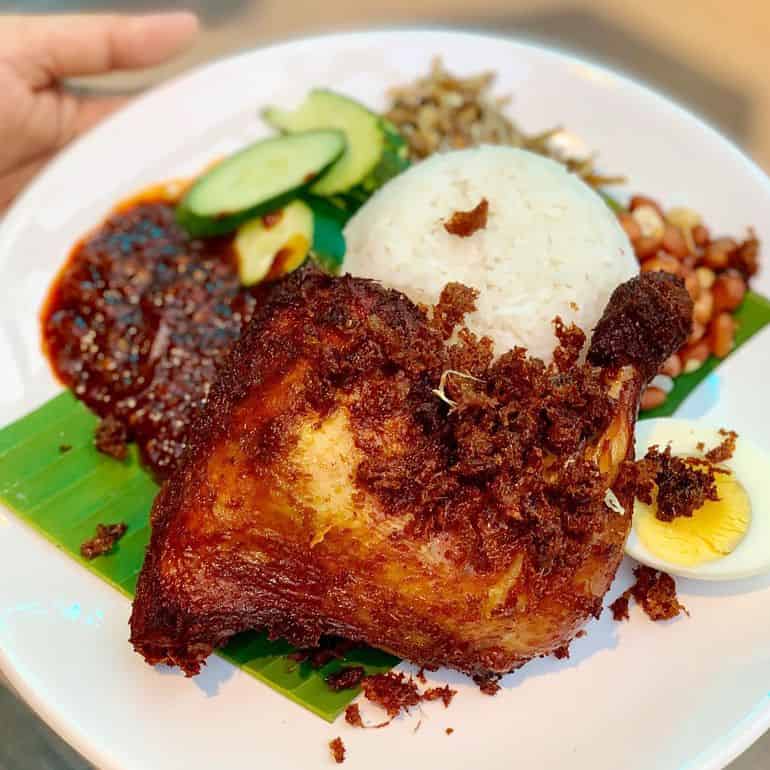 Dubbed as the local hawker hero, the recently established Hawker Hall in Hartamas unites hawker food fans with its extensive menu. From Malaysian to international cuisine, Hawker Hall understands the Malaysian passion for food, coupled with affordable prices. Foodies staying true to their roots can opt for Malaysian favourites such as Curry Laksa, Hainan Toast and Penang Mee Mamak, while those with a more adventurous palate can opt for the Gangnam Korean Fried Chicken, stir-fried Thai Spaghetti with Seafood (pictured below) or even Fish & Chips!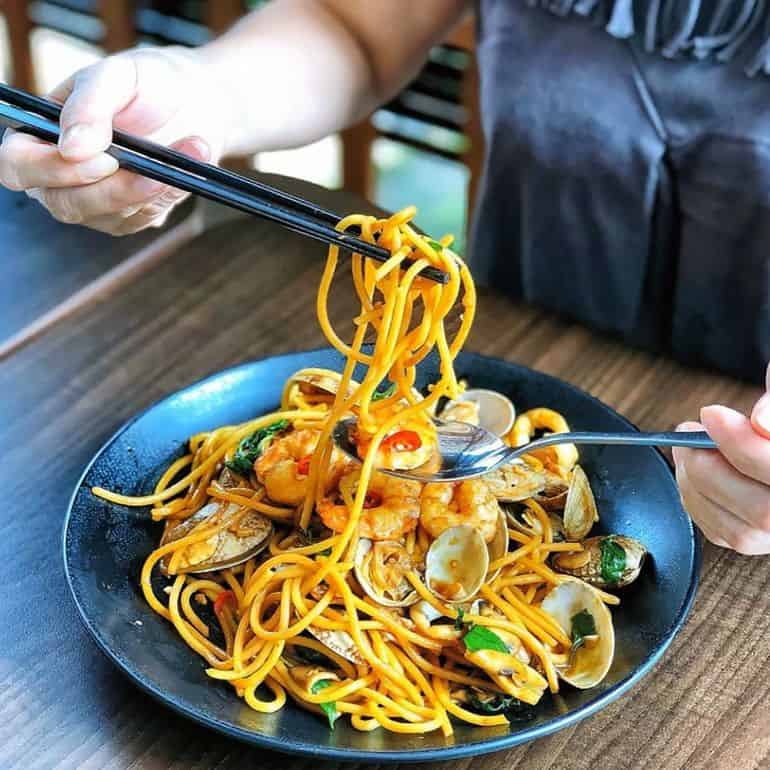 Pricing: from RM3.90–24.90
Phone number: 03-5888 4030
Opening hours: Monday–Sunday: 7.30am–1am
Shihlin Taiwan Street Snacks [pork-free]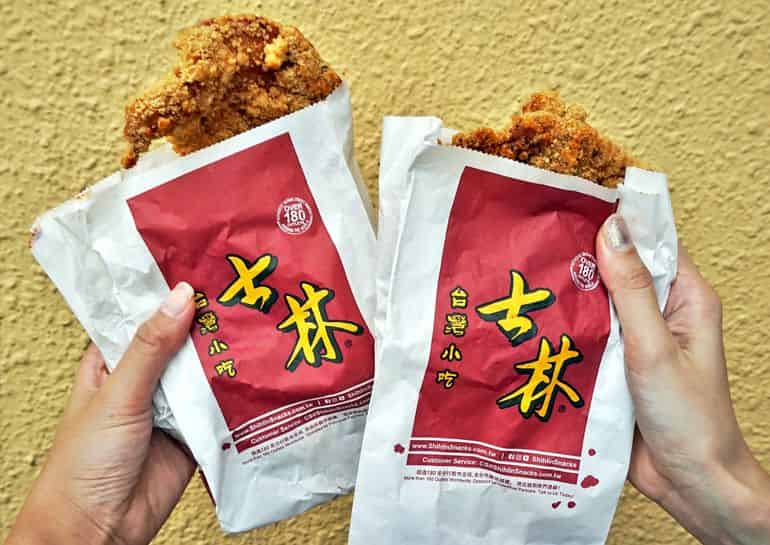 Take a bite of some of Taiwan's most sought-after street snacks at an outlet of this famous food chain. Here, you can revel in the popular, ready-to-eat dishes commonly found in the alleys of the country's many night markets, such as the indulgent XXL Crispy Chicken, egg crepes with a variety of fillings such as crispy chicken floss or mushroom and cheese, and hand-made imported mee sua crowned with oysters and shredded chicken. Alternatively, you could go for the signature Happy! Ricebox: a tasty combination of XXL Crispy Chicken, short-grained rice, and tofu topped with a rich century egg sauce — guaranteed to satisfy any between-meals cravings!
Pricing: from RM22–26 for Grab N Go Set
Phone number: 03-7725 3509, 016-663 4919, 03-7731 9010
Opening hours: Monday–Sunday: 10am–10pm
Absolute Thai [pork-free]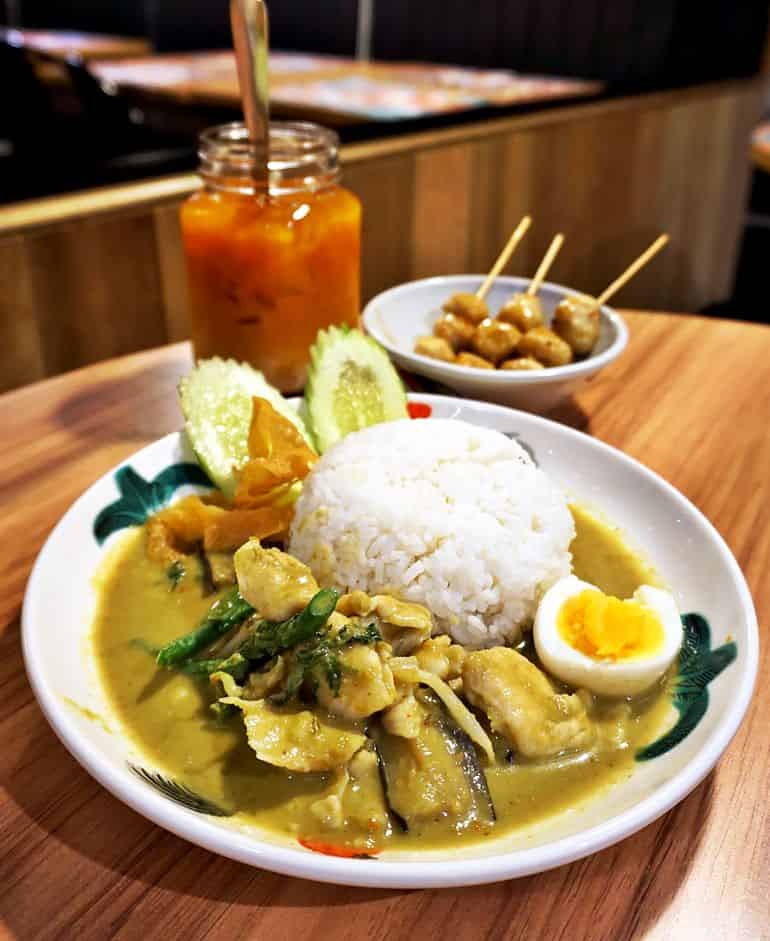 Absolute Thai has set its sights on delivering immersive, highly vibrant and gratifying Thai meals through an elaborate selection of fiery dishes. Spice plays a crucial role in Thai cuisine, which is why the dishes are complex and delicious, whether you are looking for a holiday feast or just a casual meal. Notable menu items are the phad Thai, hot and spicy tom yam Soup, and pineapple fried rice with prawns — and we can never go past a classic green curry!

Pricing: from RM7.31–27.42
Phone number: 03-6148 2708
Opening hours: Monday–Friday: 10am–10pm
Namaste India [pork-free]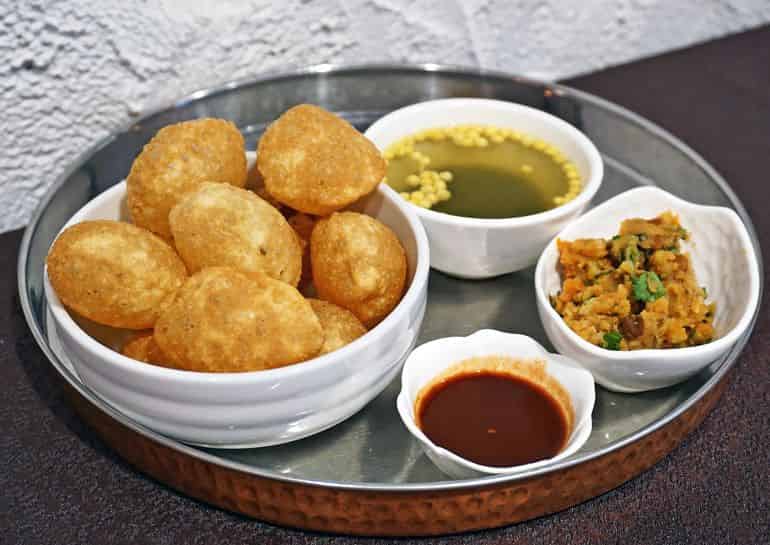 Namaste India showcases its impressive delicacies and culinary skills through a meticulously curated menu. Dishes here evoke fond childhood memories. From fine dining to street-style dishes, Namaste India has something for everyone. One of its most popular dishes is pani puri: a bite-sized, street food-style snack that originated from the Indian subcontinent. It consists of a round and hollow crispy deep-fried loaf, loaded with masala potatoes, tamarind chutney and spicy mint. Fun to assemble and delicious to eat!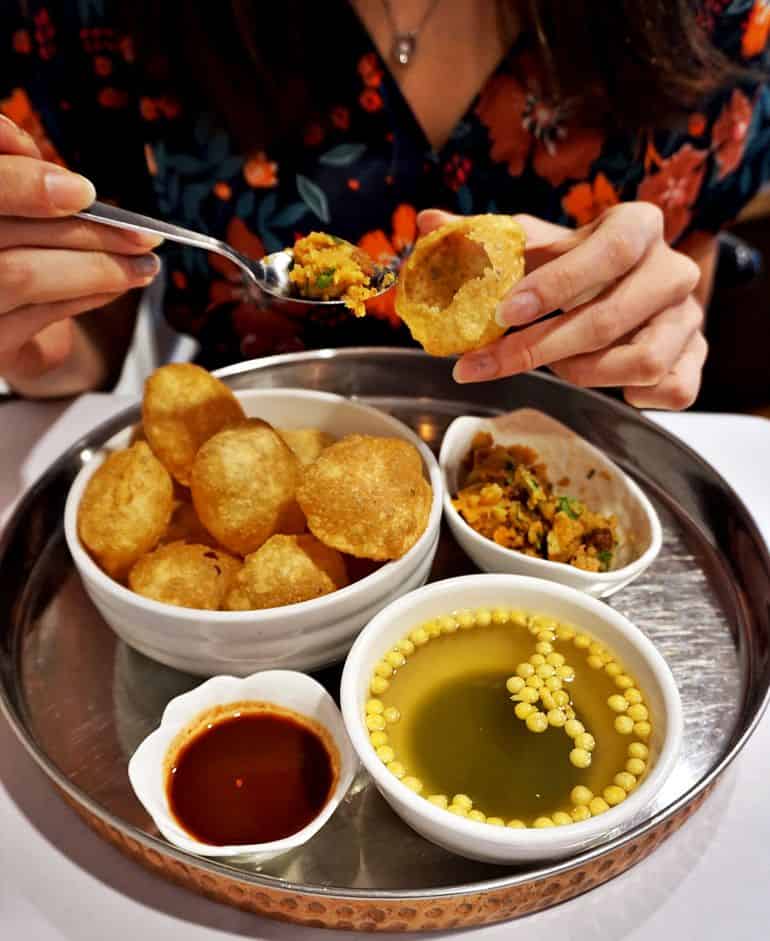 Pricing: from RM3.90–36.90
Phone number: 03-6206 3538
Opening hours: Monday–Sunday: 12pm–11pm

HUNGRY FOR MORE?
Are you as obsessed with Korean food as we are?
When you've just gotta have a burger…
Or are you in the mood for Thai?
Bring on the nasi briyani, from the authentic to the addictive