Under the spell of recent K-pop madness, plus the long-standing cultural export of bibimbap, kimbap, ramyeon, topokki and all the Korean delicacies that you can imagine, Korean food and culture has taken KL by storm. From Koreatown in Ampang, a little enclave long known for its Korean expatriates (there's even a Twitter account dedicated to this area), to large communities in Solaris Mont Kiara, an endless array of Korean restaurants await in KL. We've shared our faves to satisfy all your cravings, whether it's the cult foodie favourite Korean fried chicken, sweet bingsu to beat the heat, or a hearty meal of BBQ to enjoy with a crowd.
Oiso Traditional Korean Cuisine & Café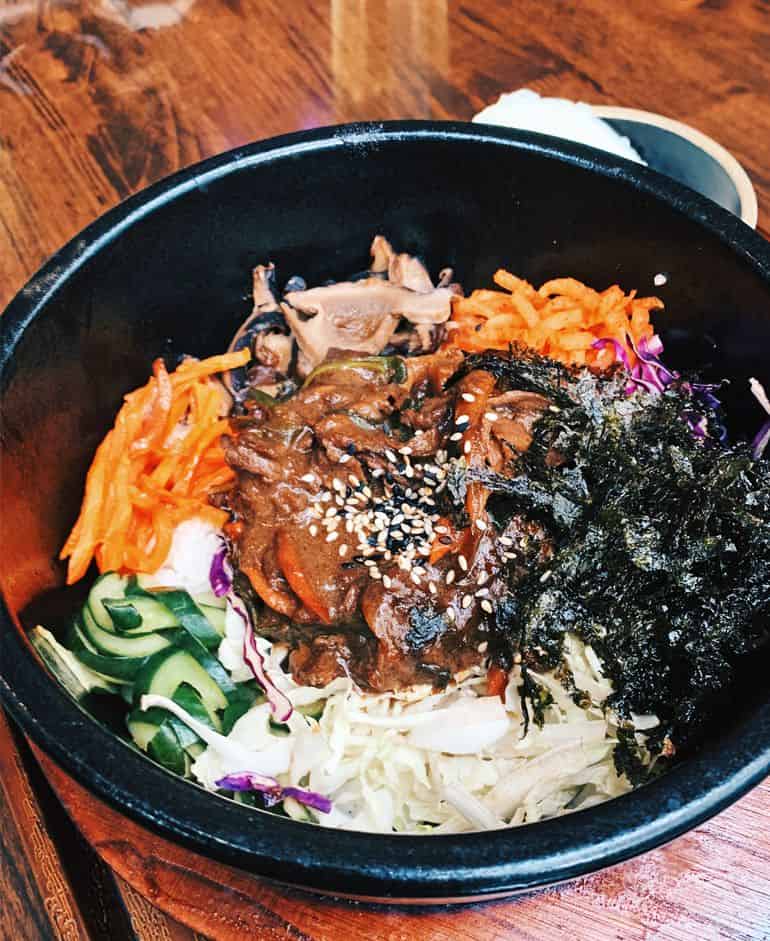 Oiso is the kind of restaurant that you'd want to visit after a long day of work, or if you're just in the mood for good food. The mini plates of banchan (Korean appetisers which changes daily and comes with your meal) are a welcoming sight, as a hearty start to your meal. The classic bibimbap of this Korean restaurant in KL is served the authentic way – with an array of vegetable toppings like mushrooms, beansprouts, radish, lettuce leaves and sliced kimchi, stirred thoroughly with a spicy Korean chilli paste (gochujang) that evenly coats the rice grains and vegetables, together with the oozing fried egg. Another must-have at Oiso is the stir-fried bulgogi beef, with the sweet soy bulgogi marinade that mellows the heat from spicy stews such as the soft tofu and kimchi stew with saury fish. Our tip? Make this a full on feast by getting the Jjang Myeon, a Korean-Chinese delicacy doused in chunjang (black bean sauce), chicken and julienned vegetables. It's a feast for the eyes and the soul!
Pricing: from RM15 for a meal
Phone number: 012-487-8910
Opening hours: Monday–Sunday: 10am–10pm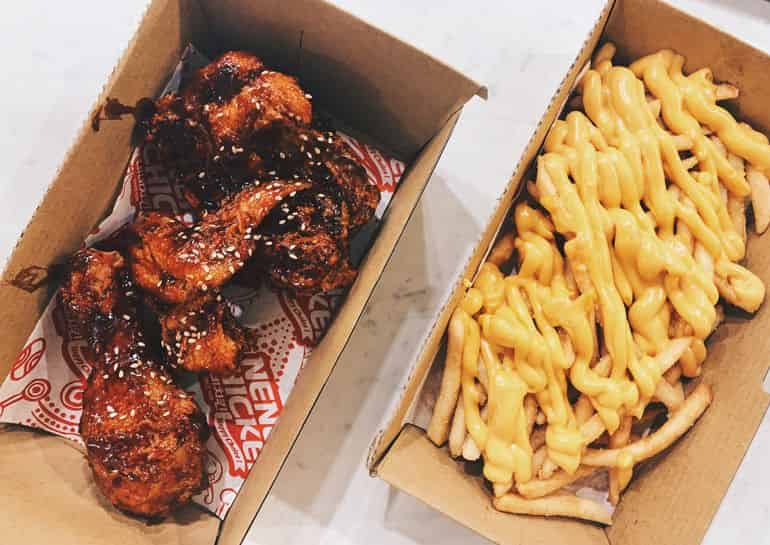 Let's face it: when you think of Korean food in KL right now, fried chicken floats to the top of the list. It's no secret that fried chicken is a Malaysian favourite, or that fans are flocking here. As South Korea's largest fried chicken chain with over 1,200 outlets around Asia, NeNe (which also means "yes yes" in the language) is one of our most-liked places for wholesome, tasty chicken. Deliciously marinated and full of flavour, NeNe's fried chicken is moist on the inside and addictively crisp on the outside.

The best thing about Korean fried chicken is the variety of sauces, and NeNe's selection certainly does not disappoint. The Bulgogi, Snowing Cheese and Hot Topokki flavours are all very Korean and deeply satisfying. However, if you need something spicy and you're up for a challenge, go for the Freaking Hot fried chicken, which leaves a lingering numb sensation on your tongue as you reach for your drink. We love the kick, but it's not for the faint-hearted — so proceed with caution! If you're hanging out with a group of friends, throw in a kimchi burger, Shake It! fries (we recommend the spicy ramen flavour) and some good ol' fried chicken skin. After all, what's a fried chicken meal without all the sides?
Pricing: from RM20 for a meal
Phone number: 018-966 2323
Opening hours: Monday–Sunday: 10am–10pm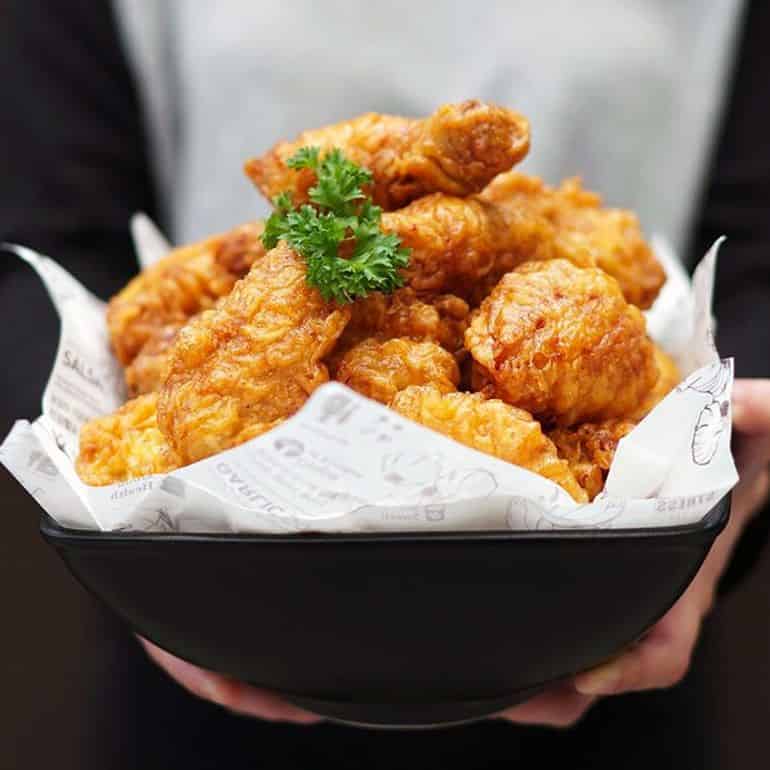 You're hungry, you're done shopping in Little Korea, and you're thinking about Korean food in Pavilion. But how to choose? KyoChon 1991 comes high on our list. KyoChon takes pride in the fact that only antibiotic- and hormone-free broiler chicken is used in its cooking, aged between 30 to 35 days as this (the restaurant says) provides the juiciest, most succulent meat. KyoChon has kept it simple with three classic flavours: original soy garlic, red pepper and honey — we suggest going for the Sampler meal, which includes all three signature flavours. Bonus points for how the wingettes and drumettes are separated for easy consumption, especially when they're hot from the fryer! The rice series, which uses rice flour in the batter, is served with green salt, honey garlic and sweet chilli sauces. Perfect for gluten-free eaters, it also comes with a side of organic salad with triple-washed leaves to make sure you're not overdoing it on a cheat day.
Pricing: from RM20 for a meal
Phone number: 03-2110 0579
Opening hours: Monday–Sunday: 10am–10pm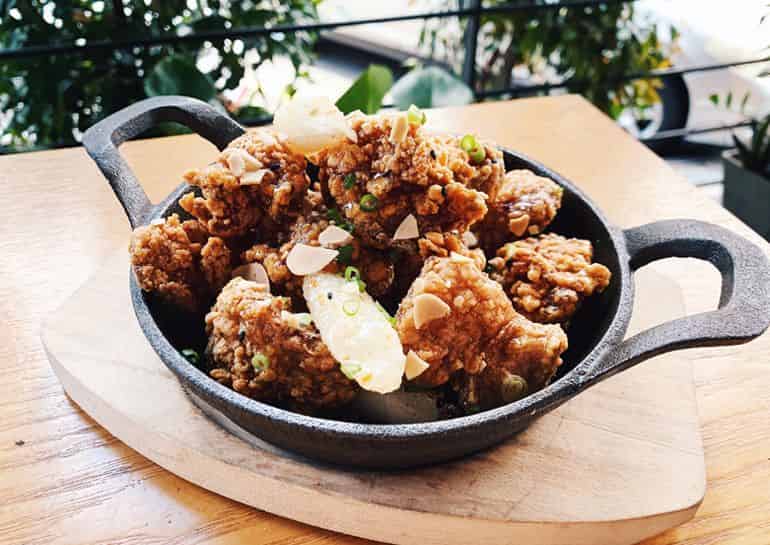 Despite being a dessert café in name, Hanbing also caters for foodies who have less of a sweet tooth, by serving a wide range of well-loved Korean savoury bites. The wings sampler takes the guesswork out of ordering if you're with a crowd of picky eaters, featuring juicy fried chicken wings tossed with almonds and fried chewy topokki, in the four different flavours of tangy citron, explosive honey, burning spicy and savoury soy. The feasting doesn't stop here. The dakgalbi and bulgogi rice bowls, as well as japchae noodles, are great lunch options if you're eating alone. For avid followers of the popular and viral Korean Fire Noodle Challenge on the internet, you'd be pleased to find out that the spicy fire ramyeon with mixed seafood at Hanbing means business. Push the limits of your spice tolerance with the chilli flakes and might we add, insanely spicy, ghost pepper chilli oil that comes with the noodles. Proceed with absolute caution in sparing amounts – you've been warned.  
Pricing: from RM20 for a meal
Phone number: 03-2202 0238
Opening hours: Monday–Thursday, Sunday: noon–midnight; Friday–Saturday, eve of PH: 12 noon–1am
 Shinmapo Korean BBQ [non-halal]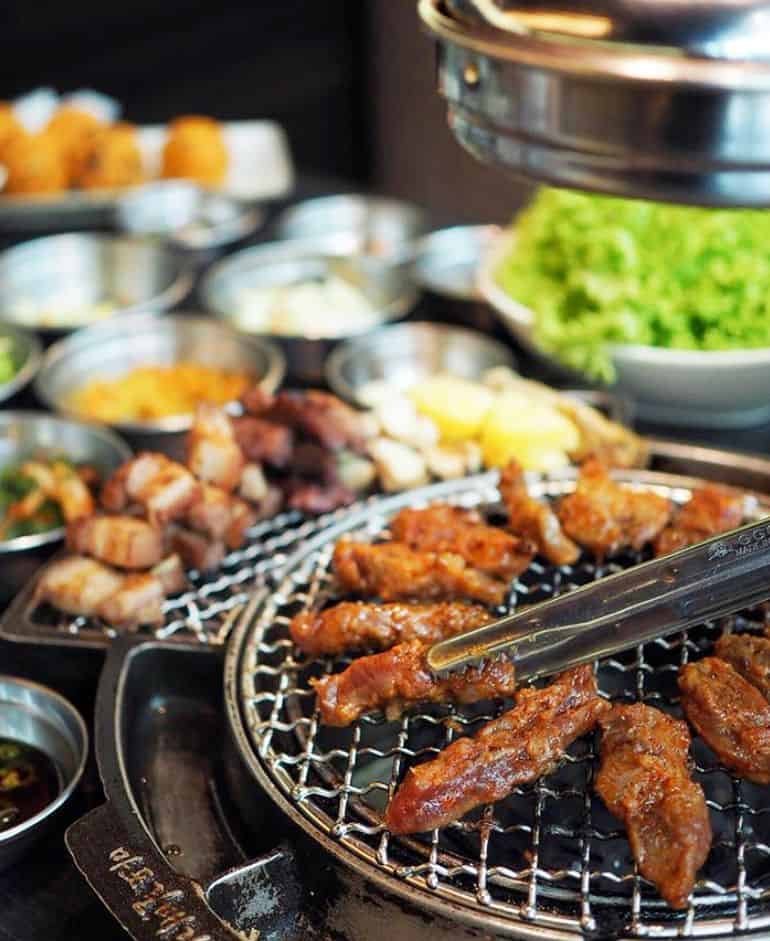 Here to debunk the myth that you can't have Korean BBQ delivered to you, Shinmapo is where it's at. It's hard to find fault with the selection of Korean BBQ here — quality mixed meats and seafood ranging from chicken and baby octopus are grilled to delicious perfection, to be wrapped with crisp lettuce and gently dipped in spicy gochujang or sesame sauce. In the carbs department, Shinmapo's most beloved dish is probably the volcano fried rice, which has had bloggers waxing lyrical. The idea is to present rice as a "volcano mountain", with whisked eggs poured over to form a fluffy exterior — like tasty "lava". Sinful and delicious, don't even think of resisting this.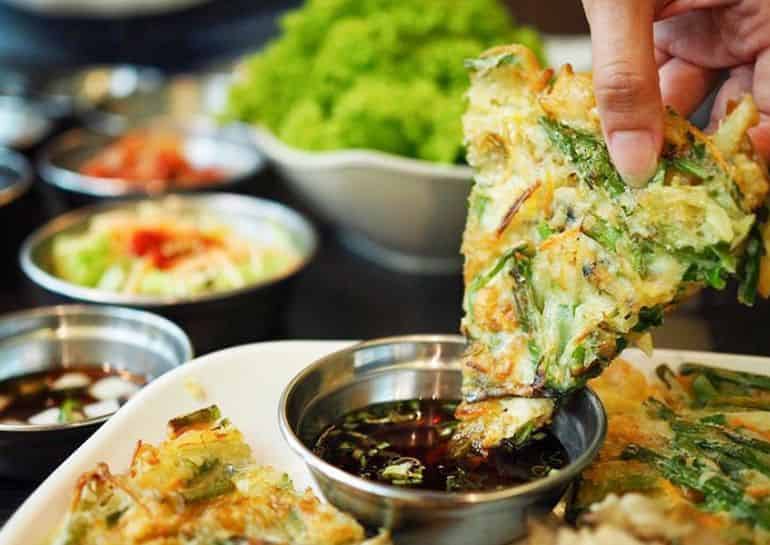 Pricing: from RM25 for a meal
Phone number: 03-2201 3252
Opening hours: Monday–Sunday: 11am–11pm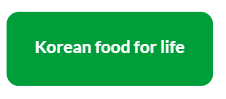 HUNGRY FOR MORE? 
We found cheap eats!
Craving chicken rice? Head this way….
Do you know these foodie gems in Sri Petaling?
Vegetarian restaurants to get excited about