Nothing unites a group of KL friends quite like a great meal of chicken rice. Equally, nothing can divide a group of KL friends quite like a discussion of where the best chicken rice in KL really is. Everyone's got their own opinion and deeply personal preferences — do you go Hainanese chicken rice or Malay-style nasi ayam? Do you like a compact mound of rice or squidgy chicken rice balls? Chilli sauce, garlic, ginger or kicap manis? Or all of them? For such a simple dish — literally, chicken and rice — the potential permutations are endless.
Probably the most popular version of chicken rice in KL is the much-televised classic: Hainanese chicken rice, brought to Malaysia decades ago by immigrants from China's Hainan province. In its most simple iteration, this dish consists of a plate of fragrant rice, cooked in chicken broth and herbs (and oftentimes lard), served with poached or steamed chicken. The chicken and the rice are co-stars in this production, neither one taking more or less of the limelight. The chicken needs to be tender and flavourful, while the rice needs to be fragrant and soft, and only when these both line up can the dish truly sing. Other sides — sliced cucumber, toasted garlic, bean sprouts, the addition of roast chicken, char siew or siew yoke (roast pork) — may enhance a good chicken rice but will never save a bad chicken rice.

HAINANESE-STYLE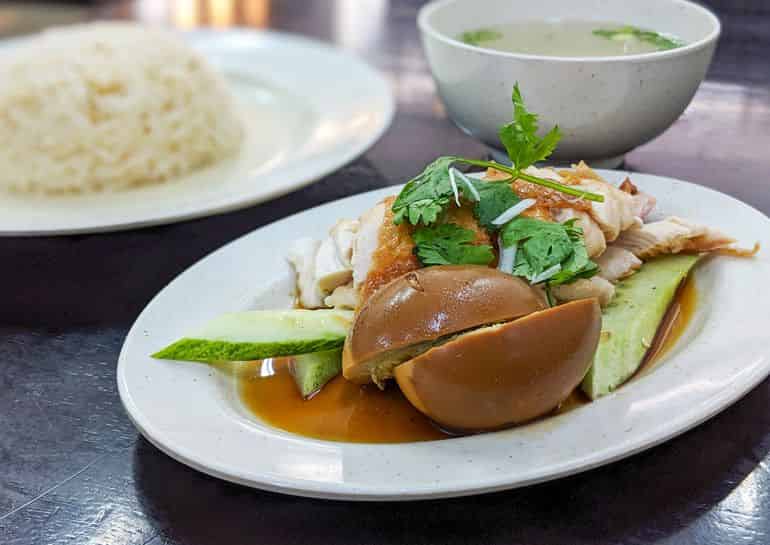 Seng Kee Chicken Rice (Non-halal)
This place is a lunchtime favourite famous for its rice. You can order a range of other dishes — wantan noodles, chicken porridge, hor fun, laksa — all of which are excellent, but none of which can hold a candle to the rice. "Oil rice", to be precise. It's fragrant, flavourful and, yes, oily, but in the best way possible. Whether you choose steamed chicken, roasted chicken, char siew or siew yoke to go alongside your rice, you know it's going to be a great — and filling — meal. We recommend going with the steamed chicken, just so you're able to fully appreciate the rice without the flavours being overpowered, but if you're tempted by the char siew, we don't blame you. It's the dark, sticky, caramelised kind, and is very, very good.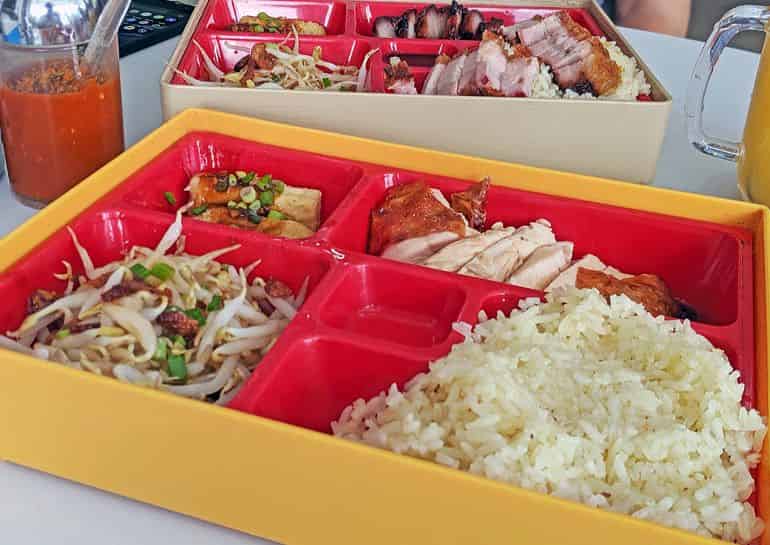 Pricing: from RM16–20 for the chicken rice menu
Address: No. 8, Jalan Solaris 3, Solaris Mont Kiara, 50480 Kuala Lumpur; see official site for more locations
Phone number: 03-6211 3330
Opening hours: Monday–Sunday: 7.30am–10pm
1977 New Ipoh Chicken Rice (non-halal)
Over here, it's the bean sprouts that are renowned. They're short, plump and extra-crunchy, and come from a special farm in Ipoh. In an interview, the restaurant's owner said 1977's eight restaurants can get through almost 2,000 kilograms of bean sprouts in a typical week[SA2] . Order the chicken rice bento, where the bean sprouts are given pride of place next to your choice of chicken (we recommend the roasted chicken thigh), and a superb, kicky chilli sauce.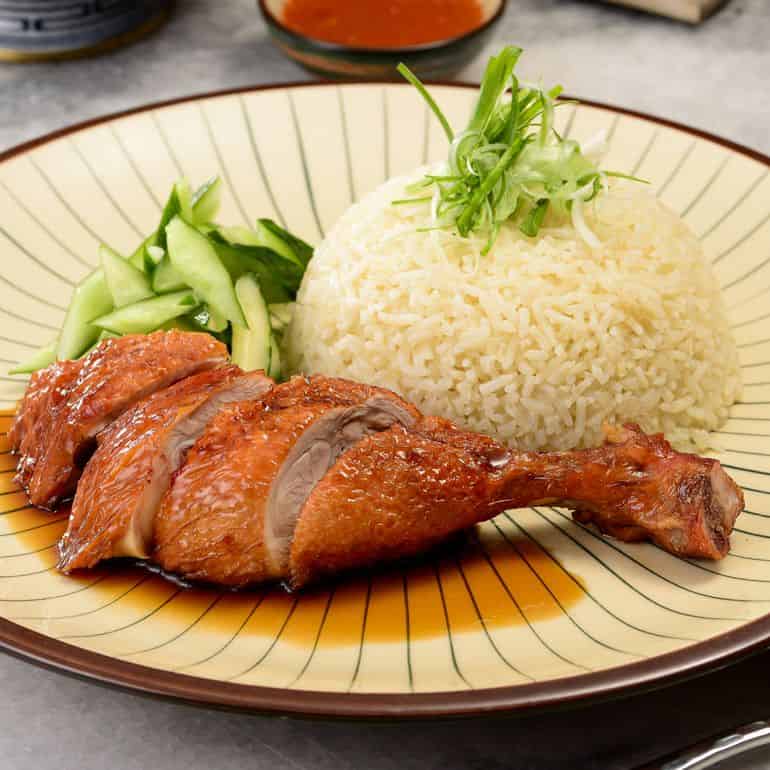 Pricing: from RM14.80–22.80 for the chicken rice menu
Address: No. 107, Jalan Gasing, 46000 Petaling Jaya; also in Sri Petaling, Damansara Jaya and Mid Valley Megamall
Phone number: 03-7956 0958
Opening hours: Monday–Sunday: 9am–10pm

THE ONES THAT NEED NO INTRODUCTION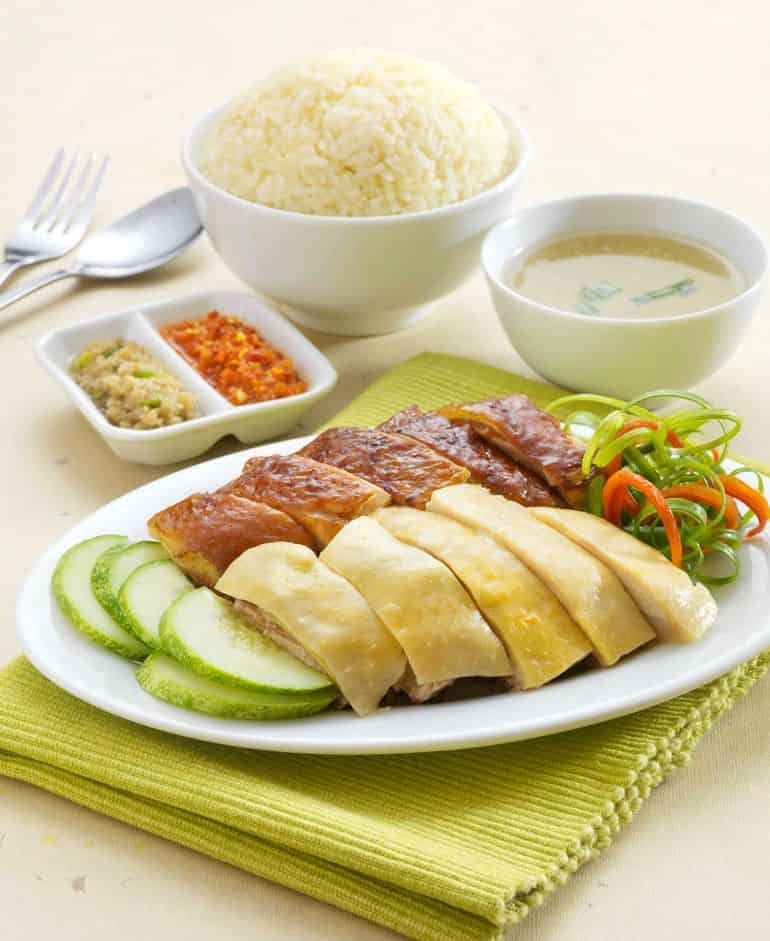 The Chicken Rice Shop
This well-known joint has become synonymous with halal chicken rice, available all across Malaysia. The chain is halal-certified and one of the few places you can get great, consistent pork-free chicken rice, from the classic Hainanese steamed chicken to grilled butter chicken.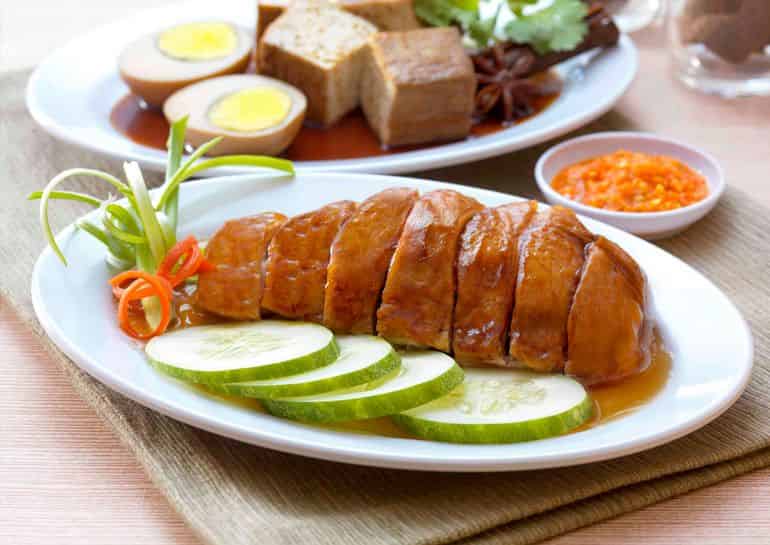 Pricing: from RM9.90–15.90 for the chicken rice menu
Address: Lot LG 213, lower ground floor, The Gardens, Mid Valley City, Lingkaran Syed Putra, 59200 Kuala Lumpur
Phone number: 03-2287 9290
Opening hours: Monday–Sunday: 10am–10pm
Hometown Hainan Coffee
The Hainanese chicken rice here comes with a serving of traditional bean sprouts, and is topped with crispy toasted garlic. If you fancy going off-piste, they also serve chicken curry, rendang chicken and minced chicken varieties of the chicken rice.
Pricing: from RM18.66–21.94 for the chicken rice menu
Address: L1-52 K1, first floor, 3 Damansara, Jalan SS20/27, Damansara Intan, 47300 Petaling Jaya
Phone number: 03-7731 6707[JP3]
Opening hours: Monday–Sunday: 10am–10pm

NASI AYAM-STYLE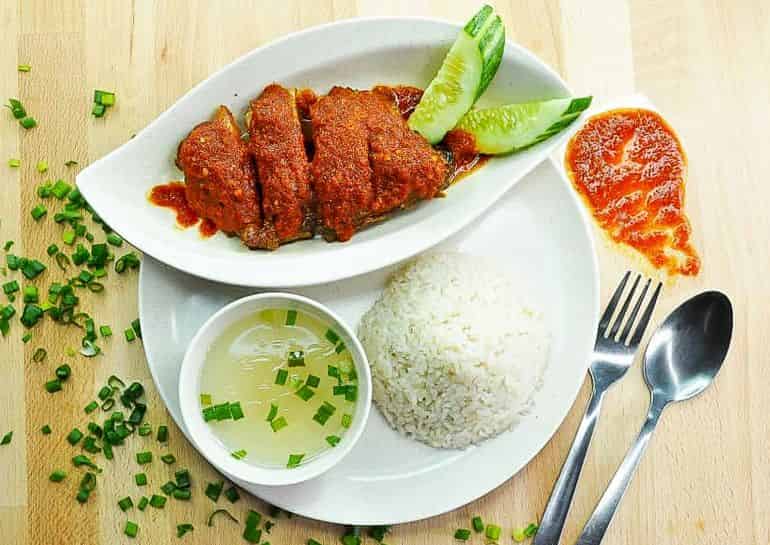 My Mom's Chicken Rice Citarasa Linda Onn

Then there are the times when what your chicken rice really needs is a good, fiery hit of sambal. And in those times, the nasi ayam at My Mom's Chicken Rice Citarasa Linda Onn is the answer. Nasi ayam, ever so slightly different to chicken rice, gets the sauce treatment here — choose from rendang, percik or straight up sambal on top of your roasted chicken. You can also swap out the standard rice to nasi impit, and add a fried egg on top.
Pricing: from RM9.90–12.90 for the chicken rice menu
Address: Ground floor, Tesco Ampang, Jalan Pandan Prima, Dataran Pandan Prima, 55100 Kuala Lumpur
Phone number: 014-933 3306
Opening hours: Monday–Sunday: 12 noon–10pm
Hainanku Chicken Rice Shop
Or try the sesame-crusted chicken at Hananku Chicken Rice Shop: our picks are, the black pepper set or the super-crispy Portugese-style featuring a breadcrumbed batter.
Pricing: from RM8.90–15.90 for the chicken rice menu
Address: No. 2A, Jalan AU1A/2, AU1A/2, Taman Keramat, 54200 Kuala Lumpur
Phone number: 017-226 4816
Opening hours: Monday–Saturday: 10.30am–10pm, closed on Sundays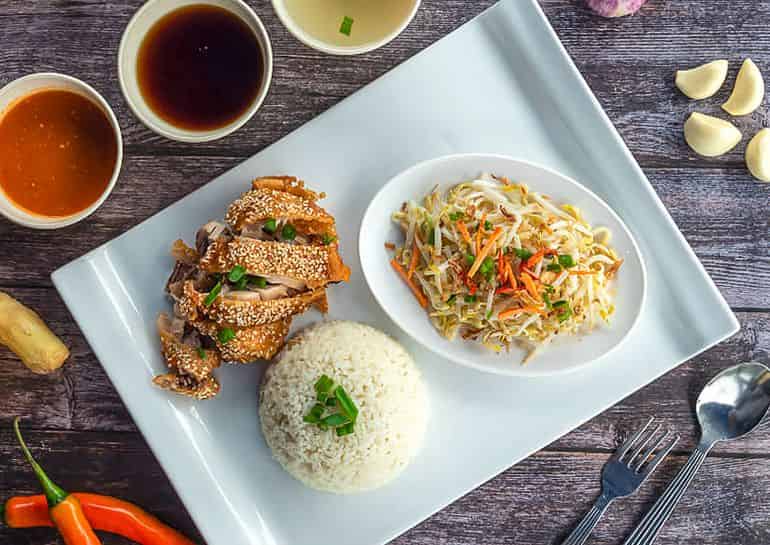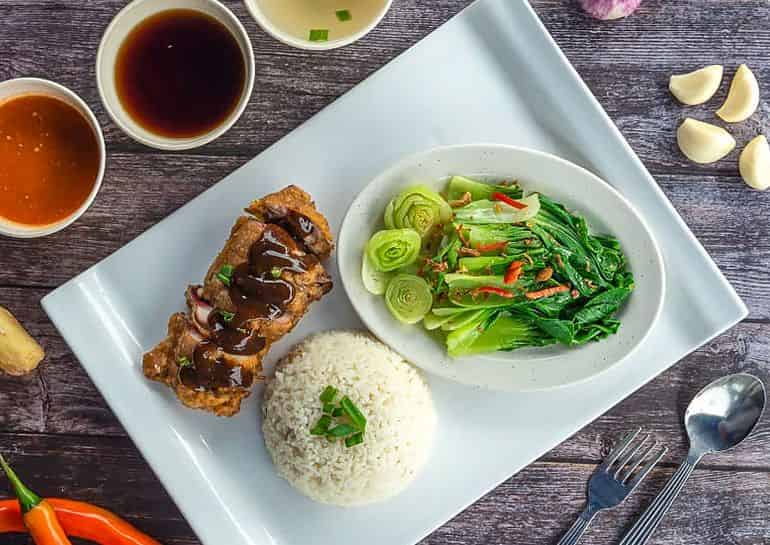 Opening hours are subject to change, so please check in with your fave restaurant if you want to pay a visit!
HUNGRY FOR MORE?

Hidden gems in Sri Petaling 
Vegetarian food to get excited about
Frugal foodie? Discover new cheap eats
In the mood for cafe hopping? Head to TTDI