Kuala Lumpur, like the rest of the world, has seen a boom in vegetarian restaurants in the last couple of years. Whether you're committed to a vegan lifestyle, or just dipping your toe into the #MeatFreeMonday trend, there's a plethora of vegetarian restaurants in the Malaysian capital to choose from for your plant-based fix. From classic Asian dishes to contemporary smoothie bowls and green juices, there's far more vegetarian food in KL than you think.
Here's a quick primer on some of the best vegetarian restaurants in KL.

Indian Vegetarian Restaurants

Trends may come and trends may go, but Indian vegetarian eateries remain constant. There's always a comforting familiarity to the robust, flavour-laden menu. We're lucky in KL to be blessed with some of the best Indian restaurants in the region, including a couple of world-famous chains.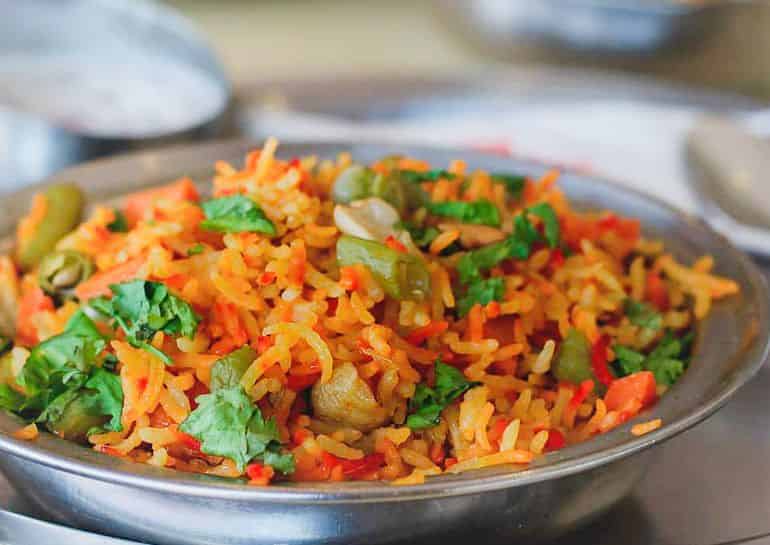 Take Saravanaa Bhavan for example — purportedly the largest South Indian vegetarian restaurant chain in the world, and now a KL veggie stronghold. There are outlets across the city serving an astonishing variety of dishes from first thing in the morning to last thing at night. Stop by for a morning dosa, a teatime treat of fresh-from-the-fryer poori or fill up after a long day with steaming, fragrant tomato rice (pictured above) studded with spices and fresh herbs.
Pricing: From RM5.80–27.60
Phone number: 03-2260 3755
Opening hours: 8.30am–11pm daily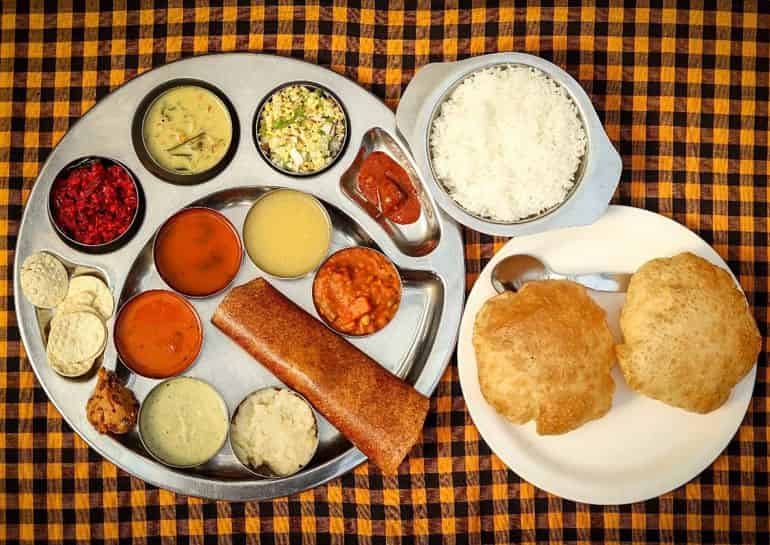 Then there's MTR 1924, another world-famous chain that's been running since — you guessed it — 1924. Its paper-thin, super-crisp dosas are a must-try. Want to have it all? Order the Mini Meal, which comes with dosa, poori and an impressive variety of curries and chutneys.
MTR 1924
Pricing: From RM3–19
Phone number: 03-2276 4924
Opening hours: Mon–Fri, 8am–3.30pm, 5–10.30pm; Weekends, 8am–10.30pm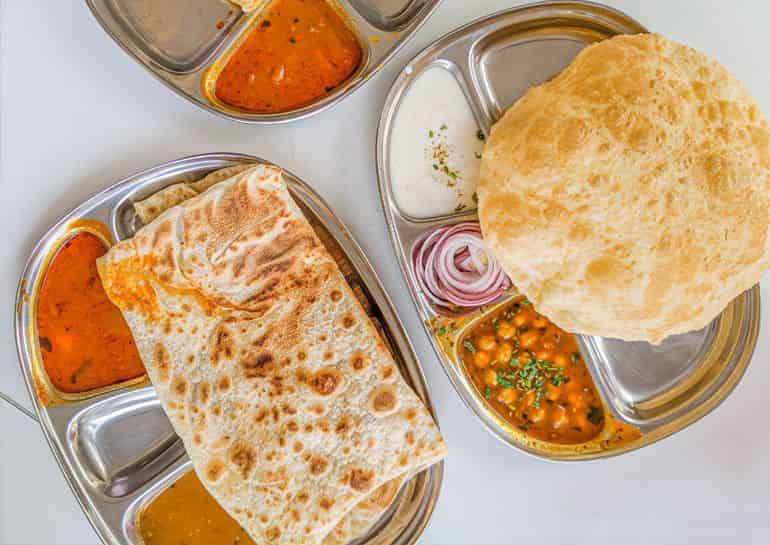 Hippies and salarymen unite at The Ganga Cafe, in a shared love of the rightfully famous chana bhatura, a dish comprising a crisply fried, gloriously puffy bread served alongside masala chickpeas, slivers of red onion and creamy, tangy house-made yoghurt. It's a meal that tastes just as good for breakfast as it does for dinner, and is best enjoyed with a tall, health-giving glass of The Ganga's iconic Pranic Juice, a vibrantly green concoction of mint, coriander, lime, honey, cumin and salt. If you're doubtful, consider the juice's legions of fans — honestly, it has its own hashtag. If you're so inclined, you can easily go gluten- and dairy-free here too.

The Ganga Cafe
Pricing: From RM1.50–31
Phone number: 03-2284 2119
Opening hours: Mon–Sat, 8am–10pm; Sun, 8am–3pm.
Chinese Vegetarian Restaurants

'Hearty' doesn't begin to cover the nature of many Chinese vegetarian restaurants, which operate from the assumption that maybe you kind of miss the taste and texture of meat. Ingenious chefs have developed countless ways around it, and some of the best are at Simple Life.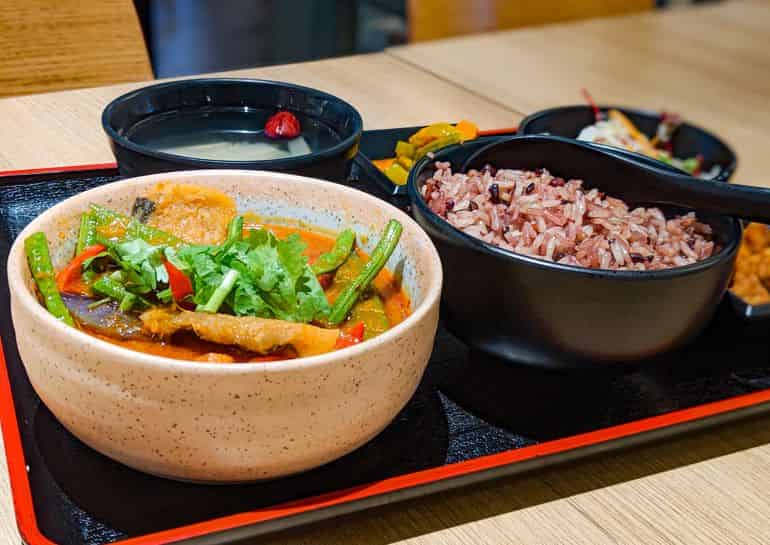 The restaurant (with branches from Mid Valley to Bukit Tinggi and beyond) boasts an extensive menu of rice sets, noodles, seaweed and egg rolls and porridges – and even pizzas and sweet potato fries. Stay classic and order one of the satisfying rice sets which come with a bowl of freshly steamed, nutty wild rice, achar, salad and – if you're lucky – extremely addictive fried cubes of tempe. There's a dizzying array of sets to choose from but our favourite is the Vegetarian Asam Seaweed Beancurd, with 'fish'-like pieces of silky beancurd layered with seaweed, tender aubergine and French beans bathed in a fiery, piquant asam sauce.
Simple Life
Pricing: From RM17.90–28.90
Phone number: 03-2202 1328
Opening hours: 10am–10pm, open daily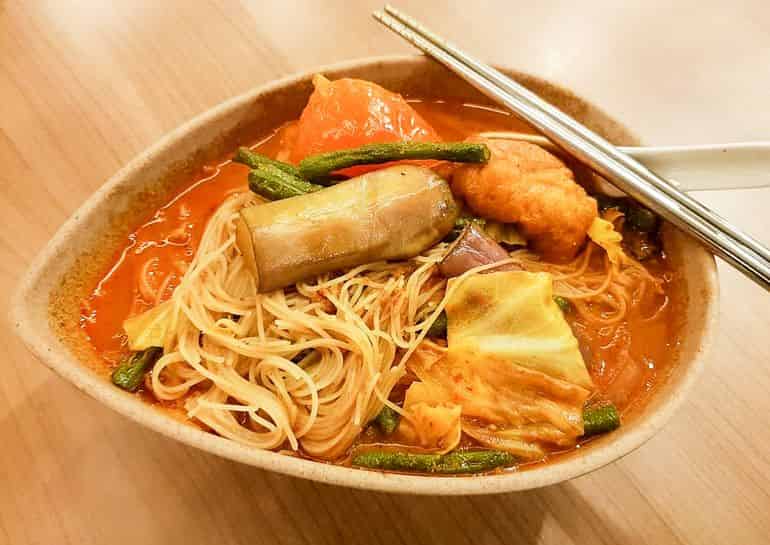 Organic Recipe has been serving up family-style vegetarian dishes for over 10 years, run by a mother-daughter team. Farm-fresh (and yes, organic) ingredients are the star of the show, in a menu that replicates firm Malaysian favourites like bak kut teh, sweet and sour 'pork' (subbed with oyster mushrooms) and even 'chicken' satay. Meat is replaced with mushrooms big and small, and cleverly textured beancurd.
Organic Recipe
Pricing: From RM17.90–28.90
Phone number: 03-7729 0236
Opening hours: Mon, Wed–Fri, 10am–3pm, 5–9pm; weekends, 10am–9pm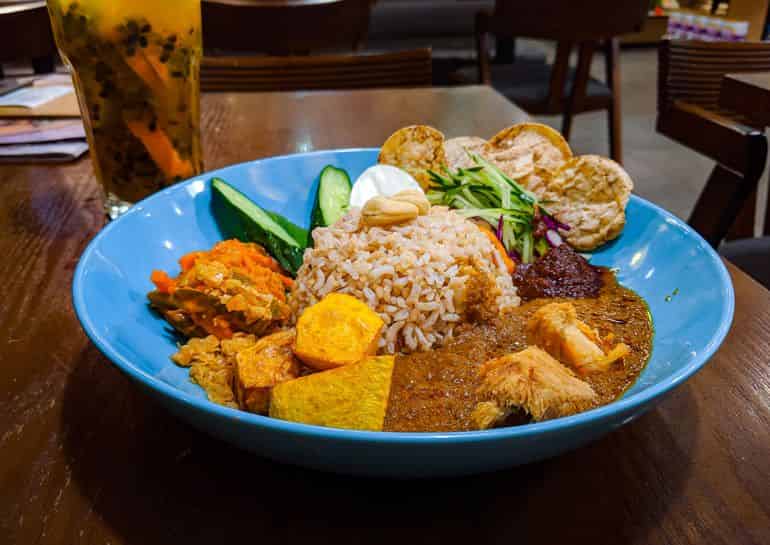 BMS Organics started life as a wheatgrass-toting outlet, and now has stores and cafes across the country. The menu is packed with healthy, lighter alternatives to traditional Chinese and Malaysian dishes, swapping in multigrain rice and quinoa, tofu and mushrooms, and plenty of leafy green vegetables. The must-try is their signature nasi lemak, a visually imposing platter of treats: cubes of creamy pumpkin, Lion's Mane mushrooms, fiery vegetarian sambal and fragrant multigrain rice.
BMS Organics
Pricing: From RM7.90–25.33
Phone number: 03-7499 7230
Opening hours: 10am–10pm, open daily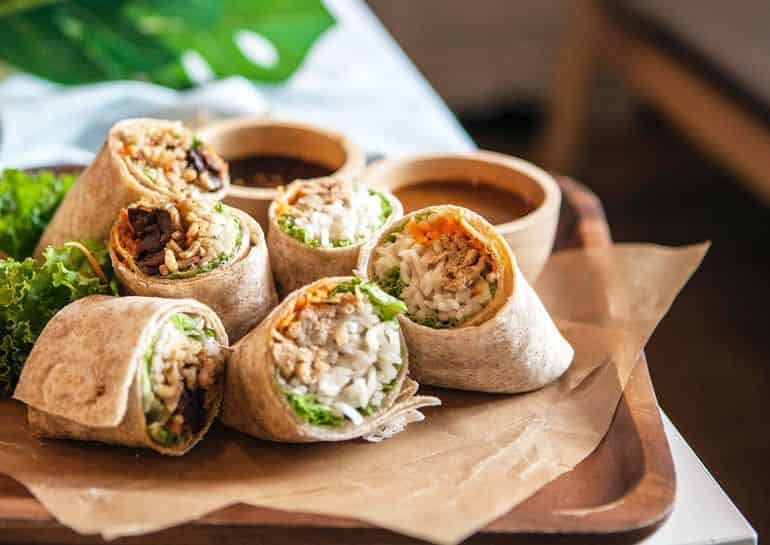 Contemporary Vegetarian Restaurants

If you've ever seen a KL chia pudding on Instagram, it was probably from Rawsome. And while the puddings were the very first product and remain a bestseller (the coconut milk and mango version is unbeatable to this day), the Rawsome menu has extended to include a tempting array of rice bowls and balls, noodles and wraps. One of our favourites is the Ulam bowl, a spin on the traditional nasi ulam with plenty of crunch factor: quinoa, leafy green herbs, cucumber, four-angled beans and a punchy chilli kick.
Rawsome
Pricing: From RM10–18
Phone number: 03-2389 6298
Opening hours: 9am–7pm, open daily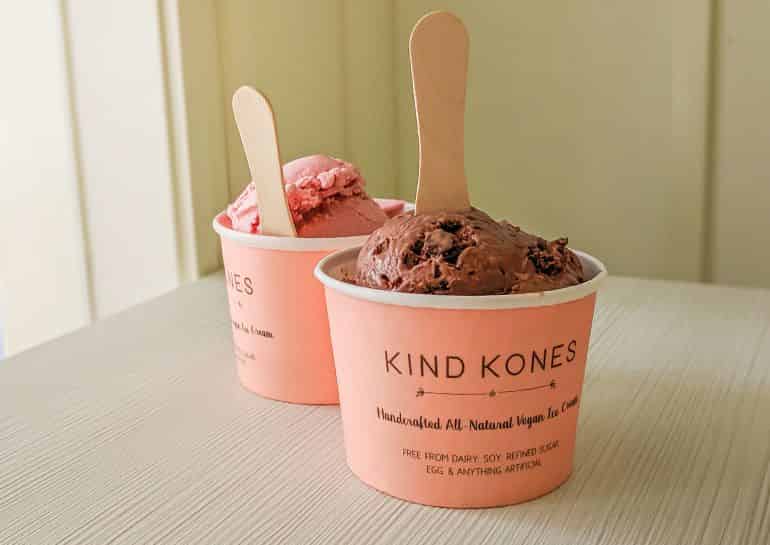 Over on the sweeter side of things is Kind Kones, KL's newest ice cream joint that's brought vegan ice cream to the masses. No dairy, no soy, no refined sugar, no eggs, no additives, but plenty of flavours and a lot of fun. They've got all the classics: strawberry, chocolate (a very refined dark chocolate sorbet), French vanilla. And a whole load more: a really excellent Almond Brittle Fudge with chunks of almond and cacao nibs and a lip-smacking sprinkle of sea salt, Pandan Gula Melaka, Pumpkin Pie and more.
Look out for their monthly special, often created by a local celebrity. It's not just ice cream either — look out for Kind Kones' cakes (there's a flourless sweet potato brownie that needs to be tried to be believed), pancakes, bliss balls and even doughnuts.
Kind Kones
Pricing: From RM6–17.90
Phone number: 03-2011 5313
Opening hours: 11am–11pm, open daily