Burgers are a perennial KL favourite. Everyone in the city has an opinion on the best burger in KL, from a sloppy, satisfying Ramly to an experimental patty served on an actual plate. Ramly burgers are of course the OG Malaysian burger: thin meat patties grilled on a hotplate on the side of the road, wrapped in a thin omelette sheet and loaded up with all the sauce your heart could desire, from mayonnaise to chilli. Then there's the new joints in town, who've been experimenting with updating the classic American hamburger to reflect Malaysian flavours and sensibilities. Who makes the best burger in Kuala Lumpur? Depends what you're after, but these places are a good start to finding an answer.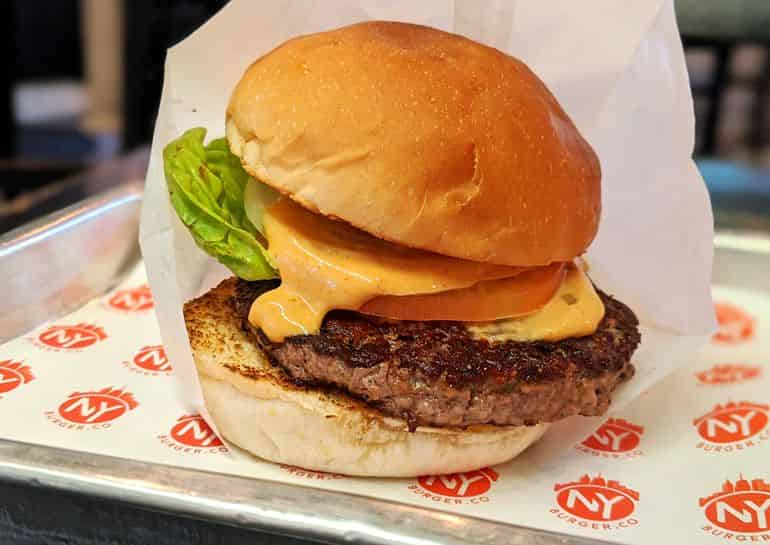 The people behind NY Burger Co famously brought New York-style pizza slices to KL years ago with Mikey's Original New York Pizza, and now they're shaking up the burger scene too. This is a no-frills joint, serving up classic American-style cheeseburgers, each one slathered with a "Crack Sauce" — the recipe is a secret, but be prepared for a good hit of spice! The signature NY Hamburger is the best display of their work: a deeply crusted beef patty, with plenty of raggedy edges and crags for extra crunch, topped with nothing more than lettuce, tomato slices, pickles and onion. No unnecessary bells and whistles here, just fresh ingredients and a healthy dollop of spicy sauce. Throw in a portion of hand-cut cheesy fries and some home-made lemonade to make it a real meal.
Pricing: from RM5.99–28.99
Phone number: 017-846 0080
Opening hours: Monday–Sunday: 11am–10pm
The Link Cafe [vegetarian]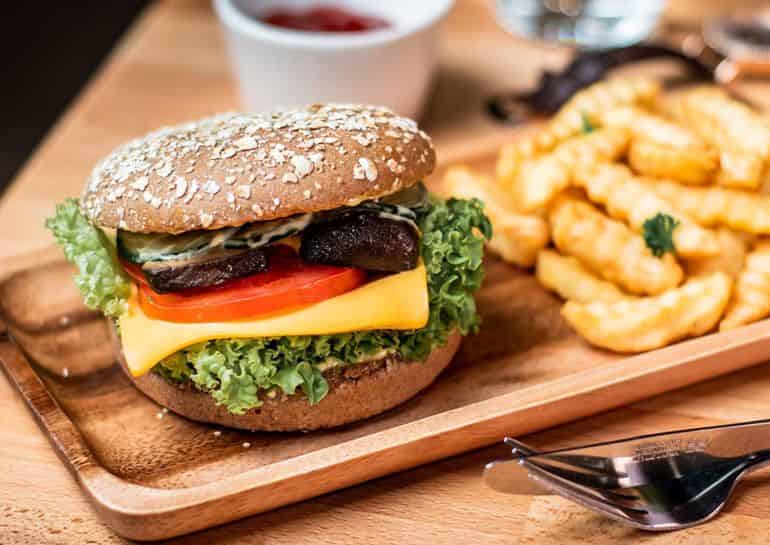 For a guilt-free burger meal, head to The Link Cafe. The burger line-up here is completely vegetarian, and virtuous without sacrificing flavour. The Link doesn't use meat alternatives or try and disguise the vegetables, instead serving up veggie patties that are as appetising as their fast-food equivalents. Sink your teeth into the signature Sambal Tempe Burger, or try the Crispy Eggplant Burger, or the Beancurd Burger. And be generous with the sides: a heaped plate of crispy fried burdock strips is always a good idea, as is a serve of deep-fried king oyster mushrooms.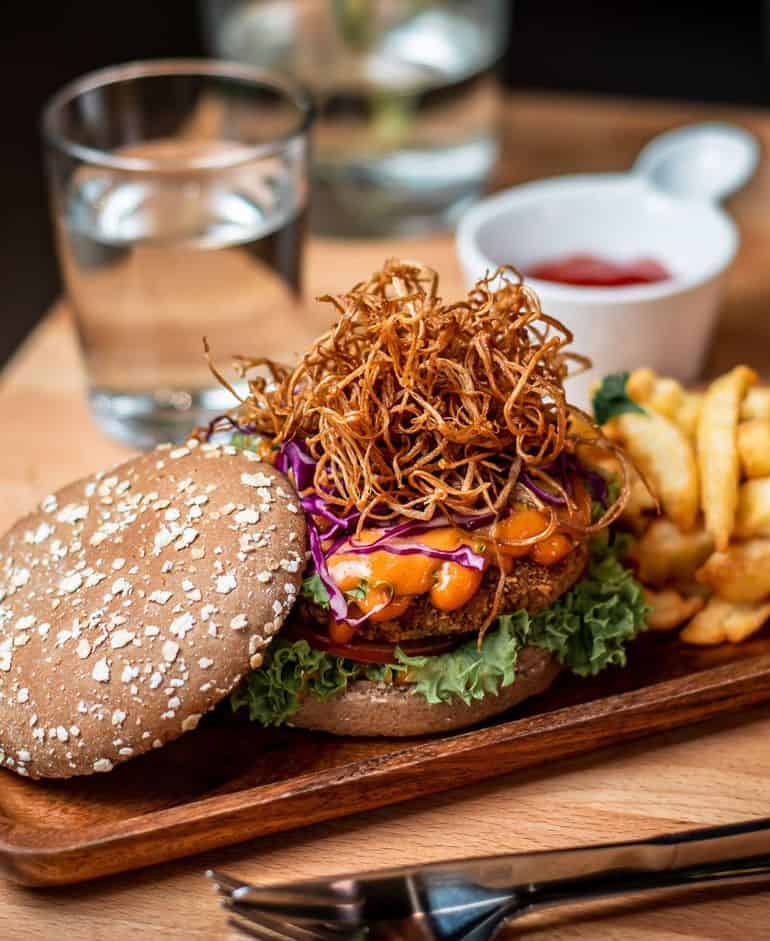 Pricing: from RM10–21
Phone number: 016-935 1356
Opening hours: Monday, Wednesday–Sunday: 11.30am–9.30pm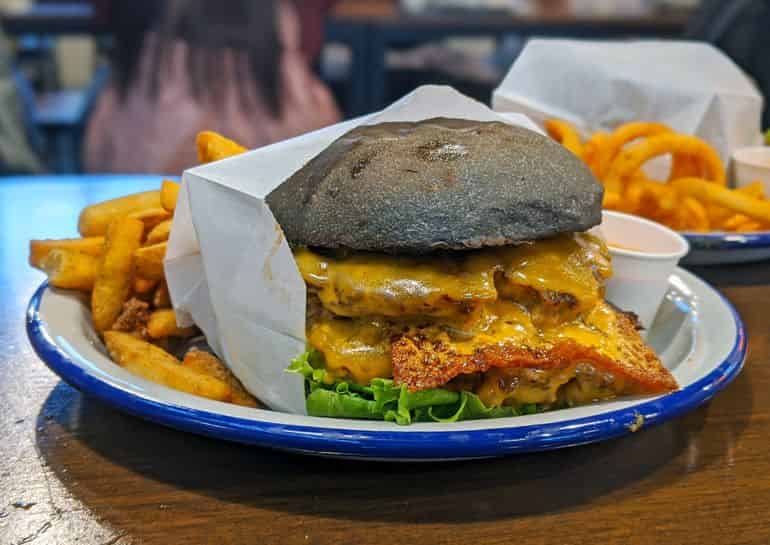 When MyBurgerLab first opened its doors in 2012, the queues were unlike anything KL had ever seen. Punters would wait hours for a table and a shot at the signature Beautiful Mess burger (more on that in a minute), while wistfully watching the lucky diners ahead of them chow down. It took years for the queues to calm down, and even then it was only because the Lab extended its reach and opened up new branches. If you're a first-timer, the one to try is the Beautiful Mess 5.0 (yup, that's how many variations this favourite has worked its way through). You'll get the signature cheddar beef patty, topped with deep-fried portobello mushrooms and a sunny-side-up egg, all encased in MyBurgerLab's famous charcoal bun. Or, for something a little more classic, try the In-N-Out Tribute, an homage to the well-known Californian chain. Bite into this double patty, layered up with cheddar crisps and a secret sauce, and discover just why it's so popular.
Pricing: from RM5.50–35.50
Phone number: 010-369 5275
Opening hours: Monday–Friday: 5pm–10.15pm; Saturday–Sunday: 11am–10.15pm. Closed every first Monday of the month
If you're going to go Ramly burger, you've got to be prepared to get messy. And it doesn't get messier than Addy Buang Burger Corner, which prides itself on burgers piled high with as many fillings as you (and the bun) can handle. If you can dream it, Addy Buang Burger Corner can make it into a burger: there's the standard beef and lamb patties, but if you're willing to delve a little deeper there's also ostrich, fish, prawn, venison and even rabbit burgers available. And there are still choices to be made after that — do you want your patty wrapped in egg? Topped with cheese (or special cheese)? Double or single; normal bun or pita bread? Our advice: gather a bunch of friends, order one of each, and make sure you've got plenty of napkins on hand.
Pricing: from RM3–19.50
Phone number: 017-622 2823
Opening hours: Monday–Saturday: 12.30pm–12midnight; Sunday: 5pm–12midnight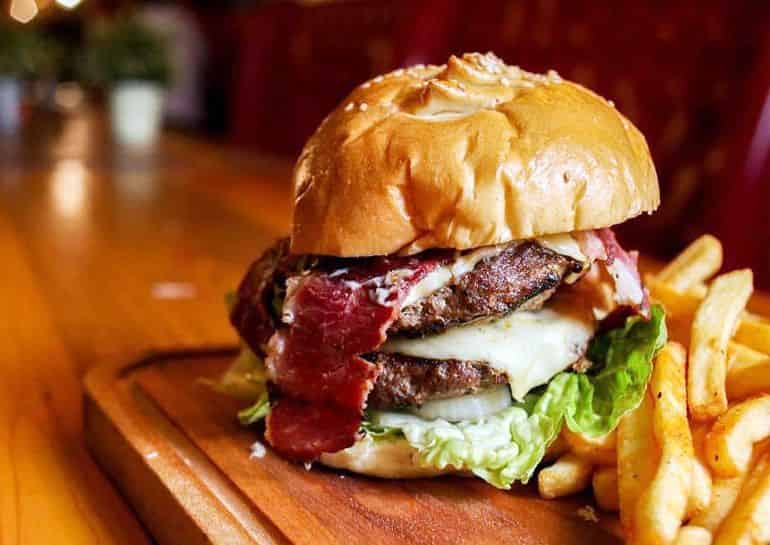 Burger Bakar Kaw Kaw is the little burger stall with huge appeal. Back in 2011 it was a travelling burger van with a loyal following — now the brand operates a full-fledged restaurant, as well as kiosks around the city. And fair warning: Burger Bakar is not for the faint of heart (or small of appetite). The restaurant prides itself on no filler in its hefty patties, which weigh in at an average of 165 grams, and can even be doubled or even tripled up. Choose from beef, chicken or lamb, flame-grilled with the famous "bakar" char, and topped with streaky beef bacon or cheese.
Pricing: from RM4.50–31.10
Phone number: 013-356 8430
Opening hours: Monday–Tuesday, Thursday–Sunday: 11am–3pm, 6.30pm–2am
Opening hours are subject to change, so please check if you're about to place an order!

[H2 HEADLINE] HUNGRY FOR MORE? 
We found cheap eats!
Craving chicken rice? Head this way…
Halal Asian Restaurants from Vietnamese to Thai
Do you know these foodie gems in Sri Petaling?