Italian food is beloved across the world, and no less so in KL — though us KLites do like a little chilli padi in our aglio olio. While they've long been the popular choice for special-occasion meals, these days KL's Italian restaurants are making a name for themselves with authentic wood-fired pizza ovens, lesser-seen ingredients, and fusion flavours that take inspiration from local and regional produce. Some of the best Italian restaurants in KL are taking classic Italian recipes and giving them a twist with local ingredients.
La Risata [pork-free]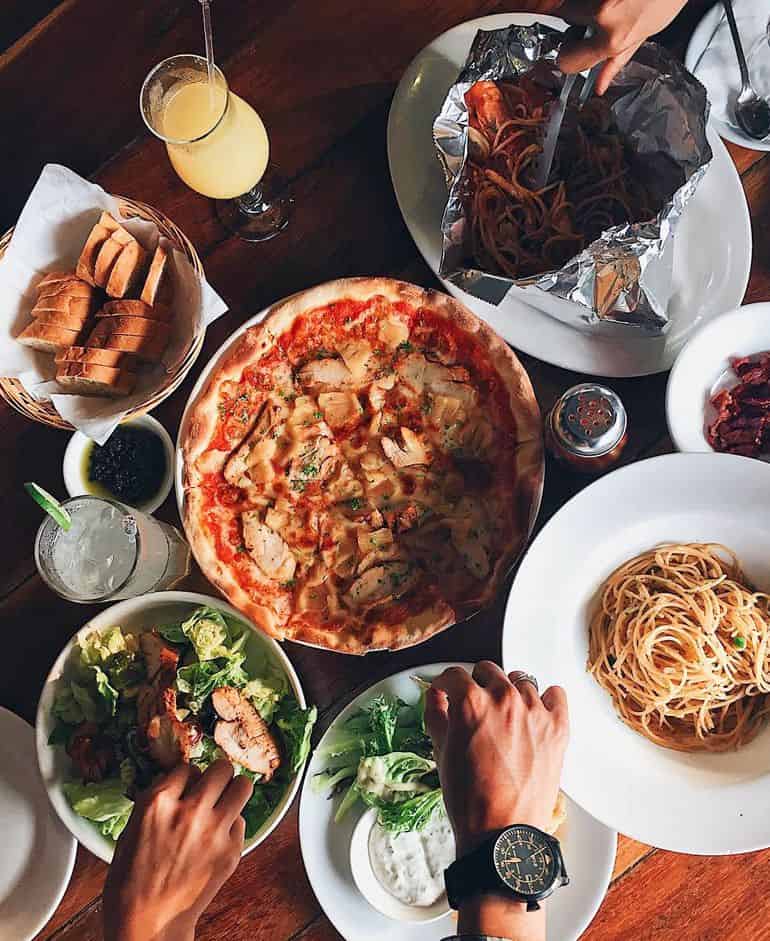 La Risata is a KL stalwart, having first opened its doors in Ampang over 20 years ago, in 1996. It's become an inter-generational family favourite across the city, with a fail-safe formula of fresh pasta, wood-fired pizzas and a great array of antipasti. If you're not in the mood for the standard pasta and pizza, their mains of meat and seafood are excellent and dependable: impress the table with oven-roasted beef ribs (Petto Di Manzo con Vino Rosso), or get your hands dirty with the Zuppa Di Pesce, a mammoth seafood dish of prawns, mussels, clams and more in a rich tomato sauce, perfect for sharing. Finish off with a dark, intense chocolate tart (Torta Di Cioccolato), or invoke the inevitable Godfather references with the cannoli.
Pricing: from RM7.42–80.56
Phone number: 03-4252 6269
Opening hours: Monday–Sunday: 12 noon–2.30pm, 6.30pm–10.30pm
Grano Pasta Bar [non-halal]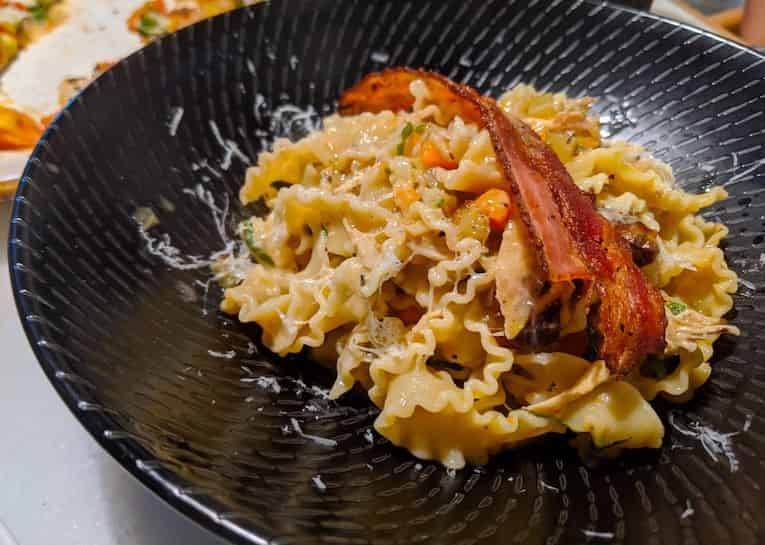 Sister restaurant to the mega-popular pizza joint Proof, Grano Pasta Bar celebrates less common pasta styles and shapes. It has a short but interesting menu — you could go as simple as a spaghetti aglio olio tossed with piquant pepperoncini, or as complex as the Creste de Gallo Lisce, beautiful fluted pasta shapes served with a rich sauce of nduja pork sausage, capers and cherry tomatoes. Our favourite is the Reginette Puttanesca, a frilled, ribbon-like pasta tossed in the classic "harlot" sauce of tomatoes, olives, capers and a shedload of garlic. And should pasta alone not be enough, you can also order Proof's famous wood-fired sourdough pizzas here. If you can only squeeze one in, make sure it's the signature: the Umbrian Black Truffle Pizza. If you can manage two, push the boat out and order the Polpa di Granchio, topped with chunks of crabmeat, mozzarella and cherry tomatoes, and drizzled with a fresh green pesto.
Pricing: from RM24.38–42.40
Phone number: 03-2788 3595
Opening hours: Tuesday–Sunday: 12.15–3pm, 6pm–10.30pm
Mari Ristorante & Bar [pork-free]
New restaurant Mari — named because of the word's dual meanings, "seas" in Italian and "come" in Malay — takes familiar Italian favourites and spikes them with local and regional ingredients. This mix is most evident in its pizza menu, which stands at 26 flavours-strong. There are all the classics — Margherita, Quattro Formaggi, even Hawaii — but the real excitement is in the house specials. You may notice something a little familiar about the elements in the Malese pizza: a hint of sweet and spicy sambal layered into the sauce, topped with crisp cucumber and a fried egg. Hello, nasi lemak pizza. Then there's the Porto Profumato, with an intriguing mix of Chinese broccoli, hoisin sauce, smoked duck and red chilli; and the popular Bharata, with red curry sauce, chicken tenders, roasted potato and crispy curry leaves.
 Pricing: from RM30–60
Phone number: 03-2022 0968
Opening hours: Tuesday–Thursday, Sunday: 4pm–1am; Friday–Saturday: 4pm–2am
Luce Osteria Contemporanea (non-halal)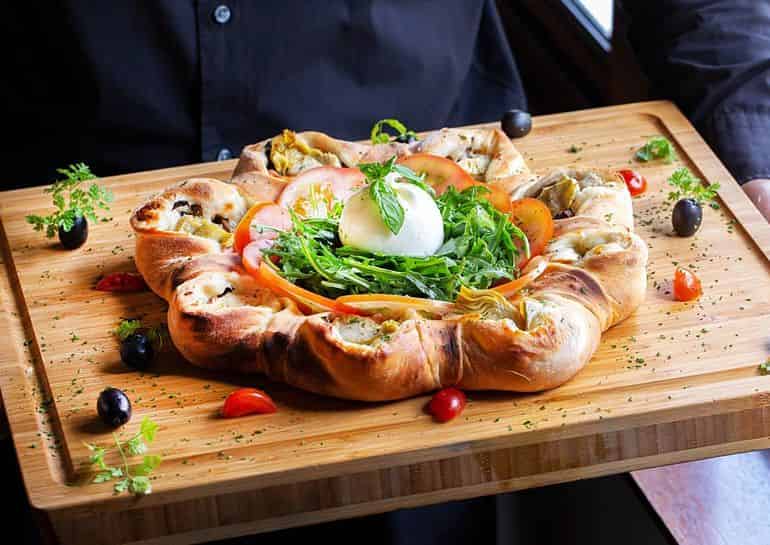 Leave the non-converts at home — Luce Osteria Contemporanea is strictly for pizza lovers. From the same people who brought you Zenzero, one of the city centre's most popular Italian restaurants, Luce Osteria Contemporanea is all about the pizza, with a menu that encompasses over 50 different kinds. The restaurant centres around an impressive wood-fired oven, firing up pizzas from the classic Prosciutto e Funghi to one of Luce's most visually impressive and delicious creations: the Ghirlanda pizza, stuffed with mozzarella, honey ham, mushrooms and artichoke, topped with a fresh crown of rocket salad and creamy burrata. Remember to save room for dessert — any of Luce's sweet treats will help round off the taste experience!
Pricing: from RM12.72–93.28
Phone number: 03-2078 8008
Opening hours: Monday: 4–11pm; Tuesday–Sunday: 12 noon–11pm
Table9 [pork-free]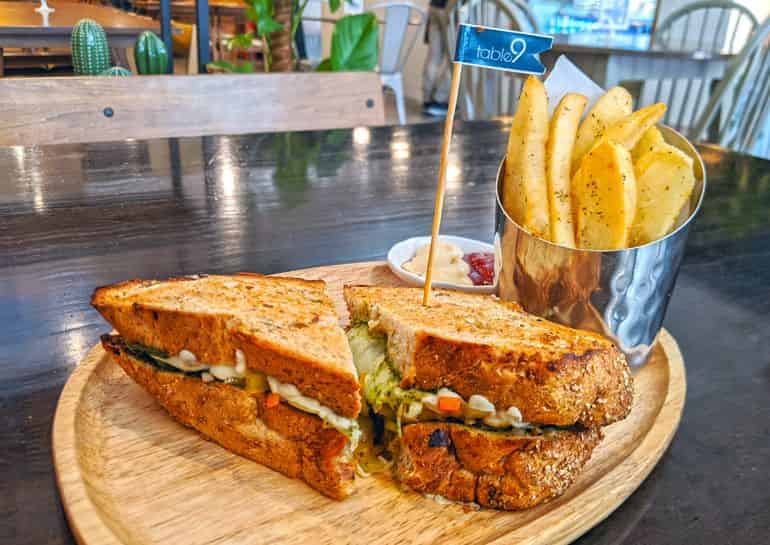 Table9's Italian offering is just a little different to the standard pizza and pasta fare, though it may not be immediately obvious. All the Italian favourites are there, but with a subtle touch of Korean influence. One of their signatures, the Picante Seafood Cream Risotto, is a perfectly executed Italian risotto with a spicy Asian kick. You'll see the Korean influence in the Bulgogi Pizza too, topped with tender Korean-style beef, or the Kimchi Rice Gratin, with its tangy, funky base of pickles. Yes, it works. Table9 also does great panini-style sandwiches; try the Mushroom and Vegetable Panini for a hearty sandwich filled with pesto-dressed mushrooms, pine nuts and vegetables, topped with an oozing layer of mozzarella.
A note for halal foodies: Table 9 is pork-free and sources all of its meats from a halal supplier, but is not halal-certified.
Pricing: from RM18–33
Phone number: 03-2201 1055
Opening hours: Monday–Thursday, Sunday: 10.30am–12 midnight; Friday–Saturday: 10.30am–12.30am
Trattoria Cucina Italian [non-halal]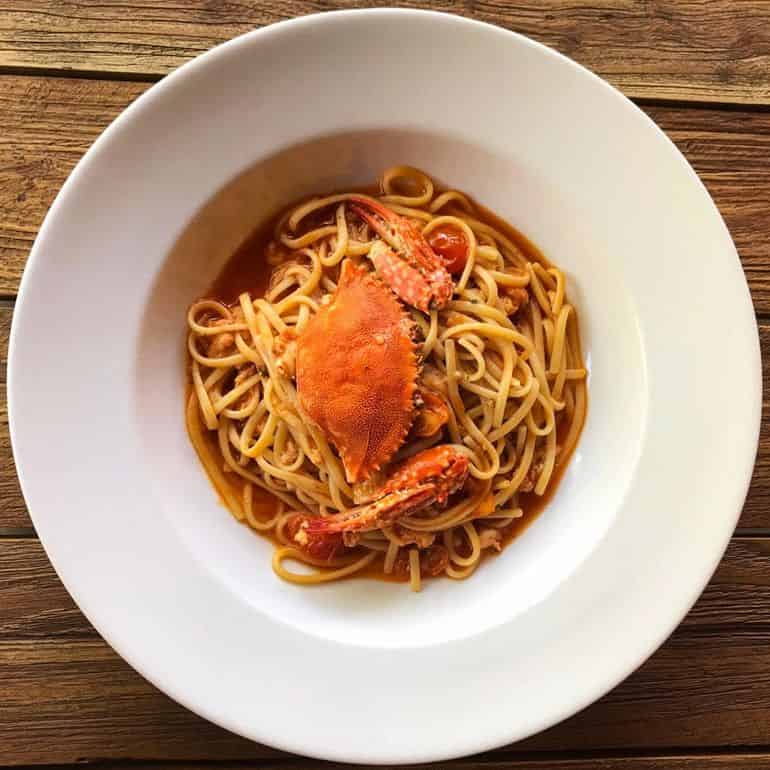 No one does an antipasti platter like Trattoria Cucina Italian. Whether you're after something simple, like a top-notch Caprese salad of mozzarella and tomato slices; something hot and crunchy, like the super-crispy calamari; or something to feed a crowd, like the Selezione Trattoria, which comes loaded with bresaola slices, assorted bruschetta, artichokes, beef carpaccio and more, there's a platter to suit your needs. Of course, they also do a great range of pastas and mains, including the very special crab pasta (pictured above), or Bistecca alla Fiorentina grilled T-bone steak, for when you really need to impress.
 Pricing: from RM16.96–95.58
Phone number: 03-2163 2368
Opening hours: Monday: 7am–11.30pm; Tuesday–Friday: 7.30am–11.30pm; Saturday–Sunday: 9am–11.30pm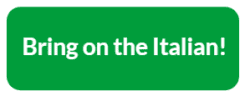 HUNGRY FOR MORE? 
In the mood for brunch? We feel you
Or are you obsessed with Japanese cuisine?
Explore one of our fave foodie neighbourhoods, TTDI
And a little something for all you sweet tooths…