A KL brunch is a force to be reckoned with. While a formal brunch — meaning, officially, a late morning meal eaten sometime between the hours of 10am and 1pm — is really only a recent phenomenon in our city, KLites are well acquainted with the joys of long, lazy meals that stretch on through the day. We've embraced Melbourne-style cafes and third wave coffee [SA1] with open arms, but the most successful and enduring brunch joints in KL add a special Malaysian flair to their dishes. We're talking chilli flakes (of course), soft shell crab (yes, please!) and kaya wherever possible.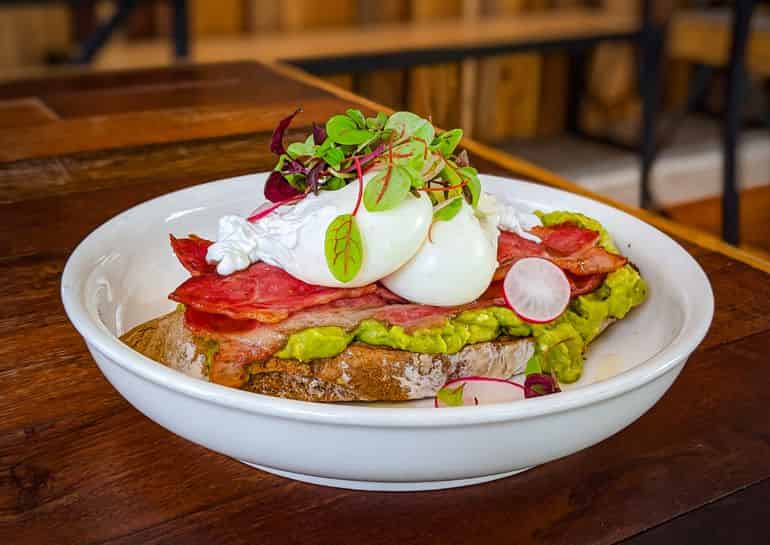 The Red Beanbag
The Red Beanbag is a KL brunching institution, and one of the pioneering restaurants responsible for spreading the love of eggs Benedict in this city, since 2013. Its fail-safe formula is a combination of great coffee — and they don't hit you around the head with backstories about the floral notes and chocolate undertones — and brunch classics. Like their famous baked eggs, simmered in a rich sauce with chunks of beef bratwurst; or smashed avocado on sourdough, crowned with crispy, maple-glazed beef bacon (pictured); or fresh, fluffy pancakes alongside Portobello mushrooms and poached eggs. (Trust us, it works.) Melbourne-style cafes have come and gone but RBB, as it's fondly known, has held strong.
Pricing: from RM18–32 for the brunch menu
Phone number: 03-2856 8814
Opening hours: Monday–Thursday: 10am–6pm; Friday: 10am–10pm; Saturday: 9.30am–10pm; Sunday: 9am–10pm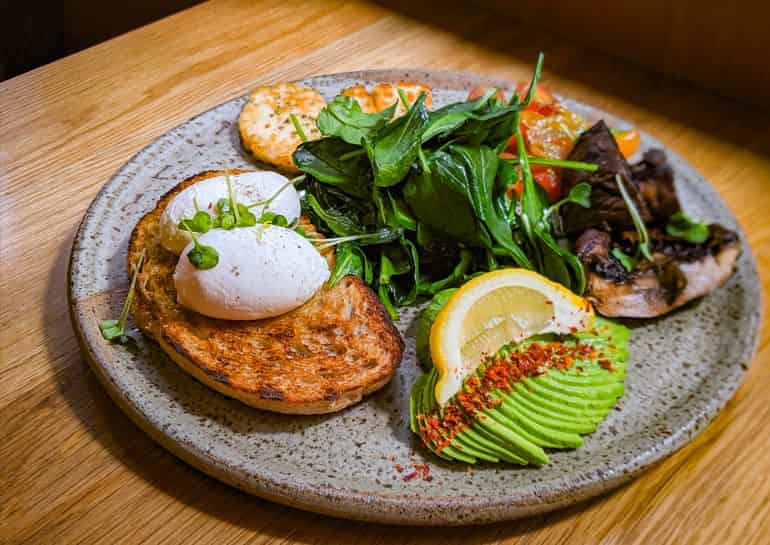 Common Man Coffee Roasters
The hype surrounding this Singapore transplant's opening in 2016 was intense, when they joined the ranks of TTDI cafes. Even more intense? The fact that its popularity has not waned in the years since. When you think of brunch in KL, you think of Common Man. The Veggie Wonderland (pictured) has converted many a meat-lover, and when you see it, you'll understand why. It's a platter of sheer deliciousness, with eggs — perfectly cooked as you like them — topping buttery toast, alongside chilli-dusted avocado, pan-seared halloumi (a rarity in KL), pesto-dressed baby tomatoes, juicy mushrooms and a crowning plume of baby spinach tossed with fragrant toasted garlic. Or try the Full Breakfast, complete with piquant spiced Spanish chicken sausage, grilled streaky beef and a glorious vegetable rosti. The Common Man menu is a cheeky balance of health-conscious and indulgent, with acai smoothie bowls for a fruit fix (which you can add ice cream to), or a creamy, indulgent croissant croque-monsieur laden with cheese for when you want to push the boat out.
Pricing: from RM27–40 for the brunch menu
Phone number: 3-7731 7095
Opening hours: Monday–Friday: 8am–5pm; Saturday–Sunday: 8am–6pm (last orders at 5.30pm)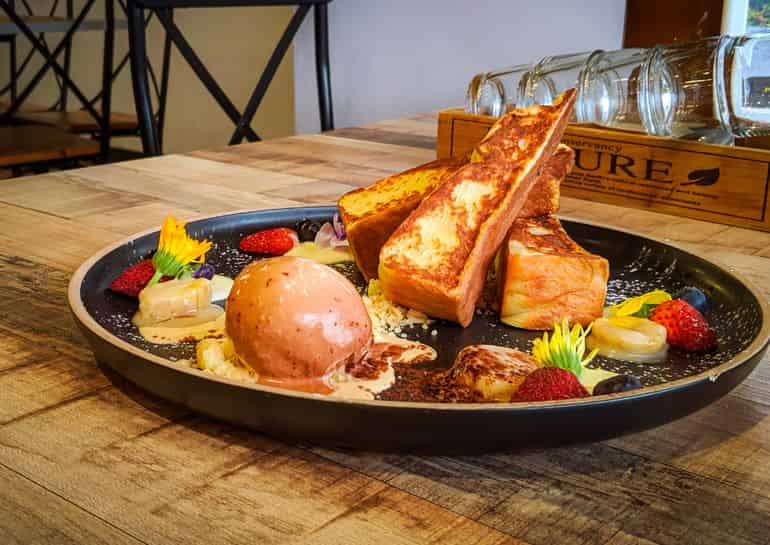 Yellow Brick Road

If you've ever seen the queues outside this eatery on a Sunday morning, you might wonder what the fuss is all about. Well, there are a few things. Coffee, for one — Yellow Brick Road takes its beans pretty seriously. A solid menu for another, with standouts like comforting rice bowls, classic pastas with a cheeky Asian twist (the salmon mentaiko pasta is everything you want in a pasta dish) and burgers stacked high. But what people are really queueing for is the sweet side of the menu, a shot at Yellow Brick Road's famous, much Instagrammed pancakes and French toast. You can go simple with the Minimalist, a stack of perfect fluffy pancakes laden with butter and maple syrup. Or you can go extra, and order I Wanna Be Kaya, Yellow Brick Road's signature medley of extra-thick French toast, poached pear, coconut mascarpone and caramel kaya sauce.
Pricing: From RM18–36
Phone number: 3–2856 0903
Opening hours: 9am–10pm, daily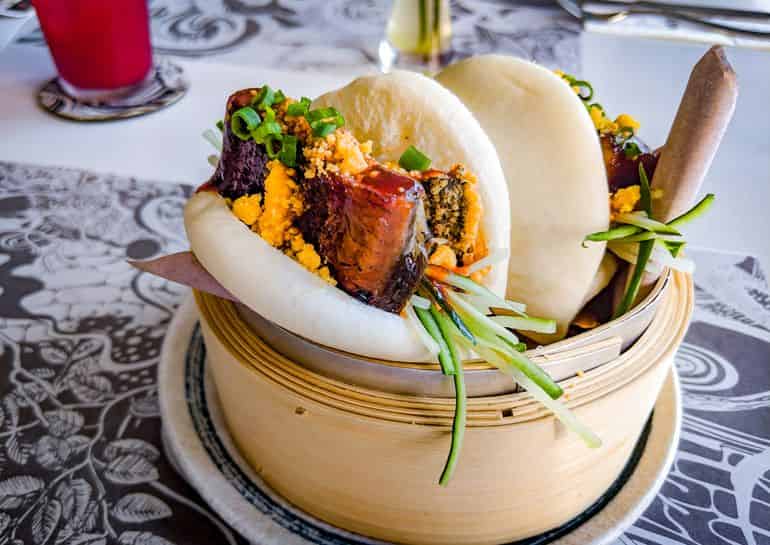 Wizards at Tribeca
This newcomer to the KL brunch scene has people buzzing with its innovative, Asian-leaning menu and great drinks. Coffees black and white, sure, but also: single origin hot chocolate! Genmaicha latte! Yuzu iced tea! And that rarest of commodities: oat milk. The food menu is just as exciting, with a baseline of brunch standards like baked eggs and eggs on toast, and then gradually more unusual items like sourdough and poached eggs — but with a tender purple yam mash. Scrambled eggs spiked with chilli and a triple cheese cocktail; hotcakes drizzled with pandan gula melaka. But the must-try is the Unagi Bao (pictured), a masterpiece of layered flavours — smokey unagi slicked in a spicy sauce and crispy battered nori on a bed of crunchy cucumber and topped with savoury salted egg crumble, all contained in a soft home-made bao.
Pricing: from RM22–40 for the brunch menu
Phone number: 3-2715 5308
Opening hours: 10am–10pm daily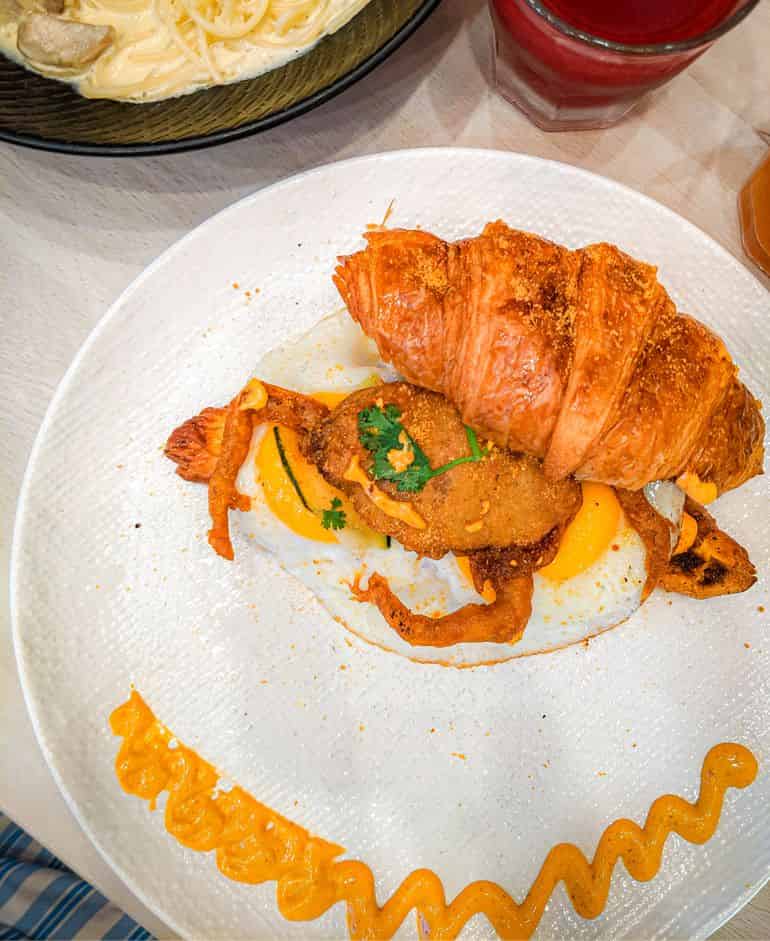 La Juiceria Superfoods Signature
It started off as a humble juice stall, but La Juiceria is now a stalwart of the Bangsar cafe scene. The restaurant boasts an extensive menu, ranging from breakfast menu classics and build-your-own salads, to superfood-laden grain bowls, poke bowls and pasta. Try its famous (and Instagram favourite) Nasi Lemak Wrap — fragrant lemongrass chicken thigh, kampung egg, quinoa, nuts and house-made sambal wrapped in a tortilla for a portable lunch "al desko". Or on the other end of the spectrum, there's the Soft Shell Croissant (pictured above), a super-crisp soft shell crab encased in a flaky, buttery croissant with pickled cucumber, chipotle mayo and savoury crumbles of chicken chorizo. If Bangsar is a stretch, La Juiceria has sister outlets from Mont Kiara to Mid Valley, Sri Hartamas and TTDI to ensure you get your fix.
La Juiceria Superfoods Signature
Pricing: from RM11–31 for the brunch menu
Phone number: 3-9212 9750
Opening hours: 8am–10pm daily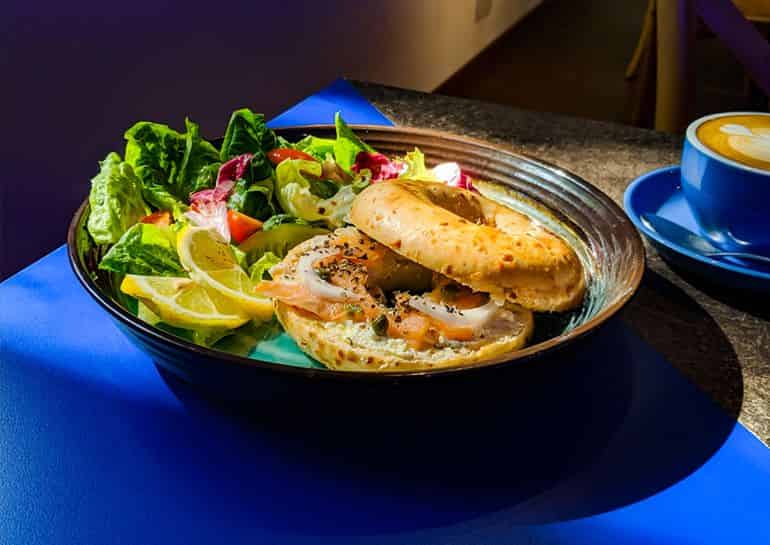 Kiara Cakes
There are two kinds of brunchers: those who need something savoury to start the day, and those who want to satisfy their sweet tooth first thing. Happily, Kiara Cakes caters to both of those. The star is of course the cakes, which are both plentiful and beautiful, and jostle for space alongside an impressive display of pastries. The Strawberry Lychee Rose Cloud Cake is as pretty (and delicious) as it sounds, and hold out for the very toothsome Cempedak Kek Lapis (also handily gluten-free). Kiara Cakes also does a great line of sandwiches for the more savoury-inclined; try the Bagels & Lox with smoked salmon, schmears of home-made cheese and briny caper-y surprises (pictured), or one of the special keto combos, which feature low-carb keto bread.

Pricing: from RM5.50–22
Phone number: 13-518 8000
Opening hours: Monday–Tuesday, Thursday–Sunday: 9am–7pm; closed on Wednesday