Two-wheeling just got easier.
Launch price: $0.50/5 minutes
There's now an easy way 2 wheel.
Ride through town with GrabWheels' eScooters.
Step 1

Launch the Grab app and select eScooter

Step 2

Use the in-app map to find nearby eScooters

Step 3

Simply scan to unlock eScooter

Step 4

After your ride, end your trip at a GrabWheels parking spot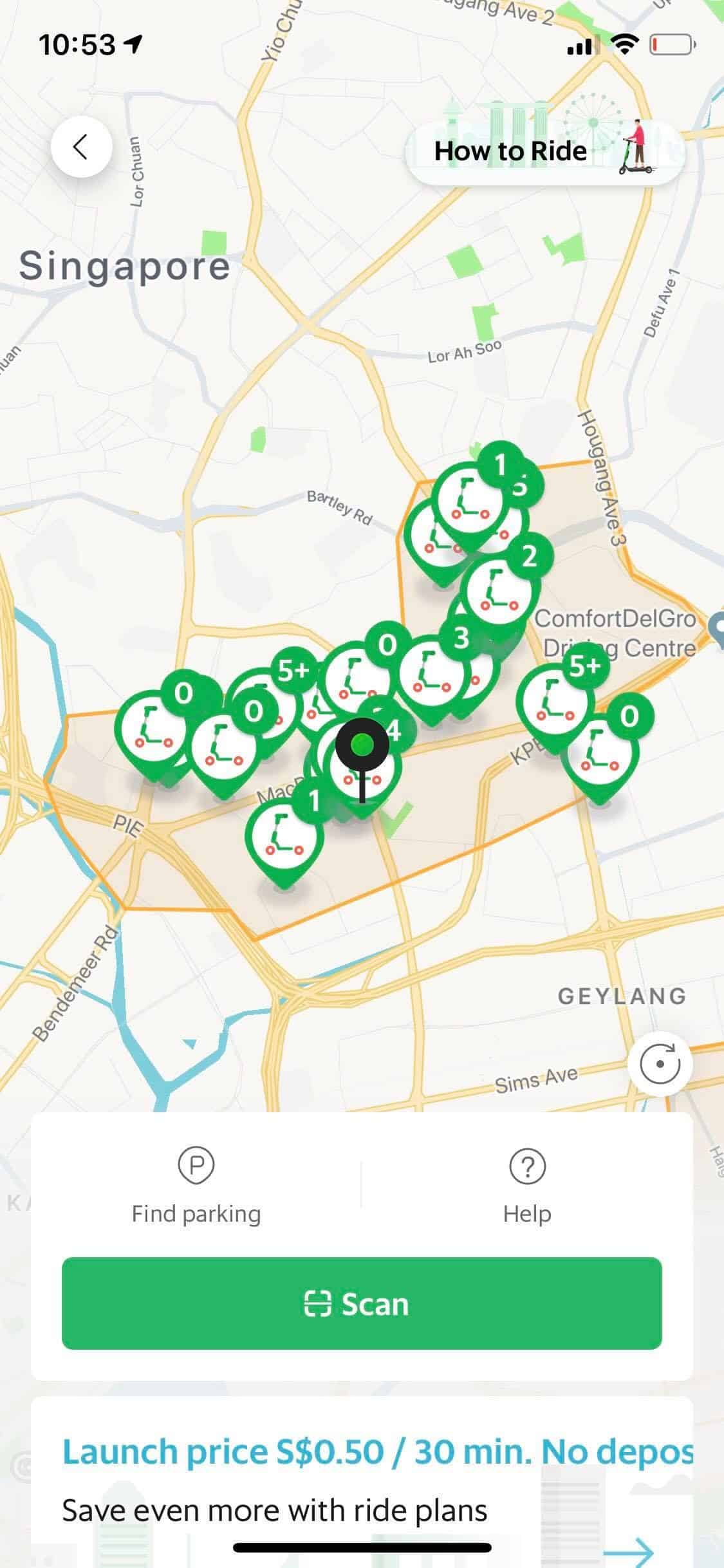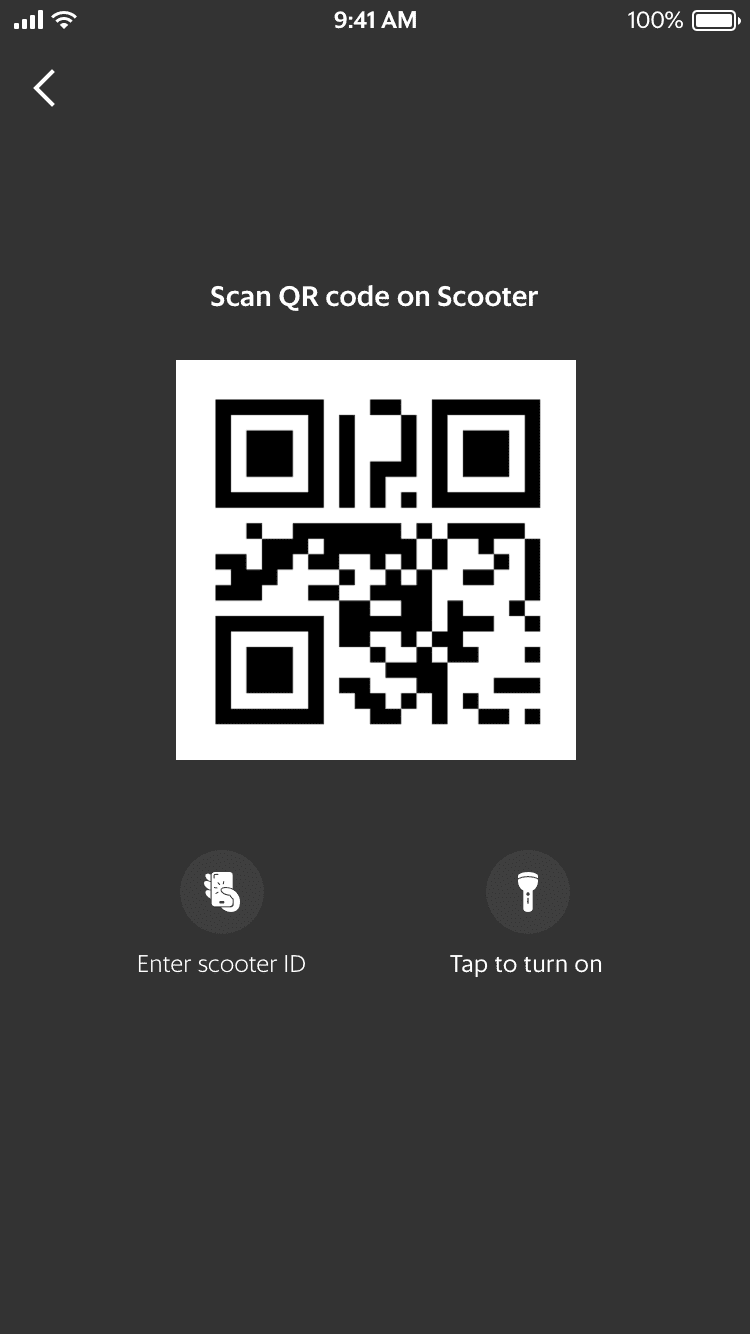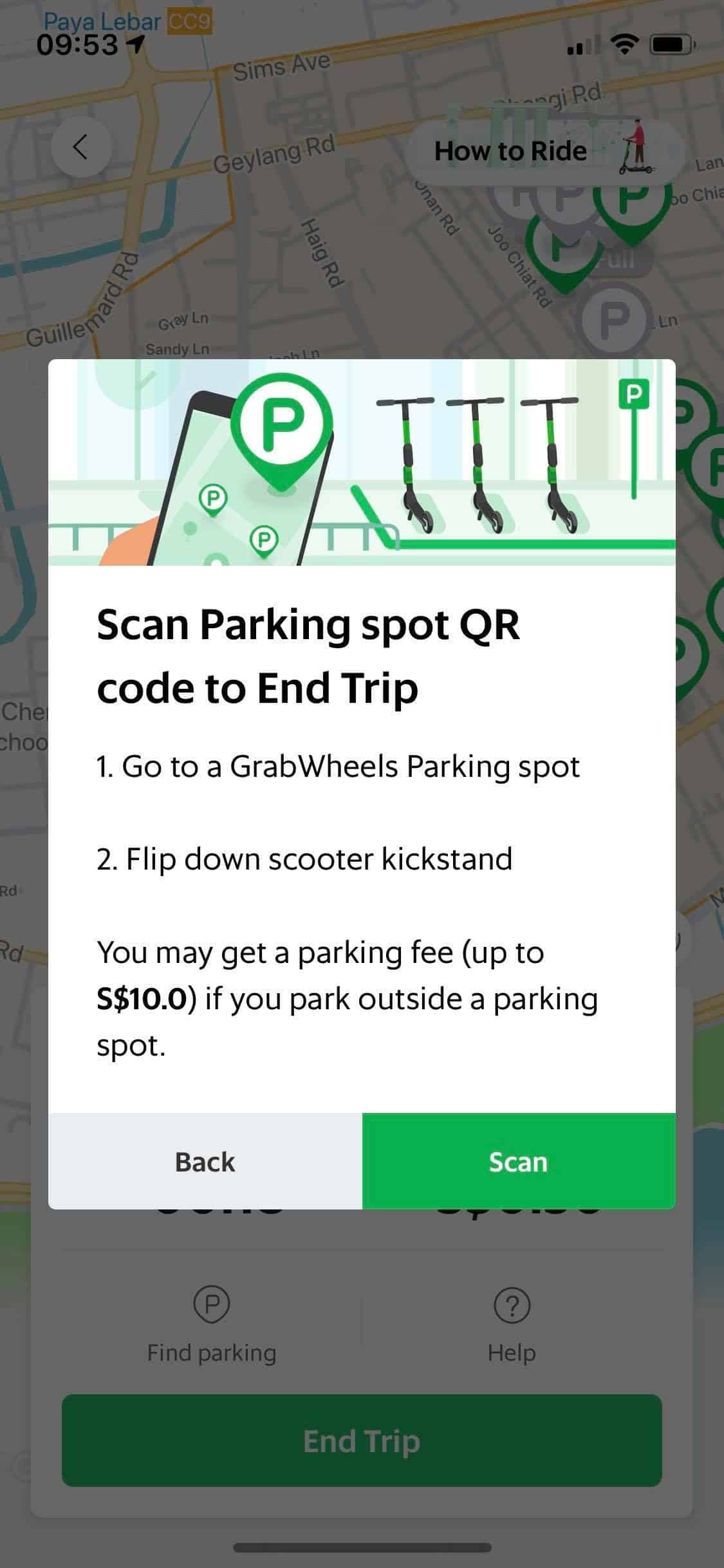 What is GrabWheels?
GrabWheels is a service under the Grab App that gives you access to personal mobility devices (eScooters) in Singapore. Use GrabWheels to complete your commute to work, university, to the shop or just to feel a little breeze.
GrabWheels currently offers eScooter rentals at affordable rates, with no deposit required.
Where can I find the eScooters?
To locate the nearest available scooter, tap on the eScooter tile on the app to view the map. GrabWheels will roll-out progressively to more venue-partner locations islandwide. Do keep a lookout!
How much does it cost to ride on GrabWheels' eScooters?
GrabWheels is currently available at $0.50 for every 5 minutes of use. Payment can be made using GrabPay. Plus, receive 5x GrabRewards Points for every dollar spent. All rides also include insurance coverage, at no additional cost to users.
How do I unlock an eScooter?
Found a scooter? Start riding in 4 steps.
Open the Grab app
Tap on the scooter from the app to check its battery level
Scan the QR code on the right side of the scooter handlebar
Enjoy your scooter ride!
Tip: Ensure your mobile data and Bluetooth are both turned on throughout the ride.
Anything I should do before riding?
Before unlocking:
Battery level

Tap on the scooter from the app to check its battery level
Before riding, do a quick check of the following (it'll take less than a minute):
Brakes

Test the brakes by pressing the red button

Headlights

Turn it on when visibility is low by holding the button on the scooter display for 2 seconds

Kickstand

Check that the kickstand is disengaged before moving off

Surroundings

Check that there is nobody close to you before moving off
For your safety, you are encouraged to wear a helmet while riding a scooter.
How do I ride a scooter?
Riding is simple, and it's easy too if you've used a kick scooter or bicycle before. Step-by-step instructions are below, but if you're new to electric scooters, err on the side of caution while riding!
Accelerate by kicking once and pressing the right green button
Slow down or stop by pressing the foot brake or the left red button
Ring the bell if necessary to alert pedestrians
When it gets dark, hold on the scooter button for 2 seconds to turn on the headlight
Always stop and look out for vehicles at road junctions, and give way to pedestrians at all times
Start off slow and progressively increase your riding speed when it's safe to do so.
Visit here for more information on upcoming safety roadshows.
Are there any LTA regulations that I need to know and comply with?
There are a few simple rules from LTA which apply to GrabWheels:
No riding of scooters on roads
Do not exceed 10 km/h on footpaths
Do not exceed 25 km/h on shared or cycling paths
All our scooters must be parked at a GrabWheels parking spot after use
Follow these rules when you ride with GrabWheels to avoid penalty (and that's not something we want). As rules update from time to time, check the LTA website for more details.
Where should I park the scooter after my ride?
Park your scooter only at a designated GrabWheels parking spot. They are marked by the P icon on the map in the app.
If the nearest GrabWheels parking spot is full, refer to the map on your app to locate another one near you.
Are the scooters safe?
Your safety is always our priority. Our electric scooters meet the IP54 waterproofing standard, and are compliant to regulation UL2272 (only required by 2021) – an assurance of our commitment to your safety.
Do take note to comply with these LTA rules:
No riding of scooters on roads
Do not exceed 10 km/h on footpaths
All scooters (or any PMD) must be parked at a designated parking spot after use
What coverage am I entitled to with GrabWheels Personal Accident Insurance?
It is our top priority to ensure your peace of mind while riding on our scooters. When you ride with GrabWheels, you will be an Insured Person under Grab's Personal Accident Insurance Policy for the duration of your ride on our scooters.
Our Personal Accident Insurance policy is designed to compensate the Insured Person for Accidental Death, Permanent Disablement and Medical Expenses that may arise from an accident.
If you encountered an accident, please report it here.