Your favourite food delivered hot and fresh
Great news! GrabFood is now in the Grab app, creating a more seamless experience with your daily needs in the everyday superapp.
Satisfy your cravings by getting the food you love from your favourite restaurants. GrabFood is available islandwide.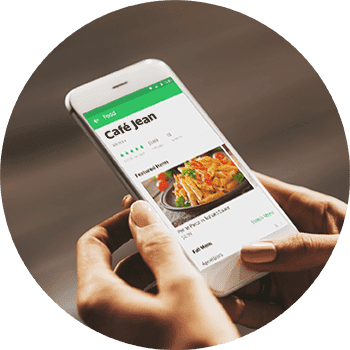 Just a tap away.
Feed your cravings with your favourite foods delivered to you, wherever you are.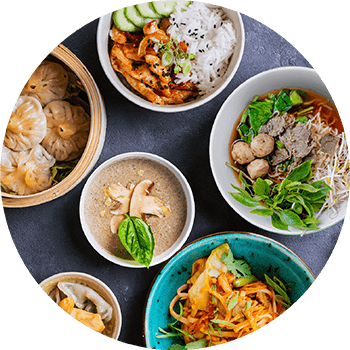 Foods for all cravings.
From local fare to restaurant favourites, our wide selection of food will definitely satisfy all your cravings.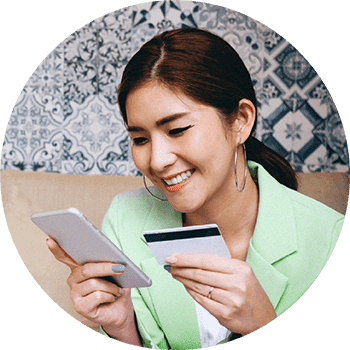 Pay with ease.
It's easy to get your meals delivered to you. It's even easier to pay for it with GrabPay.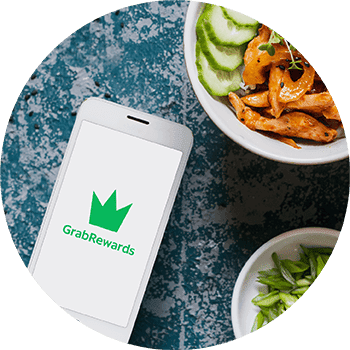 It's more rewarding.
You'll earn GrabRewards points for every order you make and use them to redeem more goodies.
Launch the Grab app and select "Food"

Enter your delivery address.

Select your favourite restaurant.

Select a meal and add to your basket.

Complete the order and get ready to enjoy your meal.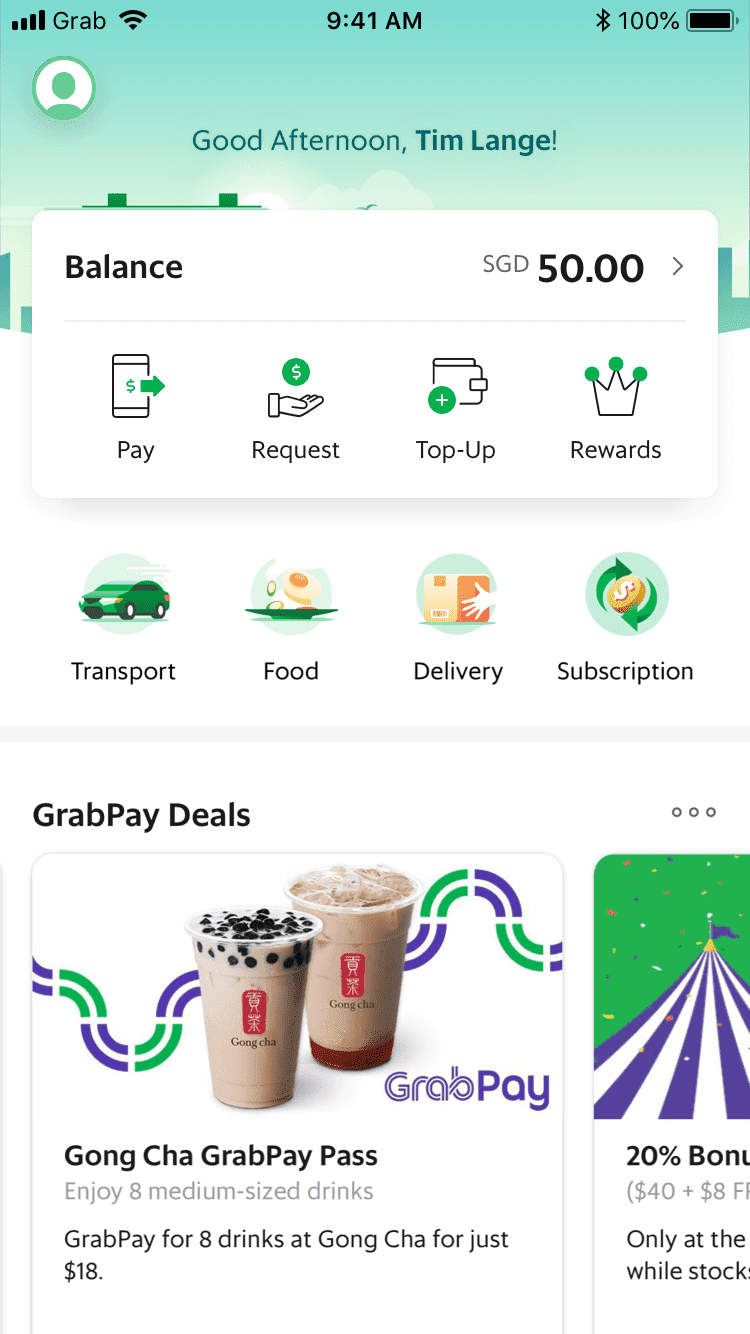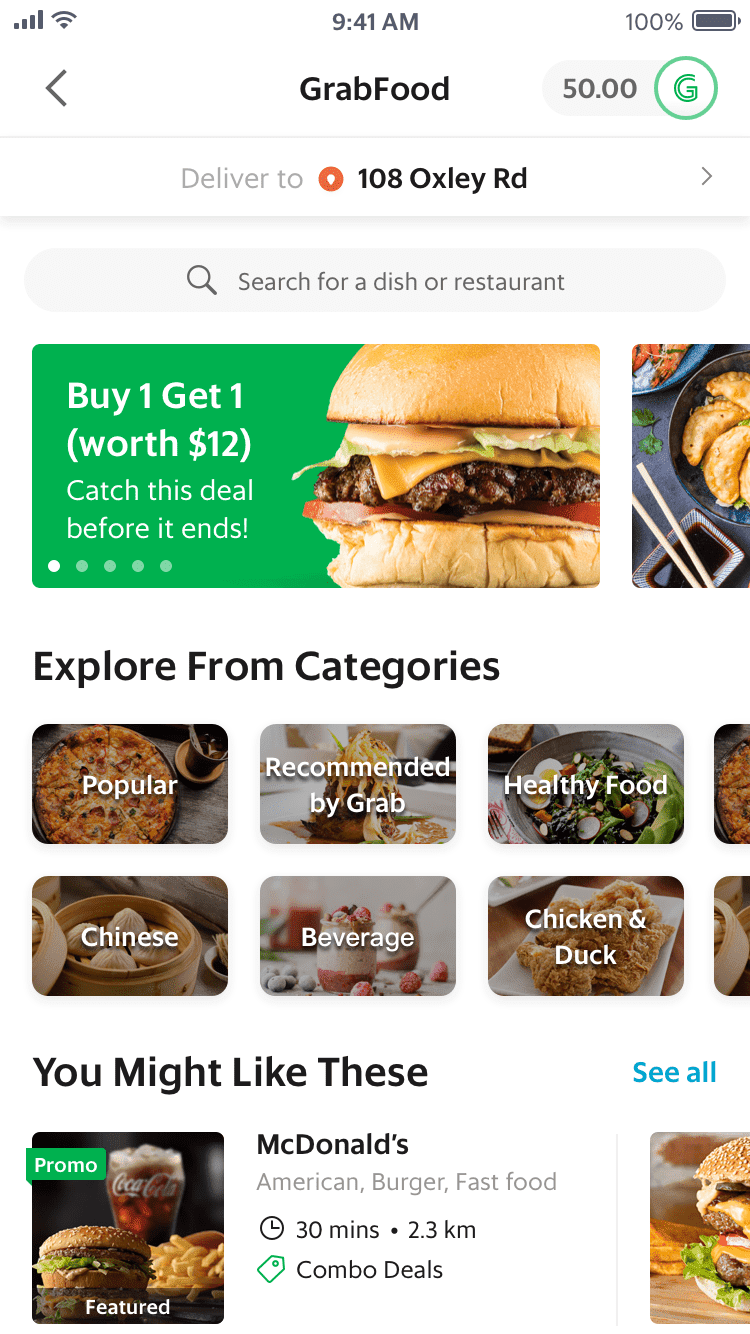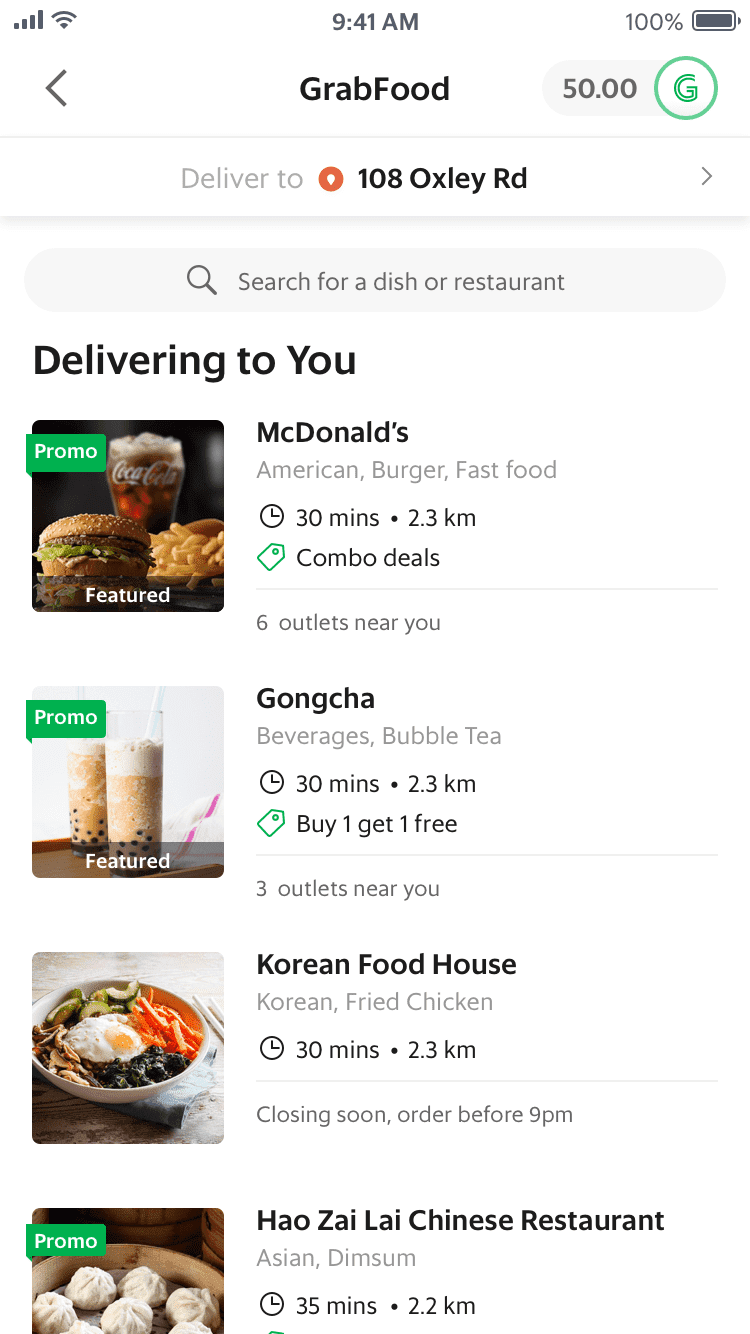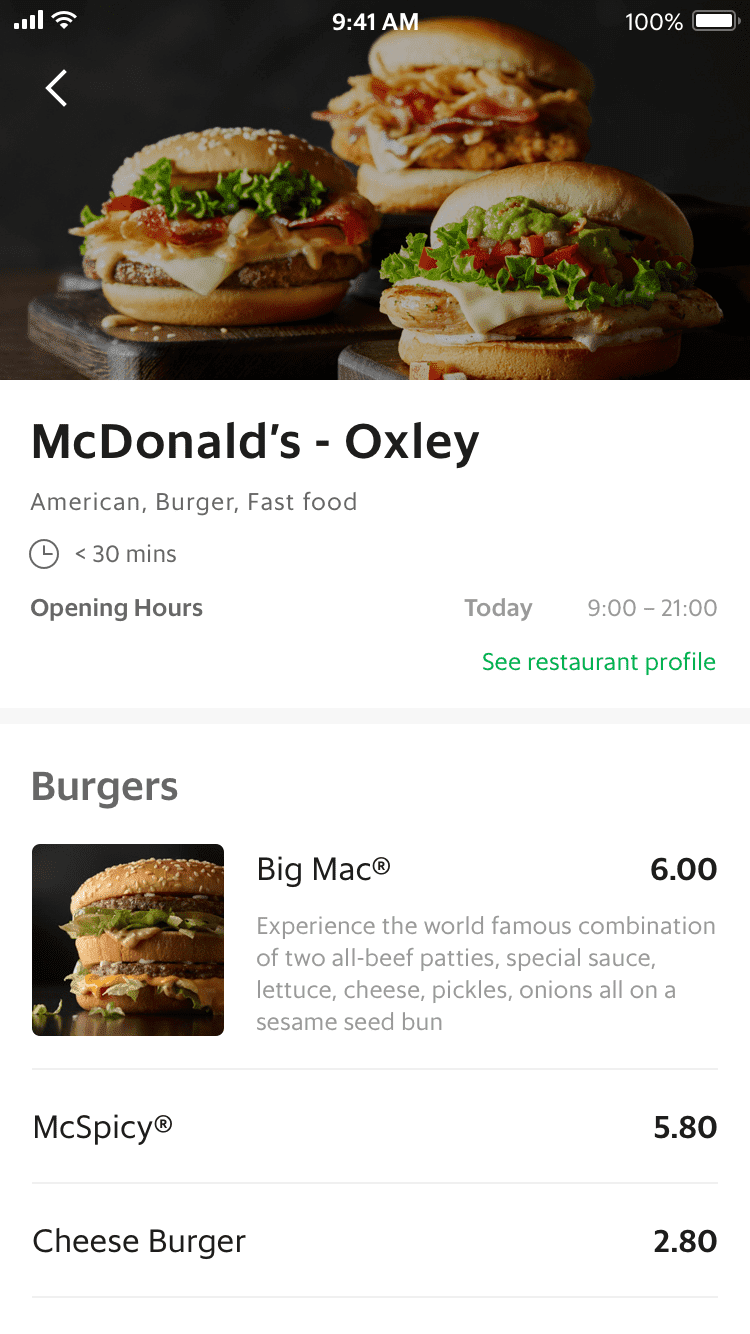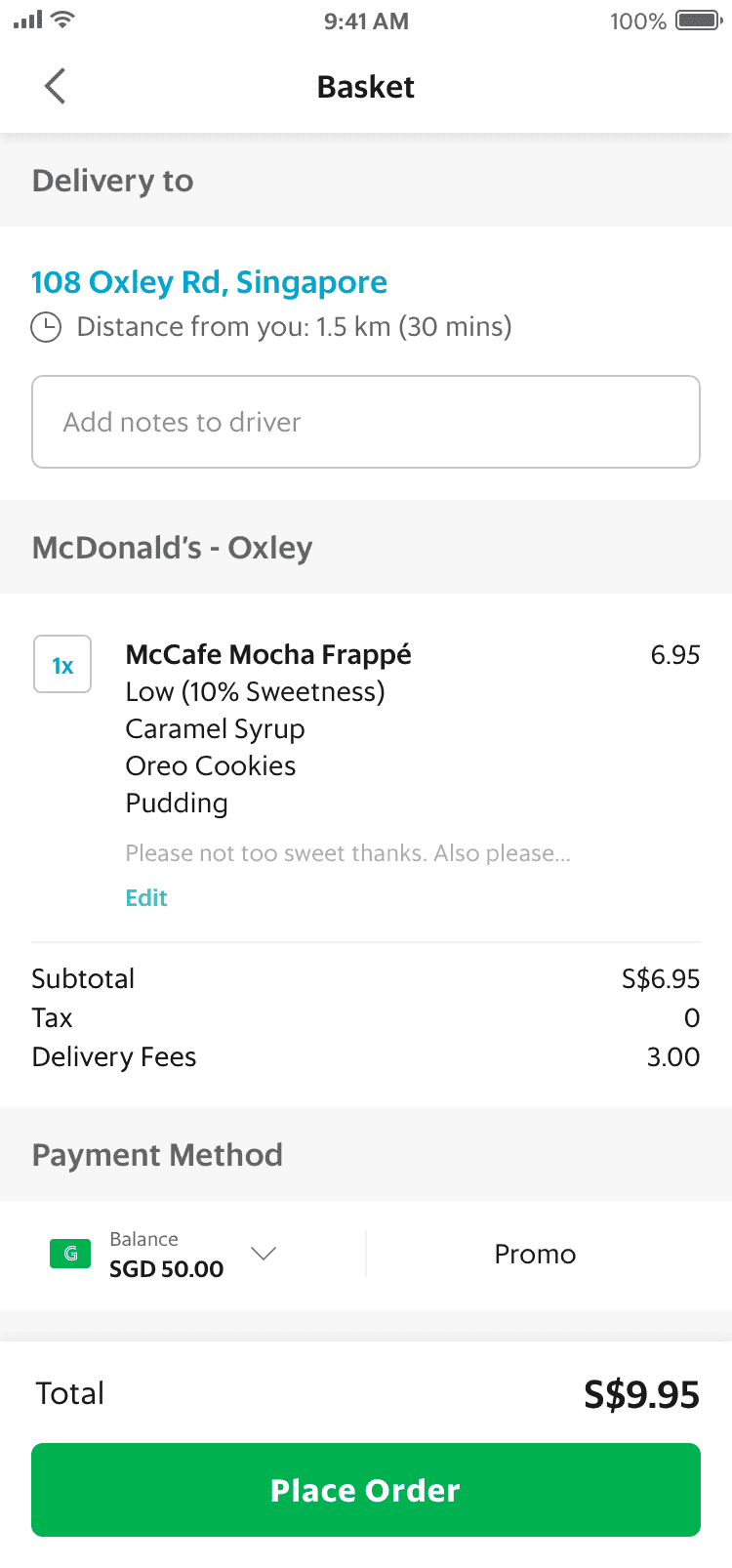 How can I pay for GrabFood?
GrabFood accepts a variety of payment methods like Debit / Credit Cards, GrabPay Credits, Cash and even PayPal as indicated by your primary GrabPay payment method in the Grab app.
Note that Android Pay and Alipay are not accepted for GrabFood yet.
Cash payments are currently available for orders below $50 only. 
Where do you deliver?
GrabFood is available islandwide.
What are your hours?
Depending on your area and local restaurant hours, we begin delivering as early as 7am and run as late as 2am. If a particular restaurant is not available for delivery, you will see it closed on the app.
What restaurants near me deliver through GrabFood?
To see which restaurants are available for delivery, just enter your address in GrabFood. To keep your food fresh and ensure speedy deliveries, we limit the available restaurants to those within a given distance from your location. Nearby restaurants and insulated bags also means receiving food hot and fresh, just as you would dining in.
How much does it cost to order from GrabFood?
Your order's total cost includes the price of the menu items plus a delivery fee. The delivery fees help us pay our driver partners, and provide the best service possible.
What are your delivery fees?
Our delivery fees are calculated based on distance, and will depend on the merchant's location
How does Cash on Delivery work?
Simply tap on "payment method" on the checkout page, tap on "cash" and complete your order as usual! We know you're hungry, so do remember to prepare sufficient cash for your order to avoid any delays.
Do note that while all delivery-partners carry change, do drop them a message via GrabChat if you're planning to use larger notes so they can ensure that they have enough change.
I'm trying to make an order, but don't see the "cash" option. Why?
As part of our efforts to prevent delays, our cash option is currently only available for orders under $50. If your order exceeds $50, do use either GrabPay credits, or a credit card to complete your payment.