Grab Singapore Announces New Training and Career Support Initiatives to Enhance Employability of Driver-partners
The Grab Driver Training Programme and Career Support Portal aim to benefit 2,000 - 3,000 driver-partners in the next six months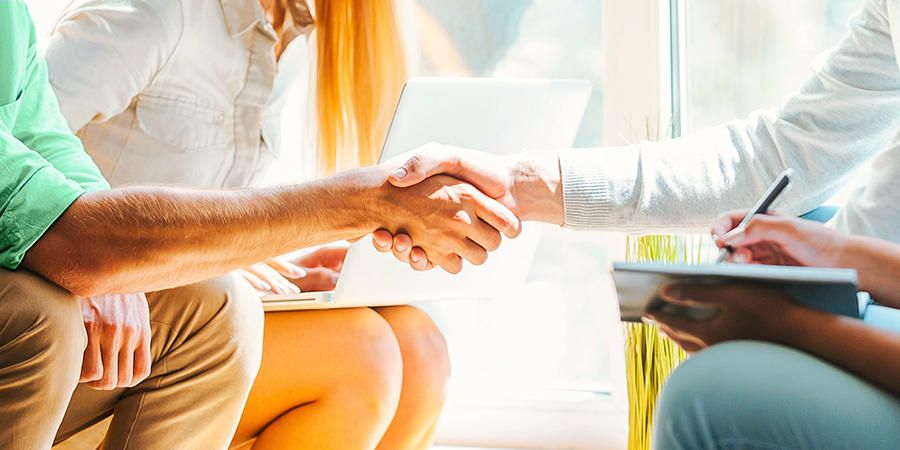 The Grab Driver Training Programme and Career Support Portal aim to benefit 2,000 – 3,000 driver-partners in the next six months

Grab partners Ngee Ann Polytechnic to offer certification for co-developed courses, supported by SkillsFuture Singapore
Singapore, 11 June 2020 –  Grab Singapore today announced a new training programme and Grab Career Support Portal to help Grab driver-partners mitigate further impact of COVID-19 on their livelihoods. 
The training programme consists of two courses to reskill and upskill driver-partners who intend to continue driving for a longer term. It is launched in partnership with Ngee Ann Polytechnic (NP) and supported by SkillsFuture Singapore (SSG), under the Enhanced Training Support Package for Point-to-Point Drivers (P2P Drivers). For driver-partners who wish to transition out of the platform, the Career Support Portal provides a one-stop, integrated platform with career coaching, introductory courses and certification to help them explore other job opportunities. 
Since the start of the COVID-19 pandemic, Singapore has seen a drop in ridership which impacted driver-partners' earnings. To help improve their cash position during this period, Grab has enhanced support for its driver-partner community, including relief support via Grab Weekly Cover, reduction of commission rates, as well as rental waivers, among others[1]. Grab has leveraged its technology and reach to create new earning opportunities for driver-partners by enabling thousands to take on on-demand delivery jobs across GrabFood, GrabMart and GrabExpress.
"With a phased approach to reopen our economy, we are expecting demand for rides to gradually return. It is hence important that we help our driver-partners to expand their earning opportunities in the meantime, so that they can continue to earn a viable living on the Grab platform as well as outside of it. Through the new training courses and the Grab Career Support Portal, we hope to enhance our driver-partners' employability so that they can better capture those opportunities," said Andrew Chan, Managing Director of Transport, Grab Singapore
Comprehensive opportunities for training and career development
The initiatives are designed for driver-partners with different career goals and mindsets. In a survey of 3,000 driver-partners, more than 70% indicated that they planned to stop driving after two years. Additionally, 1 in 2 are willing to take part in career-related training. IT-related and digital marketing are the two courses that driver-partners were most interested in.
Grab aims to offer 2,000 to 3,000 of its active driver-partners training or career support through these programmes in the next six months.
New Driver Training Programme by Grab and Ngee Ann Polytechnic
The new Driver Training programme will launch with two courses co-developed by Grab and NP and will run for six months as a start. At the end of the period, Grab and NP will review the course curriculum to ensure they are meeting driver-partners' needs.  
Customer Service and Quality

: Designed to equip driver-partners with customer service skills to manage different challenges they may meet with passengers while on the road, and will feature some case studies that originated from common real-life incidents faced by driver-partners. 

Vehicle Safety and Maintenance

: This course will empower driver-partners with safe driving practices and theoretical knowledge to keep their vehicles in good condition and minimise maintenance cost. Participants will also go through a hands-on practical session on maintaining cars provided by GrabRentals. 
SSG will provide enhanced course fees support of up to 90% for these courses under the Enhanced Training Support Package for P2P Drivers, and Grab will subsidise in full the remaining course fees for its driver-partners. Apart from existing driver-partners, the 2-day programme will also be mandatory for all new Grab driver-partners before they can be activated by the platform. 
"Ngee Ann Polytechnic's CET Academy is delighted to work with Grab Singapore to co-develop and co-deliver courses for Grab driver-partners.  We share the belief that skills upgrading is an integral enabling tool for our human capital across all trades and industries, and all the more so in a very volatile economy.  We hope that these two courses specially curated for Grab driver-partners will enable them to optimise their earnings through better customer engagement and higher confidence in the performance of their vehicles.  In addition, the courses offer transferable skills that may come in handy when they pursue new career opportunities. We look forward to being their lifelong career development partner as they continue to upskill and develop themselves professionally," said Christy Chung, Director of Continuing Education & Training Academy, Ngee Ann Polytechnic
At the end of the courses, participants will receive certification jointly issued by Grab and Ngee Ann Polytechnic. These courses will also be made available for all taxi and private hire vehicle drivers outside of Grab. 
Grab will continue to explore other relevant courses to help driver-partners with their skills upgrading. 
Grab Career Support Portal
Grab will be launching a new virtual Grab Career Support Portal to help driver-partners who are keen on exploring opportunities outside of the platform, but may not have the necessary knowledge or skills to do so. 
The Portal takes into account the common challenges faced by driver-partners in seeking new career opportunities, and will aggregate relevant resources and programmes in one single portal such that it is easier for interested drivers to search and seek help.
As a start, the Portal will focus on tech or digital roles across various industries, and is open for all driver-partners. The Portal will offer:
Career Advice

: Driver-partners will be able to discover potential tech careers under the guidance of LinkedIn coaches, or be part of a peer support group with like-minded career transitioners facilitated by GrowthBeans, a Singapore-based coaching facility. These sessions aim to encourage individuals to adopt a growth mindset, improve upon their resumes, along with advice on how to prepare themselves for the transition ahead.

Introductory courses[2]: For driver-partners who are interested in IT and digital marketing roles, the Portal will offer 1 or 2-days introductory courses to help them understand requirements of these careers from a job scope perspective.
Training certification:

Once they have decided the roles they wish to pursue, driver-partners can then opt to upskill themselves in relevant courses

[3]

conducted by Ngee Ann Polytechnic, or from accredited courses listed in

MySkillsFuture

portal. At the end of the course, participants will receive certification and be equipped with skills for a full-time or internship role.

Placement and Networking Opportunities:

Upon completion, participants may be offered placement and networking opportunities offered by training providers, or search for jobs via Workforce Singapore's MyCareersFuture.sg portal. They can also choose to attend webinars hosted by industry coaches with tips on how to find a job during these challenging times, or  understand how to grow their online presence via LinkedIn.
Lennard Chan, who has been a Grab driver-partner for a year, shared: "I have been attending Workforce Singapore and Grab-initiated career courses even before the pandemic struck in preparation of my eventual transition. I'm happy that Grab has now put together a one-stop portal that will make it easier for other Grab drivers to start exploring potential careers outside of driving. I highly encourage them to attend these courses to better understand themselves and seek help to prepare themselves for new opportunities in the future."
Ex Grab driver-partner, Saravanan Marimuthu, who is currently at Prestige Ocean as an Operations Manager, accord career training and coaching sessions as a key factor to his success in securing a new job outside of Grab: "As a Grab driver-partner, it offered me the flexibility to earn an income when I needed to devote more time to my family. However, when I decided to switch out of the platform to seek full-time employment once again, I realised that I needed help to improve my resume and interview skills. I'm grateful to Grab for offering career coaching and training sessions, which was helpful in improving my confidence and my employability."
Freelance Jobs Beyond Grab Widget 
In addition to these initiatives, Grab has collaborated with Workforce Singapore (WSG) to roll out a "Jobs" widget in Grab's driver-partner app. The widget curates in-demand job opportunities from  WSG's MyCareersFuture.sg portal so that driver-partners can search and apply for suitable jobs based on their skills and preference, thereby helping driver-partners supplement their earnings during this period. 
"We hope that these programmes will collectively elevate our driver-partners' skill sets, as well as prepare them for their future as we work together to minimise the economic impact of the pandemic. Driver-partners should take advantage of these programmes to build their arsenal of skills so that they are future-ready as the Singapore economy undergoes massive transformation.  At the same time, we will continue to work closely with the relevant authorities and organisations to introduce new support programmes and training as the situation evolves," added Chan.
Interested individuals can find out more at https://www.grab.com/sg/driver-career-support-portal/. 
[1]Refer to Appendix for full list of support provided during COVID-19 for Grab driver-partners
[2]Courses are eligible for government funding and allowances. Terms and conditions apply.
[3]Courses are eligible for government funding and allowances. Terms and conditions apply.
APPENDIX
Training and Career Support Pathways for Driver-Partners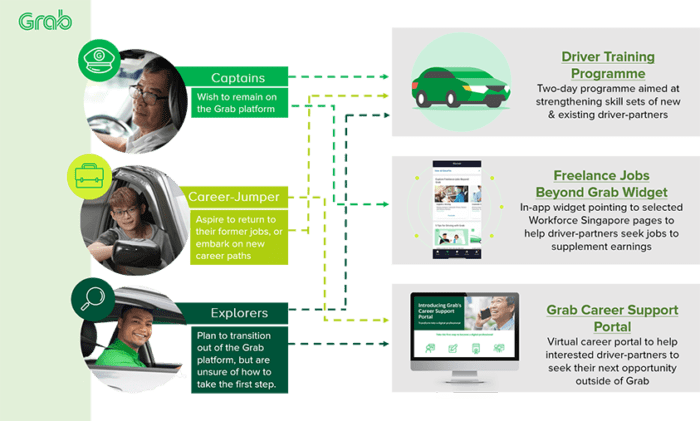 Support measures for Driver-Partners since the start of COVID-19
Since the announcement of the first confirmed Covid-19 case in Singapore, Grab has put in place precautionary measures and raised our level of preparedness in accordance with guidelines from the Singapore authorities. 
Our driver-partners' well-being and health are of utmost importance to us, and we stand ready to provide support.
Partner Relief Initiatives
20/2/2020

Unveiled "Weekly Cover" to provide driver-partners with more earning security during the period of volatile demand. 

Launched as part of the Special Relief Fund of the Point to Point Support Package (PPSP), whereby eligible Grab driver-partners will be able to receive up to S$85 per week to supplement their fare earnings. 

This is in addition to the Singapore government's support of S$70 per week. 

Programme ended in end-May.

6/4/2020

Introduced a series of COVID-19 support measures to improve driver-partners' cash position during the circuit breaker period.

Reduced upfront commission rate by 50% for all private-hire driver-partners. 

GrabRentals hirer-partners can enjoy an additional 50% commission reduction, as well as a 30% rental waiver. In addition, they will be offered an option to defer 20% of their rental costs for the next six months until October 2020.

Reduced the number of Gems that driver-partners will need to accumulate to qualify for Weekly Cover.

29/4/2020

Extended the COVID-19 support measures till 1 June, in view of the extension of the circuit breaker.

2/6/2020

Extended the COVID-19 support measures till 21 June, to support driver-partners as Singapore adopts a phased approach to reopening the economy

Additional Earning Opportunities
29/3/2020

Expanded pilot programme in partnership with the Land Transport Authority to allow all driver-partners to support food and parcel deliveries if they are interested to do so.

To date, thousands of driver-partners have signed up and trained for the service.

ONGOING

Expanding our assortment and merchant selection on GrabMart

As the number of new merchants continues to grow on our platform, this will also provide our driver-partners more earning opportunities.

Ensuring Health and Safety of our Driver-Partners
6/2/2020

Announced support packages to help driver-partners who are diagnosed with the virus, and hospitalised or put on quarantine.

19/2/2020

Partnered with Chubb to provide free-of-cost COVID-19 protection, which offers a lump sum payout for driver-partners who are diagnosed with COVID-19.

15/3/2020

Introduced 'Contactless Delivery' feature to minimise contact between consumers and delivery-partners.

2/6/2020

Launched

GrabProtect

, a suite of safety and hygiene measures to minimise risks of the spread of COVID-19 on our transport services.

ONGOING

Since March, Grab has made available about 100,000 face masks and sanitisers for our driver- and delivery-partners to collect at various locations.