Consumers & DriversSocial Impact & Safety
Grab Introduces New Hygiene Measures for Ride-hailing with GrabProtect
GrabProtect enforces higher safety and hygiene standards in ride-hailing through new tech features and policies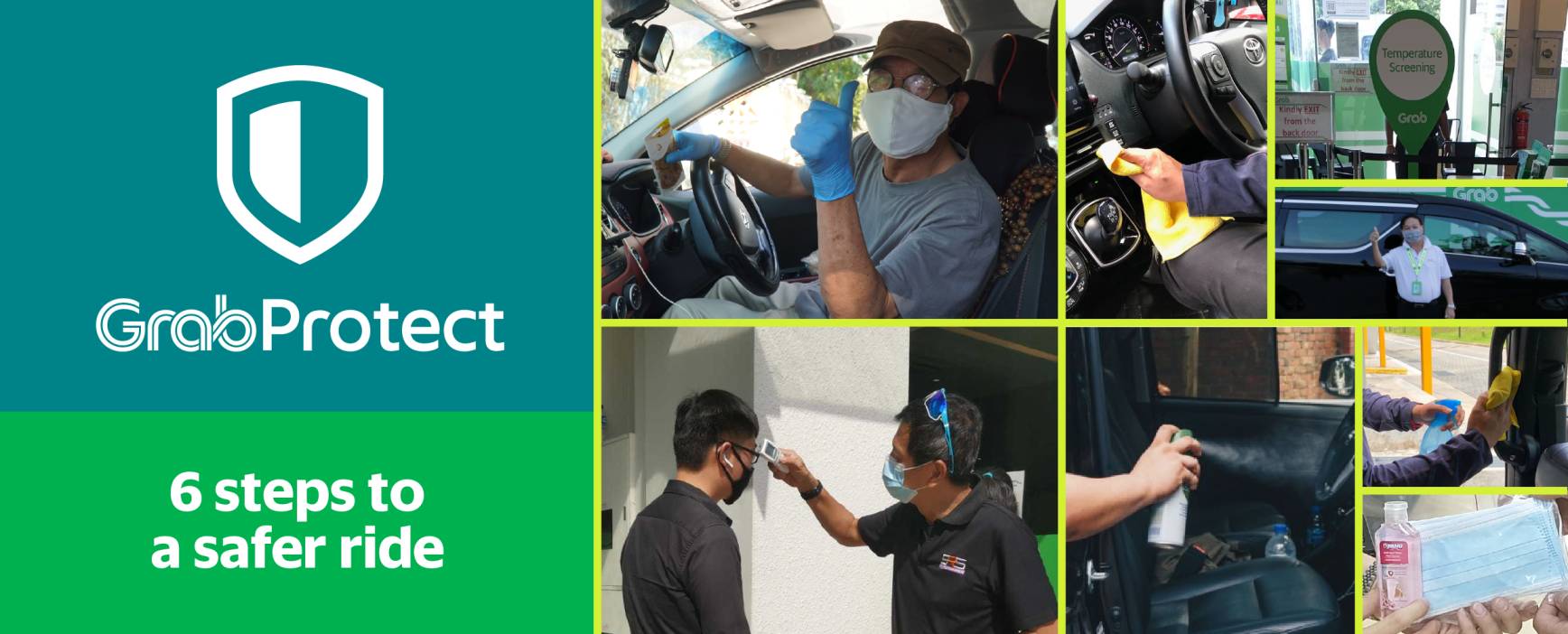 New features include health and hygiene declaration and mask selfie

New ride cancellation policy empowers both drivers and passengers to make the right choices about safety

Passengers are not allowed to ride in front seat as part of further safe distancing measures within Grab vehicles
SINGAPORE, 2 June 2020 – Grab, Southeast Asia's leading everyday app, today announced GrabProtect, a suite of safety and hygiene measures to minimise risks of the spread of COVID-19 on its transport services. GrabProtect, comprising new safety features, updated safety policies and transport hygiene kits, will enforce higher safety and hygiene standards in the ride-hailing industry. The new measures will be rolled out progressively in Singapore from end-June 2020.
As Singapore exits the circuit breaker period through a phased approach, worries of 'another wave of infections' remain. In a recent survey of ride-hailing users conducted by Grab, consumers in six major Southeast Asian markets said that wearing masks (77%), providing hand sanitisers in-car (71%), and disinfecting car surfaces before every ride (61%) are the three most important preventive measures against COVID-19. [1]
"The COVID-19 pandemic has created greater awareness of safety and hygiene across all industries. Safety has always been a core value at Grab and with programmes like GrabProtect, we are setting a higher bar for hygiene standards in ride-hailing. Together with our driver partners, we can help enforce new hygiene habits even before the ride starts," said Russell Cohen, Regional Head of Operations, Grab.
GrabProtect introduces a new ride routine for safer rides. It starts with ensuring users are healthy and have taken the necessary precautions before getting into a ride. It will also give them the flexibility to cancel and provide feedback to Grab if either party is not wearing a mask, and encourage safer and more hygienic practices like frequent hand sanitisation and use of cashless payment. The measures include:
1. Enforcing better hygiene habits through technology 
Grab is rolling out two new in-app features – an online health and hygiene declaration form, and a mask selfie tool. 
Since the COVID-19 outbreak, Grab's driver- and delivery-partners have started submitting daily health declarations through the Grab Driver App.
The new online health and hygiene declaration feature will require all drivers and delivery-partners, as well as passengers to confirm that they do not exhibit COVID-19 symptoms, and have adopted the necessary safety and hygiene measures, before they can start driving, delivering orders or booking a ride. 
Drivers and delivery-partners will also be prompted to take a selfie using the mask selfie feature after completing this declaration.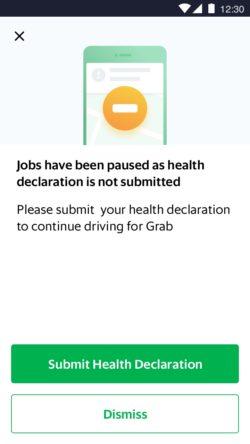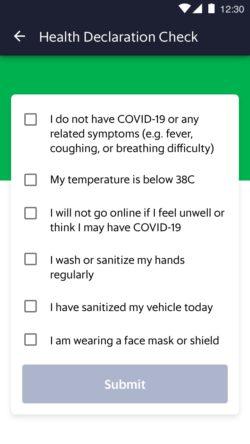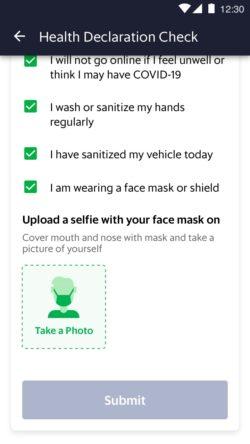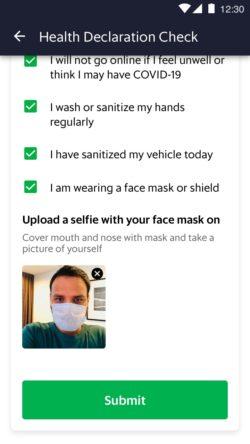 Above Sample screenshots of the Health Declaration and Mask Selfie feature in the Grab Driver app. For illustration purposes only.
2. New policies to empower users to make the right choices about safety 
As part of our enhanced precautionary measures, Grab will enforce safe distancing within Grab vehicles by disallowing passengers to ride in the front seat beside our driver-partners. This means for instance that a regular 4-seater car will only take up to three passengers. 
Additionally, in line with government regulations, all Grab users are required to wear a mask when they are out. If either party shows up without a mask, passengers and driver-partners can cancel the booking by selecting "driver/passenger did not wear a mask" as their cancellation reason. Similarly, both driver-partners and passengers can also cancel rides if either party appears to be unwell by selecting "driver/passenger is unwell" as the cancellation reason. Grab will waive the penalty for cancellations associated with these two reasons. 
Grab has also updated its in-app ratings and feedback feature as well as Help Centre with options to report health and hygiene-related concerns. These enable users to provide feedback after every interaction, such as whether their driver/delivery-partner or consumer practiced good personal hygiene, or took precautionary measures such as contactless delivery. Grab will take the necessary actions, including the suspension of driver-partners' and passengers' ride-hailing accounts, to protect the safety and well-being of its users.
3. Equipping vehicles with hygiene kits
Since March, Grab has made available about 100,000 face masks and sanitisers for our driver- and delivery-partners to collect at various locations. Grab is also exploring partnerships with manufacturers and suppliers across Southeast Asia to make it easy and affordable for drivers and delivery-partners to purchase hygiene products at discounted rates.
Grab will continue to evaluate its measures and policies, and adapt as the situation evolves. Our users can expect more information on these measures through in-app updates over the next few weeks.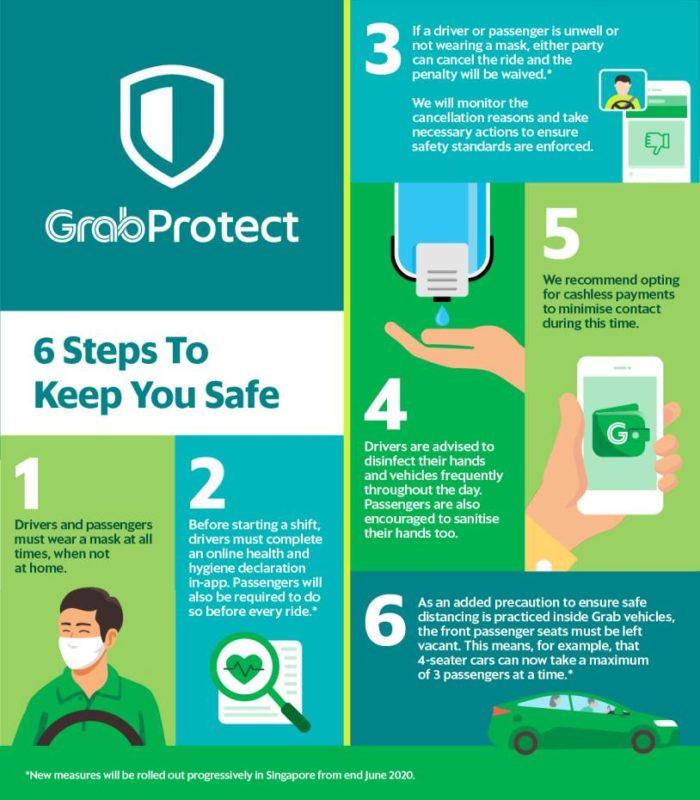 [1]Based on an online poll of 2,951 ride-hailing users across Singapore, Indonesia, Malaysia, Thailand, the Philippines and Vietnam, conducted between 1-12 May 2020.