SMRT to transform drivers' job experiences with Grab technology
SMRT Roads and Grab today announced a technology partnership, aimed at streamlining SMRT taxi partners' operations while on the road.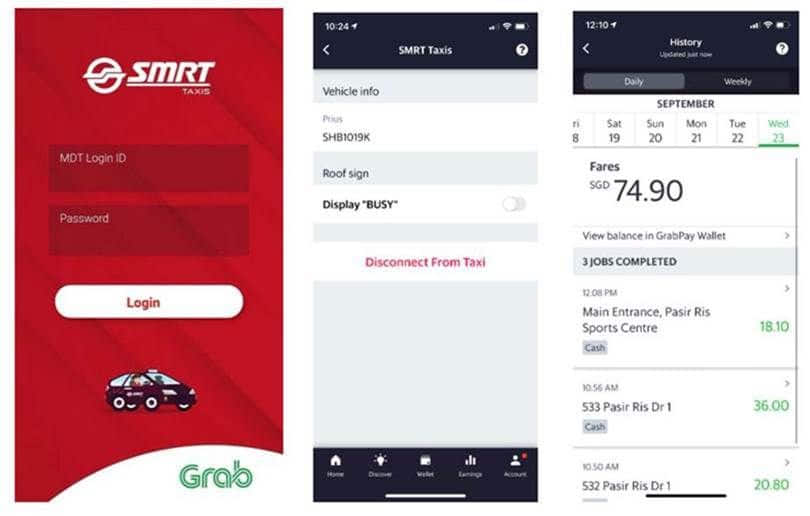 Improved driver operations for SMRT taxi partners through integration with Grab's transport platform
Mobile Display Units in SMRT taxis will be progressively replaced from 1 October with enhanced Grab driver app jointly developed by the two companies
First-of-its-kind technology partnership where Grab will provide its software as a service for use by a transport company
Singapore, 30 September 2020 – SMRT Roads and Grab today announced a technology partnership, aimed at streamlining SMRT taxi partners' operations while on the road.
An enhanced Grab Driver app will be launched only for SMRT's taxi partners from 1 October. Replacing the Mobile Display Units in SMRT's taxis, the app will be rolled out fleetwide by the end of the year. The app enables SMRT drivers to manage earnings and receive jobs from across SMRT's existing booking system, street hail and the Grab platform, all through one single app. The bookings will be assigned to SMRT drivers intelligently using Grab's allocation technology[1], which will help to improve their productivity. With the app, drivers can start their taxi meter when they opt for street hail jobs, and control their rooftop signs when they have a passenger onboard. SMRT passengers can also expect a shorter waiting time for their drivers once their SMRT call bookings are successfully allocated with the updated mapping tools and ride optimisation features the Grab platform offers. 
The enhanced Grab driver app was jointly developed by SMRT and Grab, leveraging Grab's deep technology expertise and SMRT's experience as one of the leading taxi operators in Singapore. In addition, Grab has built a web-based fleet operations platform to streamline SMRT's operational needs. SMRT has also set up a dedicated cloud-based infrastructure to ensure an optimal experience for its drivers and operations team. Both the enhanced Grab driver app and fleet operations platform are built using Grab's industry-leading transport technology.
SMRT and Grab have had a long-standing partnership since 2017, when it was announced that all of SMRT drivers were able to take on Grab jobs such as JustGrab and Standard Taxi. This has expanded the number of earning opportunities for them over the years. The new partnership deepens the collaboration and aims to better prepare taxi partners for an increasingly digitised marketplace.
Mr Tan Kian Heong, President, SMRT Roads, said, "We have been working with Grab on this project for a year now. This new system will seamlessly integrate Grab's driver app with our street hail system, providing convenience and more job opportunities to our taxi partners. At SMRT, we plan ahead to transform and be ready for the digital age. We are helping our taxi partners to learn how to use the enhanced system so that they can quickly benefit from it." 
"To provide our driver-partners with a best-in-class driving experience, Grab has invested heavily into our transport technology and developed many innovations such as our automated ERP calculator and emergency button under the safety center. Many of these features go through constant refinement to ensure they are meeting our driver-partners' needs. We are pleased to be able to extend this technology for the first time to like-minded partners like SMRT to benefit an even wider pool of point-to-point transport drivers," said Yee Wee Tang, Managing Director, Grab Singapore. 
"This app is convenient and the new features are easy to use. Now not only do I not need to monitor the meter unit and my mobile phone for jobs, I'm able to see all my earnings in one app on a single screen," said SMRT Taxi Partner Lau Soon Hong, 56.
Technology-driven experience for drivers
SMRT taxi drivers simply need to login to the Grab Driver App from their mobile devices, complete the verification process by signing in to SMRT's driver portal to identify them as a SMRT driver to get their accounts activated. 
As the driver app is built using Grab's transport technology, SMRT drivers will benefit from existing tech features on the app. These include safety features such as the safety center[2] and driver telematics[3], as well as features built to help driver-partners optimise their earnings. The Grab in-app navigation tool provides real-time road conditions updates, while the demand heatmap will point drivers to areas with high passenger demand. Drivers will also be able to access self-improvement  opportunities via GrabAcademy modules. 
SMRT drivers can also look forward to continuous app feature updates from Grab. On average, Grab had rolled out more than one tech improvement to its transport platform every week in the whole of 2019. 
Streamlining fleet operations process
To support SMRT operations' needs, Grab has designed and developed the web-based fleet operations platform from ground up. With the end-to-end technology solution, SMRT is able to supervise and control the entire dispatch and fleet operations from a central portal efficiently.
The web portal enables SMRT operations officers to register new vehicles in the fleet, or suspend errant drivers and customers quickly if required. They will also be able track bookings in real time, and send in-app notifications to drivers if there are any important announcements. In the event of emergency situations, SMRT will also be alerted through the driver's panic button, and they will be able to identify the vehicle location on the web portal.
During the transition period, SMRT and Grab will be conducting training for all SMRT's taxi drivers, and both parties will continue to seek feedback from them to improve upon the app.
[1]Grab allocation technology processes more than 50 attributes, such as driver's profile, traffic conditions, location and more to find the best matched driver-partner for every ride request by passenger.
[2]The safety center includes an emergency button which can be triggered for help in emergencies and a feature for drivers and passengers to share trip details and live GPS location with their loved ones.
[3]Using high-tech algorithms that utilise drivers' phone's sensors, a weekly driver telematics feedback report on whether driver was speeding, braking and accelerating safely is shared with driver-partners to help them improve their safe driving skills.