Grab launches Merchant Academy and GrabFood Bank to support more merchant-partners to go digital
Grab today announced an all-new Grab Merchant Academy and a GrabFood Bank campaign aimed at supporting more merchant-partners in their digitalisation efforts.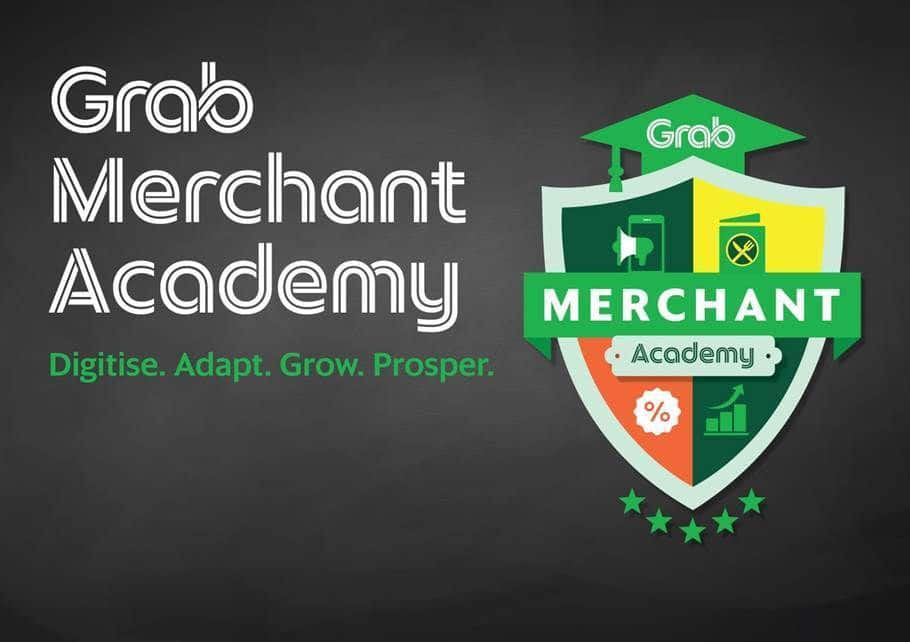 Merchant Academy aims to help 3,000 merchant-partners pick up and grow digital skills and capabilities by end 2020
GrabFood Bank campaign to create an online repository of community-generated visuals for merchant-partners to drive more orders
New support programmes announced at Grab's first merchant conference
Singapore, 8 September 2020 – Grab today announced an all-new Grab Merchant Academy and a GrabFood Bank campaign aimed at supporting more merchant-partners in their digitalisation efforts. The Merchant Academy is a training programme featuring more than 20 modules as a start to help merchants pick up skills and knowledge to grow their digital business, while GrabFood Bank will leverage Grab's wide user community to build up an online image repository for which digital resource-strapped merchant-partners can use for their menu listing and promotions to drive sales conversion.
The new series of training and marketing support was announced at Grab's first-ever Merchant Conference. Held virtually, the half-day conference is part of the Merchant Academy's offerings for participating business owners and decision makers. Attendees underwent introductory sessions on menu optimisation, achieving greater online visibility through ads, as well as creating effective marketing campaigns.    
"It is important to recognise that Food and Beverage (F&B) businesses have to swiftly adapt and pivot their business model to create an online presence. However, being successful online requires a different strategy and approach from the traditional way of driving traffic to brick and mortar stores. This is increasingly apparent as the online F&B scene becomes more crowded. Business owners will need to learn more digital skills to be able to stand out. We understand our merchant-partners have very different levels of digital proficiency and this is where we hope to help. Through our Small Business Booster Programme, and now the Grab Merchant Academy as well as our various marketing campaigns, we hope to support them to succeed in the digital space," said Dilip Roussenaly, Senior Director, GrabFood Singapore
Grab Merchant Academy and GrabFood Bank complement the earlier announced Small Business Booster Programme offering tools and resources including an updated GrabMerchant app to help businesses better navigate digital opportunities. In addition, merchant-partners can opt for the GrabFood Capability Development Pack offered in collaboration with Enterprise Singapore, the government agency driving enterprise development. The Capability Development Pack includes training resources, marketing support, as well as data and insights reports to help them optimise their offerings for deliveries.
"We applaud Grab for their efforts in continuing to support F&B businesses in building up their online capabilities through initiatives such as the Small Business Booster Package and Grab Merchant Academy. These programmes to help businesses enhance their online sales are timely and critical now as online channels become an important source of revenue stream. Enterprise Singapore is also pleased to partner Grab to offer the Capability Development Pack, an initiative under our Food Delivery Booster Package. This provides targeted support that helps our businesses build longer-term digital capabilities as they accelerate efforts to adapt to a new environment," said Ms Yeoh Mei Ling, Director for Food Services, Enterprise Singapore.
Charting the growth of a digital-first business via Grab Merchant Academy
Grab Merchant Academy is a self-serve, on-demand learning platform for F&B business owners to pick up skills and knowledge relevant to their digital operations such as online store management, menu optimisation, community management, and online marketing, among others. These modules have been designed to cater to merchant-partners' needs at different growth stages. (See Appendix for more details of the Academy)
Grab hopes to help 3,000 merchant-partners grow their digital skills and capabilities by the end of 2020. Partners will be able to access the Merchant Academy through the GrabMerchant App and modules will be progressively rolled out from mid-September. Grab will also continue to update these learning modules in the longer term based on merchants' and consumers' needs.
"When we diversified our business, we realised we needed to have digital capabilities and tools to optimise our operations such that we are able to meet the needs of our online consumers. By working with Grab, not only did we have access to a highly engaged consumer base and wide delivery fleet, we also have tools that provided insights into consumers' purchase trends on the app. We were then able to create menu items – including meal combinations – that were able to increase our average sales per order as these offerings were more aligned with online food delivery users' behaviours. We are looking forward to maximising the GrabMerchant tool to further enhance our delivery operations," said Keegen Chung, Director, Maki-san.
Expanding marketing support to help GrabFood merchant-partners drive online orders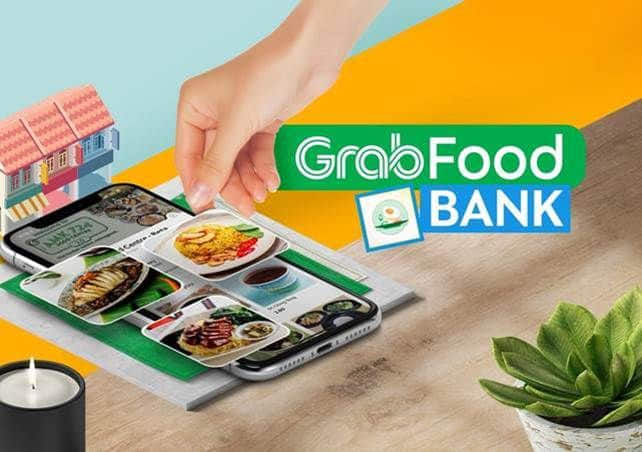 The GrabFood Bank campaign is a community-led movement which aims to curate pictures for merchant-partners who may lack the resources to create original visuals for their virtual storefront and menu. According to a completed pilot, GrabFood merchant-partners that have accompanying images with their menu items can see up to 2x sales as compared when they run their storefront without visuals.
Users can "donate" the rights to their photos by hashtagging their pictures with #GrabFoodBank and tagging the merchant-partner on Instagram, so that these businesses can repost or use these images for their digital marketing efforts.
"We are glad to have participated in the various marketing campaigns GrabFood had rolled out during this period, especially with Islandwide Delivery, which helped boost our sales at a time when Singaporeans were working from home, while also introducing our brands to more Singaporeans without them having to leave their homes. This has resulted in the majority of our online orders coming through GrabFood in the last few months. We also started to invest in online advertising in GrabAds which included $50 complimentary credits from Grab. We found that it boosted our visibility in-app thus funnelling into sales conversion," said Michele Chang, Head of Marketing Communications, Les Amis Group. (See Appendix for more details of support rendered to GrabFood merchant-partners)
"We have developed these initiatives based on our merchant-partners' feedback and hope they will find them useful as they navigate the new normal. We are committed to using our technology and reach to help them succeed, and will continue to iterate our support to ensure it meets our merchant-partners needs in this volatile environment," added Dilip.
APPENDIX: GRAB MERCHANT ACADEMY FRAMEWORK
Merchant-partners will be able to access the Merchant Academy through the GrabMerchant App and the modules will be progressively rolled out from mid-September 2020. Grab will also continue to update these learning modules in the longer term based on merchants' and consumers' needs.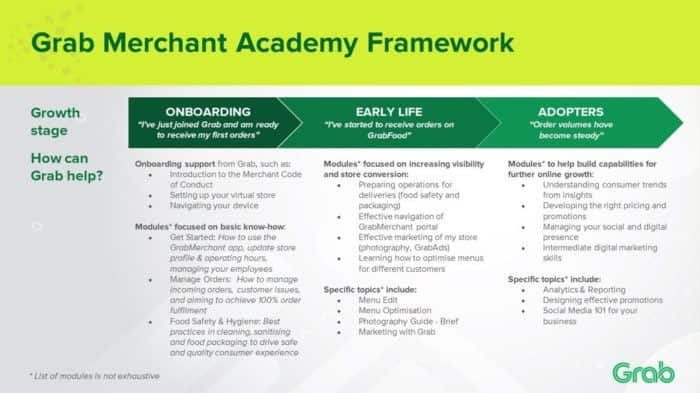 APPENDIX: SUPPORTING GROWTH OF OUR MERCHANT-PARTNERS
Since the start of Circuit Breaker in April, Grab has been extending support to merchant-partners to drive their online visibility and orders through various initiatives.
Empowering merchant-partners with digital tools to optimise operations
Small Business Booster Programme: As part of this programme announced,Grab rolled out GrabMerchant app – an all-in-one, self-serve merchant platform for business owners to help grow their online customer base, optimise their operations, while keeping costs in check. Key features include an Insights tool that gives merchants a view of their sales and customers' habits and an Ad Manager tool to create ads in under 3 minutes. More than 3,000 Singapore-based merchant-partners have been onboarded since its soft launch in June.
GrabFood Capability Development Pack: Launched as part of Enterprise Singapore's Food Delivery Booster Package in April, this pack provides merchant-partners with $1,500+ of capability building, marketing support and monthly data and insights reports to help merchant partners increase their exposure and get more orders:

20% of merchant-partners (with 3 outlets or less) who ran GrabFood marketing campaigns saw their daily orders increase by 50% during the campaign period.
31% of merchants continued to see increased basket size by 10% or more post marketing campaigns.
Extending marketing support for merchant-partners to grow online visibility and orders
Campaigns like Local Heroes and Islandwide Delivery have helped merchant-partners expand their reach across the city, creating an uplift of 60% in sales on average*.
#GF7SecAd, a community-led campaign where consumers create 7-second ads for their favourite merchants which are then featured on Grab's prominent channels such as the in-app home screen, as well as its Facebook, Instagram and YouTube pages. 1,300 merchants who were featured in the campaign have seen an average of 13% uplift in orders during the campaign period.
GrabAd credits campaign, $50 free GrabAd credits is provided to more than 3,000 single outlet merchant-partners to support them to start running ads with the new Ad Manager tool in the GrabMerchant app. These credits can be used to create Banner and Search Ads in order to boost their visibility and sales on GrabFood. Partners who have run ads have seen up to 10x returns for every dollar spent on GrabAds.
*For March – April 2020 vs October – November 2019, which is defined as a pre-Covid-19 period not affected by seasonal peaks