BusinessConsumers & DriversTech & Product
Grab Introduces Four New Services in Singapore in its Super App
Grab users will be able to do their daily journey planning, book hotels, purchase movie tickets and enjoy on-demand video content directly from the Grab app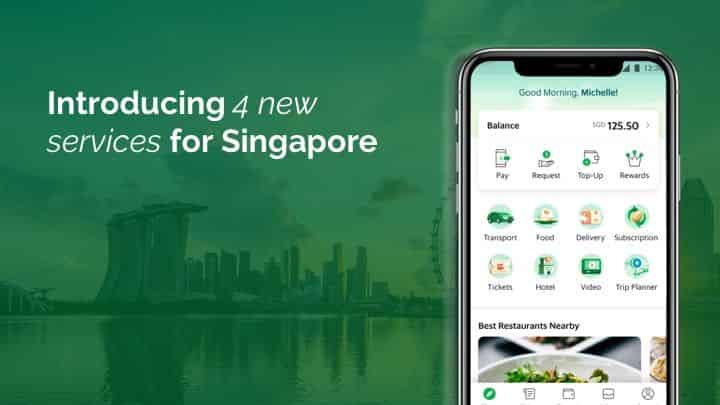 Singapore, 23 April 2019 — Grab, the leading super app in Southeast Asia, today announced the launch of four new services – 'Hotels' booking, on-demand 'Videos' streaming, 'Tickets' purchasing and 'Trip Planner' that enables Grab users to plan their multimodal trips in real-time, in Singapore. Grab has launched these services to serve more of Singaporeans' everyday needs, with more value and greater convenience. The four new services will be progressively rolled out in Singapore from today and be available to all users by June 2019.
Jerald Singh, Group Head of Product and Design, Grab, said, "We are excited to offer these new services to our consumers, giving them better access to the services that matter the most to them. A day with Grab can now be seamless from planning your commute to work to ordering your next meal and getting ready for your next movie date or holiday trip. You do all these from the palm of your hand, through one app, enjoying exclusive offers and even greater value when you pay with GrabPay and earn GrabRewards points. These points can in turn be used for more discounts or vouchers on other transactions. We are the app serving Southeast Asia and Singapore's everyday needs, and we look forward to introducing even more services throughout the rest of the year."
'Hotels' service: Special hotel booking offers through the Grab app
Singapore residents are the most well-travelled in Southeast Asia according to Grab's data [1], and they are about to enjoy a more rewarding experience when booking a hotel for their next holiday or staycation. With the new 'Hotels' booking service, Grab users can book hotels and other accommodation from Agoda, and soon, Booking.com directly from the Grab app. They can access and easily compare prices across the world's largest selection of 28 million places to stay, ranging from a wide choice of luxury and budget hotels to apartments, vacation homes and family-run B&Bs. Grab has started to roll out 'Hotels' to select Grab users in Singapore, which will be available to all users in May.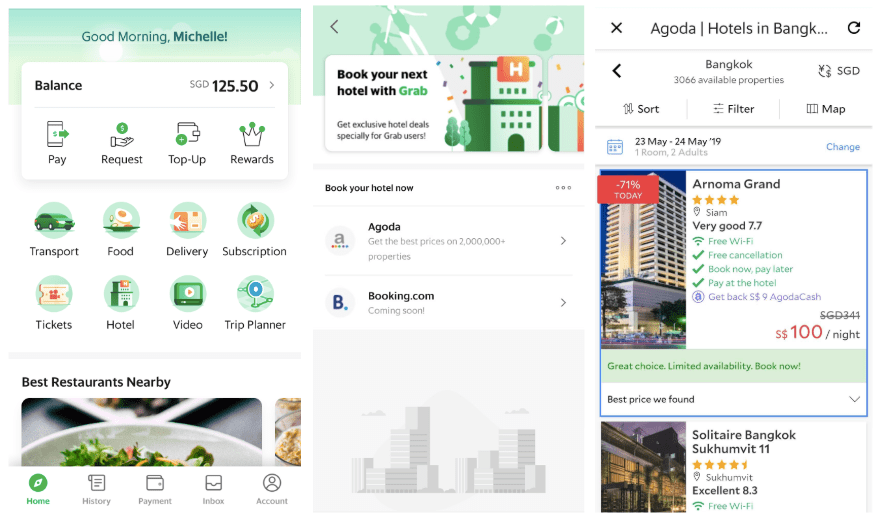 Currently, Grab's Platinum, Gold and Silver users can redeem vouchers to get up to S$20 off hotels booked through Agoda, when spending a minimum of S$200. Grab Platinum users can also gain access to Booking.com's Genius programme and enjoy 10% discounts and other benefits [2]. More features and benefits will be added to the 'Hotels' service throughout the year. Grab users will get free travel personal accident, flight delay insurance with each hotel booking, special ride offers, and enjoy seamless payments through GrabPay and earn GrabRewards points with every transaction later this year.
'Videos' service – Access to entertainment whenever, wherever
For the 89% of Singaporean users who stream videos on their mobiles [3] and others who are looking to do so, Grab will be offering online video content through the app in partnership with HOOQ. Whether they are on a GrabCar ride or waiting for their next GrabFood delivery, Grab users in Singapore can now enjoy over 8,000 hours of on-demand streaming of Hollywood blockbusters, regional favourites, and free-to-air content directly through the app.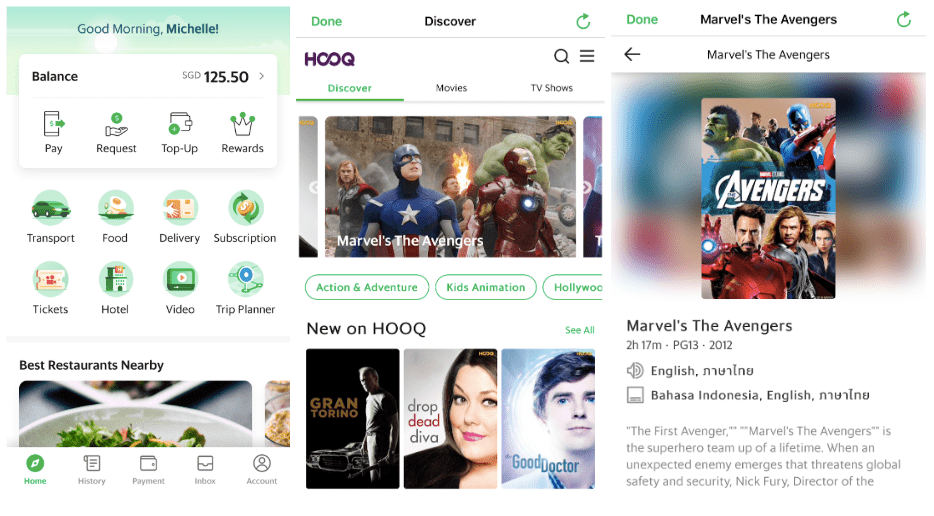 Starting in May 2019, all Grab users in Singapore get to enjoy two months of free HOOQ content when they subscribe via their Grab app and will enjoy a discounted rate of S$7.98/month thereafter, seamlessly payable with GrabPay.
'Tickets' service: A faster and simpler way to search and buy tickets
Grab's new 'Tickets' service, which will be rolled out by June 2019 in partnership with BookMyShow — Asia's leading entertainment ticketing platform, gives users a faster and simpler way to buy movie tickets and in the future, tickets to other events online. In Singapore, ticket revenue represents a US$150 million market, with the country boasting one of the highest per-capita cinema attendance rates in the world at 4.2 visits a year [4]. Grab wants to simplify the booking process for the 19.6 million people who visit the cinemas in Singapore every year [5].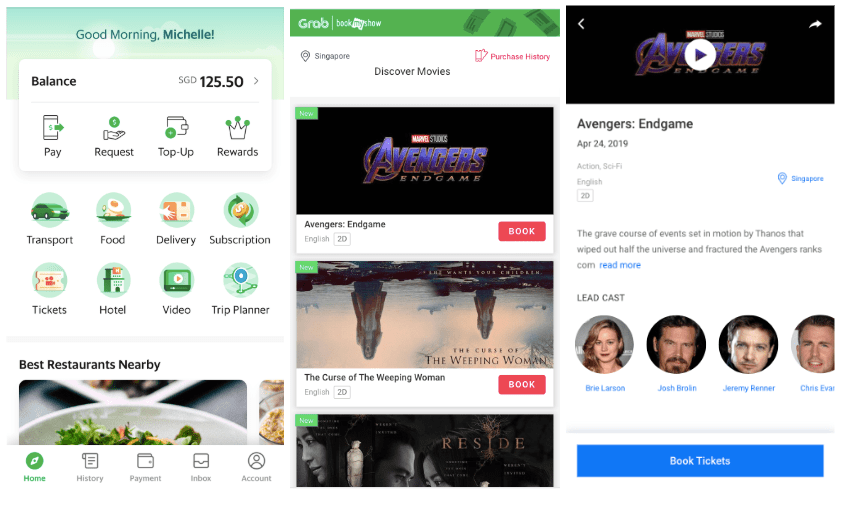 At launch, Grab users in Singapore will be able to search, compare, and purchase tickets from some of the leading cinema chains in the country including Cathay Cineplexes and Carnival. Unlike other online ticketing services available today, users don't have to create a new account and will be able to pay seamlessly with GrabPay, while earning GrabRewards points with every transaction.
'Trip Planner' – Shared, seamless and smart transportation options within a single app
The new Trip Planner service will enable Grab users to plan their transit journey with real-time public transportation information and end-to-end directions right in the Grab app.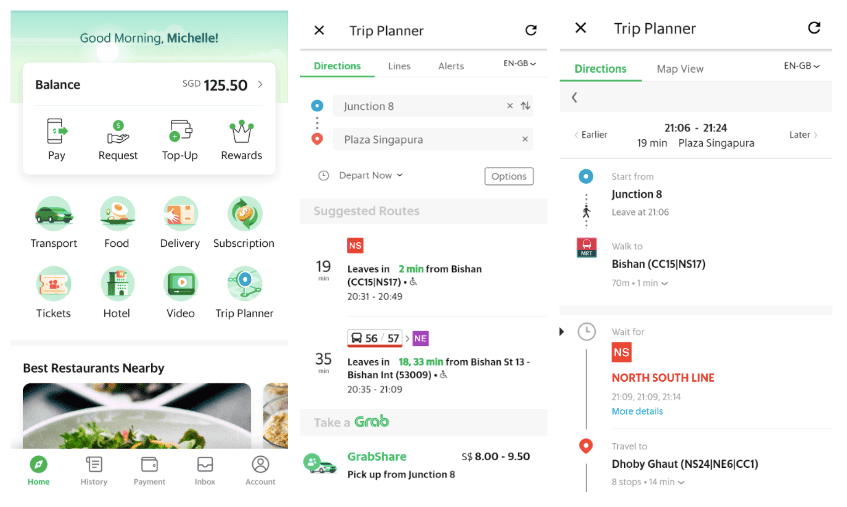 Once a user enters their destination via Trip Planner, they will be able to view all available public transit travel options, along with real-time departure and arrival times. They will also receive directions or recommendations of first-mile-last-mile transportation options such as GrabShare or GrabTaxi to and from the public transit that they can book right away — a first-of-its-kind in Southeast Asia. This offers greater predictability and certainty for daily commute and allows users to plan their end-to-end journey better.
The Trip Planner feature is available to all Grab users in Singapore from today.
The introduction of the services follows closely on Grab's announcement of the integration of GrabFood into the main app last week, building towards its vision of being Southeast Asia's everyday super app offering users a frictionless experience with one platform offering.
500 GrabPlatform partners by the end of the year
"It is through partnerships that we have become the only true regional super app with multiple services in multiple markets. Last year we announced GrabPlatform to supercharge our partnerships strategy, and we believe that it has become a true differentiator in the region. It enables us to expand into new verticals quicker than we can on our own, at the same time empowers our partners to scale their business with our reach and assets. With more than 500 GrabPlatform partners by the end of the year, we're building an ecosystem that will truly be a force to be reckoned with, an ecosystem that value-adds and serves everyone on our platform. Be it drivers, merchants, users or partners," added Singh.
GrabPlatform, launched last year, is a suite of APIs that give partners access to components of Grab's technology including transport, logistics, payments, user authentication, messaging, insights and mapping. With GrabPlatform, partners can either:
Integrate Grab into their services

: For example, online sellers can accept GrabPay as a mobile wallet on their website or platform; partners like hotels, airlines and hospitals can provide on-demand rides to their clients by embedding Grab's booking experience directly into their own apps; social sellers can integrate GrabExpress into their app or website as a delivery method; and partners can choose to allow users to log into their app/website using their Grab account.

Integrate their services into Grab

: Partners can expand their reach by bringing their services directly into the Grab app. Grab's partnership with Booking Holdings for 'Hotels', HOOQ for 'Videos' and BookMyShow for 'Tickets' are examples of this.
[1] More info here: https://www.grab.com/sg/blog/grab-data-shows-singapore-residents-are-the-most-well-travelled-in-southeast-asia/
[2] More info here: https://www.grab.com/sg/grabrewards/
[3] Data from Hootsuite – https://wearesocial.com/sg/digital-2019-singapore
[4] "Cannes: Southeast Asia is Ready for its Big-Screen Close Up", Hollywood Reporter, 5 September 2018.
[5] IMDA, 2018.