During COVID-19 in Vietnam, the lockdown and suspension of ride-hailing services affected many Grab partners. GrabMaps initiated the "Map Your City Vietnam" project to support them, providing partners with additional income by collecting missing points of interest (POIs) in their respective locations.
Navigating the challenges of pandemic lockdowns
The lockdowns posed significant challenges, particularly for partners who relied solely on ride-hailing or delivery services for their livelihood. For a time, the Vietnamese government suspended takeaway and ride-hailing services in several provinces to curb the spread of COVID-19. This left many Grab partners dependent on insufficient government financial assistance.
Even after the government lifted the suspension, movement restrictions reduced demand for ride-hailing services, leaving Grab drivers with fewer customers. Further, accessing certain areas became more complex, resulting in longer waiting times and fewer completed rides and orders.
Additionally, as frontline workers in the transportation and food service industries, Grab drivers and delivery partners had to take extra precautions for themselves and their passengers, incurring additional expenses for disinfectants and protective equipment.
Earning with the "Map Your City Vietnam" initiative
GrabMaps invited partners to contribute to the initiative by collecting missing POIs. Missing POIs are pick-up or drop-off venue pins that do not exist in the Grab app.
Nearly 200 driver-partners had the opportunity to earn more by collecting over 122,000 POIs. The initiative allowed drivers and delivery partners to earn extra income by collecting POIs previously unlisted with GrabMaps.
The programme also benefited Grab users by building more accurate and up-to-date maps that included previously missing POIs.
Many Grab driver-partners relied on the initiative to augment their sources of livelihood. With opportunities to earn more income, partners could support families and have some sense of stability during uncertainty.
The Importance of Vietnam's Local Information
During the lockdowns, we were already developing parts of our Southeast Asia mapping tool – this tool would allow businesses to leverage the same location intelligence and technology powering our regional super app.
However, collecting crowdsourced data points can be challenging amid Vietnam's motorbike-dominated roads and heavy traffic. Supporting drivers as they collected data became vital to building a comprehensive map of the country.
Creating high-quality and up-to-date maps traditionally required expensive professional-grade cameras that were cost-prohibitive and slow. To overcome this, Grab's Geo team turned to their partners on the road, leveraging their smartphones to gather location data.
We made the process easy for drivers through our app. Partners could view nearby POIs and add missing ones. We included features like upfront duplication checks and POI heatmaps to make POI data quickly and accurately.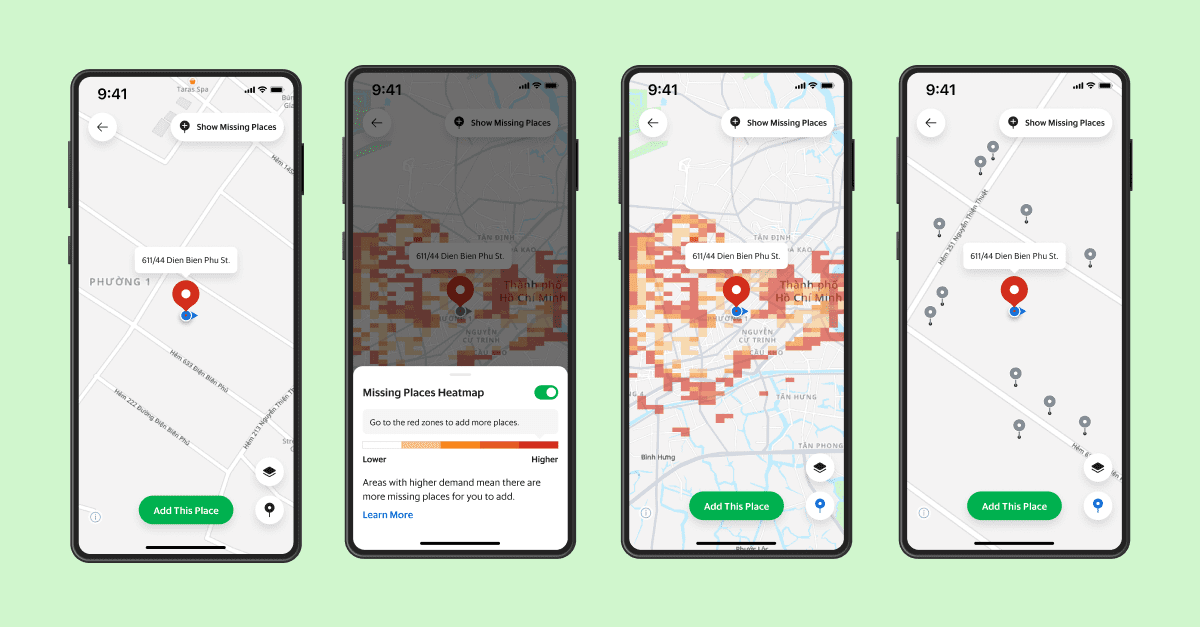 To address challenges associated with crowdsourcing imagery, such as inconsistent quality and unreliable location accuracy, our team developed KartaCam. This device, easily attached to a driver's helmet, employs artificial intelligence (AI) to recognise objects and places. Partners could capture photos of missing POIs, submit them for review and approval by the GrabMaps team, and earn extra income effortlessly.
GrabMaps also prioritised partner safety by providing personal protective equipment, including masks and hand sanitisers.
More support for Grab partners
In response to the pandemic, GrabMaps introduced other experiments and enhancements, including last-mile enablement and indoor mapping, to improve partner efficiency and productivity.
With more POIs, Grab provides localised maps that enable drivers to navigate more efficiently, even during the last mile of their journey. These maps offer real-time information on road closures, traffic congestion, and the best routes to take.
Indoor mapping allows drivers to efficiently navigate multi-level malls, ensuring they can complete pickups and deliveries as quickly as possible. These GrabMaps features save partners precious time, enabling them to increase their earnings by taking on more rides or deliveries.
As GrabMaps continues to evolve and improve, partners can expect even greater efficiency and more earning opportunities in the future.