Consider your standard industry method of collecting street-level imagery for a mapping campaign. Trained personnel follow pre-planned routes, driving along urban roads in a car fitted with high-resolution cameras. With every exposure, the camera's location and orientation are recorded in order to match images with their corresponding GPS position – generating a massive amount of data to be sent back to the head office on physical devices.
Such a specialist method often falls short when mapping Southeast Asia. High setup and deployment costs make it impractical to update maps frequently – a drawback in the region's fast-evolving landscape. Moreover, it is limited to the roads that four-wheel vehicles can travel on – leaving undocumented the many routes carved out by the region's ubiquitous two- and three-wheel vehicles.
Changing the game with
crowdsourced mapping
In our mission to create smarter and more reliable Southeast Asia maps, Grab has considered the unique challenges of this distinctive region. Populations are spread across numerous islands, and road conditions range from superhighways to dirt tracks. In many of the region's densely built cities, urban canyons hinder GPS signals.
Rather than deploying specialist personnel and elaborate tools to collect street-level imagery, GrabMaps has taken the unique approach of crowdsourced gig mapping. We harness the network and local knowledge of our Grab driver-partners on the ground to collect quality road imagery in the cities where they live and work. 
This cost-efficient mapping method doesn't require our ground team to be experts in using complex image collection equipment. Instead, we have developed a camera designed specifically for map making: KartaCam. Lightweight and easy to operate for our partners on the ground, KartaCam is tailored for local transportation methods, integrating everything required for efficient image collection into one groundbreaking device. 
How KartaCam works
Unlike the expensive equipment typically used in the industry, KartaCam has the versatility of being suitable for use with two, three, or four-wheel vehicles. 
Small and sleek, KartaCam can be easily mounted on a driver-partner's motorcycle helmet or car windshield. As drivers and riders carry out their normal business of transporting people and delivering goods, they can collect high-quality street-level imagery and data to enhance GrabMaps at the same time.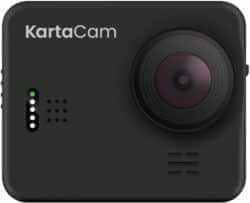 KartaCam's sophisticated features include:
Enhanced imagery collection

with a dedicated 2.0 trillion operations per second (TOPS) neural network EDGE artificial intelligence (AI) chip to improve the efficiency and quality

Highly accurate GPS positioning

, thanks to a dual-band GPS receiver tuned to L1 and L5 Global Navigation Satellite System (GNSS) signals, along with built-in Inertial Measurement Units (IMU) sensors that collect data about the movement of the unit itself

Longer battery life

powered by a smart low power mode

Cloud connectivity

via 4G, 3G, Wi-Fi

Remote management

through the GrapMaps Camera Management Tool, enabling KartaCam to be remotely configured to improve efficiency

Auto-imagery collection

through pairing and connection with KartaView, which allows tasks to be allocated to drivers in real-time and automatically uploaded upon completion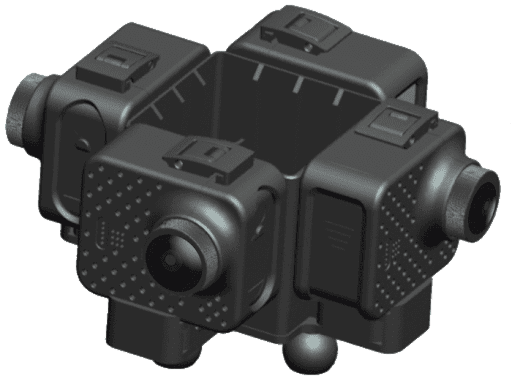 KartaCam 360 
Our team has developed two versions of the camera. KartaCam has a wide 150-degree field of view, and sits comfortably atop a motorcycle helmet or car windshield. Meanwhile, KartaCam 360 has four cameras grouped and synchronised to create a comprehensive 360-degree field of view, and can be mounted on a car roof or attached to a pole on the back of a motorcycle. 
Both our mapping solutions offer a cost-effective yet high-quality alternative to traditional industry equipment. Trials undertaken with KartaCam have shown its ability to collect point-of-interest images and data that are comparable with professional-grade 360-degree data capture technology equipment that is twenty times more expensive.
Breaking new ground with KartaCam
Grab's success across Southeast Asia has relied on finding innovative solutions to address unique problems within the region. Our groundbreaking KartaCam, designed and built in-house, leverages crowdsourced mapping to transform local expertise into navigation solutions. It offers a prime example of how Grab is reimagining transportation and delivery in Southeast Asia.
Follow us on LinkedIn for the latest updates, or visit our website to learn more about our mapping technologies.