When you think of Texas Chicken, the tantalising image of big, juicy and crispy fried chicken will pop first. Texas Chicken has never failed to provide us with perfectly fried chicken and launched new product offerings like wraps and rice bowls. If you're are craving for those fried chicken set meals, GrabFood's Texas Chicken fast food delivery service will deliver your order straight to you!
Texas Chicken Original and Spicy Chicken
Texas Chicken prides itself for their fried chicken, and ensure that quality is met at every stage. The chicken is hand-battered and prepared in small batches all day to allow us to have it both crunchy and juicy. Their spicy chicken is marinated all night long for the spices to be infused with the chicken, granting you to feel the heat with every bite.
You can be sure that there's always something new and exciting at Texas Chicken Louisiana Kitchen. From the latest promotions to the classic choices, be prepared to be delighted with all that Texas Chicken has to offer!
Chicken Combo: From 2 pieces to 12 pieces of chicken, take your pick on the different quantities available. It comes along with honey-butter biscuits drizzled with honey butter, and 2 sides of your choice. This is the go-to order if you cannot make up your mind. Fried Chicken and sides don't disappoint!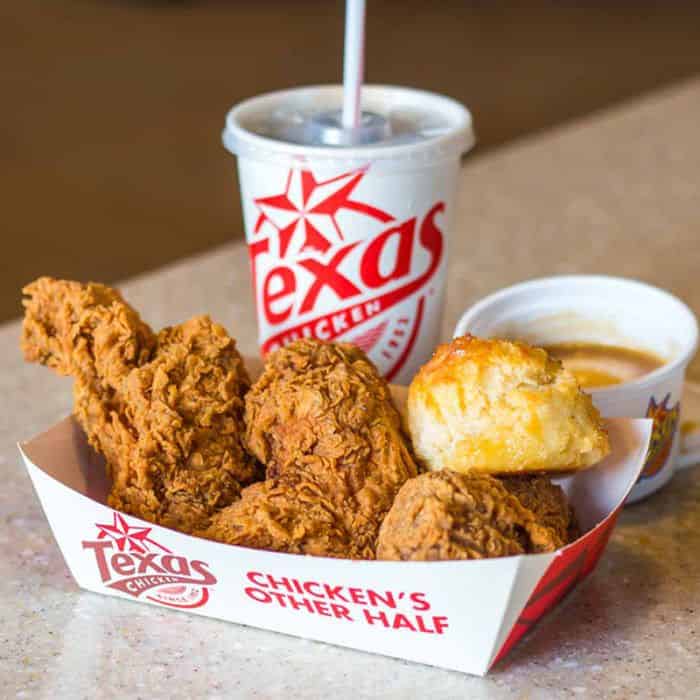 Sides: As mentioned above, the sides offered by Texas Chicken is mouthwatering and serve as essential complements to any mains. Treat yourself to the famous Honey Butter Biscuits which are made in small batches daily and drizzled in honey butter. How about the crispy and golden brown French Fries? The Coleslaw is both creamy and tangy, perfect to douse the fire after taking a bite of the spicy chicken. Flavoured Rice, Jalapeno Bombers and Mashed Potatoes are also available for choosing. What makes it harder are that all these choices are equally delicious so good luck making a choice!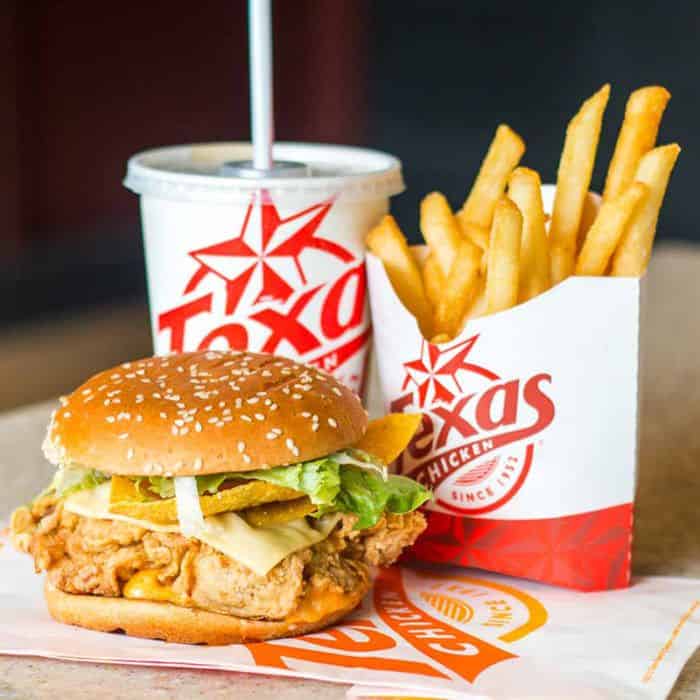 Chicken Nuggets and Tenders: Looking for other fried chicken parts that are easy to eat without bones? Look no further because there are Nuggets and Tenders available. The chicken used is all white meat chicken that is hand battered like the bone-in chicken and the Tenders are available in spicy or original.
Burgers: If you are looking to have a delicious chicken burger, Texas Chicken offer the Mexicana Burger which is made with crispy, tender whole muscle chicken topped with a cheddar slice, fresh lettuce, tomato, chopped onions, crunchy tortilla chips and a kick of spicy mayo. The Spicy Tex Supreme is made with the same juicy chicken, topped with tomatoes, fresh lettuce and mayo on a sesame seed bun.
Wraps: The goodness of Texas Chicken meets the zesty Mexican flavour and fluffy tortillas. The Mexicana Wrap adds all the greens and all-white meat chicken tenders in a tortilla that is toasted to perfection. The Tex Wrap contains 2 of the juicy chicken tenders cooked to golden perfection, with onions, cheddar slice, fresh lettuce, tomato and mayo all in a deliciously toasted tortilla.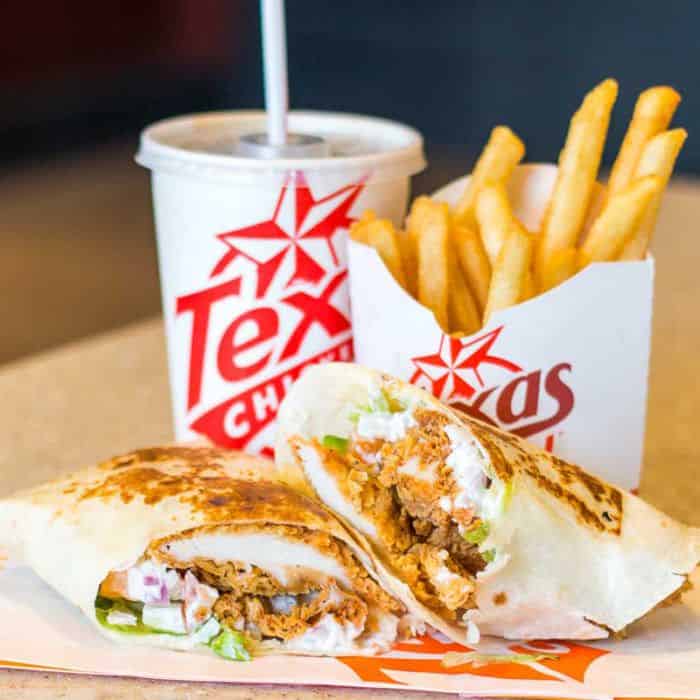 Ordering fried chicken to where you are have never been easier because of GrabFood's fried chicken delivery service. Choose from your favourite mains and sides and pair it with the dipping sauces including Creamy Jalapeno, Honey Mustard, Ranch and BBQ sauce for the best experience eating fried chicken. Simply log on to the GrabFood app and order from the nearest Texas Chicken near you today!
Get the story behind Malaysia's fave CNY dish, where to find the best Yee Sang and how to do the prosperity toss right.
Read More »
Where to find the freshest, tastiest poke bowls in KL — from tuna to tofu.
Read More »
Looking for the best street food in KL? Get into these delicious international faves, right now.
Read More »