Poke bowls were always going to be a hit in KL. In a city so in love with sashimi (and rice), the advent of the poke trend has been no surprise — fresh seafood and colourful vegetables on a bed of rice is a sure-fire hit. The dish originated in Hawaii, where raw diced fish is widely available. Here in KL, poke has taken on local twists and flavours, so whether you prefer tuna or salmon, cooked or raw, there's a poke bowl in Kuala Lumpur for you.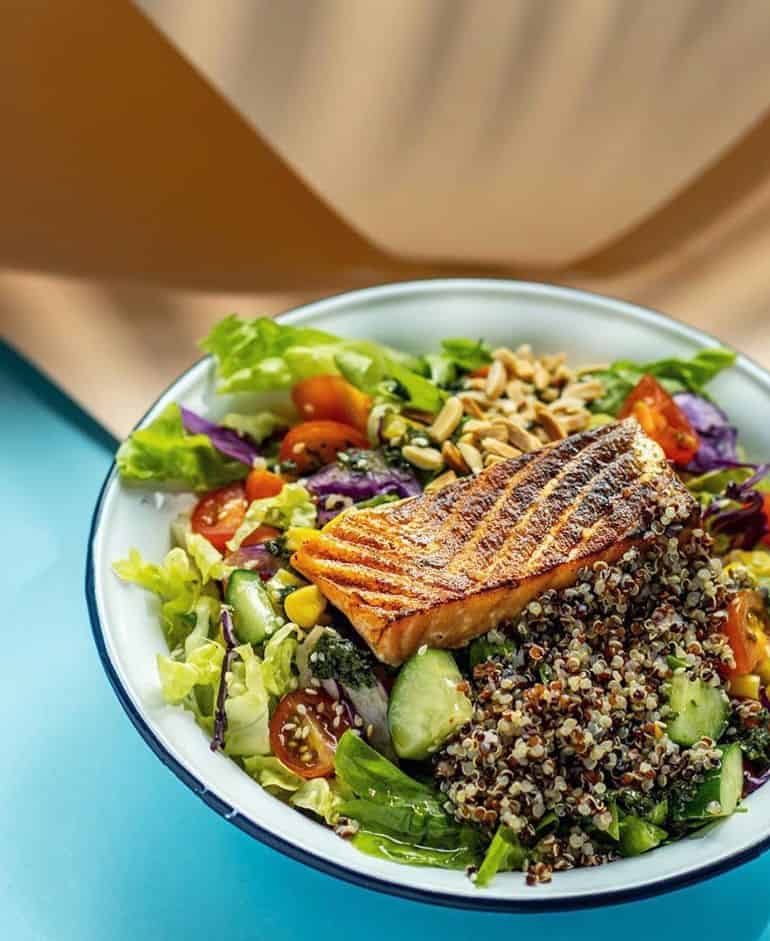 Fin creates some of the most Instagrammable poke bowls in town: colourful, inventive and extremely delicious. If you find yourself a little overwhelmed by the variety of bowls on offer, start with a signature poke bowl, made with fresh seafood and home-made sauce. The Spicy Tropical Tuna bowl, with fresh tuna sashimi, purple cabbage, mango, chilli flakes, and sriracha mayo is a zesty midday pick-me-up. For a refreshing healthy treat, the Bondi salad bowl hits the spot. This delicious combo of crispy seared salmon on a bed of quinoa, salad, cucumber and almonds is bathed in fragrant basil oil. If you're feeling extra virtuous, the vegetarian Comfort Bowl is a textural delight – white rice topped with fried tofu, crunchy purple cabbage, sweet corn and a silky 6-minute egg, then sprinkled with wasabi peas and crispy seaweed, is a great way to put paid to any hunger pangs.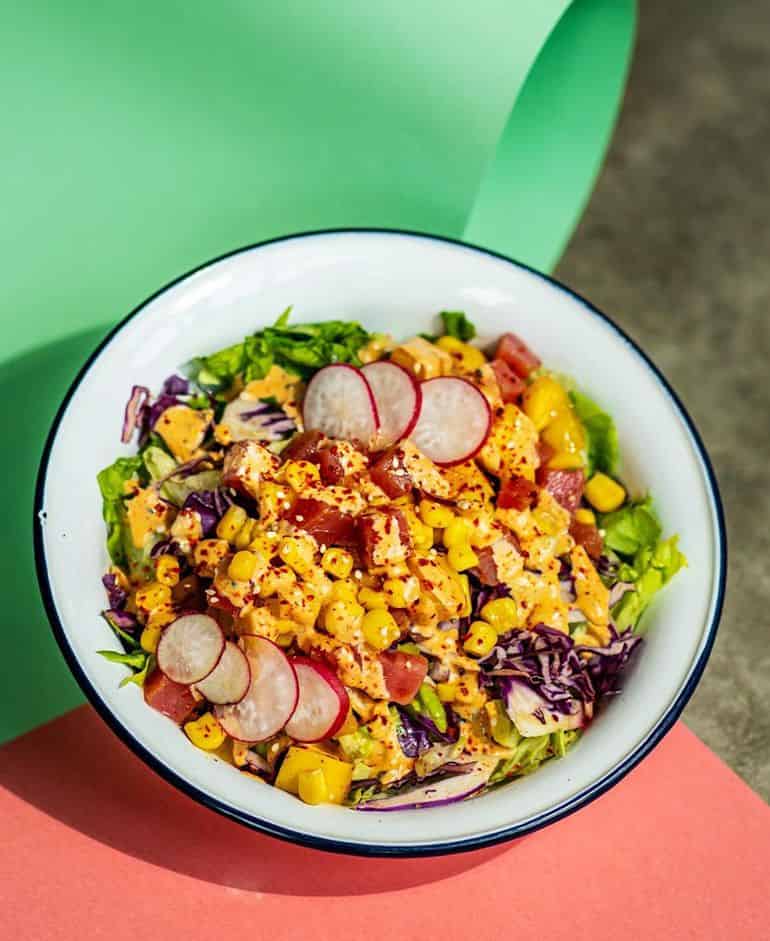 Pricing: from RM13–34
Phone number: 012-780 0270
Opening hours: Monday–Sunday: 9am–6pm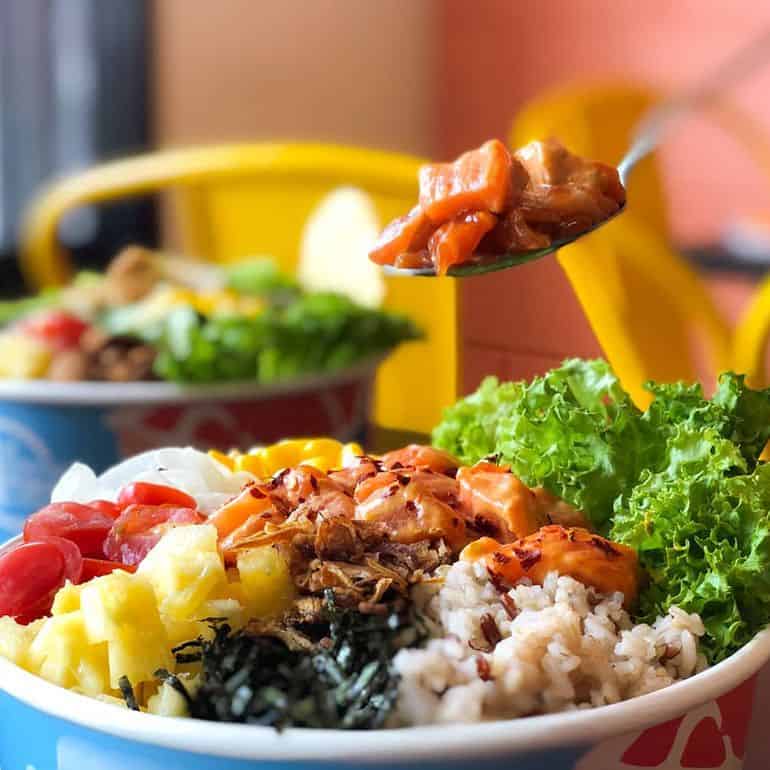 One of KL's longest-standing poke joints, The Fish Bowl kicked off in 2016 and now has branches all over the city. Choose between building your own bowl or pick something from the extensive menu. You won't go wrong with the Aloha Salmon, featuring shoyu salmon, cucumber, pineapple, furikake and The Fish Bowl's famous garlic sauce. If you're building your own, choose from a vast range of proteins: salmon, of course, but also tuna, garlic shrimp, honey-and-herb chicken, soft shell crab, tofu and unagi teriyaki. Add plain white or brown rice as a base, pump it up with pesto, or set aside the rice for quinoa or soba instead. Then there are the 15 fruit, nut and vegetable sides (pick four), a spread of 13 toppings, and an option for a premium add-on (we highly recommend the salmon skin!). 
Pricing: from RM11.90–35.90
Phone number: 03-7620 2279
Opening hours: Monday–Sunday: 10am–10pm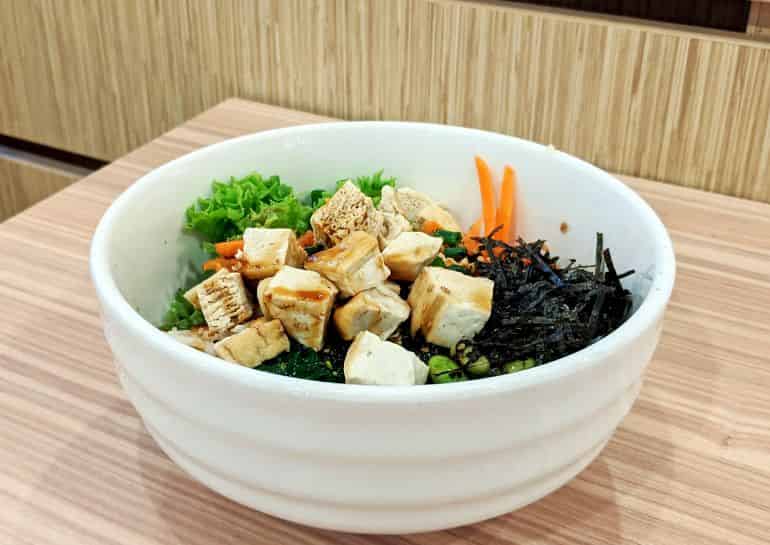 If you are looking for a poke bowl you can customise, Poke Lab is where to head. Start with your choice of protein: soy or spicy salmon, chicken, octopus or the vegan option: tofu. Then go mad with the choices: do you want a base of white rice, brown rice or salad? Are you dressing it up with sesame miso sauce or spicy mayo? Then add a choice of 10 different vegetables and add-ons (including kimchi), an unlimited choice of 12 different toppings (a generous crunchy sprinkle of fried garlic chips, flax seeds and furikake is best in our book). Throw in a boiled egg or an extra serve of protein if you need the gains.
Pricing: from RM14.90–18.90
Phone number: 012-962 1760
Opening hours: Monday–Sunday: 10am–10pm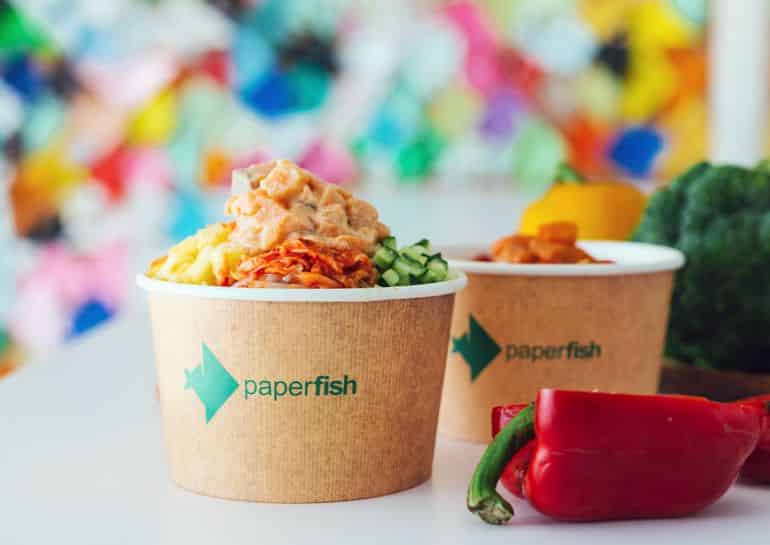 TTDI's number one poke spot is a local favourite thanks to a variety of fresh seafood. As you'd expect, there's salmon, in four different flavours. The bestseller here is the spicy version, tossed with sriracha, Kewpie mayonnaise and a spritz of lemon juice, but you can also find classic shoyu, citrus or miso wasabi. Then there's tuna, for the poke purists, in chili or shoyu; two different kinds of shrimp (we can recommend the grilled shrimp served with mango salsa); grilled chicken or, if you want to go veggie, avocado. Each can be customised with your choice of base: white rice, brown rice, greens or quinoa; accompanied by a host of sides, and unlimited toppings.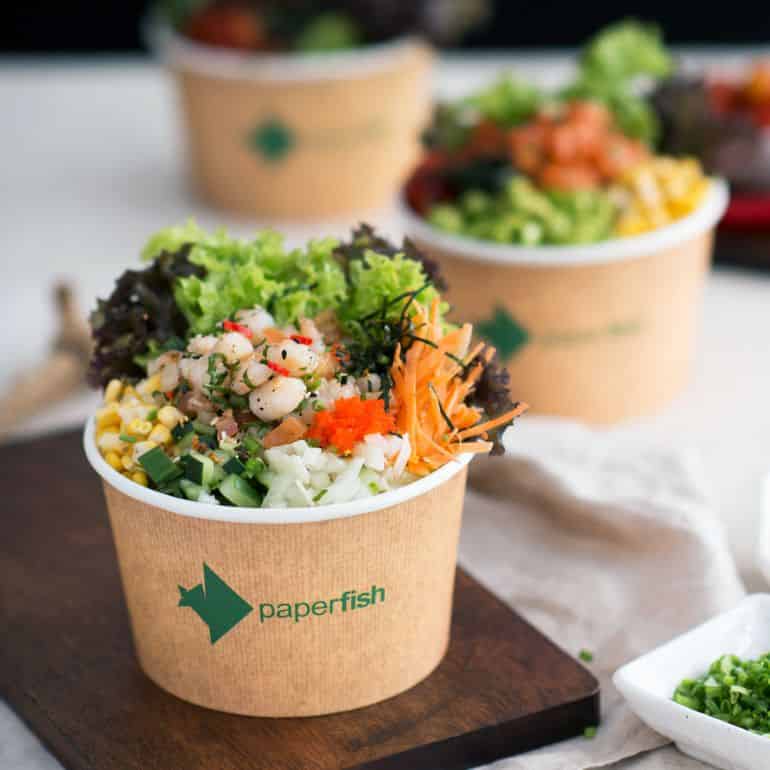 Pricing: from RM6–28.50
Phone number: 03-2385 0007
Opening hours: Monday–Sunday: 10am–10pm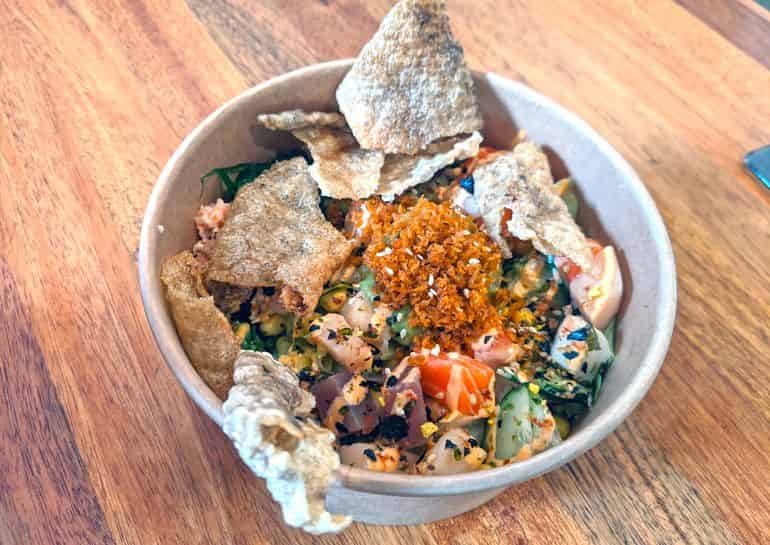 Eatomo specialises in Japanese-influenced rice bowls of all kinds, but their poke menu is where it's really at. If you're a fan of a classic poke-style bowl (with a hint of chirashi), try the California Poke Bowl, with its colourful selection of salmon, yellowfin tuna and butterfish sashimi, tossed in house marinade and dressed with guacamole. You could get the same with just salmon, or really push the boat out and try something special: Eatomo's signature Pokelantan Bowl, which brings Malaysian flavours to the mix. Salmon, yellowfin tuna and butterfish are all tossed in a zingy chilli padi and lime juice marinade, topped with crispy salmon skin and toasted coconut. Eatomo even has a cooked salmon poke-style bowl, for those who don't like their fish raw. 
Pricing: from RM5.30–41.90
Phone number: 03-2303 1608
Opening hours: Tuesday–Sunday: 11.45am–10pm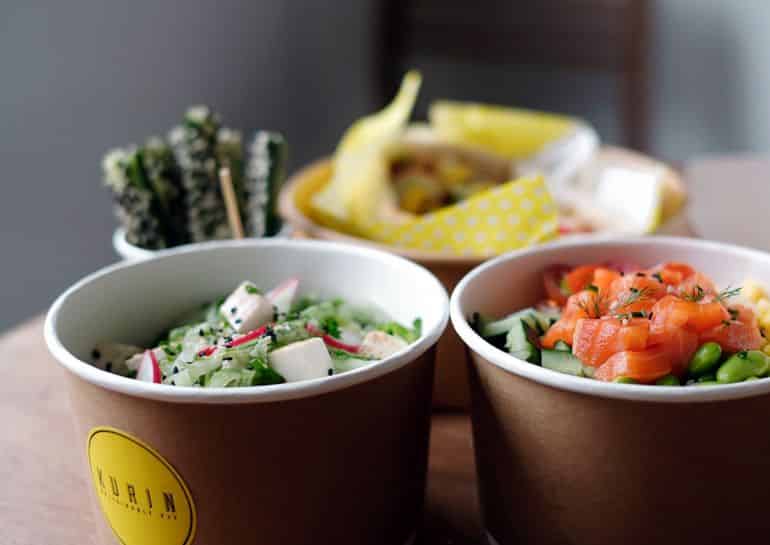 Kurin has taken the concept of poke bowls — fresh ingredients, a colourful mix of fruit and vegetables, and zingy sauces — and ran with it. It's not just about the raw fish here; you can also choose salmon glazed with teriyaki sauce, punchy kimchi chicken, mushroom chicken, or even torched tofu or mushrooms for the vegetarians. Choose your own base of white rice, brown rice, salad or quinoa, then add a silky onsen egg or crispy salmon skin to complete the meal. If you're just after a grab-and-go, pick up one of their salad boxes (the Torched Tofu and Goma Salad is good!).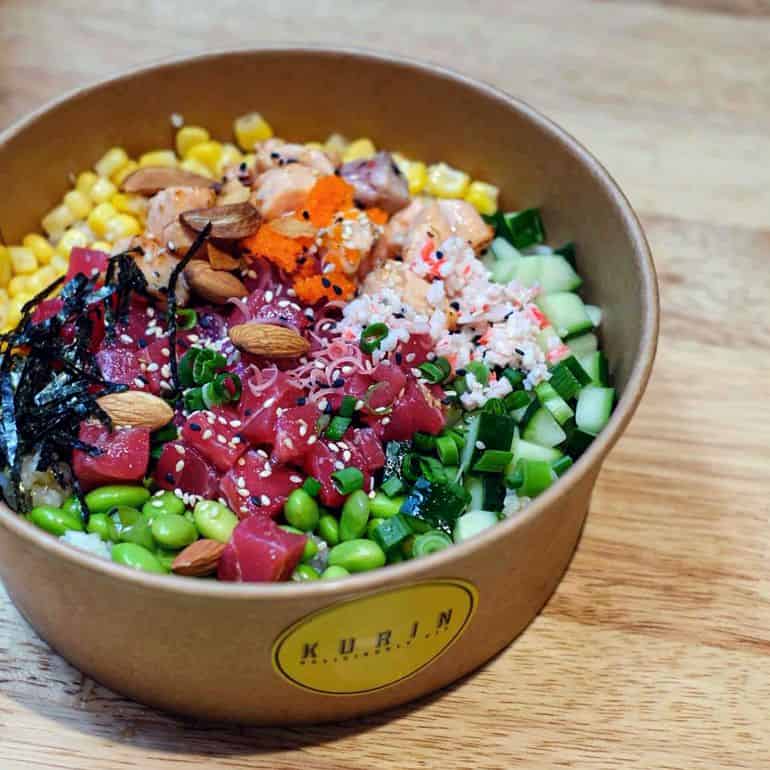 Pricing: from RM4.90–24
Address: Lot 5.10, Nu Sentral, No. 201, Jalan Tun Sambanthan, Brickfields, 50470 Kuala Lumpur
Phone number: 018-403 1866
Opening hours: Monday–Sunday: 10am–10pm

HUNGRY FOR MORE?
Breakfasts in KL for every mood, from kopi to brunch vibes
Cool cafes, local gems and a durian fest in TTDI
In the mood for Thai?
Or are you all about dessert?