More than any other dish, Yee Sang has come to represent Chinese New Year in Malaysia. It's a dish that is so much more than the sum of its parts, and whether thrown together in a takeaway box or piled high at a banquet table, Yee Sang is the one CNY dish that signals the beginning of the year's festivities.
So, it's a Malaysian dish, right?
There's much dispute over the origins of Yee Sang; both Malaysians and Singaporeans have laid claim to the CNY dish, though Singaporeans call it yu sheng. Some attribute it to Chinese settlers in the port of Malacca, who were too poor to put together a multi-course menu of elaborate Chinese New Year dishes, instead creating a colourful salad from the ingredients and vegetables that were available to them. Others attribute it to an enterprising caterer named Loke Ching Fatt, who took the less popular yu sheng dish of raw fish and turned it into the colourful extravaganza we know it to be today.
However it came to be, the beauty of Yee Sang is that it can be as simple or complicated as you desire. Essentially, it's a salad composed of fresh and preserved vegetables, livened up with crackers, crunchy seeds, sweet and salty sauces, and a festive plume of spices. The "yee" in its name is the Cantonese word for fish, which can also be interpreted to mean prosperity (the reigning theme of Chinese New Year). "Sang" denotes that the fish must be raw, and also holds a double meaning: to grow or prosper. Thus, taken together, "Yee Sang" means growing prosperity, hence its number-one spot amongst Chinese New Year food.
How to do the prosperity toss
Custom dictates that Yee Sang must be first served as a composed salad, with each of its ingredients separate and distinct from the others. At its base, Yee Sang is made up of a number of ingredients included for the significance of their Chinese names, and may include: cucumber (signifying returns); papaya (meaning the best returns — do you see a pattern here?); pomelo (good luck); white radish (rising fortunes); sesame oil (good fortune for the year) and crackers (land full of gold). Different households and restaurants will add their own twist on the dish, with more fresh vegetables and fruit, and premium delicacies.
Once the Yee Sang is on the table, it's customary to add the oils, sauces, spices and crackers as a final flourish, uttering statements of good intentions and blessings as you do so. These are often formal, traditional sayings in Mandarin. An easy one is "nián nián yǒu yú" as the fish goes in; it means "always have more than enough". Or try "tián tián mì mì" as the plum sauce is drizzled, meaning "may your life be sweet like honey". Or throw in your own — anything pertaining to good fortune, wealth and health is a sure win.
The higher, the better!
Then the real fun begins, as diners around the table lift their chopsticks and toss the Yee Sang together; this part is also known as "lou sang" — "lou" means to toss. If you've ever been told not to play with your food, that rule does not apply here — for Yee Sang, the higher you toss the salad, the better. Good elevation is a sign of good luck for the year ahead, so toss the Yee Sang as high as you can, and don't worry about the mess — some believe the messier the table, the better! Now's also the time to slip in your own wishes for the year ahead, whether that's more money (of course), a promotion at work, a fun holiday getaway, or a new development in your love life. Yell them out while tossing, and hope the Yee Sang does its magic.
Now that you know how to do it, here are five fun takes on the Yee Sang tradition that you can find around KL.
Prosperity Yee Sang at La Juiceria Superfoods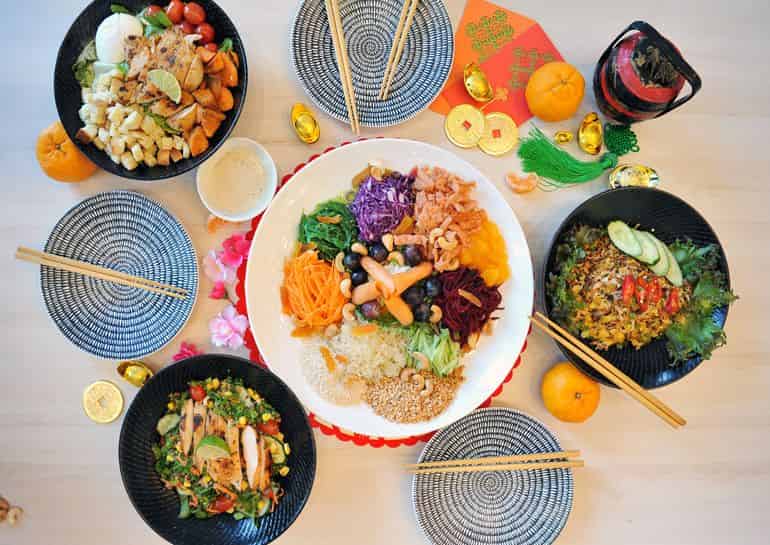 La Juiceria Superfoods is our go-to place for nutritious, flavour-packed meals. With its focus on nutrient-dense ingredients and vegetable-forward dishes, it's no wonder its Yee Sang is spiked with superfoods aplenty. Antioxidant-packed red cabbage, shredded kale and beetroot lend crunch to the dish, while grapes and dried apricots add a fresh, fruity twist. The final flourish: crunchy cashew nuts and savoury smoked salmon.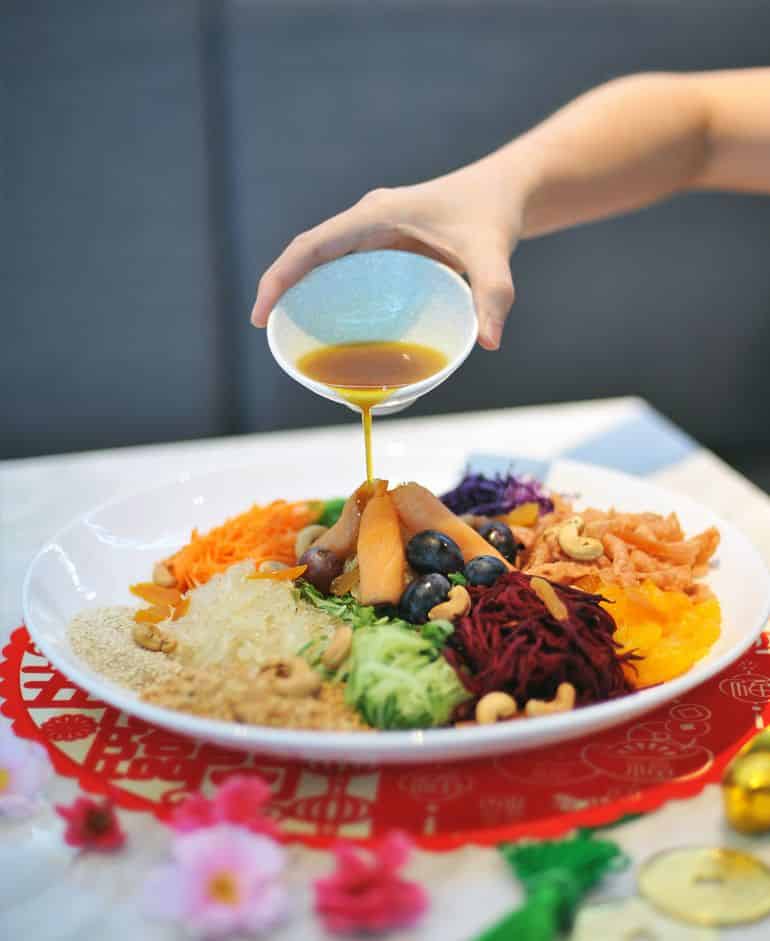 Pricing: from RM50.88–72.08
Phone number: 03-2303 0921
Opening hours: Monday–Sunday: 8am–10pm
Prosperous Yee Sang at The Fish Bowl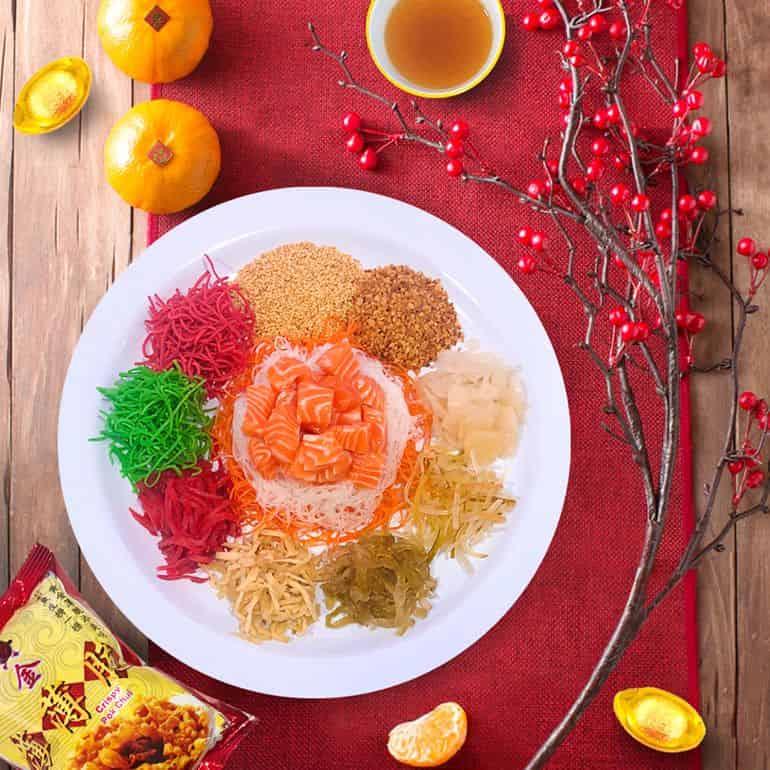 You know The Fish Bowl is going to do Yee Sang well — its whole menu is built around super-fresh poke bowls and salads. For its take on Yee Sang, The Fish Bowl has gone classic, incorporating the traditional ingredients but with a generous heaping of chunky-cut salmon sashimi on a bed of finely sliced carrot and white radish.
Pricing: RM72.08
Phone number: 03-7620 2279
Opening hours: Monday–Sunday: 10am–10pm
Jelly Fish and Vegetables Yee Sang at Dragon-i [non-halal]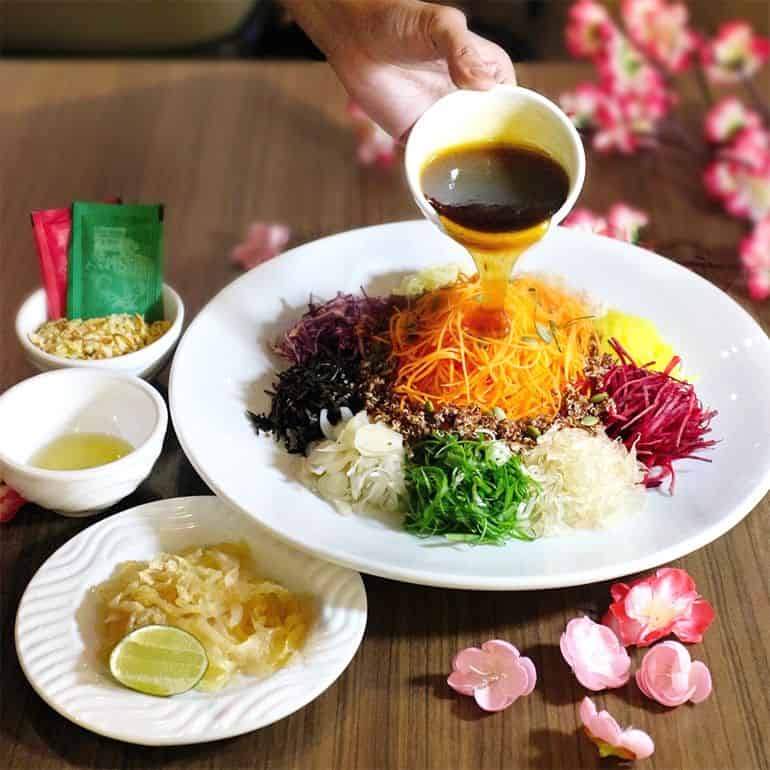 Dragon-i is a multi-generational favourite among families, with an expansive menu inspired by the cuisine of Shanghai, Szechuan, Beijing and Lanzhou. It makes sense then, that its Yee Sang this year observes all the traditions, incorporating all the ingredients you expect, with a luxe topping of crunchy jellyfish.
Pricing: RM68
Phone number: 03-2282 0155
Opening hours: Monday–Sunday: 11am–10pm
Prosperity Yee Sang at Sushi King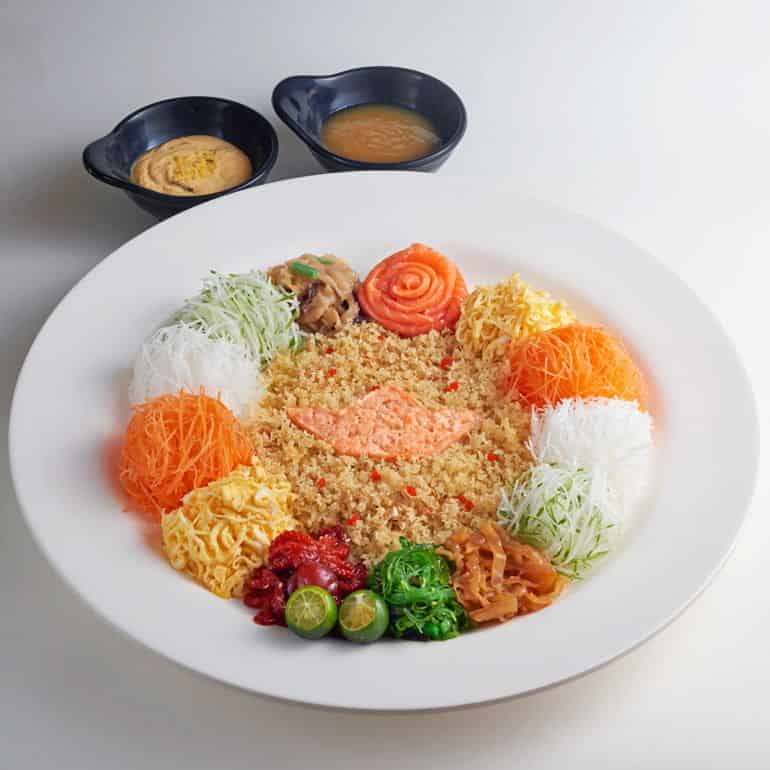 You may be surprised to find Yee Sang at a sushi restaurant, but old faithful Sushi King has become known for its Yee Sang offerings at Chinese New Year. This time, the dish takes on a slightly Japanese influence with ribbons of egg, vibrant red octopus, pickled seaweed, and fine slices of Norwegian fjord trout. If you're watching your calories (though is there any point at Chinese New Year?) Sushi King even provides you with a calorie count for each serving.
Pricing: from RM17.97–68.88
Phone number: 03-7731 0415
Opening hours: Monday–Sunday: 10am–10pm
Abalone Yu Sheng at Din Tai Fung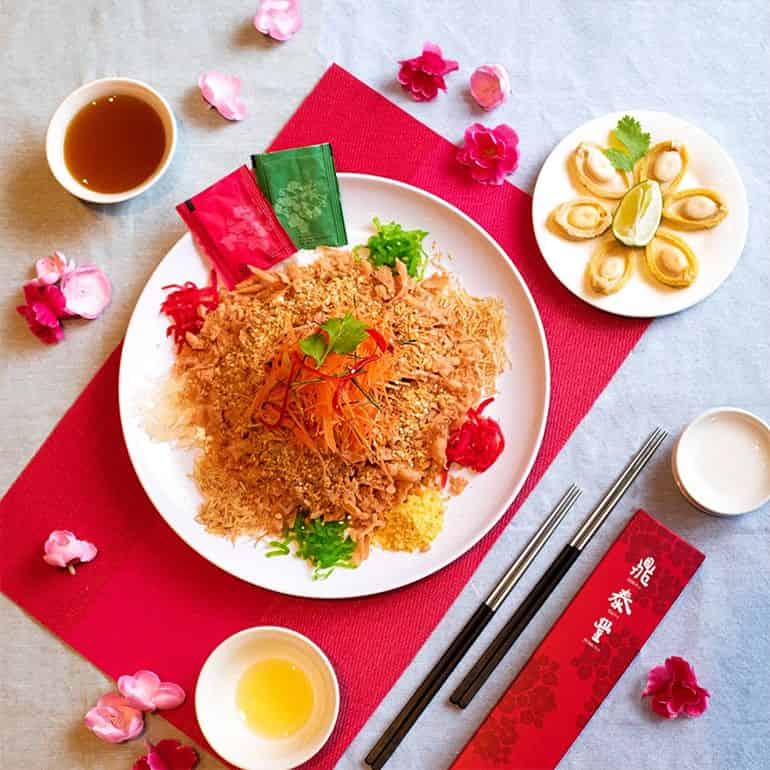 This Taiwanese restaurant chain is a firm favourite among Malaysians, and not just for its famous xiao long bao. This year, Din Tai Fung has a special take on Yee Sang, featuring abalone. The prized seafood is significant for its meaning in Chinese: "guaranteed abundance and vigour". And if abalone alone is not enough for you, there's also an option to add smoked salmon to your Yee Sang.
Pricing: from RM93.28–135.68
Phone number: 03–2283 2292
Opening hours: Monday–Friday, Sunday: 10am–9.30pm; Saturday: 10am–9.45pm
HUNGRY FOR MORE?
Great breakfasts in KL for every mood
Amazing Italian that goes beyond pizza
From the gourmet to the OTT, check out our fave burgers
Or keep it fresh and light with a poke bowl