As long as you are in residence of the Southeast Asian countries of Singapore, Malaysia or Indonesia, Nasi Lemak is considered a universal language. It is a Malay dish, but what sets it apart from the common rice is that the rice is cooked in coconut milk and pandan leaves. This gives the very fragrant smell and sweetness when you taste it. Any type of meat can complement this dish, with fish and fried chicken being the more common ones. Lastly, every Nasi Lemak dish is completed with a spicy Sambal sauce on the side to bring another dimension to this dish. What makes this dish better is to be able to enjoy it in the comfort of your home or office, without needing to queue in the sweltering heat. Here, we have 5 Nasi Lemak Restaurants available with Delivery Service in Kuala Lumpur for you to try on your next meal.
Ajoy Nasi Lemak is located at Wangsa Maju and this no-frills service serves up authentic Nasi Lemak in Kuala Lumpur! With their fragrant rice as a base, there are 7 choices of protein to complement the meal. Each selection of protein is freshly cooked and has different textures to suit your palate. If you are looking for something crispy, be sure to try out the traditional Nasi Lemak Ayam Goreng, which includes the crispy fried chicken with crispy chicken bits around. Looking for something really spicy? The Nasi Lemak Ayam Cili Padi is a must try with chilli cooked along with the chicken for the ultimate spice challenge. Seafood lovers are not left out too! With the Nasi Lemak Sotong, the chewiness of the sotong accompanied with traditional marinade would blend well with the aromatic smell of the coconut-infused rice.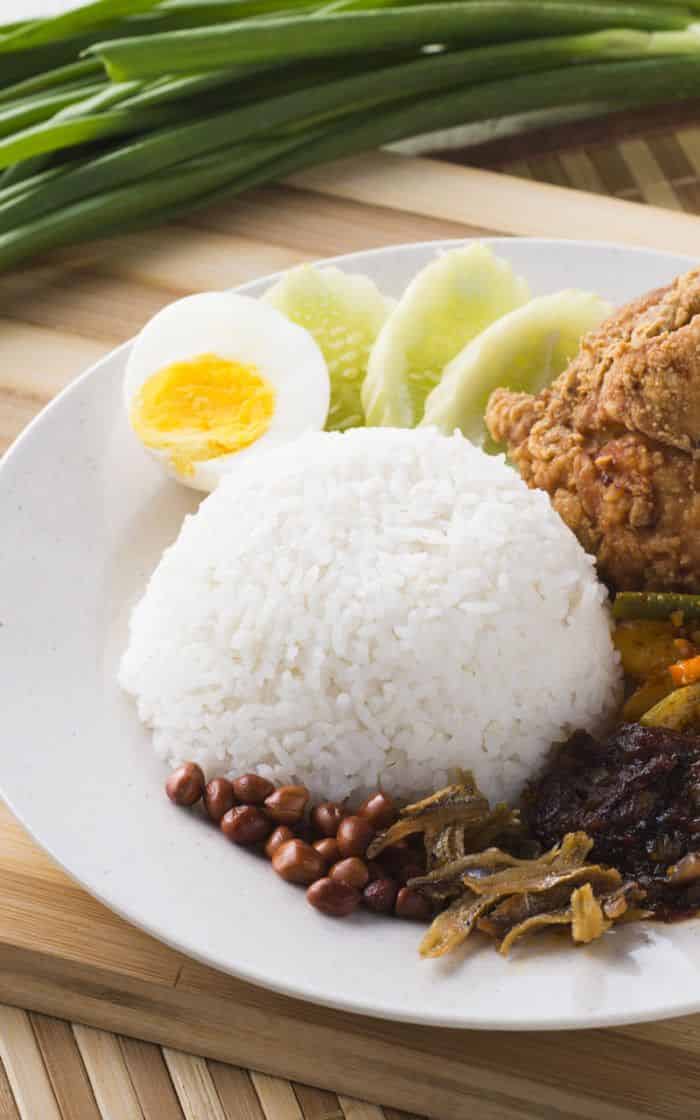 The Subang Jaya area has so many Nasi Lemak stores, and it can be tough choosing a store among so many different options. According to the owner, Nasi Lemak Kukus SS12 has been operating for almost 20 years with so many good reviews from their satisfied consumers. Like most Nasi Lemak stalls, there is the coconut rice, anchovies, egg and cucumber with a side of sambal. Here is where it gets interesting, as you can add your protein from a variety of choices. From Telur Goreng to Ayam Rendang, the choice is endless! We recommend the Nasi Lemak Kukus Daging Rendang, as the perfectly marinated beef rendang packs a savoury taste with every bite. For those looking for something different, the Petai Prawn and Squid (Udang Masak Petai) is highly recommended as well. The prawns are cooked to perfection where you can taste the springiness of the meat and the smell of petai does not overpower the sambal. The squid's texture was surprisingly tender and complement very well with the sambal that it was cooked with. You can choose your mains like fried chicken and add on different sides like Beef Rendang or Sambal Sotong for the most delightful meal ever.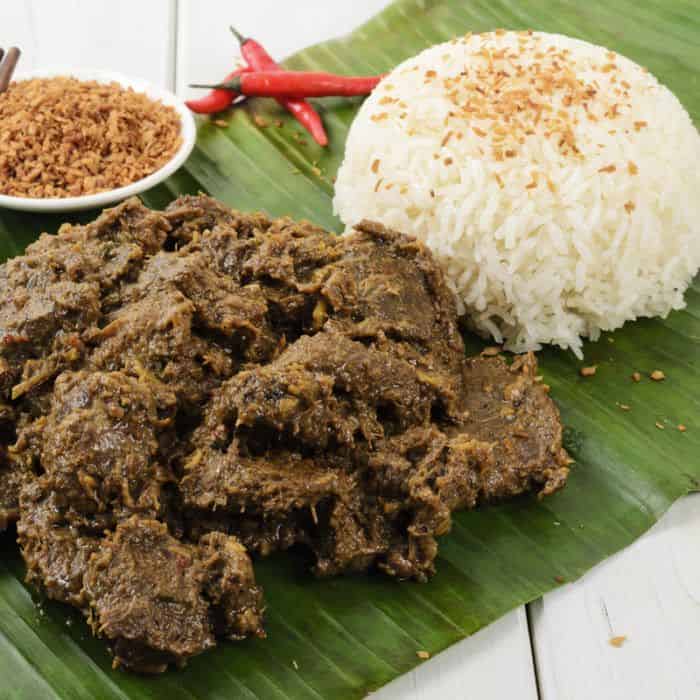 Nasi Lemak Goreng Chef Fauzey
This Nasi Lemak store located at Petaling Jaya Old Town serves up all things fried! This is a no-frills selection with only 3 items available on their menu. The Nasi Lemak Goreng is their main selection, where the name essentially means fried nasi lemak. They fry their rice with homemade sambal sauce to give this stall's nasi lemak an extra kick with the sambal infusion. Their Nasi Ayam Goreng is added on with Ayam Goreng (fried chicken) that is double-fried for the crispiness on the outside and moist on the inside, cucumbers and a soft boil egg. Although this stall is perfect for spicy lovers, they also offer the regular Nasi Lemak Kukus which is equally as delicious.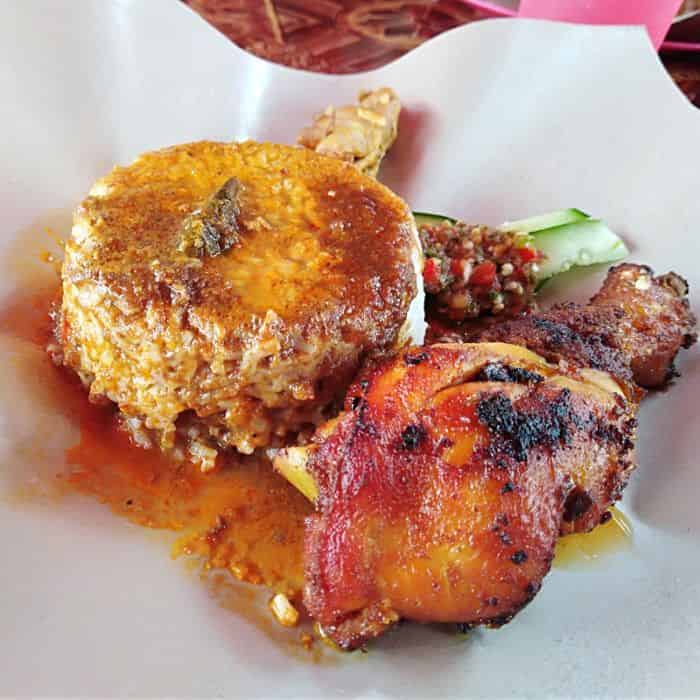 Located at MyTown Shopping Centre, Kaki Makan's local fare selections would be sure to please you. They have a variety of food available from Steamed and Toast Bread to their Nasi Lemak Specialty. Kaki Makan's nasi lemak is served with fragrant rice, cucumber, Ikan bills, peanuts, keropok and homemade achar. That's not all, you can still choose from 7 different combinations for our protein choice. If you are looking for a place that serves Kampong Chicken where the meat is more tender, the Kampong Rendang Chicken Nasi Lemak is for you as the succulent chicken is slowly braised in aromatic Peranakan-style curry. A perfect combination of coconut infused rice. If you are looking for something spicy, the Homemade Sambal Chicken Nasi Lemak is coated with sweet and spicy sambal chilli with a hint of zesty lime. The Sambal Cuttlefish Nasi Lemak has flavourful sweet and spicy sambal chilli coated cuttlefish. A definite must-try is the Crispy Fried Lemongrass Chicken Nasi Lemak. This top-seller includes a deep-fried chicken, which is marinated with lemongrass, for that extra crisp. After so many choices available, if you are still confused, opt for their Signature Nasi Lemak where it is packed to the brim with ingredients like lemongrass chicken thigh, grilled beef satay and sambal cuttlefish! Talk about a huge serving!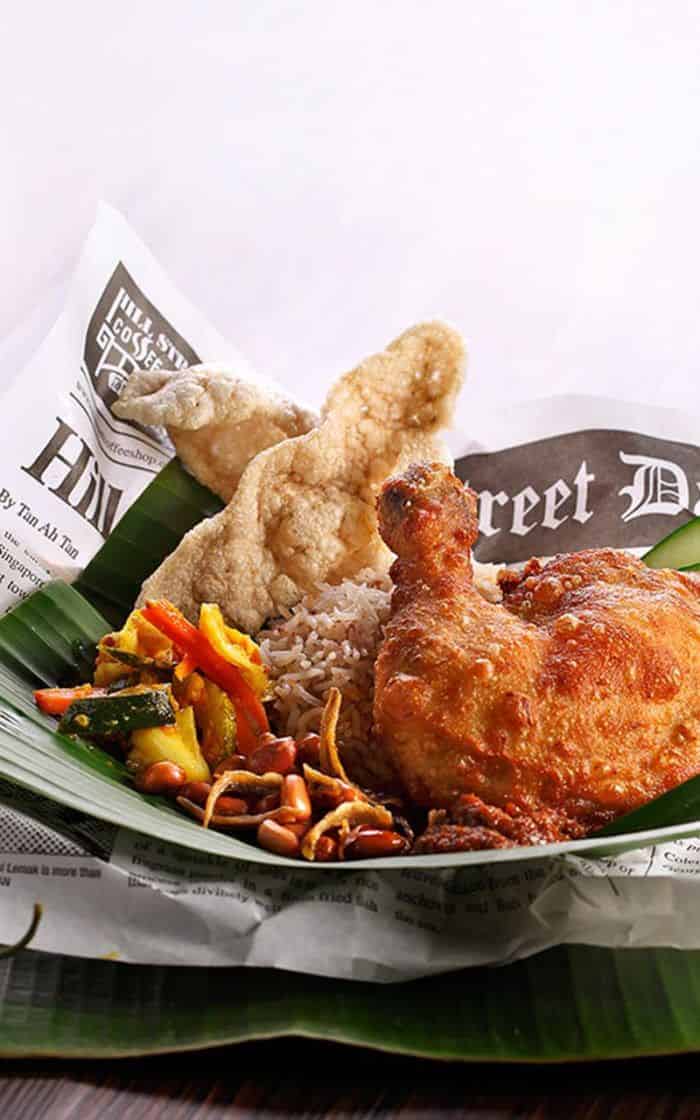 D'Naim Nasi Kukus can be found along Jalan Pantai Dalam and has been reviewed highly among the locals. They have 3 different choices on the menu, the Nasi Kukus Ayam Biasa, Nasi Kukus Ayam Dara and Nasi Ayam Kicap. The chicken are freshly fried every hour with their own special recipe to ensure tenderness and juiciness. Their homemade spicy 'kuah' curry is also a vital part to their Nasi Lemak and it is generously served all over the soft steamed rice. When the deep fried chicken, rice and curry are put together alongside with spicy sambal and some rempah, every bite will leave you wanting more. For convenience, you can also order your favourite drink like Iced Tea or Ice Milo to complement this delicious meal.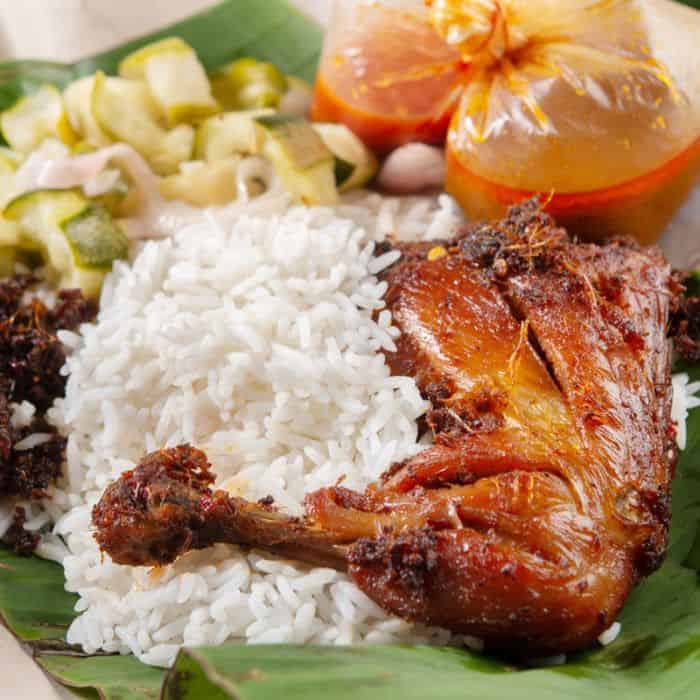 Nasi Lemak is universally agreed to be a national dish of Malaysia and it's something that we can be really proud of. What makes it better is the fact that you can now enjoy these delicious Nasi Lemak stalls in the comfort of your home thanks to GrabFood's nasi lemak delivery! Open your GrabFood app and start ordering Nasi Lemak for your next meal today!
The images used are for illustration purposes only*
Get the story behind Malaysia's fave CNY dish, where to find the best Yee Sang and how to do the prosperity toss right.
Read More »
Where to find the freshest, tastiest poke bowls in KL — from tuna to tofu.
Read More »
Looking for the best street food in KL? Get into these delicious international faves, right now.
Read More »