GrabShare Launches New Enhanced Option for Better Matched Rides
Passengers get better visibility of commute time and more affordable fares
Grab Driver-partners will enjoy optimised earnings
Enhancements were developed based on driver-partners' and passengers' feedback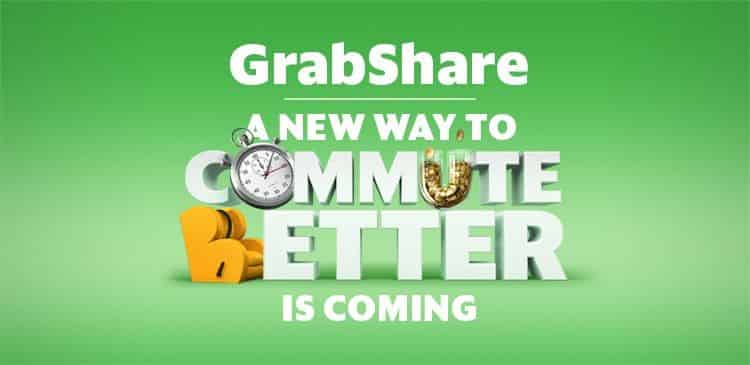 SINGAPORE – 1 July 2019 – Grab, the leading super app in Southeast Asia, announces enhancements to GrabShare, its on-demand commercial carpooling service in Singapore today. Passengers can look forward to a more affordable option that will take up to five minutes to match their rides upfront, while Grab driver-partners' will enjoy optimised earnings. Created with passengers' and driver-partners' feedback in mind, the new option will also come with an "Estimated Time to Destination" feature that provides passengers with the approximate time that they will arrive at their drop-off points prior to booking a ride. The enhancements will roll out progressively from 8 July. 
GrabShare was first launched here in December 2016 and has seen a 20% growth in number of rides since the end of 2018. In a study conducted by Grab in May 2019, 83% of respondents agreed that GrabShare is a budget-friendly option that takes away the hassle after a long day at work. 
"We believe GrabShare is a good fit for commuters who typically spend more than 40 minutes on public transport and have to make at least one transfer. The new GrabShare option will provide greater value to these commuters with a more affordable and comfortable journey," said Yee Wee Tang, Country Head of Grab Singapore. "More importantly, the new enhancements were developed based on our driver-partners' and passengers' feedback. We hope to provide a better GrabShare experience to everyone."
GrabShare – Users to choose between two options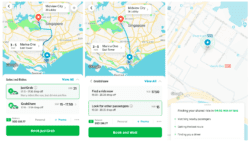 With the latest enhancement, GrabShare users can choose between two options when they book a ride. The first option matches passengers to their ride immediately, while the new option requires users to wait up to five minutes before they will be allocated their ride. During this waiting period, GrabShare's system will optimise travelling routes by matching passengers' rides with other parties upfront. With pre-matched pick-up / drop-off points and pre-planned routes, the new option will minimise detours for a more efficient and lower fare ride. Driver-partners will also benefit as it further reduces idle time and will provide more assured earnings. 
GrabShare continues to be a budget-friendly option for those who have some flexibility with time and do not mind sharing their ride with others. "Living in Pasir Ris, GrabShare gives me the flexibility for a more affordable and comfortable ride after a long day at work. While I encourage more people to carpool, people should understand that detours are part and parcel of using GrabShare, and they should be more patient with their drivers," said Marcus Ang, a 32-year old frequent GrabShare user. 
GrabShare's Best Practices: 
Don't keep your driver and fellow passengers waiting

: Your driver will wait for a maximum of 3 minutes, to ensure that there are no delays for the other passengers.

Two's company, three's a crowd

: You may bring

only

one additional passenger for your GrabShare ride. Do input the correct number of seats you need while making the booking.

Share a ride, and the fare:

All additional tolls and fares will be split between all passengers who are in the vehicle the moment it  passes the ERP / toll gantry.

Be gracious about seating arrangements:

If you are a party of two and there is a passenger already seated in the back seat, we encourage positive interactions to find a solution if you wish to be seated together. 

Be patient and have a good attitude:

The GrabShare algorithm automatically calculates the pick-up and drop-off sequence to provide the most optimised route for everyone. The ride may take a little longer, but you're guaranteed a cheaper fare.