Consumers & DriversSocial Impact & SafetyTech & Product
Grab to pilot GrabCare transport service for frontline healthcare workers
Grab will introduce a dedicated, round-the-clock, on-demand service to enable healthcare professionals to travel to and from hospitals seamlessly. This service will subsequently be widened to more participating hospitals.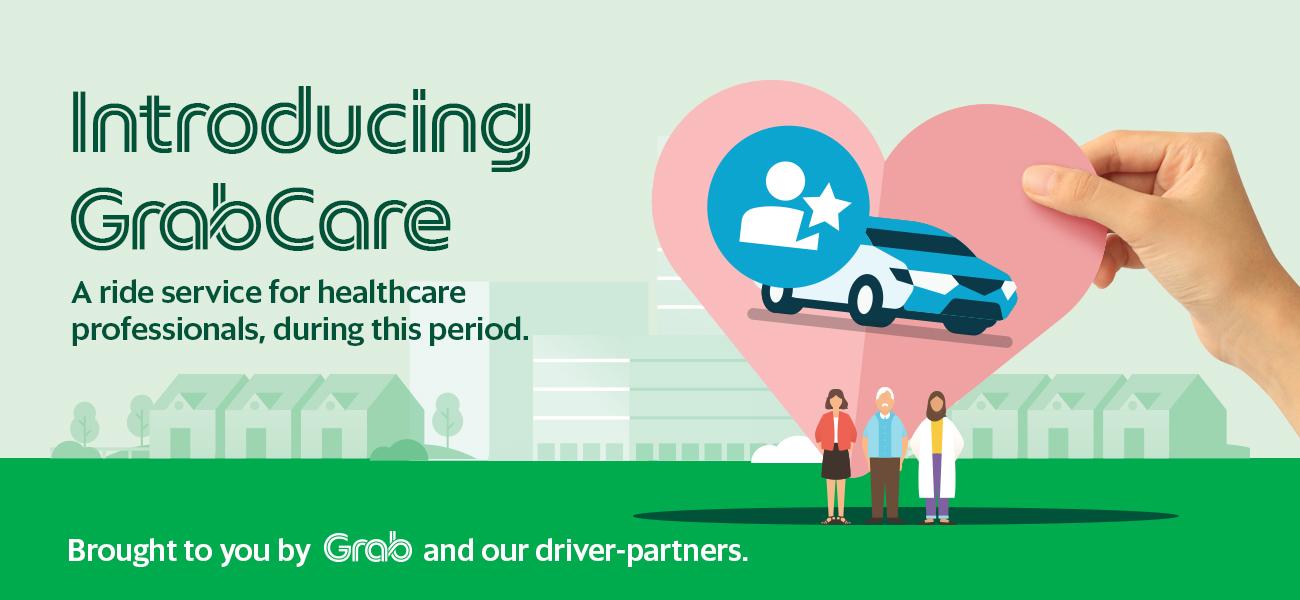 Singapore, 12 February 2020 – Grab today announced that it will introduce GrabCare, a dedicated, round-the-clock, on-demand service to enable healthcare professionals to travel to and from hospitals seamlessly.
As part of a phased rollout, the new pilot service will start running on Friday for healthcare professionals[1] from the National Centre for Infectious Diseases (NCID) and Tan Tock Seng Hospital (TTSH). Professionals from these locations who have signed up for the GrabCare service will be able to book a ride back home via the GrabCare icon within the Grab app.
The service will subsequently be expanded to include rides from homes to hospitals, and widened to more participating hospitals.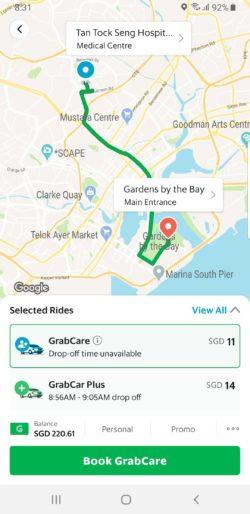 Screenshot of the GrabCare service on the Grab app
Healthcare professionals, whose quiet commitment to their duty often goes unrecognised, have been on the frontlines from day one. Grab aims to ease the burden of these healthcare professionals who may face increased difficulties in getting rides due to heightened public awareness of the novel coronavirus (COVID-19) situation.
GrabCare will be served by driver-partners who have voluntarily committed to providing on-demand transport services for healthcare professionals to increase their likelihood of getting a ride before and after their shifts. So far, about 2,000 Grab's driver-partners have signed up to be part of the service.
Yee Wee Tang, Country Head of Grab Singapore, said: "The tireless work and unwavering dedication of our healthcare workers to treat and take care of patients have inspired us and many of our driver-partners to do more. GrabCare is our small contribution to rally the community together to support our fellow Singaporeans in times of need, and ensure healthcare workers get a stress-free and hassle-free ride daily. We are also very grateful for our driver-partners for stepping up in such times and extending their service to these professionals."
Michael Lee, 54, a Grab driver-partner who has expressed interest to be part of the GrabCare service, said: "We can all play our part to overcome this challenge. I'm heartened by our healthcare workers who have had the courage to continue their battle against the virus, and we should stand together to do all we can to support them by giving them peace of mind when they commute."
Loh Shu Ching, Co-Chair Staff Wellness Committee, Tan Tock Seng Hospital, said: "We are heartened that organisations such as Grab have come forward to pitch in and support our healthcare workers who are at the forefront tackling the novel coronavirus. It is only when we look out for each other that we can collectively work towards overcoming these challenging times."
Mr Ang Hin Kee, NTUC Assistant Director-General and NPHVA Advisor, said: "I am inspired by the many Grab drivers who have stepped forward to provide their services for our healthcare professionals. I have spoken with Ms Thanaletchimi of the Healthcare Services Employees' Union, and she is very appreciative of this effort. I would like to encourage more in our driver community to join this movement to support our healthcare professionals, as they work tirelessly at the frontlines to combat COVID-19. Let us do more, and do together."
Since the announcement of the first confirmed novel coronavirus case in Singapore, Grab has put in place precautionary and support measures based on the DORSCON system, and raised the level of preparedness in accordance with guidelines from the Singapore authorities to better protect our community of partners and consumers.
This includes support packages for driver and delivery-partners, comprising vehicle rental waivers, a one-time allowance of up to $500, and incentive programme adjustments to mitigate the impact from any loss of income due to the quarantine period. More recently, Grab has temporarily suspended its GrabShare service to minimise instances of contact.
Grab will continue to monitor the situation closely and work with the authorities and the NPHVA to provide more assistance if required, in order to safeguard the health and safety of its community.
As communities band together to fight against novel coronavirus (COVID-19) in Singapore, Grab is inviting taxi and private-hire drivers to sign up for the GrabCare service via their Grab Driver App.
[1]Consumers will need to undergo verification to confirm their status as a local healthcare professional.