Consumers & DriversTech & Product
Grab Expands Grocery, Essentials Delivery Across Southeast Asia
Grab today announced the expansion of GrabMart into eight Southeast Asian countries, with Cambodia being the latest addition.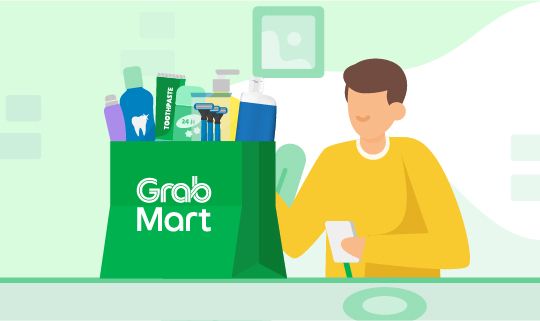 Expands to eight Southeast Asian countries and 50 cities in three months

Partners leading convenience stores, supermarkets and specialty stores in the region 

Onboards three traditional markets and opens digital fulfilment centres in Indonesia
SINGAPORE, 4 June 2020 – Grab, Southeast Asia's leading everyday app, today announced the expansion of GrabMart into eight Southeast Asian countries, with Cambodia being the latest addition. GrabMart scaled from two to eight Southeast Asian countries in three months and is live in 50 cities across Singapore, Indonesia, Malaysia, Vietnam, Thailand, the Philippines, Myanmar and Cambodia today.
GrabMart, which started as an on-demand daily essentials delivery service to support consumers during the COVID-19 pandemic, has partnered with over 3,000 stores in the region. They include leading supermarkets and convenience store chains like FairPrice Xpress, FamilyMart, Mahnaz Food, Maxvalu and Tops.
GrabMart provides consumers a convenient way to purchase a wide range of consumer goods including groceries, home essentials, health and beauty items, gifts, and much more. For merchants, GrabMart offers a new channel to reach an unprecedented number of consumers now making more purchases online.
"COVID-19 has accelerated the adoption of on-demand delivery services across Southeast Asia, and we were able to tap on existing technologies, our extensive delivery network, and operational footprint to quickly scale GrabMart across the region. In a post-COVID19 normal, we anticipate demand for delivery services to remain elevated. We will continue to double down on expanding our GrabMart service to support consumers' shopping needs," said Demi Yu, Regional Head of GrabFood and GrabMart.
From everyday essentials to everyday shopping
With GrabMart, consumers can shop and order from convenience stores, supermarkets and specialty shops, and have their items delivered in under an hour or at a scheduled time. In May, the most popular items sold on GrabMart by category were beverages, snacks, vegetables, pantry supplies and instant noodles.
GrabMart will push deeper into the groceries market and continue to expand its assortment to serve a growing number of consumers who enjoy the convenience of on-demand delivery. 
GrabMart offers:
1. A convenient way to shop for everyday essentials
GrabMart has partnered with leading convenience store chains in the region such as FamilyMart in Indonesia, the Philippines and Thailand, Cheers and Fairprice Xpress in Singapore, myNews.com in Malaysia, Lawson in the Philippines, and more. 
In Indonesia, Grab has also opened five digital fulfilment centers, GrabMart Daily, to meet increased demand for essentials delivery. GrabMart Daily, which is operated by Grab and supplied by Grab's own inventory, shortens fulfilment time by half. Consumers can get their items delivered to their door within 30 minutes. GrabMart Daily's assortment is built around online consumer needs, which comprises staple goods, cooking essentials, convenience items, packaged food and beverages, personal care products, among others.
2. A faster way to restock fresh produce and groceries
GrabMart has inked partnerships with popular supermarkets and hypermarkets such as Tops and Maxvalu in Thailand, Big C in Vietnam and Robinsons Supermarket in the Philippines. In Singapore and Indonesia, consumers can order fresh produce and premium meats from urban farmers and local suppliers.
GrabMart has also partnered nine traditional market operators in Indonesia and Malaysia to bring hundreds of their tenants online for the very first time. Traditional markets or farmers markets are where many locals visit to purchase fresh meat, fish, produce, and other perishable goods at affordable prices. By using the "Mix and Match" feature , Grab users can enjoy the convenience of purchasing from several traditional market stalls and have their purchases delivered as a single order to their door. 
As part of the onboarding process, Grab conducts online training to teach stall owners how to manage their produce to ensure freshness and how to manage their online storefront using Grab's merchant app.
3. A solution for urgent shopping needs
With GrabMart, consumers no longer have to stress about a last-minute run to the pharmacy, bookstore, or even to the florist. Grab has partnered with many specialty and mini-market stores such as Guardian in Indonesia and Malaysia, as well as XpressFlower in Singapore, offering an even greater variety of items to users on GrabMart. On the Mothers' Day weekend last month, GrabMart deliveries in Singapore reached an all-time high, with flower merchants on GrabMart delivering 7x more bouquets in total compared to Valentine's Day in 2020.
To access GrabMart, users can simply tap on the 'Mart" tile within the Grab app.