Grab to Promote Health and Occupational Safety Standards in Singapore
Grab is committed to creating a safer Southeast Asia and launches safety initiatives benefiting both consumers and driver-partners across the region
In Singapore, Grab works with various partners including the Health Promotion Board to improve safety and well-being for its driver-partners
It also commits to provide health screening to 1000 driver-partners in the first year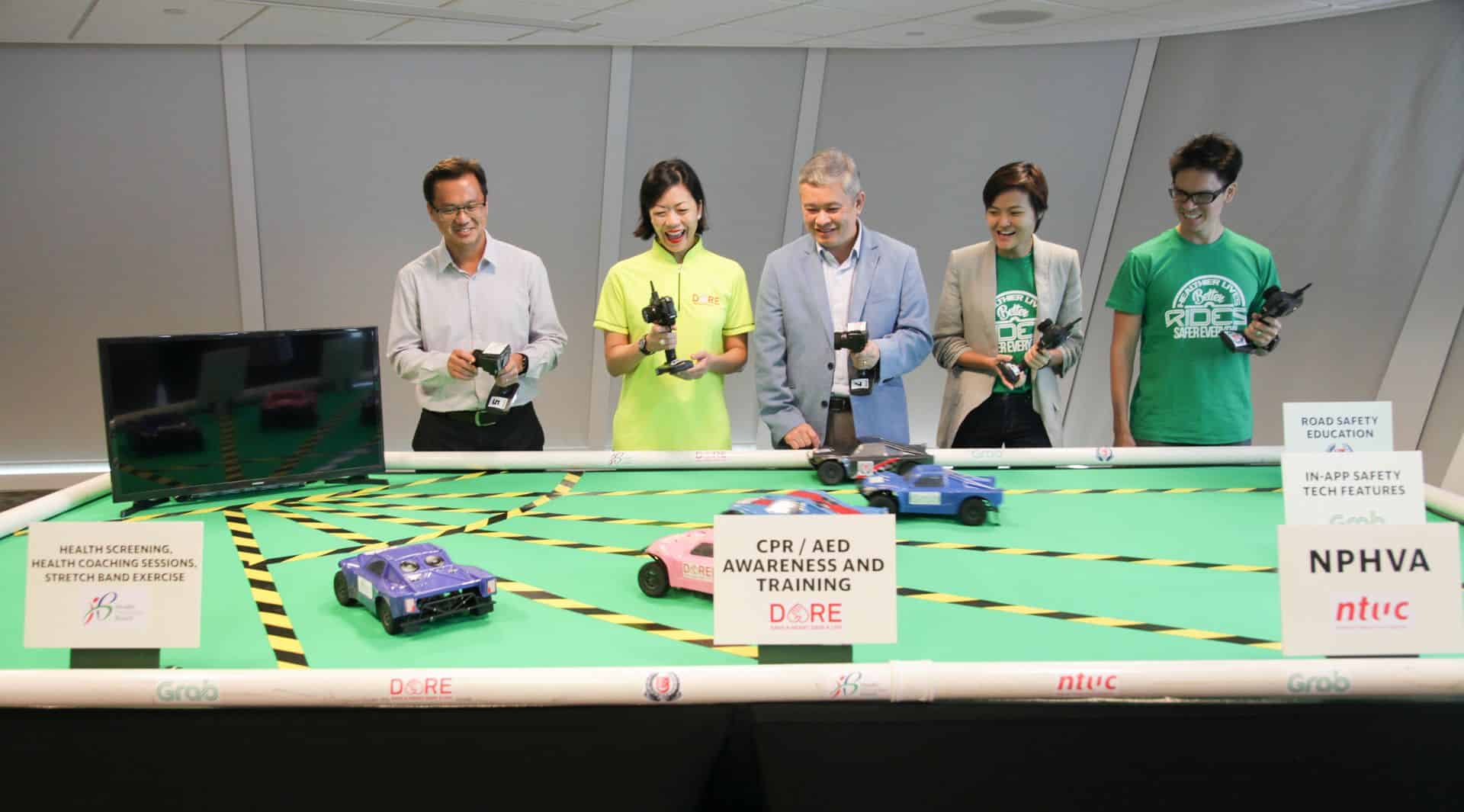 Singapore, 16 October 2018 — Grab today announces a region-wide commitment to create a safer Southeast Asia. In Singapore, the 'Safer Everyday' commitment will see Grab leading the way in advocating health and occupational safety for Grab driver-partners and delivery-partners, and more product innovations as Grab becomes Southeast Asia's most trusted everyday superapp.
To make Grab's Safer Everyday vision a reality, Grab has deepened partnerships with various government agencies in Singapore to promote health and occupational safety for driver-partners and delivery-partners. Key initiatives include a one-day Health and Safety Carnival for Grab drivers and delivery-partners held at The Star Gallery, including activities such as CPR/AED Awareness and Training conducted by the Unit for Pre-Emergency Care (UPEC) under the Ministry of Health to equip partners with important first aid skills and road safety education by Traffic Police. This is the first of a year-long series of occupational safety events, which include free health screenings and coaching sessions, and road safety training programmes.
On behalf of the National Private Hire Vehicles Association (NPHVA) and National Taxi Association (NTA) whose members are private hire drivers and taxi drivers respectively, Executive Advisor to the associations Mr. Ang Hin Kee, said, "We are heartened that Grab is proactively taking care of its driver-partners. Both NPHVA and NTA are supportive of such efforts which not only help raise the road safety standards in Singapore, but more importantly, the overall well-being of our drivers. The associations similarly encourage our drivers to stay active, eat healthily and rest adequately, so that they can continue to provide good services to our commuters."
While Singapore is widely considered a safe city, the underlying safety issues reflect local realities. People in Singapore work the longest working hours in general – an average of 45 hours per week, or 2,340 hours in a year[1]. When drivers are on the road for long hours, they may suffer from fatigue and lack of focus.
To improve health and occupational safety for Grab driver-partners, Grab, with support from the Health Promotion Board, will be providing health screenings and regular health coaching sessions on issues such as ergonomics risk factors, fatigue and stress management, and chronic disease management. Through the partnership, Grab aims to promote a healthy lifestyle among its driver-partners by providing them a more holistic healthcare and partner care programme. To be reviewed after a year, the first phase of health screening under the programme took place at the Health and Safety Carnival today.
"Many Grab drivers often sit for long hours at work, which can affect their health. We look forward to working closely with Grab so that the drivers can have access to regular health screenings as well as one-on-one health coaching sessions to encourage the adoption of a healthier lifestyle," said Mr. Simon Lim, Director of Workplace Health Outreach, Health Promotion Board.
Grab is also building a smart driver fatigue model that will automatically push out in-app messages to remind drivers to take a break when it detects that they are potentially tired. The algorithm will not only take into account the number of hours the driver has been on the road, but also includes telematics data, driver's profile, time of day, rest between shifts and total number of bookings accepted.
"Safety on the road begins with good health. We understand how draining it can be for our drivers and delivery-partners when they spend hours on the road to serve our consumers. By ensuring their well-being, we hope our drivers and delivery-partners can stay safe on the road so that they continue to have sustainable income-earning opportunities to improve their lives and provide for their families. We are glad to be working with partners such as the Health Promotion Board and the Traffic Police to advocate health and occupational safety in the transport industry," said Mr Lim Kell Jay, Head of Grab Singapore.
With GrabFood growing in popularity since its launch earlier this year, the number of delivery-partners who utilise Personal Mobility Devices (PMDs) and bicycles to do the food deliveries has also increased. To ensure that GrabFood delivery-partners are conscious of the space they share with other road users and pedestrians, Grab has partnered with Unique Speed, LTA's appointed training provider, to educate delivery-partners about the Active Mobility Act and Safe Riding Programme.
Lim added, "We recognise that more can be done to improve awareness of safe riding practices and promote proper code of conduct for riding and PMD usage in Singapore. As the number of cyclists and PMD users continue to grow in Singapore, we want to do our part to improve the safety of our delivery-partners and fellow commuters in Singapore."
Consumers interested to learn more about Grab's commitments and goals under the Safety Roadmap can visit www.grab.com/safety
### 
[1] Statistics from The Ministry of Manpower employment statistics released on 13 September 2018: http://stats.mom.gov.sg/Pages/Hours-Worked-Summary-Table.aspx