Consumers & DriversSocial Impact & Safety
Grab Singapore Announces Additional Measures to Support Partners and Consumers During Circuit Breaker Period
In view of stricter measures implemented to contain further spread of COVID-19, Grab Singapore announced today a series of additional initiatives to better support driver-partners, businesses and consumers who continue to use the platform during this period.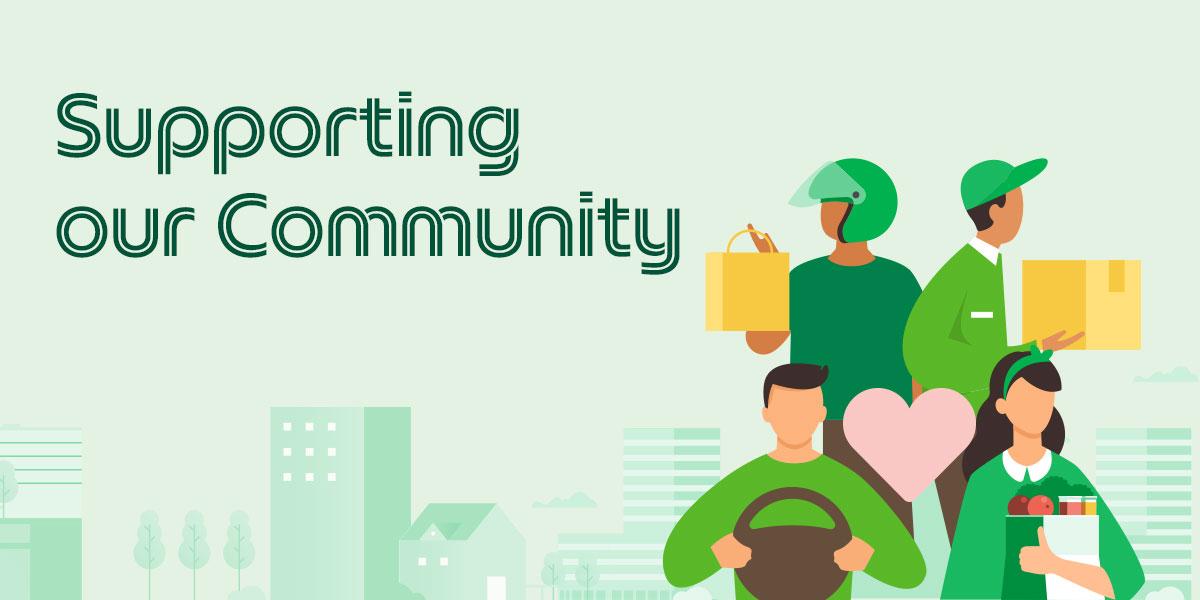 Singapore, 5 April 2020 – In view of stricter measures implemented to contain further spread of COVID-19, Grab Singapore announced today a series of additional initiatives to better support driver-partners, businesses and consumers who continue to use the platform during this period.
"We stand with fellow Singaporeans in this fight against COVID-19. Despite our efforts to help our community during these challenging times, our driver-partners and merchant-partners continue to face an uphill challenge to stay afloat. Grab's business has also not been spared from market uncertainties. We are hence adjusting consumer-facing services, as well as further offering partner support programmes to meet their needs to the best of our abilities," said Yee Wee Tang, Managing Director of Grab Singapore.
It was announced earlier that senior Grab leaders have taken a pay cut of up to 20 percent and Grab employees will make voluntary donations, which are matched dollar-for-dollar by the company, to fund part of the initiatives that will help the business and partners cope with the impact in Southeast Asia. In total, Grab has already invested close to US$40 million in assistance across the region. Of which, a significant proportion has been contributed in relief funding, subsidies and coverage for its community in Singapore to address the impact of COVID-19. Much of this is in partnership with the Singapore government, which has an extensive support package to help businesses and self-employed persons tide through this volatile period.
For driver-partners: Enhancing support during circuit breaker month
Since the beginning of the outbreak, driver-partners have seen a significant decline in ridership. With the latest circuit breaker measures, the demand for rides is expected to drop further. In view of this, Grab will introduce a series of additional initiatives to help driver-partners improve their cash position during this period.
From 6 April to 4 May 2020, Grab will reduce its upfront commission rate by 50% for all private-hire driver-partners. This will apply immediately for each ride, and without any qualifying criteria. The commission reduction will supersede the existing Super Steady programme, which will be paused during the same period.
Starting from 6 April to 30 May 2020, the number of Gems that driver-partners will need to accumulate to qualify for Grab Weekly Cover[1], a programme designed to supplement the Special Relief Fund for private-hire drivers, will be reduced from 80 to 50. This will enable driver-partners to continue to qualify for the programme despite decrease in transport ride demand.
From 6 April to 4 May 2020, driver-partners who rent their cars from GrabRentals can enjoy an additional 50% commission reduction. This means that GrabRentals driver-partners will pay 0% commission for the same period.
GrabRentals driver-partners will also receive a 30% rental waiver (of up to S$20/day) during the circuit breaker timeframe. In addition, they will be offered an option to defer 20% of their rental costs (of up to S$14/day) for the next six months until October 2020.
To broaden the earning opportunities for driver-partners, Grab earlier announced that it has partnered with the Land Transport Authority to expand its GrabExpress Car pilot programme to allow driver-partners to support food and parcel deliveries (except for weekdays 7am – 10am). To date, thousands of driver-partners have signed up and trained for the service, and are now serving over 10% of total food orders daily.
For merchant-partners: Accelerating digitalisation and enhancing visibility of local F&B outlets
Grab is working hard to onboard more local small and medium businesses onto its GrabFood and GrabMart platform. Besides listing on the platform, programmes have also been designed to build digital capabilities for many of these traditional merchants, as well as to help defray costs:
Zero commission rate for self pick-up: GrabFood will offer 0% commission for all self pick-up orders transacted from 7 April to 4 May 2020. This will aid F&B businesses which traditionally rely on walk-ins, and provide greater convenience for users who can order in advance and avoid queues if they choose to pick up orders from neighbouring stalls.
Start online business quickly on GrabFood & GrabMart: New merchant-partners will get to defer payment of their account activation fee, which starts from $100 and offset it via commissions from their first orders. Additionally, Grab has improved its current onboarding process such that F&B and GrabMart merchants can start receiving orders on the Grab platform within a shortened time frame. This is on top of Enterprise Singapore's Food Delivery Booster Package, which will see ESG fund five percentage points of the commission cost for all transactions, regardless of value from 7 April to 4 May 2020.
Help raise visibility of local F&B merchants on Grab: The company has been investing marketing resources to showcase smaller restaurants via the recently launched Local Heroes icon inside GrabFood. Local Heroes curates over 500 local establishments that are well-rated by Singaporeans and whose business have been impacted severely by the crisis.
Expand merchants' digital presence via Grab eMall: Grab will launch eMall to enable more merchants to list their vouchers for sale. Between 7 April and 4 May 2020, Grab will waive listing fees on Grab eMall. For a start, Frasers Property Retail has partnered with Grab to help increase their tenants' digital presence via Grab eMall with over 1,300 merchants that will get to enjoy this opportunity.
"We know that our merchant-partners, especially the smaller local establishments which may have limited resources, will feel the impact when the circuit breaker measures kick in this week. We hope that these new initiatives will provide immediate support to help improve their cash flow situation as well as help them to scale quickly and efficiently during this period," added Wee Tang.
For consumers: Supporting Singapore's circuit breaker campaign
During this period, all of Grab's transport and delivery services will remain operational. However, starting from 7 April, Grab will suspend GrabHitch to further reduce risk of exposure between driver-partners and passengers.
In addition, Grab will continue to implement and remind all partners to adhere to the government's latest advisories and hygiene practices. All consumers and delivery-partners are encouraged to opt for contactless deliveries. In line with the latest government's advisory, all driver-partners are also encouraged to wear a mask as they drive to stem the spread of the virus wherever possible.
[1]Eligible driver-partners under the Grab Weekly Cover programme can get up to $85 per week as long as they meet the criteria which includes the number of Gems earned. Gems are earned per trip, whereby 1 Gem is awarded per completed trip and 1 additional Gem is awarded during peak hour trips. For more details, refer to: https://www.grab.com/sg/grab-weekly-cover/