BusinessConsumers & DriversSocial Impact & Safety
Grab launches GrabAssist Plus, expanding its suite of transport services for persons with disabilities in Singapore
GrabAssist Plus allows persons with disabilities to travel to and from partnering healthcare institutions without dismounting from their wheelchairs throughout the journey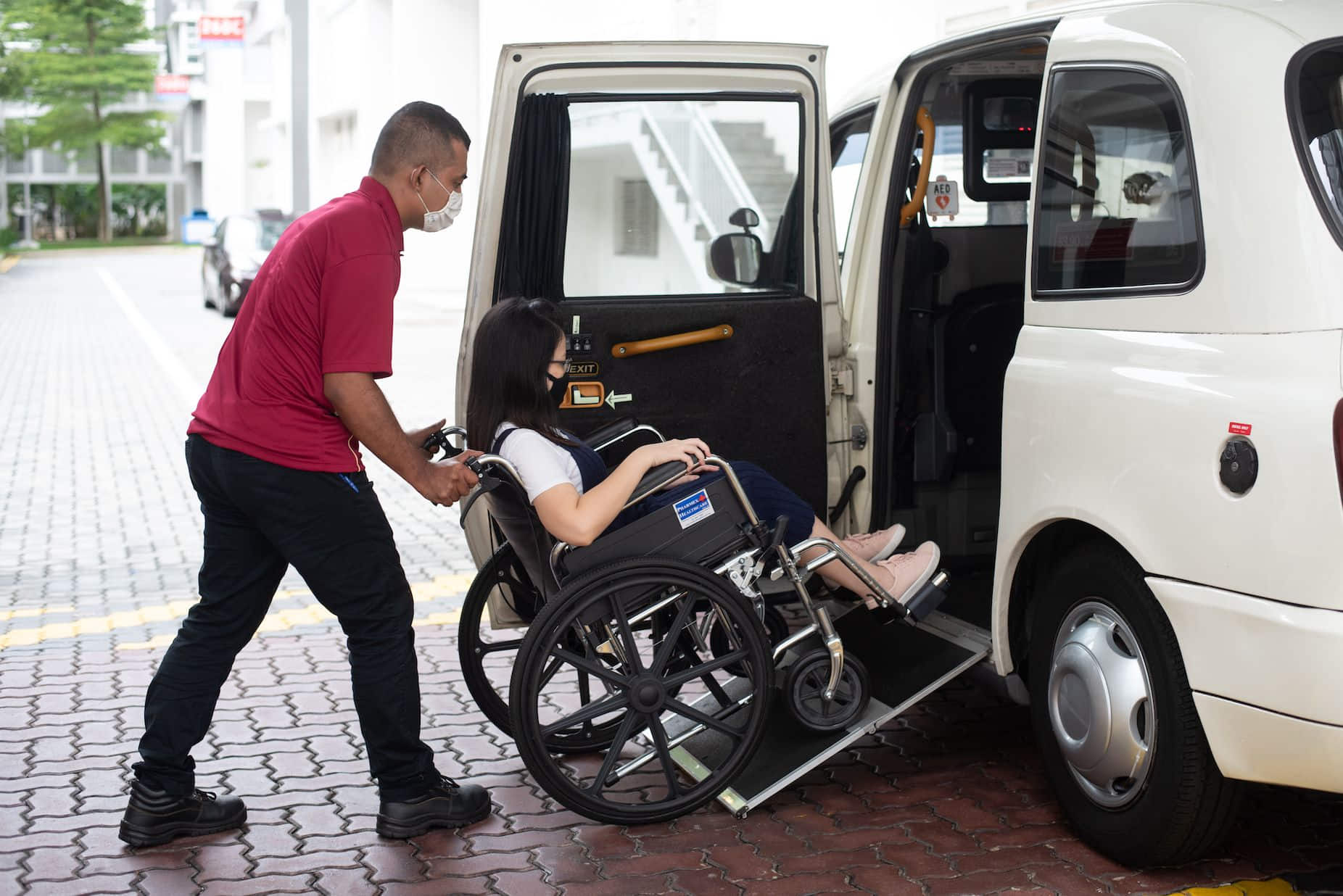 GrabAssist Plus allows persons with disabilities to travel to and from partnering healthcare institutions without dismounting from their wheelchairs throughout the journey
To go live on 8 February, the new service offers an on-demand option for an underserved market of wheelchair users who travel independently or with the support of a caregiver
SINGAPORE, 1 February 2021 – Grab today announced the launch of GrabAssist Plus, a dedicated fleet of wheelchair accessible vehicles. It empowers non-critical wheelchair and Personal Mobility Aids (PMAs) users to travel to selected healthcare institutions seamlessly, without having to dismount from their wheelchairs throughout the journey. 
GrabAssist Plus offers mobility solutions for an underserved market of wheelchair users, who are seeking more accessible transport options, to and from their homes, as well as from elder care centres to hospitals. Collaborating with fleet partners such as SMRT Taxis, the service will begin as a trial with approximately 10 vehicles, and will go live on 8 February 2021. It will be available for passengers with mobility challenges to travel to and from select healthcare institutions in the initial stages, including Tan Tock Seng Hospital's Foot Care & Limb Design Centre and its Centre for Geriatric Medicine, as well as Singapore General Hospital's Diabetes and Metabolism Centre. 
All driver-partners under the programme will be trained by certified care services providers to provide assistance to passengers. This new service complements the existing GrabAssist offering, which has seen more than 50,000 completed trips. Unlike GrabAssist Plus, GrabAssist passengers have to dismount from their wheelchairs or PMAs during rides, which are folded and stored away within the vehicle. 
"Grab is always adapting to market demand and taking in users' feedback as we introduce new or enhance existing transport services on our platform. We have also taken active steps to ensure that our platform is inclusive and that our technology can be leveraged to help underserved groups in our community," said Yee Wee Tang, Managing Director, Grab Singapore. "We have seen positive traction for our GrabAssist service, but understand that there are still challenges that passengers on PMAs or wheelchairs face, especially when they are travelling independently. By working with TTSH and SGH on this pilot programme, we hope to address some of these challenges to offer better and more accessible on-demand options for them. Our collaboration with TTSH and SGH had begun with the GrabCare initiative for healthcare workers and we are proud to expand our partnership to bring about greater mobility for the broader community."

"Personal Mobility Aids empower segments of our society who are aged, frail or suffering from a disability. We work with like-minded organisations to ensure that accessibility to care and a patient's journey is not just confined within the hospital but designed to address their challenges in the community. This new service will offer options for our patients with mobility challenges to be more empowered and independent when travelling to and from their hospital appointments", said Khalid Anuar, Head of Foot Care & Limb Design Centre, Tan Tock Seng Hospital.
How to book GrabAssist Plus
Users can load the Grab app, and select GrabAssist Plus to book their rides. Rides start from $32.
Appendix – 1. Fare Table
Distance
Proposed Fare
(subject to additional $0.30 platform fee)

0.5 km – 7 km 

$32.00

8 km

$32.40

9 km

$34.70

10 km

$37.00

11 km

$39.30

12 km

$41.60

13 km

$43.90

14 km

$46.20

15 km

$48.50

16 km

$50.80

17 km

$53.10

18 km

$55.40

19 km

$57.70

20 km

$60.00
Appendix – 2. Table of Surcharges

Type of Fee / Surcharge
Details

Waiting Fee

Grace period of 5 minutes, charged $3 per 5 minute waiting block 

Tolls


ERP (inclusive of any ERP for Fuji Xerox drop off) or entry fee into Sentosa incurred from pick up point to destination
Additional Stops (manual
additional stops in transit)

$5 per stop up to 5km up to a maximum of 3 stops.

Midnight Surcharge


Not applicable as service only runs from 8am – 8pm.

Child Seat Surcharge


Not applicable as service only accommodates for 1 wheelchair passenger and 1 next of kin, above age of 6 years old.

Change destination mid-trip


$3 for change of destination

Cancellation Fee


Charged $4 if:

1. Cancel after 5 minutes of getting a driver or

2. Driver cancels your ride after waiting longer than 5 minutes for passenger to arrive at the pick up point