Consumers & DriversSocial Impact & Safety
Grab Introduces GrabResponse to Support Ministry of Health's COVID-19 Efforts
The dedicated non-emergency transport service is the latest initiative from Grab to support the larger community in the fight against COVID-19
Singapore, 23 April 2020 – Grab announced that it has introduced GrabResponse, a dedicated, non-emergency transport service to ferry stable and clinically well individuals to hospitals. These individuals include those who are on Stay-Home Notice (SHN) or are suspect COVID-19 cases.
The service was piloted in late March to support the Ministry of Health (MOH)'s efforts to complement existing ambulance services. More than 250 volunteer Grab driver-partners have been enrolled, trained and are progressively being rostered on eight-hour shifts for the 24-hour service.
 "The next few weeks will be crucial in Singapore's fight against COVID-19, and we see a role where we can harness our platform and technology to complement local healthcare efforts. GrabResponse, like the GrabCare service, is our way of extending dedicated support to the healthcare sector," said Yee Wee Tang, Managing Director, Grab Singapore. "We are inspired by the selflessness of our volunteer driver-partners who have put themselves at the frontline to help. Only when we come together and support one another, can we then overcome this challenging time together."
 How does GrabResponse work?
The service is available only to authorised MOH dispatchers who can make a booking to transfer a stable and clinically well case to healthcare facilities on a dedicated tech platform. The platform was developed to ensure seamless allocation of GrabResponse vehicles as and when the need for one arises.
GrabResponse driver-partners have undergone and completed a classroom and hands-on training conducted by the Singapore Civil Defence Force, which covers comprehensive safety procedures to ensure that they are able to protect passengers as well as themselves. A helpline manned by a dedicated operations team at Grab is also available for driver-partners to seek further assistance where required while on the roads. Vehicles assigned to the GrabResponse service are not deployed for any other Grab services.
Participating driver-partners are required to put on masks and Personal Protective Equipment (PPE) for every trip, as well as discard their protective gear at designated decontamination zones. They must also clean and disinfect their vehicles after completing each trip. Driver-partners can collect their supply of PPE, sanitisation lotions and wipes at a designated, central location.
Roy Lee, 39, who has been driving with the Grab platform since 2015, said: "I didn't have to think twice about signing up for the GrabResponse service because everyone has a part to play to support each other to deal with all the challenges we are facing with the COVID-19 pandemic. The additional training we got and PPE gave me the peace of mind and the confidence that we will be able to provide a safe ride."
Standing united in Singapore's fight against COVID-19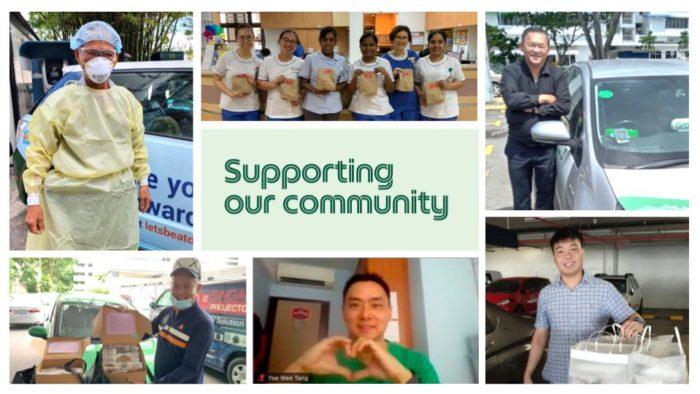 Since the start of COVID-19, Grab has introduced initiatives to support and safeguard the well-being of all users on the platform, as well as extending help to the larger community in Singapore.
Specific to healthcare workers, Grab has earlier launched GrabCare, a dedicated, round-the-clock, on-demand service enabling healthcare professionals to travel to and from over 14 medical facilities seamlessly. The service is currently supported by over 10,000 driver-partners.
In addition, Grab is supporting meals donation efforts by Gourmet Food Holdings, Zouk Group, Motherswork to deliver 2,500 food items to frontline healthcare workers in April. The GrabHitch community also pitched in, partnering the Ministry of Culture, Community and Youth, to deliver some 1,200 bento meals to healthcare workers in polyclinics islandwide.
As communities band together to work on various programmes in the fight against COVID-19, Grab has also contributed $60,000 from its COVID-19 Community Fund[1] to the CDC Student Meals Scheme. The scheme provides $55 in GrabFood vouchers to 12,000 students from low-income households to buy subsidised meals from 7,000 participating GrabFood merchants that offer self pick-up.
Grab is also partnering the People's Association Women's Integrated Network Council and Temasek Foundation to support the Mask Sewn with Love movement by helping to deliver cloth to volunteers to sew 50,000 masks for those in need, including the elderly and children.
Grab will continue to work closely with our community to provide our support and more assistance where required.